Time for the release of AMD Ryzen second generation CPU's is very close and these are among the most hyped things in computer hardware industry. After the success of Ryzen processors,  AMD has made several improvements which led to their massive increase in revenue and they have been working on APU's for a long time now.
A recent benchmark on moepc.net showed that the Ryzen second Gen processors are capable of handling entry level gaming without any dedicated graphics card. This makes them a powerful replacement for older gaming APU's which are on the FM2 platform. Although, they were pretty old processors but still they beat the Intel HD graphics processing unit. A new revolution is needed and AMD did just the same for budget gamers.
Here is the graph that shows the results:-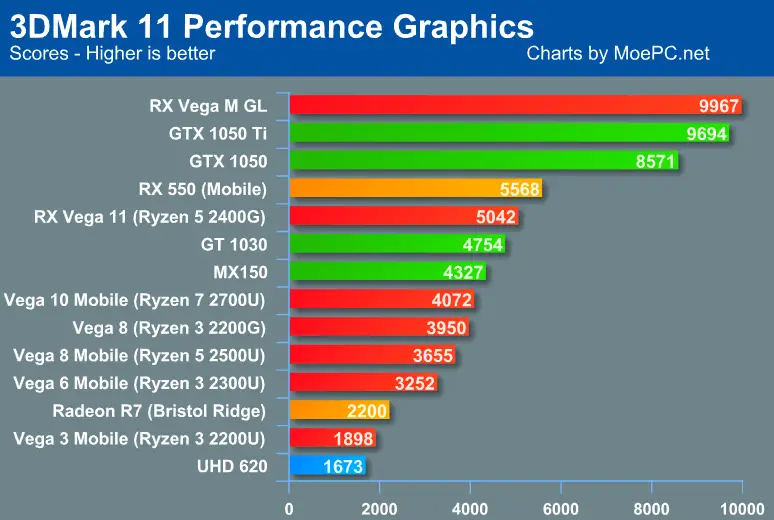 It's interesting to see that Ryzen 5 2400G which will be a mid-end processor is performing better than the Nvidia's GT 1030 which is an $80 graphics card and a little below the RX 550. Scoring 5042 on 3D Mark is impressive and it can run most of the games at 1080p with medium settings and esports games on high settings with playable framerates.
I know Intel can be jealous seeing this because none of their processors is able to perform like this and from the graph they stand at the last with only 1673 points. This means that AMD is ready to take over Intel in budget gaming builds category. With such a good performance, I think most the budget gamers won't be using any dedicated graphics card with Pentium CPUs such as GTX 1050 or RX 560. Instead, it will be better for them if they just use a GTX 1060 or higher if they use a different CPU.
One might argue that the second Gen Ryzen processors are still not great enough for 1080p ultra gaming then Yes, I agree and one will still need to buy a powerful graphics card for higher framerates or settings. But still, the performance is impressive enough.