So, Steam has a new monthly report for you which was conducted for February and it revealed which are the most popular things among PC gamers and how is the graph of each thing is going down the line. Starting from the very favourite component of gamers, The Graphics card, the most popular among all is the GTX 1060, however, no information is given regarding whether the 3GB version of the 6GB version is used the most. But it's still apparent that most of the gamers have realized that the best way to futureproof gaming is to use a mid-high end GPU like GTX 1060 which can max out almost any game at 1080p with 60fps.
But the total percentage of users have declined since January which was 15.65% and now it's 14.27%. Video cards like GTX 660, 1050, 970 have gained an increase in their percentages. One of the possible causes of this should be the unavailability of cards like GTX 1060/RX 570 which are used by miners a lot. While GTX 1050, 970 and 660 are among the slower cards of the previous generation except the GTX 1050 which is not that beneficial in mining and therefore is more available than mid-end cards. It's also worth noting that Nvidia is gaining more and more popularity among the gamers and AMD is declining although AMD has made a lot of revenue by their RX series cards by selling them to miners.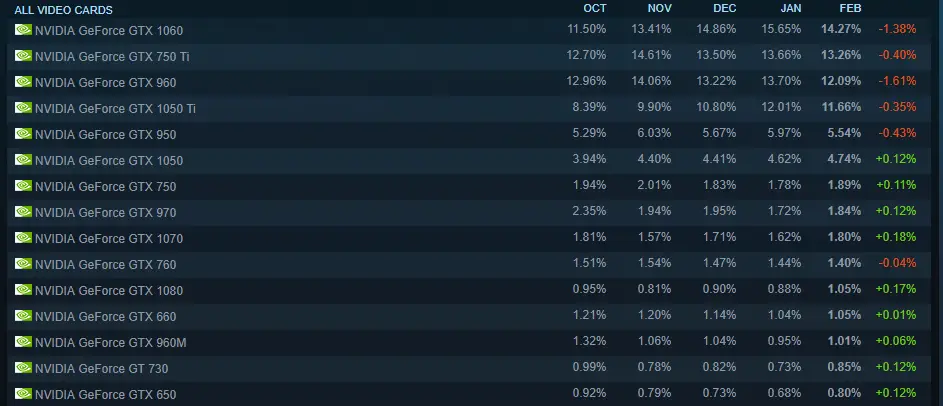 Looking at the most popular RAM configuration, gamers are using 8GB and it makes sense because 8GB is the ideal for 1080p gaming and should provide a smooth experience. Similarly, the most popular CPU is a 4 core CPU which also saw a reasonable amount of decrease in popularity since January which is close to 2% but nonetheless, Intel and AMD are providing 4 core CPUs more now than they used to in the past which is due to the power hungry games we are getting these days. Here also once again it can be seen that Intel is taking a huge lead on AMD with over 90% of total gamers on Steam using Intel CPUs and just 9% gamers using AMD CPUs.
Related:- Best Budget CPUs
Note that the survey which Steam conducts every month is an optional thing in which it is possible that every Steam user did not participate. I recommend participating in it when Steam asks it because it helps us to get the overall competition between the different vendors and also let us see where we stand in the crowd.