Xtremegaminerd.com is a participant in Amazon Associate Program and is supported by the readers. The qualifying purchase you make through our links may get us some commission and doesn't cost you an extra penny.
---
1080p gaming is still the trend but those who have powerful graphics cards like GTX 1080 Ti have the capability to play games at 4K resolution. There are plenty of 4K monitors on the market in different sizes but Philips has brought a huge 43-inch monitor which should fill up your wall and you would enjoy the gaming more than on any monitor. Not just because of the high resolution but because the immersive experience it provides.
Philips has announced a new display called the Momentum Display with HDR and Ambiglow. These two are special features of this monitor that makes it perfect for almost everything. The monitor sports brightness of up to 1000 cd/m2 at its peak with a contrast ratio of 4000:1. This is a real deal if you want better picture quality. As for the quality of the panel, it isn't an IPS display but an MVA display which is better than TN panels and has a lower picture quality when compared to an IPS one. Still, there are some features which Philips wanted to add to it to make it an ideal gaming monitor due to which these small compromises are done.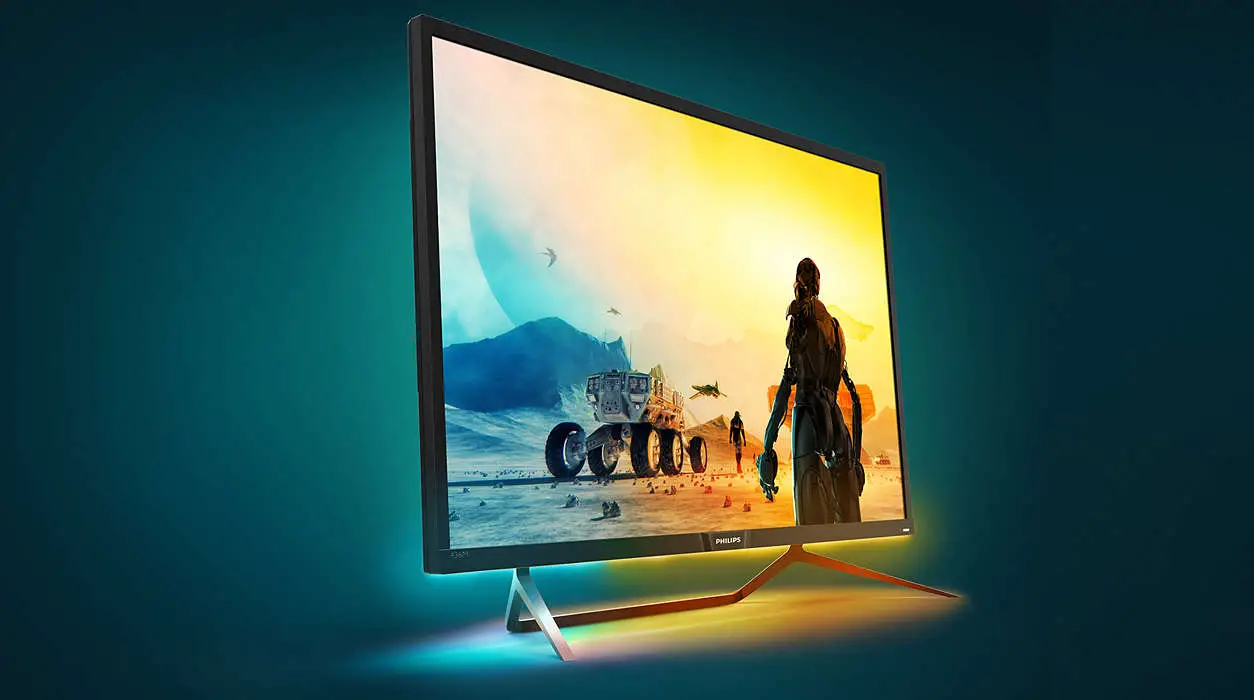 The monitor has a good response time of only 4ms. A 4K monitor with 4ms of response time is really good especially when it is equipped with a Sync technology. And you heard it right!, it comes with AMD FreeSync which allows tear-free gaming with a refresh rate ranging from 23Hz to 80Hz. A 43-inch display with up to 80Hz refresh rate is nothing other than a gift to gamers.
But there is one more thing which I liked the most. It is the Ambiglow technology which creates a Halo of different coloured lights around the monitor which makes the gameplay immersive. Philips says, "Its fast processor analyses the incoming image content and continuously adapts the colour and brightness of the emitted light to match the image." Total power consumption of this monitor is although a little high even when compared to high-end monitors and sits at 162 Watts at On mode but it's obvious because it is a huge display with so much of features that consume a lot of power.
The monitor has all the basic features and ports that are necessary and should hit the market in Summer this year costing around $1000 which is a nice price point by Philips. Till then you can check out our list of Best Gaming Monitors.