Xtremegaminerd.com is a participant in Amazon Associate Program and is supported by the readers. The qualifying purchase you make through our links may get us some commission and doesn't cost you an extra penny.
---
Abandon Ship Game is now available as Early Access on Steam which you can purchase for a 15% discount till 28th of February. The game originally costs $16.99 but will cost now around $14.45. The game is developed by Fireblade Software and features a strategy based gameplay in which you have to take the command of a ship.
In the game, you are the captain and you have to make your way through your journey facing all sorts of problems. You will have to face bigger ships, extreme weather, sea monsters, different islands in order to survive. There is no chance to give up or you will lose.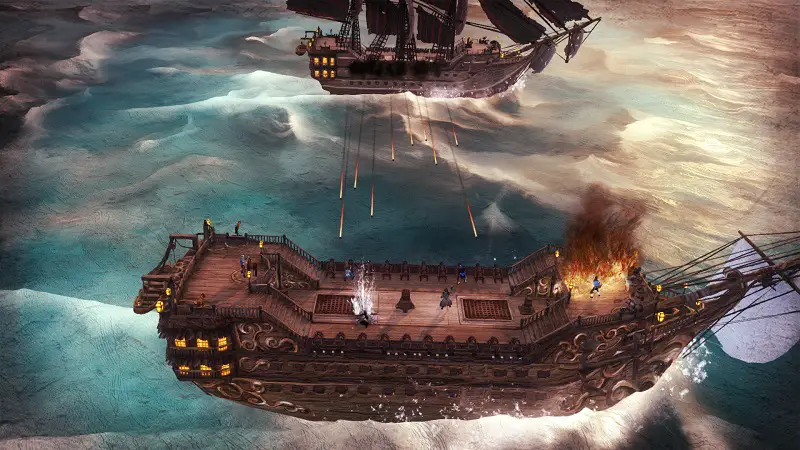 As it's an Early Access, more features may or may not be added further but the game is still under development. Currently, it's getting positive reviews which shows that it's a good game with fine mechanics. The gameplay looks good where you control the ship through the tides of the sea under extreme weather conditions like storm and lightning. You also have to fight other ships which may or may not be bigger than yours.
In the game, you have to make some strategy in order to defeat or destroy your opponent by the available weapons on your ships that are canons and mortars. These weapons cause fire, as well as holes in the ship deck which may result in damage and your team, have to fix the problems before the ship goes down into the sea. After that, you can upgrade your ship to make it bigger and more powerful.
The game has landscape painting like graphics and doesn't require a beast rig to play. The minimum requirement is a processor clocked at 2.4Ghz or higher although, there is no info present on the page about the processor whether it should be a dual core or quad core but the game is pretty small sizing around 5Gb and needs only RX 460 to work properly. So from there, one can guess that it won't require more than a dual-core processor like Pentium. Recommend requirements aren't available right now but I am sure that it will easily run on almost any budget gaming RIG.