Xtremegaminerd.com is a participant in Amazon Associate Program and is supported by the readers. The qualifying purchase you make through our links may get us some commission and doesn't cost you an extra penny.
---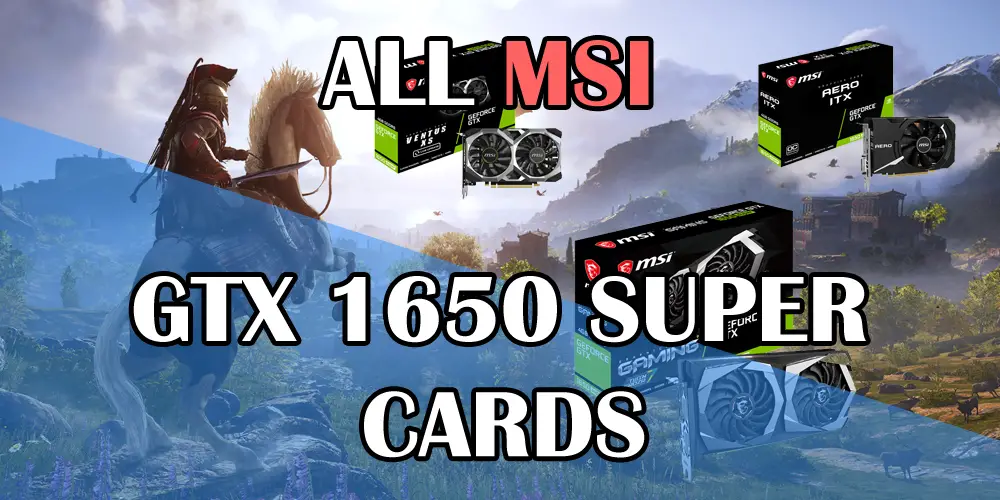 Introduction
GTX 1650 Super card is a fantastic 1080p GPU that can play most of the games with 60 fps on ultra settings. There a few games where you might have to compromise with a few settings to reach above 60 fps but overall, there is currently no other GPU that cost around $150-170 that can provide you with so good value for money.
Today's Amazon Deal
In this post, we will be covering all the available options from MSI that you can buy for your build. The GTX 1650 Super comes with 4GB of GDDR6 VRAM, 192MB/s memory bandwidth, 12Gbps memory speed, 1280 Cuda Cores, 100 Watts TDP, and 1530/1725MHz as base/boost clock.
MSI produces some of the best highly overclocked GPUs in the world and I love some of its editions due to their design and performance capability. Here are All the MSI GTX 1650 Super cards and their brief reviews to make it easy for you to choose from them.
---
MSI GTX 1650 SUPER CARDS[6 Cards]
MSI GTX 1650 SUPER GAMING X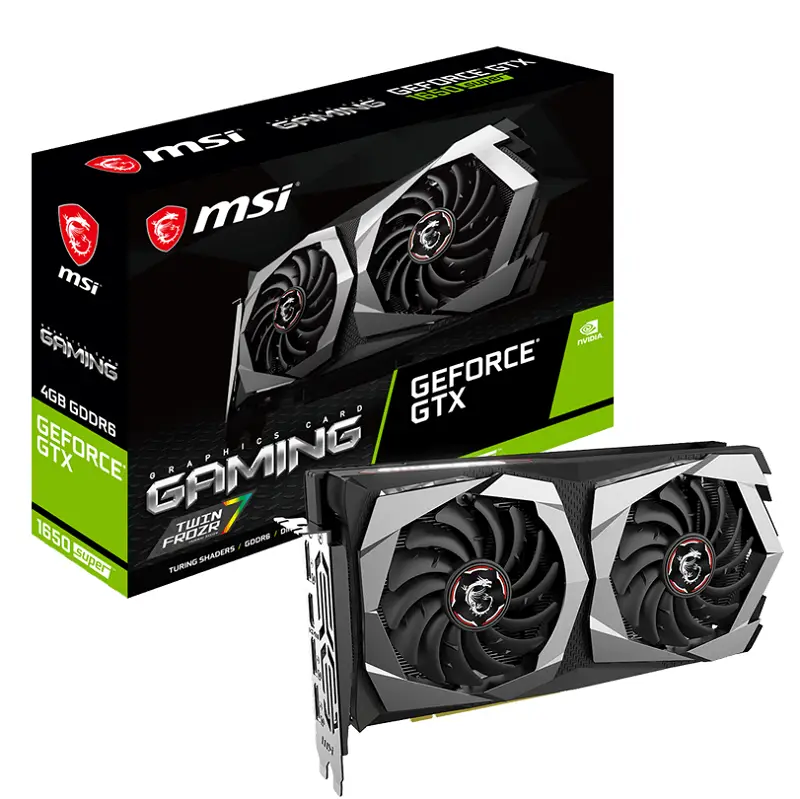 MSI has the most number of editions for the GTX 1650 SUPER GPU but most of them are identical to each other in specs as well as design. The fastest one from MSI is the GAMING X edition which features 1755MHz as boost clock which is equal to the Gigabyte's GTX 1650 Super Windforce edition. Design is fantastic with premium heatsink shroud that hosts two Torx Fans 3.0 and a Twin Frozr 7 Thermal Design. It also has RGB lighting which can be controlled using the Dragon Center.
It has a backplate at the back as well, a single 6 pin power connector, 1x HDMI and 3x DP ports for output display and dimensions as 248mm x 127mm x 44mm.
---
MSI GTX 1650 SUPER GAMING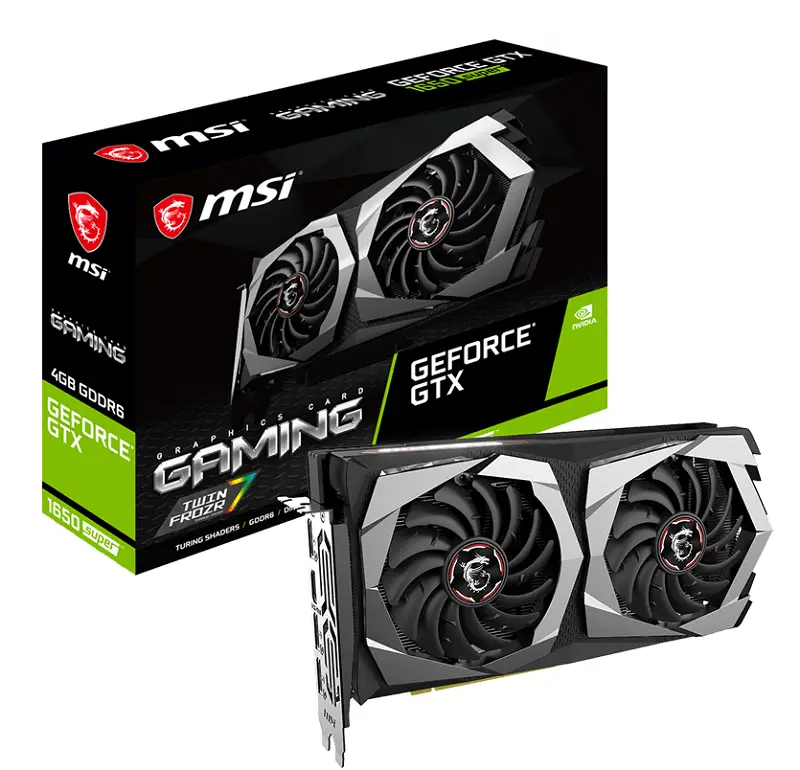 The MSI GTX 1650 Super Gaming edition is literally the Gaming X edition with the exception of Core clock. While the Gaming X edition features Boost clock as 1755MHz, this one features 1725MHz. Everything else including the design, dimensions, features are the same.
---
MSI GTX 1650 SUPER VENTUS XS OC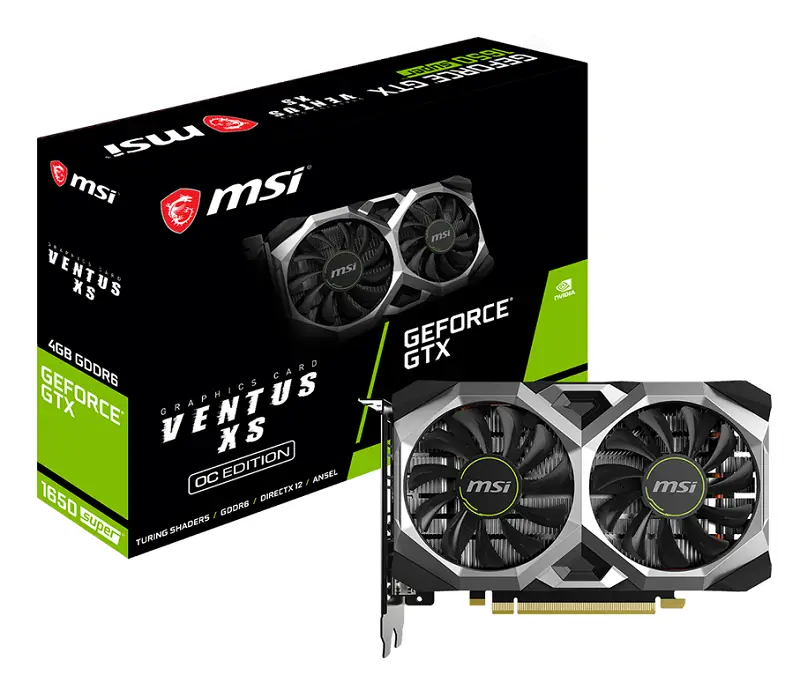 The Ventus XS OC edition is a budget MSI GTX 1650 Super card from MSI that features a compact dual fan design that has a good aluminium heatsink with copper heat pipes. This card uses a basic silver/black shroud with two basic fans that aren't as good as the Torx Fan 3.0. The card features a factory-overclocked design with a boost clock of 1740MHz, a single 6 pin power connector, 1x HDMI, 1x DP, and 1x DVI ports for output display, and dimensions as 180mm x 115mm x 42mm.
This is a very compact card considering the fact that it has two fans, so it is a good choice for small and compact builds.
---
MSI GTX 1650 SUPER VENTUS XS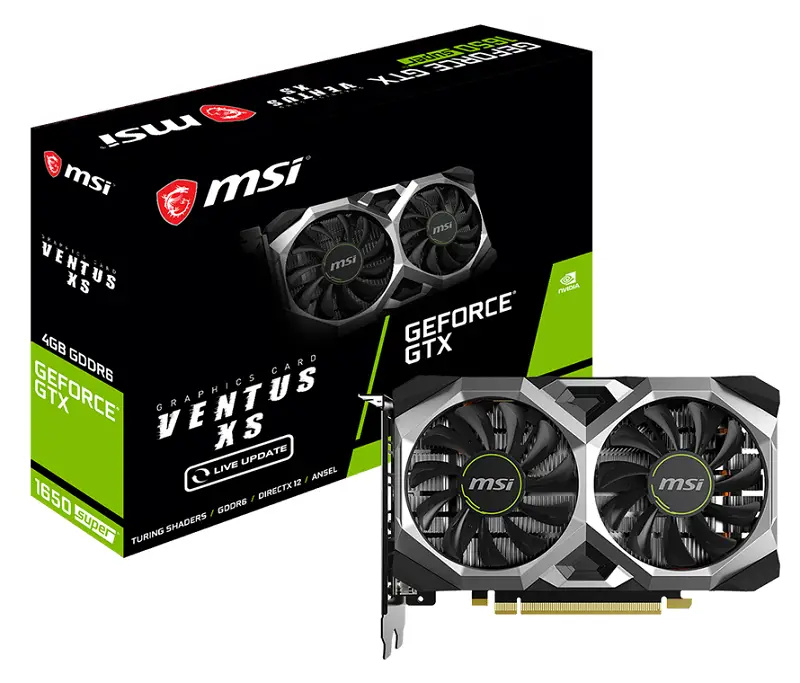 The GTX 1650 Super Ventus XS edition is literally the photocopy of the XS OC edition with the exception of core clock. While the XC OC edition features 1740MHz as boost clock, the XS edition features 1725MHz. Rest is the same.
---
MSI GTX 1650 SUPER AERO ITX OC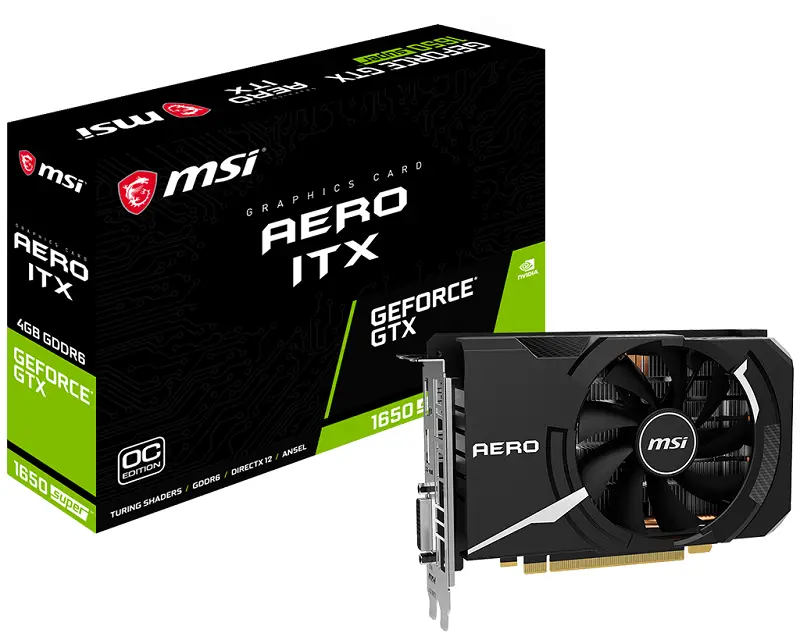 The AERO ITX OC edition is the most compact GTX 1650 Super GPU you can get from MSI. This is the one that is supposed to be in the ITX builds where space is less. The card features a basic design with an aluminium heatsink that also uses copper heat pipe for proper heat dissipation and over it is a black shroud. The fan is very basic and should be enough for normal cooling. It has a boost clock of 1740MHz which is equal to the XS OC edition and should perform similarly.
It comes with 1x HDMI, 1x DP, and 1x DVI ports for display. There is no backplate for PCB protection and it measures 172mm x 115mm x 42mm.
---
MSI GTX 1650 SUPER AERO ITX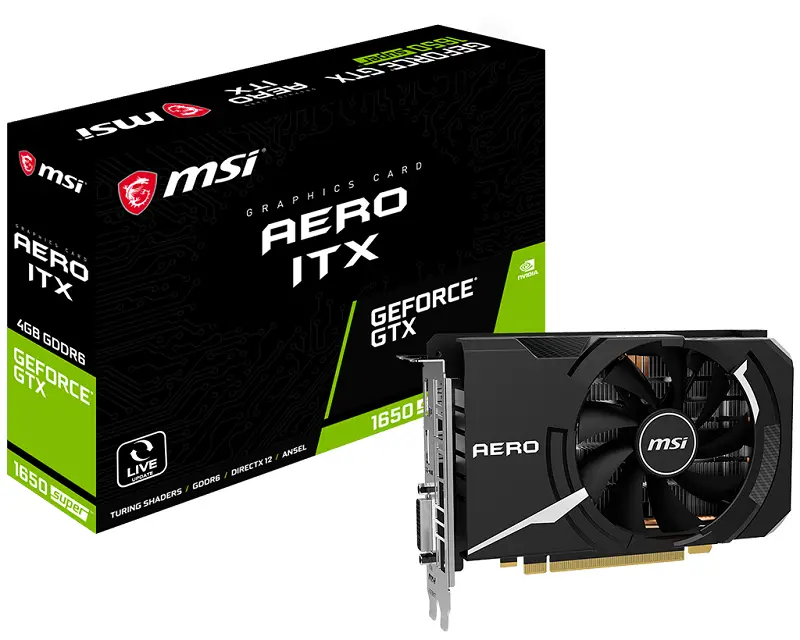 The AERO ITX edition features each and everything exactly the same as the AERO ITX OC but has 1725MHz of boost clock.
---
Conclusion
To conclude, we have the non-OC editions from MSI which are completely identical to the OC editions in their design and specs except for the boost clock. The boost clocks also are very close to each other. If you find the non-OC edition for a lower price, let's say $20-$30 less, then get the non-OC edition otherwise if the prices are exactly same, then go for the OC editions.