Xtremegaminerd.com is a participant in Amazon Associate Program and is supported by the readers. The qualifying purchase you make through our links may get us some commission and doesn't cost you an extra penny.
---
After getting powerful on the computer hardware market, AMD has taken some good steps to make gaming more affordable and better by providing good Gaming CPUs and GPUs on lower prices compared to Intel. Now AMD has launched its own Store on Amazon.com to provide an ease for the gamers to shop for AMD components and build a PC for themselves.
AMD products are already there for years on Amazon but the AMD store makes all the AMD components easy to navigate without searching for them individually. It will not only help the gamers to build an AMD based system but also increase the sales by a bit. On the AMD store page, there are various dedicated pages for selecting AMD CPUs, GPUs and motherboards.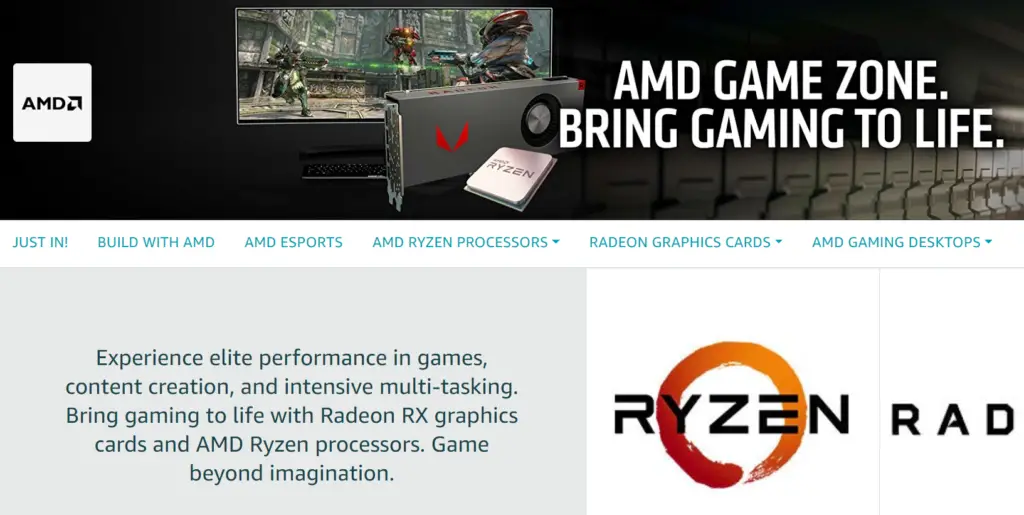 There is also a PC building page where AMD recommends some good combinations for building a powerful mid-high end gaming systems. As, AMD doesn't have its own Power Supplies, Cases, Hard drives and Memories, you have to buy them from Non-AMD Amazon store.
Related:- AMD China launches RX 580 2048SP
One page on AMD store consists of Pre-built systems from iBuypower, Cybertron PC, CyberPowerPC and Skytech. From here you can shop for AMD based pre-built systems. Overall, it's a fine refinement and a good dedicated page that AMD may get a good benefit from but it won't help it control the market. Although, from the latest Ryzen 2000 series processors, AMD has already proved that it can provide you with better performance on lower prices as compared to Intel.
Meanwhile, Intel has just announced that the latest Intel 9th Gen processors will support up to 128GB of DDR4 RAM.