AMD has now brought one more CPU cooler to its showcase and probably because of the request from a lot of people as most of the people believe that when it comes to the stock heatsink, AMD is much better than Intel's stock heatsink which is very loud and of no use. AMD's old traditional CPU coolers are also worthless but with Ryzen processors when it introduced different Wraith coolers including those having RGB Ring, progress was clearly seen.
Now it has introduced another Wraith cooler which is called Wraith Prism which has some decent modifications and almost looks like an aftermarket CPU cooler in design. Although, having the same design clearly makes it one among the Wraith family but the cooling is improved by introducing the Copper Heat pipes.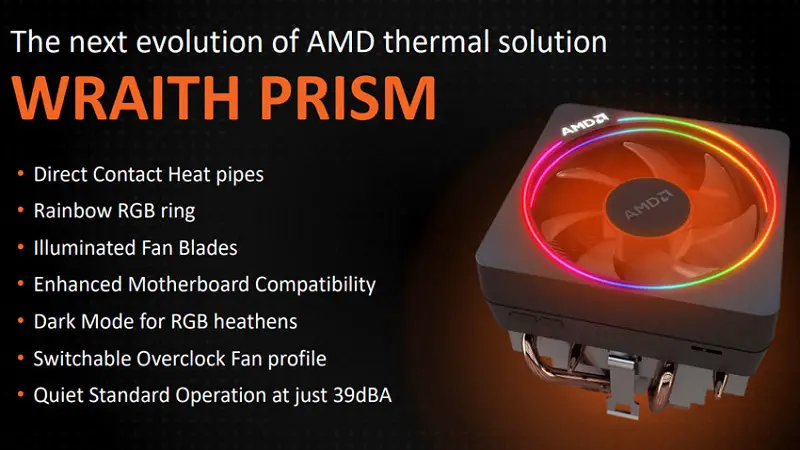 These heat pipes are made in direct contact with the base and so should be to the CPU on which it can be installed. From the image above you can get a small glimpse of the cooler and see the copper heat pipes. The installation clips are traditional which is present on most of the AMD coolers and the frame is having a small fan that has the capability to let the light pass through it.
There are two RGB Rings which can be controlled via the Ryzen Master software which is used for overclocking and can be synced with the motherboard as it is compatible with softwares like Asus Aura Sync, Gigabyte RGB Fusion, MSI Mystic Light and more.
The cooler is said to be sold separately at a price of $49 and there is no info on its compatibility although I think it is made specifically for the new Ryzen 2nd Generation processors because it will be launched along with the higher end Ryzen processors this year. Yes, I think that the pricing is a little bit high when its specs are looked upon as there are a lot of decent aftermarket CPU coolers available in less than that.