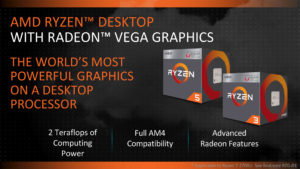 You must have got into a problem or probably heard of it that somebody buys a new CPU and puts it in the motherboard which is supposed to be 100% compatible with the processor but when you boot it, it doesn't boots up. The most common problem might be the old bios which don't let the new CPU to run on it. For this, you require an updated BIOS on your motherboard if the CPU launched after the manufacturing of the motherboard has a new architecture.
Many people faced similar problems in the past like the incompatibility of some FX processors with the AM3 970 chipset motherboards. Similar is the case now when AMD released its new generation of Ryzen APU's which are fully compatible with the X370,  B350 and A320 motherboards but those who are buying a completely new motherboard along with the Ryzen APU may experience this problem as compared to the one who already had a motherboard or a first gen Ryzen processor. The latter one can easily update the bios by downloading from the official manufacturer's site but the one who has bought an un-updated motherboard will need to get a first gen processor first to boot the system and then update the BIOS in order to run the 2nd Gen Ryzen APU.
This is a headache because who will buy the first gen processor first of all? For this cause, AMD has come forward and has decided to provide the "Boot-Kit Solution" to those who are affected by this. In this kit, those who need a bios update will get a cheap AMD A6-9500 processor that will help in the update for the Ryzen APU to work properly. AMD is sending this kit for completely free but you will need to return the processor after you update your motherboard.
If you want to get this boot-kit solution, you need to fulfil some requirements. You have to fill this form in order to get it but AMD wants you to try other solution as well which includes going to the retailer from whom you bought the motherboard in order to get your bios updated or return the motherboard to the ODM to get a new one in exchange which will come with the updated bios.