AMD Ryzen 2nd Gen processors will launch on 19th April and we have X470 chipset motherboards readied by different OEMs already which will make sure you use the Ryzen 2000 series processors up to their full potential. There are a few people who got the Ryzen processors for benchmarking and I recently published a report on Ryzen 7 2700X which showed that it beat the Core i7 8700K in overall gaming as well as productivity performance.
There are a few more people who have tried to test the capability of the new Ryzen CPUs and among them is a user named TSAIK who overclocked the Ryzen 5 2600X and Ryzen 7 2700X and came close to 5.9Ghz. According to a report of HotHardware, he is using Liquid Nitrogen cooling and it seems pretty true because it's not possible to get this much out of normal liquid cooling when the processors don't have their boost clocks more than 4.5Ghz.
AMD processors especially the Ryzen processors are limited to extreme overclocking but seeing the results of the new processors, it seems that these processors can be overclocked better. Although I am not sure if these CPUs are capable of exceptional overclocking or not but it looks like if these CPUs are fed with a good amount of cooling they will easily outperform the previous generation.
Ryzen 5 2600X is a six-core processor but astonishingly it has only 6 threads whereas in previous generation Ryzen processors the 1600X had 12 threads. In the benchmark which was done on the MSI X470 Gaming Plus motherboard, it reached 5882.97MHz at a very high voltage of 1.768V. TDP is 95 Watts whereas the Ryzen 7 2700X uses 105 Watts. At 1.7V a CPU tends to be so hot that without nitrogen cooling it can easily fry up.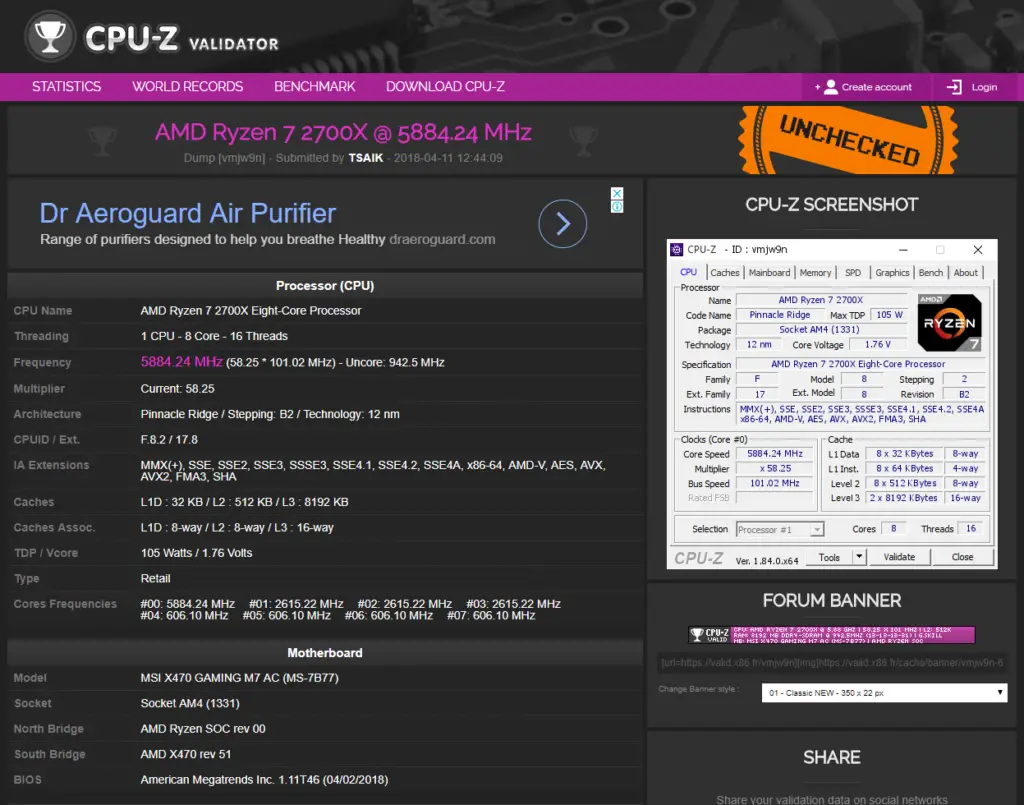 Ryzen 7 2700X, on the other hand, was also near to the 5.9Ghz sitting at 5884.24MHz with a voltage of 1.76V. Know that Ryzen 5 2600X has a core/boost clock of 3.6Ghz/4.2Ghz whereas the Ryzen 7 2700X has a core/boost clock of 3.7Ghz/4.3Ghz. Reaching close to 5.9Ghz is something which will be impossible for a mainstream user who uses air or liquid cooling.
Related:- Best CPU Coolers for Ryzen