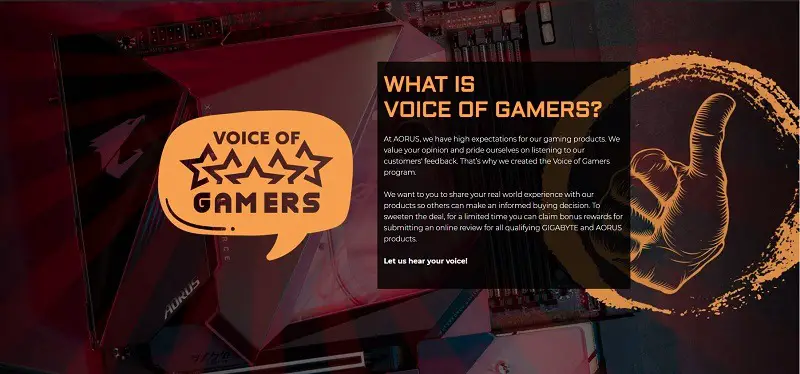 CITY OF INDUSTRY, CA (July 17, 2020) – GIGABYTE TECHNOLOGY Co. Ltd, a leading manufacturer of motherboards and graphics cards, today announced the launch of the AORUS Voice of Gamers program, where gamers can give feedback and share their real world experience with AORUS products while earning bonus rewards and prizes including Stream Codes ranging from $10-$50.
For a limited time, reviewers can claim bonus rewards for submitting an online review for all qualifying GIGABYTE AORUS products. To learn more about the Voice of Gamers program, click here: https://us.aorus.com/voiceofgamers.
With our new Voice of Gamers program, we will be able to better learn more about what is and isn't working for our loyal gamers and make needed improvements so that our customers can have the ultimate gaming experience, according to GIGABYTE.
How to Enter:
Submit your proof of purchase
Submit a screenshot of your review
Enter your Steam Account Name
Eligible Models:
All AORUS and GIGABYTE Z490 Motherboards
Rewards:
Tier 1 – $50 Steam Code
Tier 2 – $25 Steam Code
Tier 3 – $10 Steam Code
AORUS, a premium gaming brand powered by GIGABYTE, delivers a full spectrum of gaming products ranging from gaming laptops, motherboards, graphics cards, mechanical gaming keyboards, to many other gaming hardware and gears, offering the most extreme gaming experiences for enthusiasts worldwide. According to Research and Markets, the global gaming industry will continue to grow at a compound annual growth rate of 12% in the next 5 years. With 52% of active gamers playing on a PC, GIGABYTE's increased product reviews through the Voice of Gamers program will give prospective buyers a chance to make informed decisions and find the best product tailored to their needs.
AORUS Gaming products represent the next generation of PC technology and they are committed to bringing a wide array of gaming innovation that delivers ultimate performance. AORUS shares the same passion with gamers who devote their heart and soul to gaming and continues to take part in global gaming events, connecting with the community and actively listening to gamers' desires in order to create products that meet gamers' genuine needs. For more information and news, please visit the GIGABYTE AORUS website: https://aorus.co