Xtremegaminerd.com is a participant in Amazon Associate Program and is supported by the readers. The qualifying purchase you make through our links may get us some commission and doesn't cost you an extra penny.
---
It's been more than a week since the rumour spread about ASRock entering into the market of graphics cards and there was even a teasing video by ASRock on twitter a few days ago which didn't show the graphics card by ASRock completely. But today ASRock has finally revealed about their new Phantom Gaming series which they are about to launch.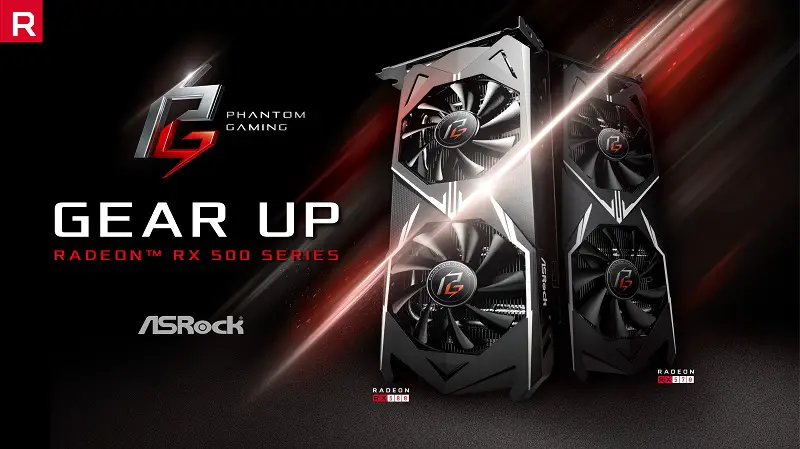 ASRock will be producing RX 500 series graphics cards from AMD as it was told before and these include the RX 580 8Gb, RX 570 8Gb, RX 560 4/2Gb and RX 550 4/2Gb graphics cards. All of these are included in the Phantom Gaming series with similar aesthetics but with some differences. The RX 580 and RX 570 cards will feature dual fan heatsink cards that will be longer than the other two entry-level GPUs.
The other two namely RX 560 and 550 will sport a single fan heatsink which will be similar to the Mini edition we see from EVGA and Zotac but will have the same grey heatsink shroud with some white accents. However, the heatsink of the RX 580 and 570 will be larger having composite heat pipes for better heat dissipation. All of the information regarding their specs can be found on the official ASRock Phantom VGA page.
While releasing these cards, Mr LL Shiu, ASRock Chief Executive Officer said, "ASRock finally expand into the graphics card field," adding, "We are happy and proud to team up with AMD, our strong and reliable partner, and of course we look forward to bringing out more interesting and competitive products in future."
No price or launch date has been revealed by ASRock in the press release however we can assume that they will be available in the market soon. Here is the 1-minute short video which ASRock made for its Phantom Graphics cards.