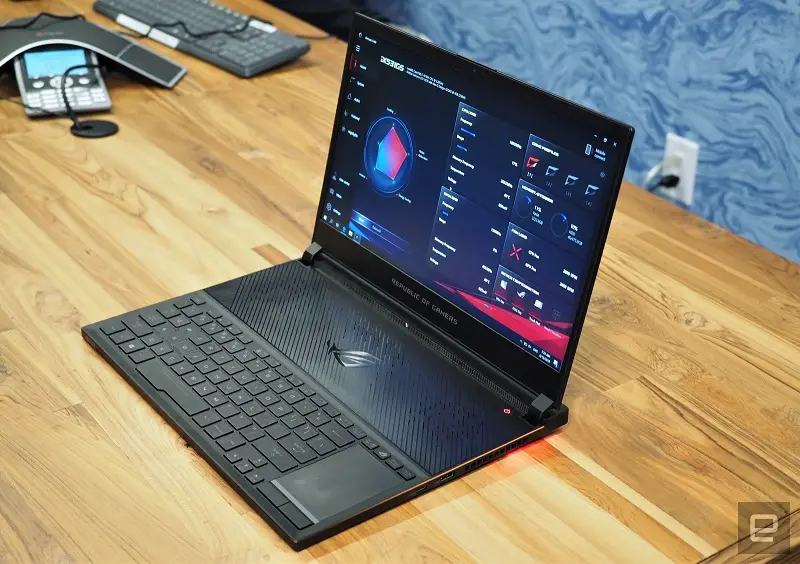 Asus last year at Computex showed their Zephyrus gaming laptop and it was one of their best gaming laptops till now but Asus had other plans in their mind and after they released the Zephyrus M gaming laptop in April, they have modified it to make a more portable laptop that differs in some of the specs but yet packs a lot of power for the daily work and gaming.
The original Zephyrus Gaming laptop was a 17-inch gaming laptop which was very thin and brought a powerful GTX 1080 Max-Q graphics card. The Zephyrus M also brought some hefty specs but with slower GPUs that are GTX 1070 and GTX 1060. Still, they are powerful enough to display every detail at 1080p resolution and with a slim-body everyone loved them. With now the latest Zephyrus S gaming laptop, things have changed a lot. We have a 15-inch display on this notebook and also the same 6 core Intel Core i7 8750H processor that is enough for gaming and multitasking.
The GPU can either be a GTX 1070 Max-Q or GTX 1060 based upon your choice and for RAM, there is 8GB DDR4 memory present in it which is clocked at 2666Mhz. The display of this laptop features 1080p resolution with a 144Hz refresh rate which is very smooth for gaming and a 3ms response time which Asus has decreased with the help of AU Optronics. The thin bezels of this laptops will make it more immersive and IPS panel is, of course, the best for picture quality.
Apart from that, the weight of this laptop has been reduced significantly and it weighs only 4.6 pounds. The best thing which it brings to the table is its thickness which is the lowest on gaming laptops sitting at between 14.95mm and 15.7mm. Also, Asus has made changes on its body by putting the keyboard and trackpad at the bottom and leaving a lot of space at the top part to employ better cooling design inside it.
The laptop, unfortunately, isn't equipped with G-Sync and it might be due to the fact that Asus wants to cut its price as much as possible and making it affordable to the enthusiast gamers. The price of this laptop is still not revealed but it is speculated that it may cost around $2000. The Zephyrus S should start shipping in September, however, exact date is not known.