Asus is one of the big brands who produce high-end gaming notebooks with dedicated graphics cards like GTX 1070 and 1080. Last year it released the GX501 Gaming laptop which brought an Intel Core i7 7700HQ with a GTX 1070/1080 Max-Q graphics card. It was easily able to max out every game at 1080p and provided very smooth gaming experience.
This laptop is now being upgraded from i7 7700HQ to the i7 8750H processor which sports two more cores and 4 more threads i.e., 6 cores and 12 threads as compared to the standard 4 cores and 8 threads of i7 7700HQ. While the 7700HQ has a faster base clock of 2.8Ghz as compared to the 2.2Ghz of 8750H but the boost clock of the latter is 100Mhz higher sitting at 3.9Ghz with single-core boost clock reaching up to 4.1Ghz. This chip is still not available in the market for the laptops but it's coming to the laptops soon.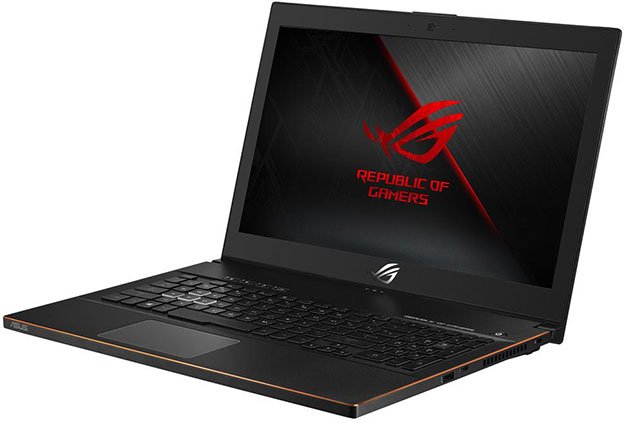 Apart from that, the notebook saw some changes from the previous design. As it was leaked on a retailer website for a short amount of time, Hothardware managed to bring some pics of it. The keyboard of this notebook now is located nearer to the display rather than at the bottom and the trackpad is at the bottom instead of the right side which is a norm in laptops.
GX501 comes with a 15.6-inch display with 1080p resolution and a 144Hz refresh rate which is the sweet spot for gaming and is present in the best gaming monitors. With this, you can enjoy very smooth gaming with the GTX 1070/1080. However, as these graphics cards are MAX-Q GPUs, you will not have the full power like a standard GTX 1070/1080 but it will still be close to it. The MAX-Q GPUs are made to produce less heat because of consuming less power and therefore the downgrade in performance is expected.
The laptop is also equipped with Nvidia's G-Sync technology for tear-free gaming that is one of the best things for a smooth experience. Currently, this laptop is not available for purchase but the pricing of it has been revealed with is close to $3660(USD). This laptop is very thin as compared to many powerful gaming laptops but with so much of features, you will require to pay more than $3.5K in which a very high-end Gaming PC can be built.