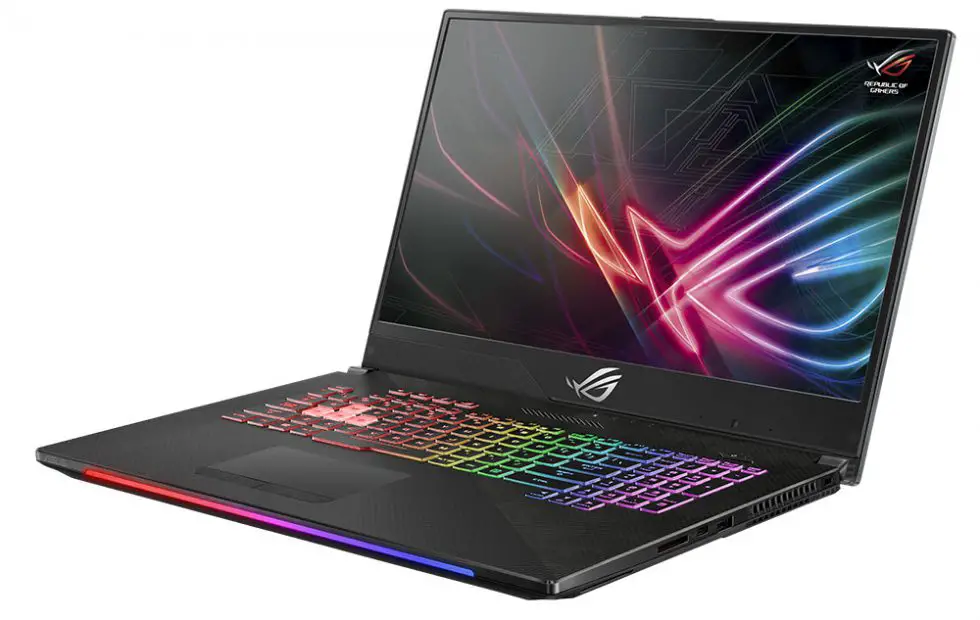 ASUS, the Taiwanese Hardware/Electronics Maker, has introduced its new ROG Strix SCAR II (GL704). Customers are to await its availability on Indian market before December 2018. The new ROG Laptop has an impossible big display of 17.3" inside a 15.7" chassis. To ensure better heat dissipation, the new ROG laptop is provided with thin copper fins and patented trapezoidal cuts.
The ROG Laptop has a full HD screen display with a refresh rate of either 144Hz or 60Hz due to variation, and it reaches a complete sRGB colour gamut coverage of a 3ms response time at 144Hz variant. It is also adored by an RGB light bar that stretches across the front edge base. The RGB lights across seven zones, one at the ROG logo lid, two on the frontal light bar, and four on the keyboard. Users can alter the lights by using the AURA Sync app.
It was also made known that the keys can register strokes by using over-stroke technology for faster response. ASUS claims that the ROG Laptop's keyboard is rated for 20 million keystrokes. ASUS also upgraded the Gaming Centre App to Armoury Crate, and that provides a user with a better means of adjusting various system settings like fan speed and acoustic performance.
The new laptop's graphics are of an NVIDIA GeForce GTX 1060 GPU with 6GB of video memory, its RAM reaches 32GB, and it's powered by the latest Intel Core i5 AND Core i7 processors. It seems to permit 16GB+16GB RAM arrangement because it has two RAM slots. Its storage is on a PCIe NVMe SSD that reaches 512 GB. The storage is compatible with either a solid-state hybrid drive that reaches 1TB or any tradition HDD.
Offer Till 31st March