Motherboards
Best AMD AM4 Motherboards for Gaming/Productivity
Xtremegaminerd.com is a participant in Amazon Associate Program and is supported by the readers. The qualifying purchase you make through our links may get us some commission and doesn't cost you an extra penny.
---
AMD Ryzen is the new technology for processors and we are already seeing the Ryzen 7 dominating the mainstream workstation/gaming Intel processors. With the equivalent price, AMD is now offering much better performance in productivity than Intel processors and almost equivalent performance in gaming.
The Ryzen 7 series is the top Tier CPU series which have three CPU's namely: R7 1700, R7 1700X and R7 1800X, all with 8 cores and 16 threads with the clocks differing these chips. But these CPU's need decent motherboards for overclocking and unlocking their potential in gaming as well as productivity. With two chipsets right now widely available: B350 and X370, you can now have a good motherboard for $100 as well as for above $200. I have listed 5 motherboards with the best available features so that you can maximise the potential of your processor and do all of your workstation/gaming at a fair budget.
Useful and practical tips for buying a Motherboard: – Motherboard buying guide
MSI B350 TOMAHAWK Gaming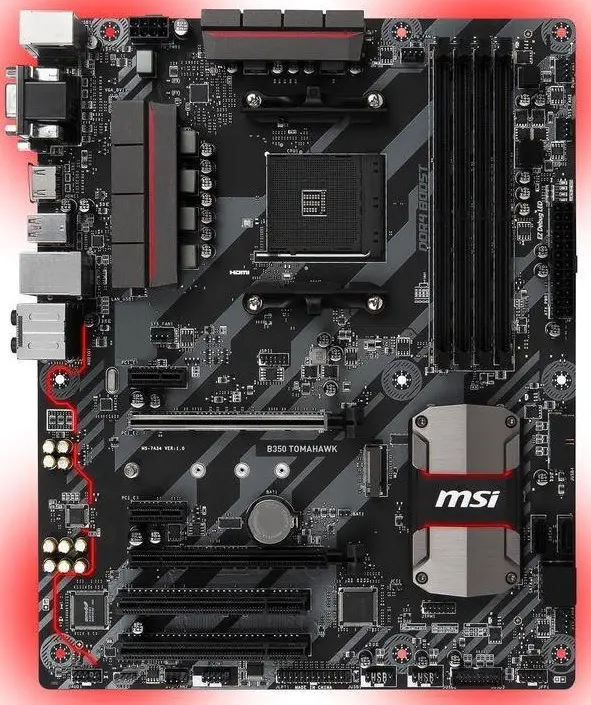 This is the first motherboard on the list which is having B350 chipset and is known to be a mid-end motherboard for Ryzen processors. It's full ATX and offers some good amount of features. The motherboard right now costs around $100 and has some good black and red colour accents that will make a good black/red themed PC.
It has thick metal plated heatsinks at the top and one under the DIMM slots which is having the MSI logo. The PCB has Red LED audio track that lit up and illuminates your rig. This motherboard supports overclocking of Ryzen processors just as the X370 chipset motherboards. But some features are limited as compared to them as it comes much cheaper.
The motherboard has 4x DIMM slots for DDR4 memories that can be overclocked up to 3200Mhz which is really difficult to achieve anyway. But the max size of memory supported is 64GB which is fairly enough for any workstation as well as for gaming.
For storage, it has 4x SATA III ports, two of which are perpendicular to the PCB and two are facing the right side making it easy for you to install any storage device according to the case you will be going to use. For additional storage, you have a single M.2 slot under the first PCI-E x 16 slot. So you will need to remove your graphics card if you ever install an M.2 SSD which is not a big problem.
For cooling, it has 4x 4 pin headers all around the motherboard so that you can install several chassis fans and 1x 4 pin header for a pump for a custom loop. On a motherboard like this, the cooling feature is really exceptional and satisfies the need of an overclocker. Can't ask more than that at this price.
But as the B350 chipset is mid end, you will have no support for SLI and only support for up to 2 way AMD CrossFireX if you ever wanted to do a multi-GPU setup. The first PCI-E X 16 slot is steel armoured and can support heavy graphics cards easily without having the fear of ripping out of the PCB. And lastly, for I/O, you have 1x HDMI, 1x VGA, 1x DVI, 2x USB 3.1, 3x USB 2.0, 1x PS/2 port for connecting your peripherals which are very basic but will fulfil the needs.
---
MSI ATX DDR4 AM4 AMD X370 SLI Plus
One of the cheapest and decent looking X370 motherboards is the MSI X370 SLI Plus which has beautiful white and black accents to match a black/white theme build. This motherboard costs around $140 right now and offers almost all the features you would want to build a high-end gaming/workstation PC. The heatsinks are now covering the I/O ports and are even thicker than the previous one.
The motherboard is of ATX form factor and has 3x PCIE x 16 slots for graphics cards. The interesting thing now is that it not only supports 3 way AMD CrossfireX but also 2 way Nvidia SLI. Gamers who want to do SLI of two Gtx 1070's, 1080's or 1080 ti's will have no problem whatsoever on this board when they combine them with a Ryzen 7 series processor and a huge amount of performance can be expected.
The first two PCIE x 16 slots are covered with steel armour to protect the slot from weakening when heavy graphics cards are installed. Above and below each PCI-E x 16 slots you can find a total of 3x PCI-E x 1 slots for sound cards and wifi cards.
The motherboard supports DDR4 memory overclocked up to 3200Mhz and has 64gb max memory limit. For storage, you will have now 6x SATA III ports facing right side to make easy connections if your case has a good amount of space and will hide the cables well. Also, you have a single M.2 slot for NVME SSD below the first PCI-E x 16 slot that can be used for storing the operating system.
One can say it's similar to almost every high-end motherboard that has X370 chipset and yet it offers many features at a lower cost. Cooling is yet another good feature which you can find on this motherboard with a total of 6x 4 pin headers out of which one is for the pump.
---
MSI X370 GAMING PRO CARBON
When you need more aesthetics and you are willing to pay a little bit more for that, then the MSI's X370 Gaming Pro Carbon is the one you should buy. With shiny steel armour on the PCI-E x 16 slots and DIMM slots along with the RGB lightings on MSI logo's and heatsinks, this motherboard looks slick. The colour is not confined to a particular type but you can customise each section according to your will. At the top right side of the motherboard, you will find another section for RGB LED lighting that creates beautiful effects when installed in a transparent windows case.
The storage slots are somehow a little different than others. You can see that 2 of the 6 SATA III ports are at the right bottom corner perpendicular to the PCB which gives flexibility in installing SATA HDD's or SSD's. As for the M.2 slot, you have a covering plate there which will dissipate the heat from NVME SSD which is a really cool feature.
And for cooling, it's exactly similar to the MSI X370 SLI Plus motherboard. Not only that, the I/O ports are exactly similar with the exception of one Audio port being different in the X370 SLI Plus. But now it's up to you what you like. Do you like only performance? or some aesthetics along with it?
There is a $40 price difference between the two boards which for many gamers on a fixed budget like $800 could be a deciding factor. You can either buy another 8gigs of Ram or a 120gb SSD or invest in a better GPU. Or if you have no restriction on the budget, then going with this motherboard is totally worth it because aesthetics is something which every gamer wants and for $40, you are not getting only RGB aesthetics but some good protection for your M.2 SSD, PCI-E slots and DIMM slots.
---
GIGABYTE GA-AX370-Gaming 5
This is the motherboard which I own myself and I don't need to exaggerate its features. This one comes in a mid-high end Tier and has several additional updates over the basic X370 chipset motherboards. The white/black colour theme, the RGB lightings everywhere including the DIMM slots make it look gorgeous. In a tempered glass side window panel case, it illuminates the whole rig.
All the PCI-E x 16 slots are now protected with steel armour and same goes for the DIMM slots. For cooling, it has tonnes of fan headers. You can find a total of 9x 4 pin headers for custom fans, radiators, CPU cooling and water cooling. It's something much more than you could find in the motherboards mentioned above. If you want to know more about it, read the complete review here.
Now one good feature on this board is the presence of dual bios switch which you can change anytime while troubleshooting or when you are experimenting. I really helped me a lot when I updated my one bios and kept the other as it is. In case, when you update to newer bios and something goes wrong, you can always switch to the next one for continuity.
Troubleshooting with this board is also easy because it has Onboard Power and Reset buttons. The Reset button is the very small white button which you can see at the top right corner. I haven't used the OC button yet because I overclock my Ryzen 1700X with either the bios or AMD Ryzen Master software.
I was able to overclock my Ryzen 7 1700X easily to 3.9Ghz with the Ryzen Master but didn't go beyond that because I don't like to take the risk with new hardware.
---
MSI X370 XPOWER GAMING TITANIUM
This motherboard comes in the enthusiast category and definitely many overclockers are using this one for their Ryzen processors. This one is only for those who don't have any restriction on cash and want to build the best possible high-end workstation/gaming Rig for the money. This motherboard is specially made for extreme overclocking and has 8+4 pin power ports for CPU. If you provide enough cooling for your CPU then you can expect more than 4.0Ghz easily on 1700X or maybe on 1700 too but do it at your own risk. I personally don't do extreme overclocking but there is no need to worry if you will be using a good AIO cooling solution.
I don't know if there is any custom water loop cooling solution present for AM4 motherboards but I have seen many people achieving good results with Corsair, Cooler Master AIO coolers. As for cooling, you have a total of 6x 4 pin fan headers out of which 1x 4 pin header is for the pump at the top. The storage capacity is similar to the previous motherboards except for the M.2 NVME SSD. In this motherboard, there are 2x M.2 Slots for NVME SSD's which will help in expanding storage with faster devices.
For troubleshooting, it has the Reset and Power buttons at the bottom right which are big enough and besides them is the Overclocking switch by which you can overclock it without any software.
Well, there is one more thing that might not get noticed which is the 6 pin 12V power port at the bottom left of the board which is very rare in motherboards and I guess it's for powering a graphics card that consumes 120W-150W.
The construction of the board is well designed and is very durable and almost every section is isolated for proper functioning and optimizing performance without reaching high temperatures. This motherboard will provide the best possible experience to any overclocker but you can't go wrong if you go with any other motherboard in this list.