Motherboards
Best AMD MINI-ITX Motherboards[Small but Powerful]
Xtremegaminerd.com is supported by the readers. The purchase you make through our links may get us some commission and doesn't cost you an extra penny.
---

Introduction
AMD's new Ryzen processors series have proved much and they are excellent competitors to the Intel Core mainstream processors. For this reason, AMD processors have been very popular for more than 2 years from now because they provide more value for the money in Gaming as well as productivity.
As many builders and gamers don't like to cover up too much space on the desk, they prefer to go with components as small as they could. But this costs them a lot of things such as upgradability and performance. While it's true that a bigger form factor component is better in terms of upgradability but it's not necessarily true that they will perform less good than the bigger ones.
For a small and compact PC, not only you will require an ITX case but also an ITX motherboard. Fortunately, AMD's ITX boards are there in the market for a long time and you won't have to sacrifice the performance for compactness. For the latest gen Ryzen processors, I have listed down the best ITX motherboards that will occupy the least space possible and will perform flawlessly in gaming as well as in other applications.
Buy the Best Ryzen Processors-
---
GIGABYTE B450 I AORUS PRO WiFi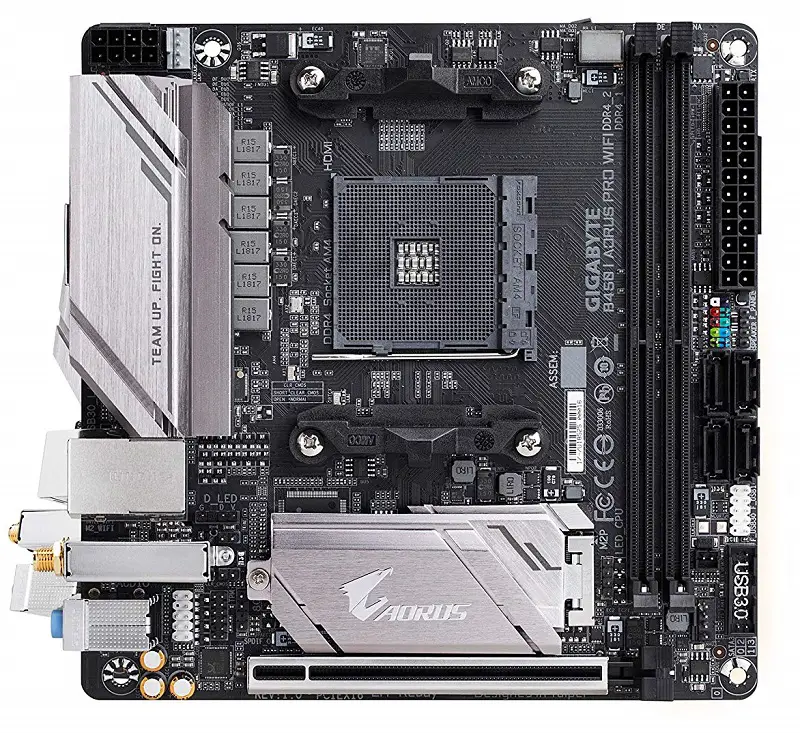 For the latest Ryzen processors we have the B450 chipset which is specially made for overclocking on a budget. As A320 chipset is neither meant for overclocking nor it has any Mini-ITX form factor, you will have to buy at least a B450 chipset motherboard. The good thing is that these are still cheap and you can build an affordable gaming PC with just $400-$500 in your pocket.
The Gigabyte B450 I Aorus Pro Wifi motherboard is from the Aorus series which is especially known for its aesthetics and great performance at a comparatively lower price. This board features a very good 4+2 power phase VRM that is cooled down with a big aluminium heatsink. But the VRM is not alone here, the M.2 slot has a heatsink too which will cool the NVME SSD.
The PCI-Ex 16 slot on this board uses Armor steel for more strength which is generally found on higher-end motherboards but here for just $120, you will get all these premium features that improve the reliability and aesthetics overall. Other features include RGB LED header near to the M.2 Slot and 2x HDMI, 1x DP ports at the I/O. This motherboard for its price is one of the best you can find today and I don't find any CON in it if you buy it for your build costing $400-$500 in total.
---
ASUS ROG Strix B450-I Gaming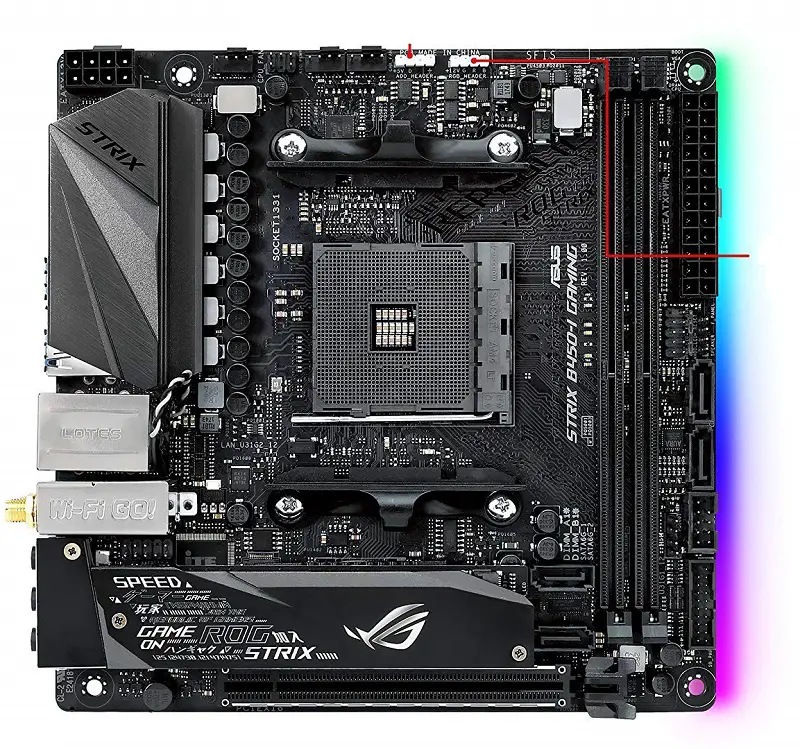 Asus's ROG Strix boards are even more popular than the Gigabyte Aorus and are more premium in features and aesthetics. But they cost more and their prices are justified for the quality they bring on the table. The B450-I Gaming is what an ideal Mini-ITX motherboard should look like which has everything from a strong VRM to good cooling features.
It features a 6 Power phase VRM which uses good quality Mosfets and are cooled by a decent heatsink. The heatsink on the M.2 slot is even longer as compared to the Aorus B450-I and has a ROG logo on it. The right side of the board has an LED strip inbuilt that will light up as soon as you power up your rig.
For cooling, it excels over the other budget motherboards and features 3x Fan headers at the top that will power your chassis fans and CPU fan at the same time. For storage, there are 4x SATA ports two of which are situated near to the M.2 slot which I find inappropriate since they will make a poor connection due to the presence of RAM sticks and graphics card. If the location would have been at the same place as the other two, then it would have been great for a cleaner build. Other than this weird placement, I don't see any noticeable Cons in it and I recommend it for any mid-end Gaming PC.
---
ASUS ROG Strix X470-I Gaming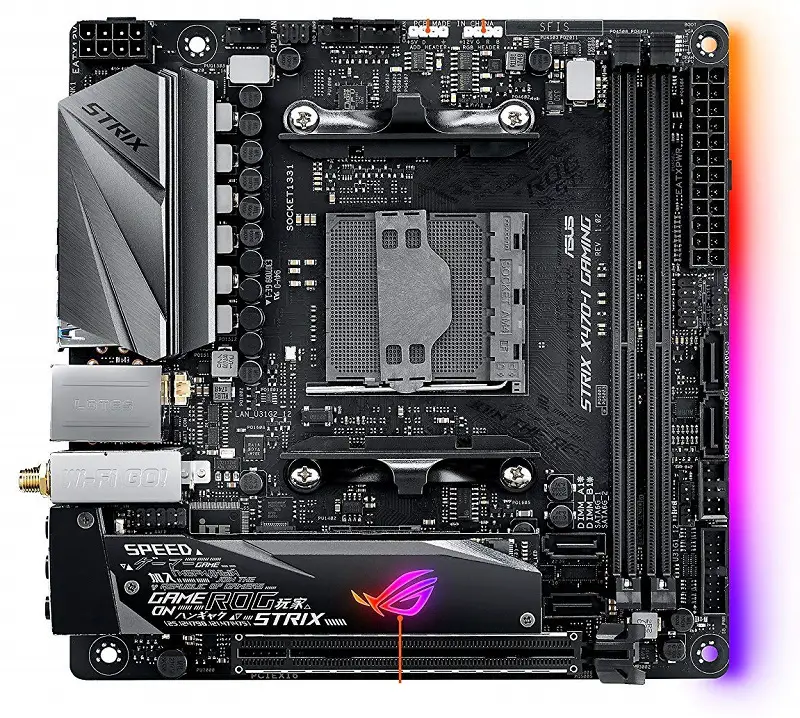 Asus ROG Strix X470-I Gaming is exactly the same board as the B450-I Gaming. The layout, the slots, the ports, everything is exactly the same except for a few things. X470 chipset is generally better in overclocking and you should only consider it if you want some in-depth overclocking features that aren't present in any other B450 board.
This motherboard has a small distinction of RGB lighting on the M.2 heatsink and the rest of the things are the same. There are 3x Fan headers, 1x RGB header, 1x ARGB header and 4x SATA ports on it. The maximum memory it can support is 32GB with max clock speeds of 3600Mhz.
Frankly speaking, if you don't want the small upgrades it comes with, go with the Asus ROG Strix B450-I which is the exact same board with a few missing things and it will do the job as the X470-I would although the price difference is $40.
---
Conclusion
There are only a few boards from AMD in the Mini-ITX form factors which can deliver rock-solid performance. Out of those I have listed these three motherboards which are best for their price and feature a powerful VRM for overclocking and ports for different types of components. For building a compact Gaming PC that cost $400-$800, I recommend going with any of them as they will perform similar to a Micro-ATX or an ATX board on the cost of some upgradability.