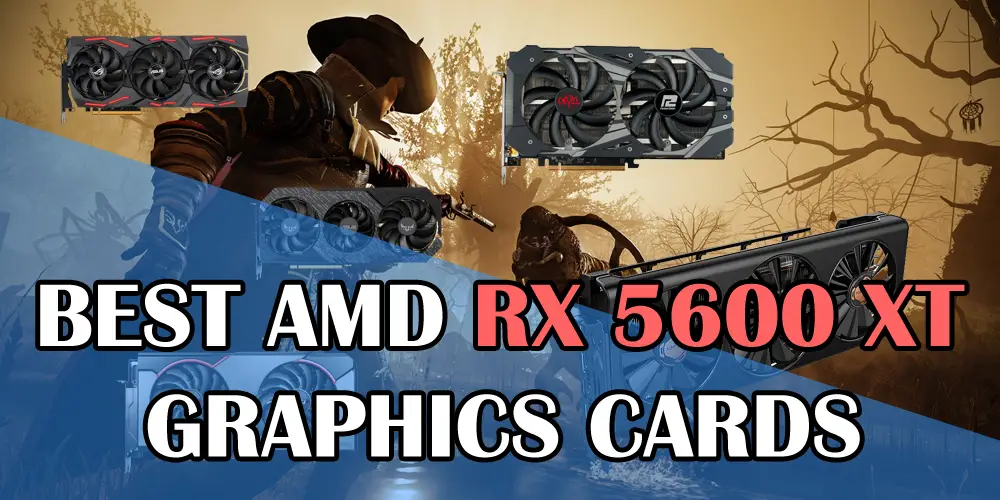 Introduction
RX 5600 XT has proved itself to be a gaming monster at 1080p and it can perform very well even at 1440p on ultra settings. After the release of RX 5700 and XT cards, AMD released the 5600 XT which is around 5-10% slower than the RX 5700 and 20% faster than the RX 5500 XT. The 5500 XT didn't do well for the price to performance but RX 5600 XT gives a good competition to the RTX 2060.
Currently, you will find RX 5600 XT for around $280-$330 depending upon the edition you are buying. A good standard RX 5600 XT can be bought for $290 or $300 which is great and will fulfill your needs at 1440p resolution for a while and should also be good for 1080p gaming in the future. Common specs of RX 5600 XT between all the editions are its Stream processors which are 2304, its RAM which is 6GB GDDR6, and memory interface which sits at 192 bit.
When you analyze all the RX 5600 XT cards from different manufacturer you will see that some are overpriced and some differ in specs. Based on a close observation I have compiled the list of top value providing RX 5600 XT cards which you should go for if you are building a brand new Gaming PC or are upgrading your older GPU.
Sapphire Radeon Pulse RX 5600 XT 6GB(BEST VALUE)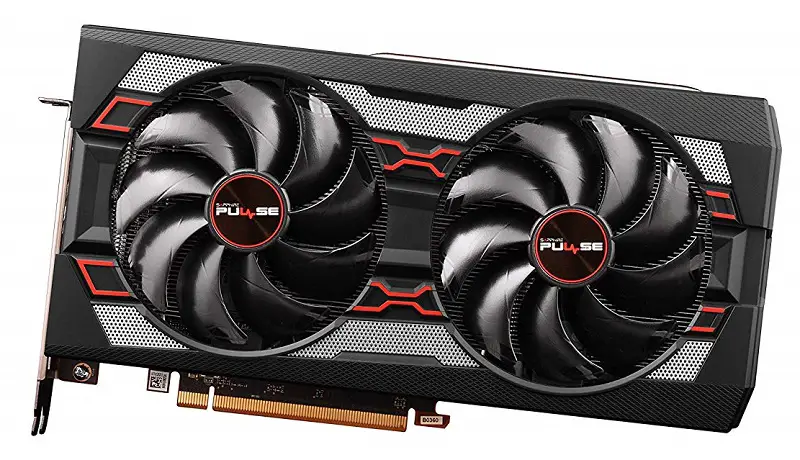 If I were to recommend you the best RX 5600 XT card based on the price right now as of the date of editing this post, then I will recommend you going with the Pulse RX 5600XT from Sapphire. Unlike the other vendors, this card actually provides factory-overclocked equivalent specs to the higher-end editions from those vendors at a much lower price.
This card also features a great design with a gorgeous metal backplate. It has two static air pressure fans that cool down the aluminium heatsink that also uses a few copper heat pipes. The higher-end RX 5600 XT GPUs from other vendors use a better heatsink but regardless of that this should be enough for maintaining the temperatures. Specs of this card are what you will be surprised of. Unlike the other standard RX 5600 XT cards, it actually features much higher clock speeds than they feature.
Its Game clock sits at 1615MHz while the OC clock at 1750MHz. Most of the other 5600 XT cards feature up to 1620MHz in OC at this price. So, you will definitely gain the benefit here. It comes with a single 8 pin power connector, measures 254 x 135 x 46.5mm in dimensions and provides 1x HDMI and 3x DP ports for output.
---
XFX Radeon RX 5600 XT Thicc III PRO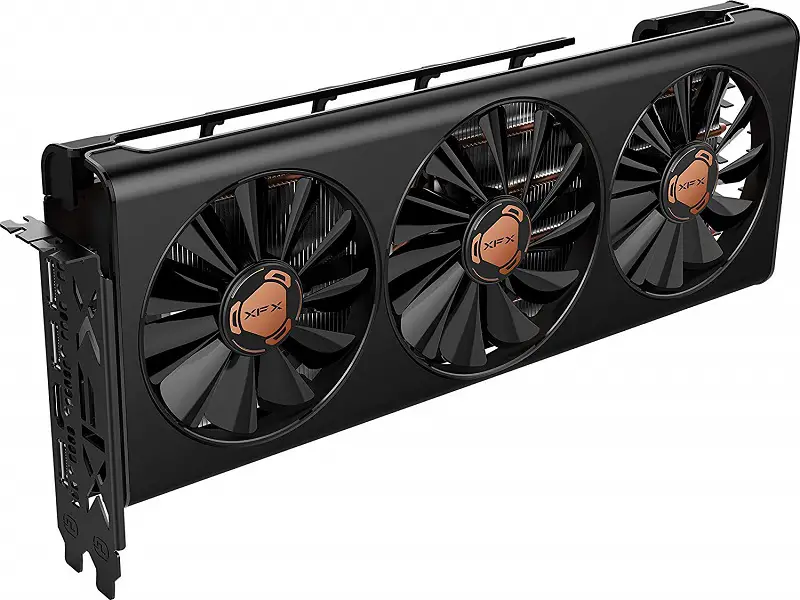 XFX provides 5-6 editions of this card which vary with each other in design and specs. The design although is similar in each of them with the exception of dimensions and the number of fans. This is one of the top-end cards from XFX which features 3x fans where Two fans are 90mm and the one in the centre measures 100mm. The heatsink is long and is equipped with several copper heat pipes.
It features a Game clock of 1615MHz and a boost clock of 1750MHz. The good thing is that it comes with a single 8 pin plus 6 pin power connectors that should help in stable overclocking. However, do also note that it comes with 6GB of memory which is clocked at 12Gbps but the Sapphire Pulse edition is clocked at 14Gbps.
---
MSI Radeon RX 5600 XT Gaming X 6G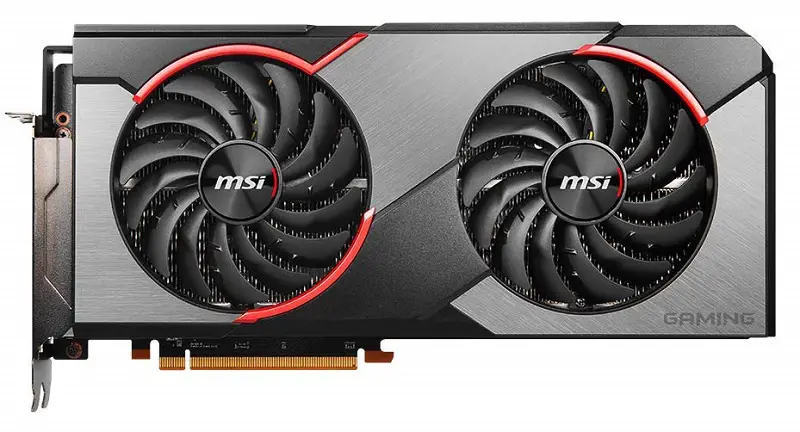 MSI has adopted a new design to the Gaming X edition and here you are seeing a plain yet elegant design on this Gaming X edition of RX 5600 XT. The GPU uses two MSI Torx 3.0 fans which are really great for air pressure and the heatsink that MSI uses has Twin Frozr 7 Thermal design. Compared to the heatsinks of other GPU brands, I don't think that there is a better heatsink quality than what MSI uses. Its aluminium heatsink is very dense and heavy which are very difficult to bend.
The heatsink on the GPU uses several nickel-plated copper heat pipes as well which will ensure proper cooling even when you overclock it. It features a game clock frequency of 1615MHz and a boost clock of 1750MHz. It has 2x 8 pin power connectors which is the maximum you will find on RX 5600 XT and it is more than enough and to be honest unnecessary when the TDP of this card is only 160 watts. The wattage can increase with the increase in the voltage but to be on the safe side it's better not to do so.
---
PowerColor Red Devil Radeon RX 5600 XT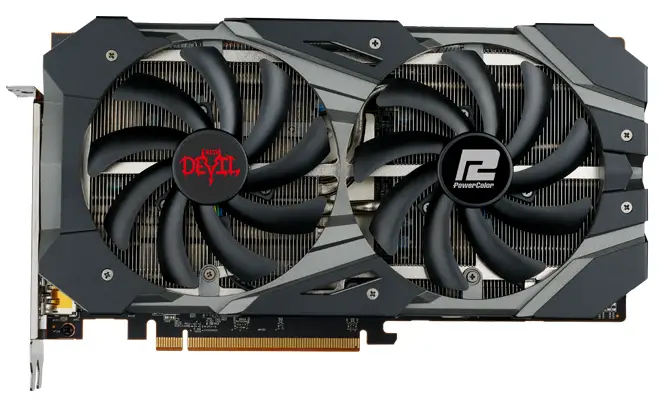 Red Dragon RX 5600 XT is among the high-end class which is superior to most of the RX 5600 XT in every case. Be it the design or specs. There is another Red Dragon edition from PowerColor which has a simple design so don't get confused. This GPU features a very powerful cooling solution which comprises of a dense aluminium heatsink which has a lot of fins and 4 copper heat pipes. Also, there is a dual Bios switch for changing the Bios if something goes wrong.
The shroud is designed in a sporty manner and features dual fans for good airflow. It also has an RGB logo at the side which is missing in all of the above-mentioned GPUs so far. This makes it a good aesthetical piece of hardware to show off. The specs of this GPU features a Game Clock of 1660MHz and a Boost Clock of 1750MHz which is fantastic. Its memory speed is 14Gbps and it measures 240mm x 118mm x 52mm in dimensions. For overclocking purposes, you can use the 8+6 pin power connectors to take the clock speed higher than what it comes with.
---
ASUS TUF Gaming 3 AMD Radeon RX 5600 XT OC
This RX 5600 XT from Asus comes at #2 position in the whole RX 5600 XT GPUs catalogue regardless of the manufacturer. It provides the highest available clock speed and a great design for cooling and functionality. From cooling solution designed for great airflow to high clock speeds, it has everything you would need for getting the most out of this GPU.
Rather than just featuring a Game Clock in the 1600s, it features two modes: Gaming and OC where you can take the core clock up to 1750MHz in Gaming Mode and up to 1770MHz in OC Mode. This is not found in any of the RX 5600 XT GPU except in the ROG Strix edition. It's one of the most factory-overclocked RX 5600 XT which will ensure that you get a good noticeable boost in performance. It features a triple fan design with a thick heatsink that makes it a 2.7 slot card.
Along with a good design, it also features a small RGB LED strip at the side and due to belonging to TUF series, it will be compatible with all the other TUF branded components in the best way.
---
ASUS ROG Strix AMD Radeon RX 5600 XT OC
Asus never amazes me when it brings the most powerful GPU in the entire series because Asus is known for doing this for a long time. Its ROG Strix editions are the most powerful ones you can ever get for gaming. Not only they feature the most powerful cooling solution but also a great looking design and the highest clock speeds. Asus's Rog Strix RX 5600 XT OC comes at the top of the list with the clock speeds higher than the Asus TUF RX 5600 XT where you will have two modes for clock frequencies.
In the Gaming Mode, you have 1670MHz as the Game clock and 1750MHz as the Boost clock whereas, in the OC Mode, it has 1670MHz as the Game clock and 1770MHz as the Boost clock. It also features a few additional things that the TUF edition doesn't like Dual Bios and RGB lighting all over the shroud. Not only the front but the backplate is also equipped with RGB lighting in the ROG logo. It comes with 1x 6 pin and 1x 8 pin power connectors and measures 30.37 x 13 x 5.39 cm which means it is big and bulky.
This piece of great hardware will also cost you more than any other RX 5600 XT with its price costing around $330-$340.
---
Conclusion
Among all the available RX 5600 XT GPUs, the above-mentioned ones are the most value providing ones but if you want the best one among them, then go for the Asus ROG Strix RX 5600 XT and if you don't want to spend $340, then consider the PowerColor Red Dragon RX 5600 XT which is less expensive and will still perform up to your expectations. Or if you want to spend the least and want to get the most, then consider the Sapphire Pulse edition