Xtremegaminerd.com is supported by the readers. The purchase you make through our links may get us some commission and doesn't cost you an extra penny.
---
Best B350 motherboards from every vendor
B350 motherboards are performance grade boards that are designed especially for overclocking and support for CrossfireX. A person who is having a Ryzen processor will buy either an X370 chipset motherboard or a B350 chipset motherboard because these are the only two chipsets which support Ryzen overclocking. The reason behind the launching of B350 chipset motherboards is clear. They are made for overclocking for budget builders.
As the price difference between an X370 chipset motherboard and a B350 motherboard is wide, there are some limitations to overclocking in the latter. But every board is made differently even among the vendors. Some have more phases and some have less. Some have good compatibility with CrossfireX and some have less. All the other features such as cooling and storage support come second after overclocking and multi-GPU support.
But almost every B350 board has same specs when the other two main features like cooling and storage support are compared(When an ATX board is compared to another ATX board from another Vendor and Micro-ATX board is compared to another Micro-ATX board from another Vendor). So, the main focus of this article will be #1. Overclocking, #2. Multi-GPU support. Then there will be a brief explanation of other features as well.
I have tried to include almost every board from every vendor to make it clear to you which board you should buy and I hope this article will clear out a lot of confusion from your mind. The explanations are brief as possible but include the main points that need to be discussed.
Latest:- Best B450 Motherboards
Best B350 motherboards from Asus
No doubt in the reliability and performance of Asus motherboards. It's well known that Asus boards are best and my priority is always to get motherboards from Asus. Although as I am going to talk about B350 motherboards, there are some decent boards from other vendors too. But Asus provides the best performance in almost every chipset, so will look at how good motherboards from Asus are.
Currently, there are around 5 B350 motherboards from Asus and two of them which I have mentioned below are of top quality which I recommend to go with. 
Recommended motherboards
Both the motherboards are best when it comes to features especially overclocking. The Asus B350 ROG Strix is the top of the line motherboard and uses 6+2 power phases according to what can be seen when looking at its VRM which is for stable power delivery while the Asus B350 Prime is not that behind too. It uses 4+2 power phases which of course are less stable but justifies $20 less price. 4+2 is still one of the best designs for VRM and is very good for overclocking a 6 core or 8 core processor. 
The ROG Strix edition has big heatsinks and it will be more efficient than the B350 Prime motherboard. You can use an 8 core processor like Ryzen 1700/1700X/1800X on ROG Strix B350 motherboard without any problem to its full potential while B350 Prime will be good for a six-core processor for better stability as the heatsinks are smaller especially on the upper two phases. 
Asus ROG B350 board is having, even more, features especially great aesthetics with RGB LED's embedded in the main chipset heatsink. Now coming to the second main feature which is the use of PCI-E slots both have some noticeable differences. The Asus ROG edition has 3x PCI-Ex 16 slots out of which two are 3.0 and one is 2.0 whereas the Prime has 2x PCI-Ex 1 slots having one 3.0 and one 2.0 version slot. 
As normally, a B350 chipset motherboard will be compatible with 2 way CrossfireX just as the Prime B350 Plus is but the Asus ROG edition has 3 way CrossfireX support. Although, it's ridiculous to think about using 3 graphics cards on a B350 motherboard or even on an X370 motherboard, it's still a great feature because the first two PCI-Ex 16 slots are 3.0 version both running at x16 and when CrossfireX is done, the configuration will be x8, x8 that is great and won't bottleneck any graphics card. 
The third PCI-Ex 16 slot which is 2.0 version runs only at x4 max so you are not going to use that slot anyway unless you plan to do a three way CrossfireX which will for sure bottleneck the third GPU. However, in the Prime B350 Plus board, the 2nd PCI-Ex 16 slot is 2.0 version which runs at x4 max. So, forget about doing CrossfireX on that board as the configuration will be x8, x4. So, if you ever plan to do CrossfireX, then the Asus ROG edition is at a lot of advantage. 
The other advantages of the Asus ROG edition are the inbuilt features such as better audio technology and more fan headers. I think both are good at their prices but for just $20, the Asus ROG Strix B350 is worth every dollar. 
Taking a look at other boards from Asus
Asus Prime B350M-E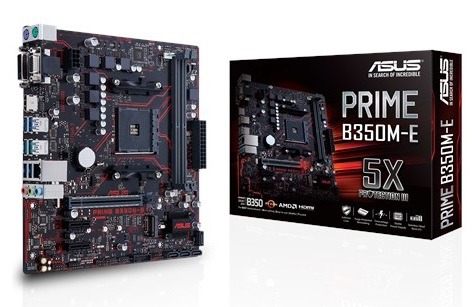 Now the reasons for not recommending these 3 motherboards are many. The Prime B350M-A and B350M-E don't have any heatsinks on their VRM's even though they use the same 4+2 power phases for power delivery. So, the main motive of using an unlocked processor is finished here. This lack of feature is alone enough not to buy these two.
The TUF B350M-Plus motherboard is, however, good but it costs almost the same as a Prime B350-Plus but with no heatsink on the power phases above the socket even though, other features are almost the same including the ports, slots and CrossfireX compatibility. Unless you are planning to build a Micro-ATX system, don't go with it. 
Best B350 motherboards from MSI
It may be astonishing that in the field of B350 motherboards, MSI has the most number of motherboards and the most quality of boards even when compared to the Asus boards. Except for the Asus ROG Strix B350 board, which uses a better power phase, the recommended boards from MSI are the way to go if you want to get the best overclocking performance overall. 
There are a total of 6 motherboards that I recommend to go with out of 11 which are currently right now available in the market. I will explain about the other 5 later on but let's take a look at these 6 boards. 
Recommended motherboards
MSI's Gaming Pro Carbon and Krait Gaming are very similar to each other in design and performance. Both of them are having great VRM section that is not present in any of the motherboards from MSI and from other vendors as well. This makes both of these boards distinguished as they use a lot of chokes for better stability in overclocking. Although, it looks like there are a lot of phases in the VRM but these motherboards use 4+2 power phase with a lot of chokes and therefore the current will be more stable and voltage will go filtered from the capacitors even more. 
So, for overclocking these are the best. Although the Asus ROG Strix is also one of the great overclocking boards, you won't go wrong if you choose one of these three boards. Now coming back to the other MSI boards, the other 4 boards that I recommend are very similar to each other. The major difference in each of them is the aesthetics. Each has a different theme: Some have white/light blue accents, some have red/black accents. So, you can use any of those to match your build because every motherboard is equivalent to each other except the first two which have better-overclocking capability.
As for the ports, headers and slots, each and every board out of these 6 have exactly same amount of fan headers and PCI-Ex 16 slots. The memory capacity and the clocks they support are exactly equal,  so I don't need to mention each feature.
The configuration at which these PCI-Ex 16 slots run are exactly same. Giving the top two boards priority only in overclocking. But Asus ROG Strix wins if CrossfireX support is concerned. As all these MSI boards have 1x PCI-Ex 16 3.0 and 1x PCI-Ex 16 2.0 slots, the second slot runs at x4 which bottlenecks GPU's. So CrossFireX is useless on each and every MSI board. But for me, that's only a very small CON because If I plan to do multi-GPU setup I will buy an X370 chipset motherboard and not a B350 board. 
Taking a look at the other boards from MSI
Despite the fact that already 6 motherboards from MSI are the best bang for the buck, the other 7, even though are no match for the other first ones but are good value for the price. I have skipped two motherboards above from the seven because those two are almost equal to each other and are very basic not enough good to be put on the second list.
Now, each one of the five is having one heatsink on the main VRM section covering the first 4 phase that delivers power to CPU. For overclocking a 4 core CPU like Ryzen 3 1200 or 1300X, these are worth the money and these should be used for micro-ATX builds. 
Now except the Mortar and Mortar Arctic, the other three boards have only 1x PCI-Ex 16 slots that run at x16 when used with Ryzen processors and at x8 when used with Athlon processors. They don't have any CrossFireX support. The Mortar and Mortar Arctic are equivalent to the full-ATX B350 motherboards but have lesser PCI-E slots and fan headers. So, they will be OK in a Micro-ATX build and are totally fine to be used on a PC.
Best B350 motherboards from ASRock
Now almost every ASRock motherboard is great for its price. There are a total of 7 motherboards with B350 chipset from ASRock out of which I recommend 4 and out of the other 3 boards, 2 are just fine and the third one isn't worth the money. 
As for the first 4 motherboards go, they contain both the Full-ATX and Micro-ATX boards unlike the boards we saw above from Asus and MSI. 
Recommended motherboards
As I said earlier all these 4 boards are great for their price and each one of them is good for overclocking. All of these four boards use the same 3+3 power phase for VRM but have double chokes for better stability. Some of the best boards from MSI which I recommend don't have these much components except the MSI Pro Carbon and the Krait Gaming. All of these 4 boards have good aluminium heatsinks all over the VRM sections and you will have a good time overclocking a 6 core or an 8 core processor in each of them. 
Although a 4+2 power phase is better than 3+3 because 4 power phases are used for the CPU alone as compared to 3 in a 3+3. But the prices of these ASRock boards are also much cheaper. The AB350 Pro4 is available for $90, however, the better board with 4+2 power phase like MSI Krait gaming is available for $25 more with a better heatsink and VRM section. So both justify their prices for the performance they can deliver. 
I still recommend to go with an Asus ROG Strix B350 or MSI's first two recommended boards for going with an 8 core Ryzen processor for stable overclocking but if you want to use the recommended boards which have 4+2 or 3+3 power phases for 8 core processors, you will be just fine but you won't be able to achieve good results as per how the circuits are designed. Although a 6 core processor will be perfect for these motherboards. 
Now each of these motherboards has 2x PCI-Ex 16 slots that are 3.0 version and run at x16. The Micro-ATX boards which are AB350 Pro4/Dash and AB 350 Pro4 don't have CrossfireX capability but they are still good for overclocking and these two are the only best Micro-ATX motherboards from any vendor you can get right now. So, if you are planning to get the most out of a Micro-ATX board, then anyone of these will work fine with a 4 core or a 6 core processor.  
Although there are some slight differences between these two boards. The Pro4/Dash has 1x M.2 slot whereas the Pro4 has 2x M.2 slots giving it an advantage over storage. However, I can't speak on the different circuit design unless I figure out everything. But the most important features are there in both of these boards. 
Taking a look at other boards from ASRock
Other boards from ASRock
Now two of these have 3+3 power phase but the AB350M-HDV has a 4+3 power phase which is even better. But hold on! it doesn't have any heatsink, so how it's gonna be a good board for overclocking? Now it can't handle overclocking properly. I think you can overclock a 4 core processor on it but I would still advise you to stay away from it because there is risk of unstability. The other two boards will be fine but I still recommend the AB350M Pro4/Dash and AB350M Pro4 because those are better. 
But if you just want normal overclocking then the AB350M will be fine which will allow you to use a single graphics card as it has only 1 PCI-Ex 16 slot although the Pro4 and Pro4/Dash have two which also don't support CrossfireX, the AB350M will cut out some expense. 
Gigabyte and Biostar B350 motherboards
As far as the B350 motherboards are concerned, none from Gigabyte and Biostar seem to be as good as the other three brands. Yes, there are some fine boards from both but there is no use of listing them out if similar or even better boards for the same price are available from MSI. The Gigabyte and Biostar both use mainly 4+3 power phase on all of their motherboards but none of them has heatsinks all over the VRM. 
So, it is not worth to give them a try if you are planning to overclock your Ryzen processor which you are obviously going to because B350 boards are made for this purpose. The Gigabyte's GA-AB350M-Gaming 3 is a fine board with a good heatsink and 2x PCI-Ex 16 slots. Although just like the ASRock Micro-ATX motherboards, this motherboard's product page doesn't tell about the CrossfireX support. So, I guess, it isn't present on these boards even after having two PCI-Ex 16 slots. So, better stick with either Asus, MSI or ASRock motherboards for best performance. 
Conclusion
Currently, the best motherboards available are from MSI. Asus has only one board that beats all and that is the ROG Strix edition but then the ASRock motherboards come into play which are very competitive to the boards brought by Asus and MSI. Personally, I feel that it's best to go with an MSI motherboard rather than any other board except if you are an enthusiast and want the top of the line board like ROG Strix B350 motherboard. But for budget less than $100, ASRock deliver very powerful boards as well that will easily handle any 6 core processor in overclocking.