Cases
Best Cable Management Cases
Xtremegaminerd.com is supported by the readers. The purchase you make through our links may get us some commission and doesn't cost you an extra penny.
---
If you are reading this topic now then you are pretty much confused about which PC Cases is the best in terms of Cable Management, then we will try to provide you with some solution by rounding up some cases which offer best cable management along with their summarized description.
We have seen many new cases from different manufacturers but few of them are surprisingly too good to be true. Apart from the recent trend of RGB and TG Panel, some case manufacturers make sure that when they launch a new case, it is well balanced in every possible way starting from the good airflow, aesthetics, modularity, build quality and nice cable management.
When you are having a huge set of hardware, it is obvious that the case you are using has proper cable management. More these days due to the TG trend where users want to show off their hardware stuff, cable management has also become a necessity. No one wants to show those unplaned lying of wires which can eliminate the beauty of your setup. Thus a case with good cable management is also important these days. Thus we are providing some best cable management cases which are incomparable to others. Later if we found any cases that should be added to this category we will update the same.
NZXT H700i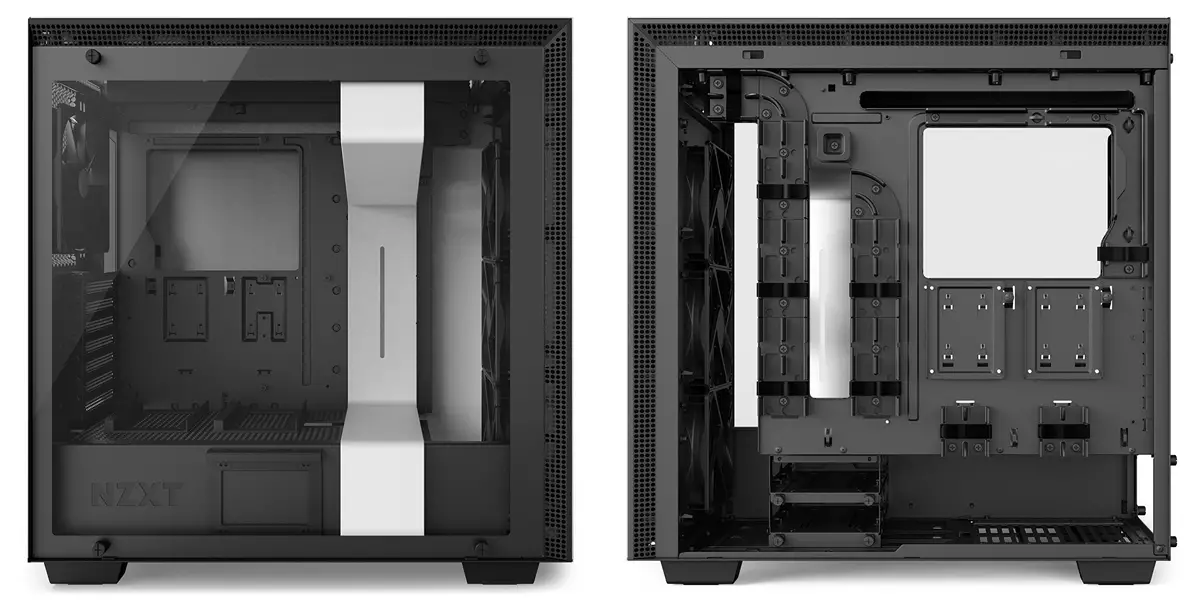 The first contender in the best cable management category is none other than the H700i from NZXT. The case is unique in its own way.
The new H700i is an advanced series from NZXT, a mid-tower with  RGB LED & TG.  It uses a combination of HUE+ and GRID+ digital controllers with a new Smart Controller Device. As with NZXT, the H700i will be available in several colour combinations, like Black Black, White Black, Black Blue and Black Red. It is a mid-tower chassis with plenty of room to support EATX motherboards.  It is priced at 199$.
The case also offers proper space for storage as well, housing three quick-release 2.5" SSD trays positioned on power supply shroud and two steel trays behind the motherboard tray. A regular tray (hidden) can hold two HDDs. The case comes with 4 fans included (3x120mm for intake & 1x140mm for exhaust), all the fans are high airflow type, along with a LED strip at the top and an option to add a second strip (NZXT Strip only).
The case also supports rads in the top as well as at the front. The best part of the case is its unique cable management system which is a trend for NZXT from the beginning. The case has predefined routed layouts for the cables to pass through and with the presence of prominent Velcro Straps and clips for cable ties. There is also a mini puck in the case for cable to channel through.
The H700i is really nice in terms of design, the tempered glass brings out the inner beauty of the case to its full potentiality. The biggest feature for the H700i is the added NZXT embedded an RGB LED strip and controller. Unfortunately, there are numerous reports about the CAM software, but apart from that, the case performs as it is expected. The case comes with a price tag of 199$, though a bit high due to the added smart controller but investing in it won't make you feel down.
---
Fractal Design Meshify C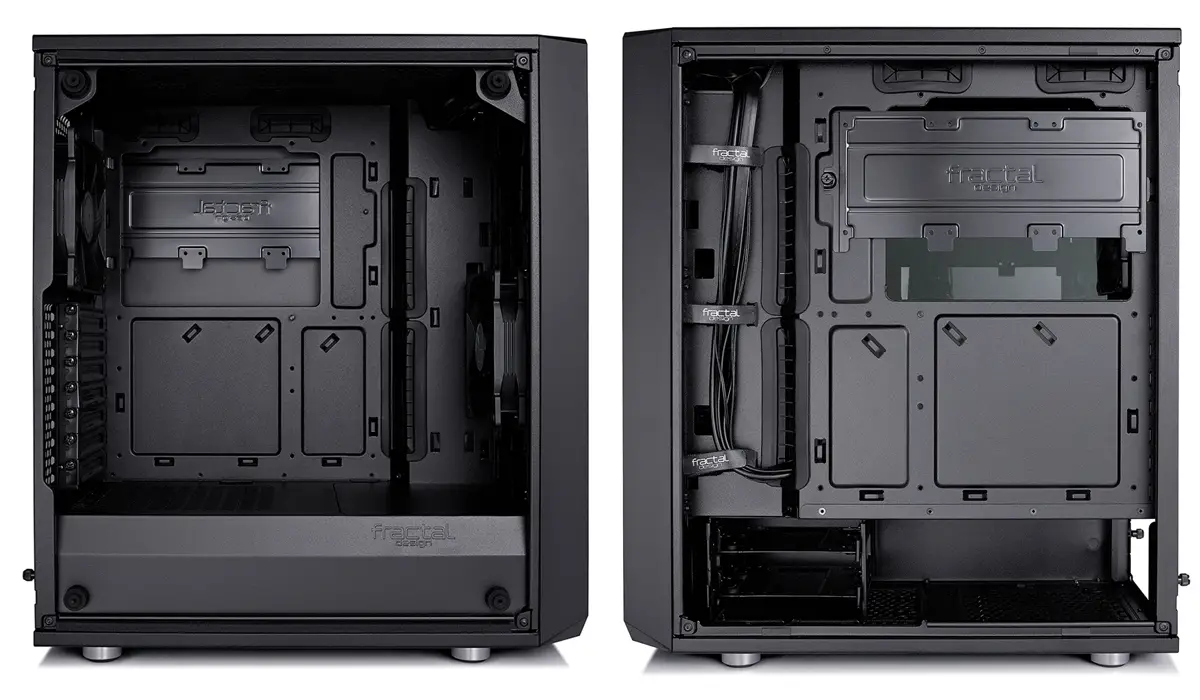 Our next pick for the best cable management system is the Meshify C from the house of Fractal Design. When it comes to Fractal Design cases, two things immediately pop into our mind, of which the first being the robustness of these cases as they are very much sturdy compared to other cases and the second, being innovative than others. The Meshify C looks quite different to any other cases released in 2017.
It completely avoids the crapy RGB trend.  The Meshify C is made primarily of solid steel components, along with some plastic components too. The left side of the chassis is covered in tempered glass. The Meshify C opt out Optical Drive bays but has two trays which can accommodate 3.5″ or 2'5″ drives, and three 2.5″ drives. The back of the case houses seven expansion slots. The front I/O offers two USB 3.0 ports and Audio jacks along with a power and reset button.
The Meshify C comes with two pre-installed performance Fractal Design Dynamic 120mm fans, one in front and other in the back. The top panel has an easy to remove magnetic dust filter along with a large dust filter in the bottom that spans the entire bottom portion of the case. The case can house up to 360mm rads upfront. Now the interesting part is its cable management, it offers excellent room and option for cable management. There are velcro straps present for channelling the cables nicely and also the case provides cable tie mounting points in the appropriate locations.
The Meshify C offers great potential for such a low price segment, it offers excellent balanced performance and as well as avoids the crappy RGB trend without compromising its aesthetics. Fractal Design was able to shorten the chassis considerably by removing drive bays in front without compromising the storage with worth mentioning.
---
Cooler Master H500P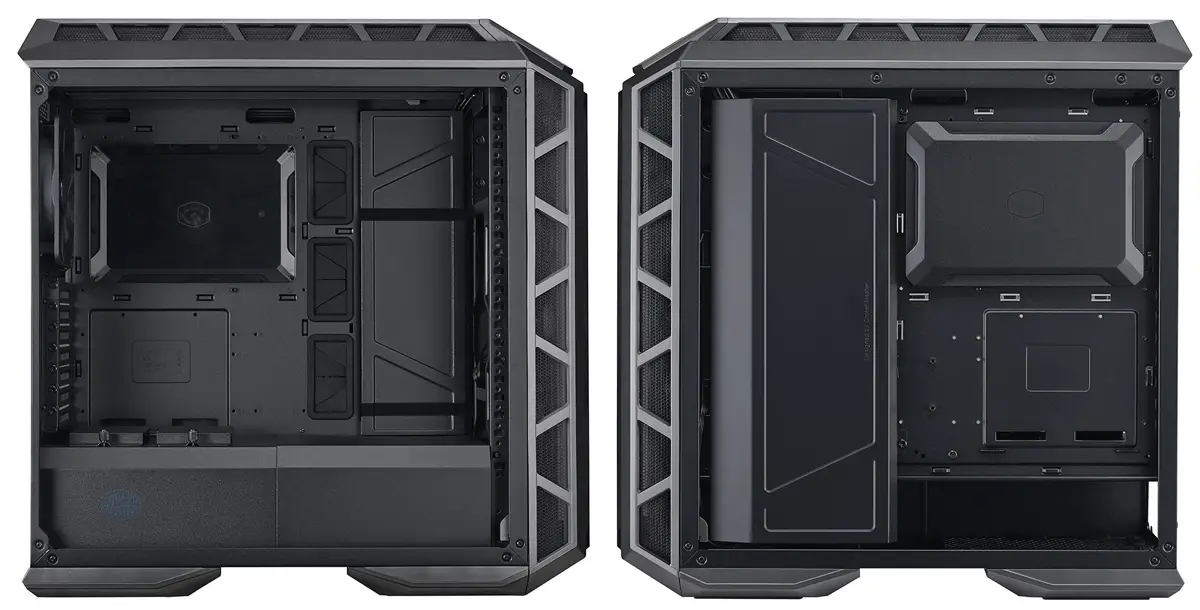 The next pick for the best cable management category is the most controversial case of the year, the H500P from Cooler Master. The case offers great aesthetics over performance which is not expected from Cooler Master, however, they are already working on the same to rectify their problem. Starting with the top of H500p, the I/O panel consist is fairly standard packed with two USB 3.0 and two USB 2.0 ports, a start button which is illuminated, a reset button and the standard headphone/microphone jacks.
The top panel offers a beautiful clear view as it is made with a transparent Acrylic material with sufficient venting for air to pass through and easy to remove while assembling. After removing the top panel, it provides you with the radiator or fans brackets. The bracket can house up to a 360mm radiator or a triple 140mm Fans with ease. Push pulls configuration can be possible as the clearance until the rare fan is 77mm.
It also helps you to use the full potentiality of RGB view. Coming to the front the new H500p offers stunning looks with superior colour uniformity with two big 200mm fans along with RGB illumination. Moving to back there are two big covers, one which hides the motherboard cutout and the other which is meant to hide all the cable stuff, which is really cool and unique if someone wants to show off their colour matched cables. There is proper cable tie mounts present which also makes it easier to manage those cables. Moreover, you can dump those cable inside those boxes if you are feeling lazy.
The Cooler Master H500p is the most hyped case of 2017, though the case greatly lags behind in term of cooling potential, they have recently shown the most discussed Meshify version of the H500p this CES 2018 which seems to be a promising addition to overcome those drawbacks. Therefore our suggestion will be to wait until the launch of this case if you are thinking of buying it.
---
Phanteks Enthoo Elite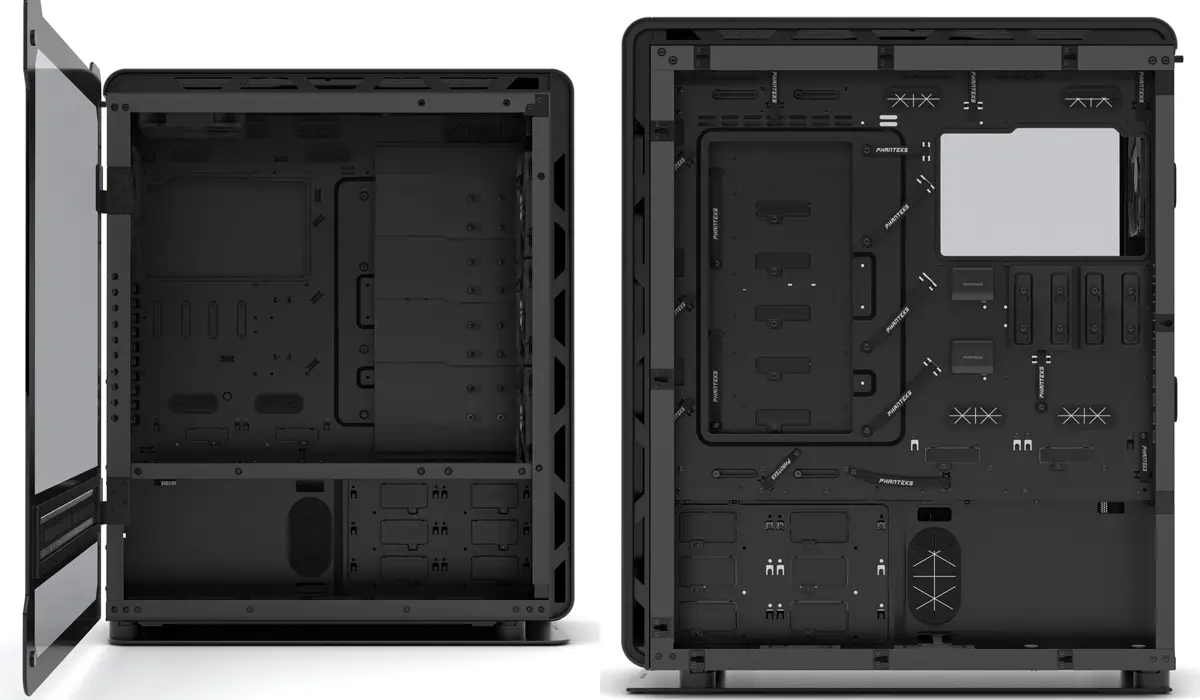 Our next choice for the best cable management case is Phanteks Enthoo Elite. It is a full tower PC Chasis with a lot of cooling potential along with modular elements. Priced at $900 it is the most premium gaming enclosure. The IO includes four USB 3.0, an HDMI pass-through, a Type-C port, dual audio jacks for dual systems and a wheel to control the integrated case lighting which allows you cycle between colours, adjust the brightness, change the modes also. Inside the case, you can run two system simultaneously.
The cooling options are also sufficient and users who tend toward liquid cooling would love the case for sure as it can support radiator in almost every location. With a dual system option cable management should have been tough but thanks to Phanteks handles them perfectly by providing sufficient cable tie points and velcro straps for the main chamber, however, for the second system cable management is bit difficult but with such a huge chassis it won't be much of a problem.
The Phanteks Enthoo Elite is really a Premium Enclosure and is targeted for high aim systems with liquid cooling priority but if someone decides to get hands on this case, he/she has to be certain that this investment will be a long-term one as the case is priced at $1000 and this price tag is huge as a whole new system can be built with this much amount. This case is truly a heaven for the enthusiast as they get plenty of choices.
---
Cases List (As of 14th Sept 2018)
| Cases | Images | Price | Links |
| --- | --- | --- | --- |
| NZXT H700i | | $149.13 | |
| Fractal Design Meshify C | | $109 | |
| Cooler Master H500P | | $161.08 | |
| Phanteks Enthoo Elite | | $1132.81 | |
Conclusion
This article includes those cases only that after deep R&D has been selected as the Best Case for Cable Management. However, if we get to know about some other cases that offer such an excellent feature in terms of cable management, they will be added to this article. According to us, until now the NZXT H700i is the best in class for Cable Management. If you guys think we overlooked some case, feel free to suggest us.