Ryzen 5 3600 is almost 2 years old and still keeps its promise to keep the enthusiast level of gaming alive. This processor features 6 cores and 12 threads that are adequate for playing the most intensive title without breaking a sweat and has been among the best selling gaming CPUs of all time.
Considering the availability and pricing of the latest Ryzen and Intel processors, the 3600 is still among the top 3 processors to choose for gaming under $200. With that said, as the processor is capable of overclocking too, you can't let it go with the stock cooler if you want to maximize the performance by increasing the core clocks in the BIOS.
With the increase in core clock and voltage, you will have a rise in temperatures that may lead to unstable overclocking and inconsistent performance except if you put a beefy CPU cooler to cool it down. Fortunately, there are some great budget coolers in the market that can do this job done if you don't want to reach the maximum overclocking capability.
Following is the list of top-performing CPU coolers which can bring down the temperatures significantly down and let the chip maintain stable clock speeds which will directly influence the gaming performance. If you have any doubts, you can drop your comment in the comments section below the post.
Entry-Level

– Arctic Freezer 34 eSports One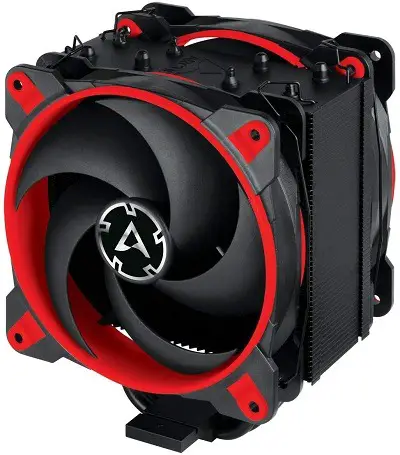 Single Tower 4 heat pipes Dual 120mm Bionix P120 fans 6 different colours
---
For those who have a limited budget to spend on the cooler, Arctic's Freezer 34 is a perfect entry-level CPU cooler that will control the temperatures to a decent level while overclocking. It features a single black-painted aluminium heatsink with 4 copper heat pipes that will be in direct contact with the processor. It's equipped with dual air pressure Arctic fans that are capable of throwing up to 67CFM of airflow with an air pressure of 2.75mm/H2O. With two fans, you can easily create a push-pull configuration that will dissipate heat faster than a single fan.
As I have tested the Arctic Freezer 33 cooler which features an airflow fan but the same heatsink, I can approve of its capability of cooling the processor but the fan speed should be at least 1500RPM if you want stable overclocking for a long time. This cooler is available with different coloured fans and costs $50. Note that this cooler isn't the best choice for overclocking but it's only good for mild overclocking and suits those who are a little tight on budget.
Best Overall

– Noctua NH-D15 SE-AM4
Dual Tower 6 heat pipes Dual 140mm fans 6 years warranty
---
The NH-D15 is manufactured on the basis of the legendary air-cooler NH-D14. Noctua's flagship model NH-D15 SE-AM4 is claimed by Noctua as an elite-class dual tower cooler Air Cooler that is capable of meeting the highest cooling requirement by a user. The NH-D15 SE-AM4 comes with an expanded Heatpipe design along with two premium-grade NF-A15 SE-AM4 140mm fans with PWM support for automatic speed control.
As compared to conventional single tower heatsinks, the NH-D15 SE-AM4 is fine-tuned six heat-pipe dual tower design which is able to provide more surface area, better heat-distribution and superior airflow efficiency in dual fan mode. The fin-stack has been widened from 140 to 150mm and its heat-pipes are now spaced further apart, which allows for a more uniform heat distribution over a larger surface area even when compared to its predecessor the NH-D14.
Being such a huge cooler, it doesn't compromise with other hardware and can easily house the latest tall memory heatsinks with a clearance of 64mm. They even tried to get the best compatibility and airflow path inside the case and the SecuFirm2 mounting for AM4 makes it possible to install the cooler either in standard orientation or turned by 90°. The NH-D15 comes with NT-H1 thermal compound and is also covered with a full 6-year manufacturer's warranty.
MasterAir MA410M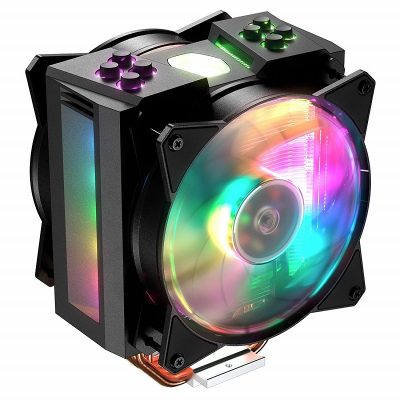 Single Tower 4 heat pipes Dual ARGB MF120R fans Thermal detection sensor
---
The next one in the CPU air cooler comes from  Cooler Master. The MasterAir MA410M is the latest introduction in their line-up for CPU coolers. With a taste of modernness, the CPU cooler is packed with performance.
It is made up of hexagonal fin cutout which is design to dissipate heat faster for maximum cooling efficiency. The design is quite unique and the special armor designing is implemented to guide the flow of air for peak cooling performance and reduce dead heat spots on the cooler. Further, the armor is also illuminated by 28 addressable RGB LEDs for full-colour customization.
The MA410M comes with dual pre-installed MF120R fans which are arranged for push-pull setup and it helps to exhaust the hot air from the heatsink quickly out of the case. The cooler is equipped with a thermal sensor that detects the CPU temperature and displays the same through colour lighting effects. If the CPU is at max load then the colour will turn red and at an ideal temperature, it will be blue.
Enermax Liqfusion RGB 240mm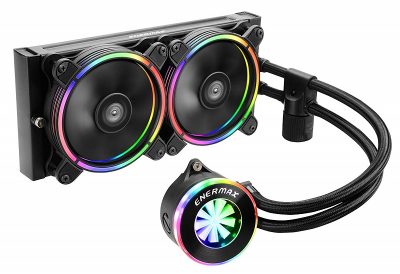 240mm radiator RGB-sync waterblock Dual 120mm RGB fans
---
Not very popular everywhere, Enermax ELC-LF240-RGB has gained quite a name for it. The ELC-LF240-RGB AIO Cooler comes with individually addressable RGB LEDs and the RGB water block is equipped with a patented flow meter allowing the user to easily monitor the status of the coolant flow.
Combining with the T.B. RGB fans with addressable LEDs, the LIQFUSION can create awesome RGB lighting effects. Further, the RGB liquid cooler is compatible with addressable RGB headers from most of the brands' such as Gigabyte, MSI and Asrock motherboards. In addition, LIQFUSION has an integrated RGB control box if the RGB LEDs cannot be controlled via the motherboard which is a nice additional option.
The fans coming with the ELC-LF240-RGB are optimized for silent operation and the speed can be turned down to as low as 500 RPM via PWM. T.B. RGB's frame is equipped with rubber damping pads to prevent vibration transfer to the chassis to ensure silent operation.
Enthusiast-

Hydro Series H115i RGB Platinum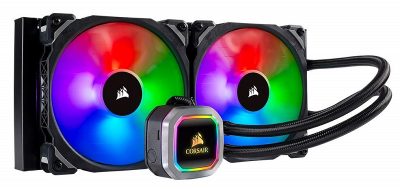 280mm radiator RGB sync water block Dual 120mm RGB fans
---
The CORSAIR Hydro Series H150i PLATINUM 280mm AIO is the latest addition to its renowned AIO cooling solution, an all-in-one RGB liquid CPU cooler with a 280mm radiator built for low-noise cooling and bold styling with an RGB LED pump head and fans.
The entire Hyrdo Series is the topmost AIO solution from Corsair and though having a minimalistic design, these AIO's are capable of delivering top-notch performance. The H150i H150i PLATINUM comes pre-installed with two low-noise 140mm ML Pro Series magnetic levitation PWM fans which are capable to deliver improved airflow and produce just 25 dBA of noise at full speed.
Further, the H150i PLATINUM offers nice RGB lighting options which are fully controllable via Corsair iCUE software. One can even control the fans via the software and can also select Zero RPM Cooling in which the fan will entirely stop at low temperature to omit any extra noise. The Corsair H150i PLATINUM supports most modern-day processors including the Threadripper series from AMD, however, one needs to procure the socket separately. The H150i PLATINUM is backed by a 5years warranty which is an excellent choice for anyone.
Conclusion
Currently, amidst the CPU coolers present on the market, it's really difficult to choose the best one because most of them perform similar to the other. Some of the coolers today are different in terms of design and lighting compared to the coolers we saw in the last 3-4 years. This makes these coolers a better buy because they increase the performance and aesthetics overall.
The above-mentioned CPU coolers should be great for the Ryzen 5 3600 and I don't recommend going with more than 280mm radiators because that will be overkill. A 240mm or a 280mm at max is best for strong overclocking and should maintain stability in the performance by maintaining the temperature at a particular clock speed.