Xtremegaminerd.com is supported by the readers. The purchase you make through our links may get us some commission and doesn't cost you an extra penny.
---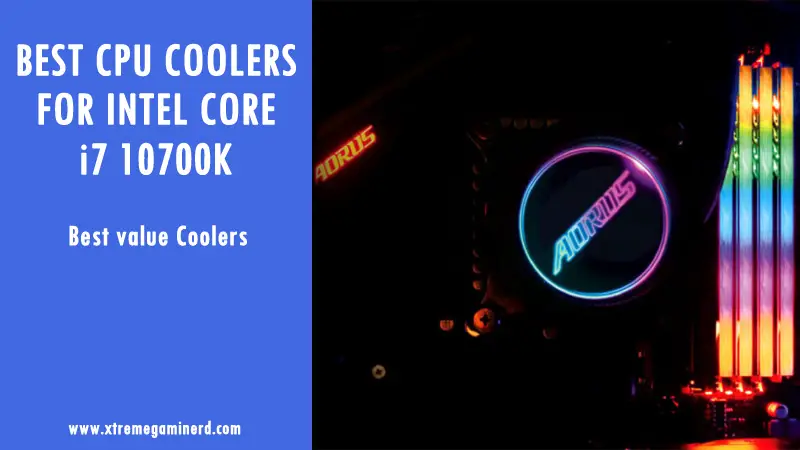 Intel's i7 10700K is almost similar to the i9 9900K from the 9th gen series but is much cheaper which makes the 10700K a better buy than the 9900K right now. i7 10700K features 8 cores with 16 threads that is absolutely a monster for gaming and productivity.
The processor is really great for enthusiasts who want the maximum performance in any game and want to shorten the processing or rendering times in CPU-related programs. As the processor is equipped with hyperthreading and higher clocks than the 9700K, it runs hotter and its TDP which is now 30W more than that of 9700K makes it need a better CPU cooler.
We all love overclocking chips like these and there are hardly a few people around the world who would use a stock Intel cooler with a processor like this. Currently, in 2020, there are dozens of coolers both from Air and Liquid categories that will help you control the temperature to maximize performance for a longer period of time.
Consider the following list of coolers that will be sufficient for cooling this beast and will provide a great look to your PC as well.
Quick Specs :-
Type: Air
Heatsink: Aluminium Dual tower with 7 copper heat pipes
Fan: 1x 120mm Silent Wings, 1x 135mm Silent Wings
Dimensions: 145.7 x 136 x 162.8mm(including fan)
As the name suggests, if you want quieter operation even on full load, then Dark Rock Pro 4 is a solid air cooler that can be considered in the top 3 air coolers available today. With dual tower heatsinks, it is capable of handling any processor easily including the i7 10700K and even the i9 10900K.
It features black-painted heatsink along with 7 black painted copper heat pipes for better heat dissipation as black is most effective in absorbing heat. Be Quiet has added the installation support on an LGA 1200 socket, so you don't need to worry about its compatibility.
This cooler comes with dual 120mm fans which are very silent even at 100%. Be Quiet says, it produces noise up to 23.4dBA only but that depends on the distance between the listener and the cooler. Most of the reviews that include reviews from Techpowerup and Kitguru tell us that it produces around 35dBA of noise from 1 foot apart.
While this cooler is definitely a monster and competes with many 240mm AIO coolers, it's also very heavy with its weight sitting at 1.3KG and it may put a hindrance in installing RAM stick in the first slot which also depends on the type of RAM module you are going to use. It's recommended that you put back the fan on the DIMM side after you install your memory kit.
Related:- Best CPU coolers for i5 10600K
Quick Specs :-
Type: Air
Heatsink: Aluminium Dual tower with 6 copper heat pipes
Fan: 1x SF120R
Dimensions: 135 x 125 x 165 mm
If you want performance with aesthetics, then consider the MA620M from Cooler Master which is one of the popular air coolers of the current time. While it doesn't beat the Dark Pro 4 clearly, it does come very close to its performance which makes it an excellent alternative.
It features dual aluminum heatsinks with a fan sandwiched between them. It uses the SF120R FAN which has a high airflow of 57.3 CFM and an ideal noise level of up to 30dBA. In real-world testing, it does exceed this number and Dark Pro 4 is quieter in operation.
Over the top of this cooler, you will find a Lighting Badge that features inbuilt RGB LED lighting that can be controlled using the controller provided with this cooler and similar to the Dark Pro 4, its aluminium heatsinks, as well as the copper heat pipes, are black painted. The difference here is that it has 6 heat pipes whereas the Dark Pro 4 has 7. Tests from Modding.fr and Kitguru show that it is comparable to the Dark Pro 4 in temperature maintenance while overclocking.
Quick Specs :-
Type: Air
Heatsink: 240mm radiator
Fan: 2x Corsair ML 120
Dimensions: 277 x 120 x 27mm(Radiator)
Corsair H100i RGB Platinum is probably one of the best if not the best 240mm AIO cooler you can buy. This is insanely good whether it is thermal performance or acoustic performance. It beats 90% of the CPU coolers according to the comparison done by Eteknix that includes many great 240mm AIO CPU coolers. It's one of the best solutions to keep your processor's temperature under 70 degrees all the time in an overclocked state.
For the i7 10700K, this is the best recommendation we can give if you don't want to spend over $200. For $150-$160, you can have all the best aesthetics that include great RGB lighting on the water block and fans. This easily beats the older version of H100i and its noise most remains below 40dBA under full load while overclocking.
This cooler uses dual 120mm Corsair ML RGB fans that have a maximum speed of 2400RPM with an insane airflow of up to 75CFM. This ensures that your radiator heatsink remains cooler in longer operation. This cooler is also available in a 280mm variant but will cost you more.
Quick Specs :-
Type: Air
Heatsink: 360mm radiator
Fan: 3x 120mm Aorus ARGB fans
Dimensions: 394 x 120 x 27mm(Radiator)
The Aorus RGB 360 is an enthusiast-grade AIO cooler that comes with some premium features that are rare to find. It features a 360mm radiator with 3x 120mm RGB fans and RGB lighting equipped in the water block too.
While it may be overkill for many, but it is a no-compromise choice for not only the i7 10700K but also for the i9 10900K which has 2 more cores. This cooler has a circular water block with an LCD display that has different modes for display. It can display the current status of your system like fan speed and temperature of CPU along with the CPU model and pump speed.
This cooler should keep your 10700K's temperature below 60 degrees C most of the time while it can also go above 60C in different circumstances which depends on the environment and also on the applications and clock speeds. Note that the difference in performance between this cooler and the H100i RGB Platinum from Corsair will be minimal as shown be different tests, but the outstanding aesthetics and a little better cooling is definitely expected from this cooler as it costs $60 more.
Conclusion
For most of the enthusiasts, the Corsair H100i RGB Platinum is a perfect choice for money but the other coolers that include the Air and Cooler listed above are still ideal for i7 10700K. While I believe that Aorus RGB 360 liquid cooler is overpriced for the performance it provides, it is still a good future-proofing option for processors that run hotter than the i7 10700K.