Let's talk about something related to Ryzen. These processors are powerful and they also generate more heat as compared to the Kaby Lake/Coffee Lake processors from Intel. This makes it difficult to overclock Ryzen CPU's with a budget CPU cooler. There aren't as many as CPU coolers for Ryzen processors as for Intel platforms because the socket of AM4 motherboards is completely different.
But fortunately, most of the companies have launched new versions of their older CPU coolers and even some new CPU coolers dedicated to Ryzen only. This made me compile a list of Best CPU coolers that should perform the best for Ryzen CPU's.
As I have tested different CPU coolers on different CPUs for a long time. I have a pretty decent knowledge of coolers. Some of the coolers I will list have been tested by myself on my Ryzen 1700X and I have included them below. But that doesn't mean that every cooler which I have tested on Ryzen will be included because that doesn't make any sense.
If a particular CPU cooler works great on Ryzen 1700X/2700X/3700X, then logic says that it will be equal or even better than on lower end Ryzen CPU's. So, the list of CPU coolers below is universal for every Ryzen CPU even if they have fewer cores or lower clock speeds.
So, what should be your first priority to choose a CPU cooler for Ryzen?
The first priority is and should be overclocking for which you are going to buy the CPU cooler. If you are just wanting your processor to run cooler, then there is no need for buying an aftermarket CPU cooler because most of the Ryzen CPU's come with stock AMD coolers which should be enough for maintaining the temperature below the critical temperature.
But when you are going to buy an aftermarket CPU cooler, then don't go cheap. Either buy a good one or don't buy at all. I totally don't recommend buying a CPU cooler that comes under $30 for Ryzen CPU's. Even though you might say that the Ryzen 3 processors should run cooler as they have fewer cores and a budget cooler should be able to do the job, but it's only theoretical.
Benchmarks from different tech sites like Tomshardware, Anandtech, TweakTown have shown that they are pretty much close to high-end Ryzen CPU's when it comes to the temperature. They are not equal but they are not far away from each other.
So, here is the list of best Air CPU Coolers for Ryzen CPU's below after which you will find the best Liquid Coolers that I recommend going with:-
#5. MSI Core Frozr L
This $50 cooler is one of the best coolers I have ever seen till now. I don't mean that there is nothing better than this but the quality when compared to every budget cooler distinguishes it in reliability and looks. For a Ryzen 3 or 5 processor, this is a very good cooler for overclocking, particularly for Ryzen 3200G/3400G. It has 4 heat pipes that are coated with nickel and pass through very strong aluminium fins.
These fins are literally very rigid and won't break easily unlike coolers like Cooler Master Hyper 212 or Thermaltake Contac Silent 12. The heatsink comes with an air balance fan that has very good air pressure and the heatsink can use one more fan on the other side. The only problem is that this fan is difficult to find at times. I believe that this is the only fan that MSI has produced for a CPU cooler and even for the chassis.
There are 14 fan blades which are 5 more than on most of the air balance fans which helps in achieving more air flow at slower fan speed. The heatsink has a pre-installed LED logo on top which shows the MSI logo and silver cover can be changed to black.
As for overclocking, I am right now using it in my personal rig. I have overclocked my 1700X to 3.8Ghz and most of the time it doesn't go above 65 degrees even in heavy load. But if I overclock more than the temperature will increase rapidly which cannot be predicted theoretically. I don't recommend this cooler for ultimate overclocking but it can be used on a 4 core 4 thread processor like Ryzen 3200G or 3400G for overclocking to a good clock without fearing of high temperatures.
This is the starting point and I don't recommend going below this. Although I am using it on my 1700X but I didn't benchmark it because I have a separate testing rig on which I test these coolers. You can check out MSI Core Frozr L review right now.
[rwp_box id="0″]
---
#4.
Noctua NH-D15 SE-AM4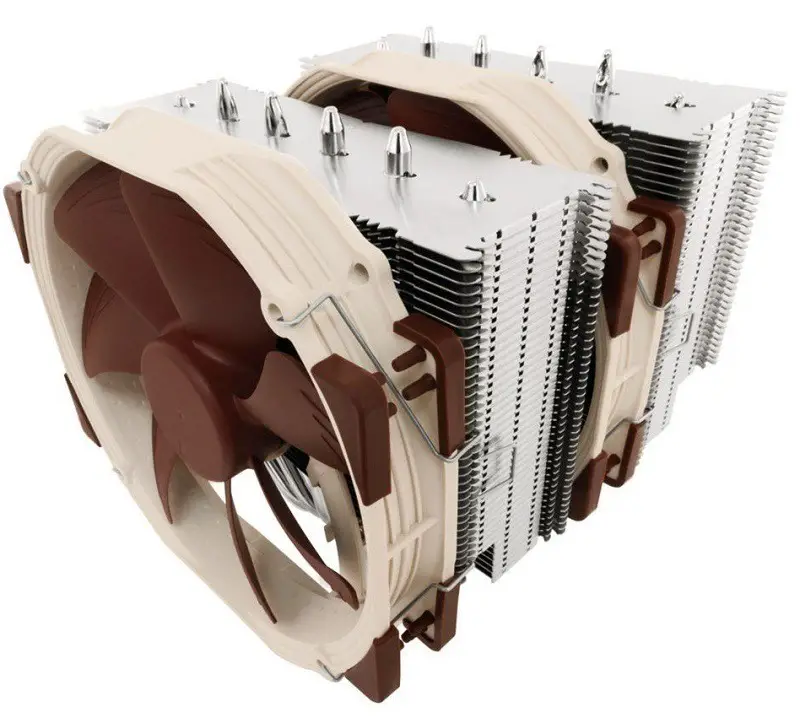 I believe that the Noctua NH-D15 is the biggest success in Air cooling and has got a tremendous amount of positive reviews in high-end cooling. After the success of Cooler Master Hyper 212 cooler, this one is the king of Air coolers and till now there isn't any other cooler than can beat it in silence and cooling.
Actually, there are two versions of this cooler. The first one is only compatible with the previous Generation of AMD platforms and all Intel platforms but Noctua launched a separate version with AM4 socket installation brackets so that it can be used on AM4 sockets for Ryzen processors. I feel that's a disadvantage for those who change their platforms regularly and you won't be able to use it on any other platform except AM4. But again, this post is all about Ryzen processors only.
The cooler is a full tower with two strong and huge heatsinks that are connected via 6 heatpipes that are nickel plated and use 140mm fans: one sandwiched between the heatsinks and one on either side. It can take another fan but it will be very difficult to do in practical because then your whole motherboard will be filled with cooler and this may pose difficulty. But two fans are enough for pull-push configuration. So that's alright to use only 2 fans.
As Noctua fans are the most silent fans, you will have good performance along with less noise. This cooler can easily be used for possibly any Ryzen CPU to overclock up to it's potential. Temperatures won't go beyond 65C most of the time as shown in different tests done by techs. The cooler will also provide you 6 years of warranty which is more than what you will need.
[rwp_box id="1″]
---
#3. Cooler Master MasterLiquid 240
I have used this cooler for several months on my Ryzen 1700X and I am very happy with its performance. It's great for overclocking if you have a budget less than $80. Sometimes it goes well lower than that in price but the performance is equivalent to the Noctua DH-15. For those who like saving space in the case and like water cooling, then this is a budget solution.
I have never seen the temperature going beyond 65C and it's pretty decent for any other processor. But as installation technique is very easy and universal, you will be able to use it on AM4 sockets as well as other platforms.
The 240mm radiator is ideal for dissipating heat and the protected tubes are very strong. They don't bend easily so you should not try some crazy figure of 8 stuff with this. Install it simply at the top of your case or at the front if you have space for radiators which is available in most of the mid towers nowadays.
The block is thick and is simple in design. The COOLER MASTER Logo lights up in white and doesn't have any other colour. So, it's basic in terms of aesthetics but in performance, this one is best for its price and its fans work really good.
[rwp_box id="2″]
---
#2. 
EVGA CLC 280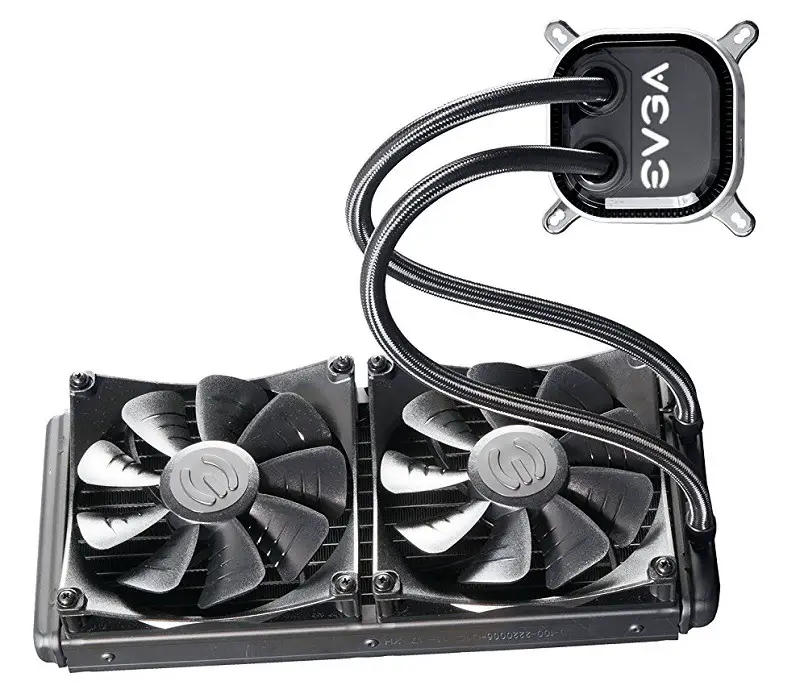 There is a tough competition between the Corsair H115i V2 and EVGA CLC 280. Corsair has some decent liquid CPU coolers but this EVGA one is new and it is less expensive. Not only that but it actually performs almost equivalent to the H115i V2 according to GamersNexus. There is a great start from EVGA and this cooler is fully compatible with AM4 socket while the Corsair H115i V2 needs a separate bracket for installation that you have to buy from Corsair's official site. So, that's a thumb down for H115i V2.
The fan frames of this cooler is a little bit oddly designed but they are good air pressure fans that are also quiet. The heatsink of the radiator is traditional but the tubes are flexible. The block of EVGA has a big surface area to cover the processor and the installation is very easy.
As for aesthetics, the block comes with EVGA logo that uses RGB lighting technique because of course, now everything is RGB. For $130, this cooler is expensive but 280mm radiator is a big pro for cooling any Ryzen processor at low fan speed which will help you achieve lower noise and better temperatures as compared to 240mm radiators.
This CPU cooler is for enthusiasts and you should buy this if you want to take full advantage of your Ryzen processor especially Ryzen 7 series processors.
[rwp_box id="3″]
---
#1. 
NZXT Kraken X62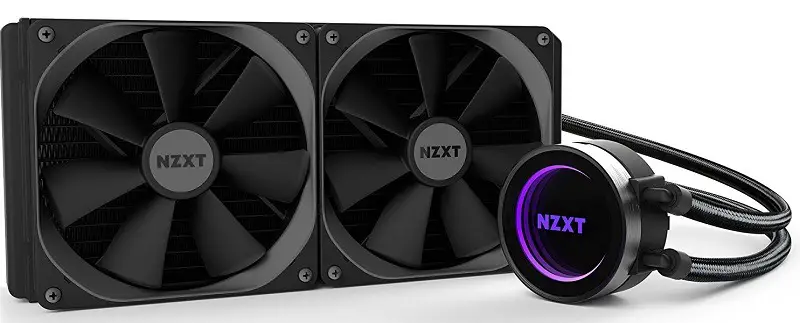 Perhaps right now the best for the price is NZXT Kraken X62 which is a 280mm radiator and the successor of the NZXT Kraken X61. It's very expensive when it comes to value to price comparison but the thing is that if you don't have a limitation on your budget, then why not take advantage of your Ryzen processor?
As I have already listed out the best budget CPU coolers above, it should be no problem for you to take a look at this one if you want the most silent performance. These fans can run on a very low speed performing equally to the EVGA CLC 280mm cooler and producing less noise. So, the best advantage of this cooler is silent operation.
The price is, however, $20 more but I wouldn't be compromising if silence is my main motive. Nobody likes that crazy amount of noise from the fans. As for aesthetics, it's still the best in that case. With a block that has infinite mirror lighting technique, there are numerous effects you can choose from which looks way better than the EVGA CLC cooler.
This one will be great for any high-end Ryzen 7 series processor.
[rwp_box id="4″]