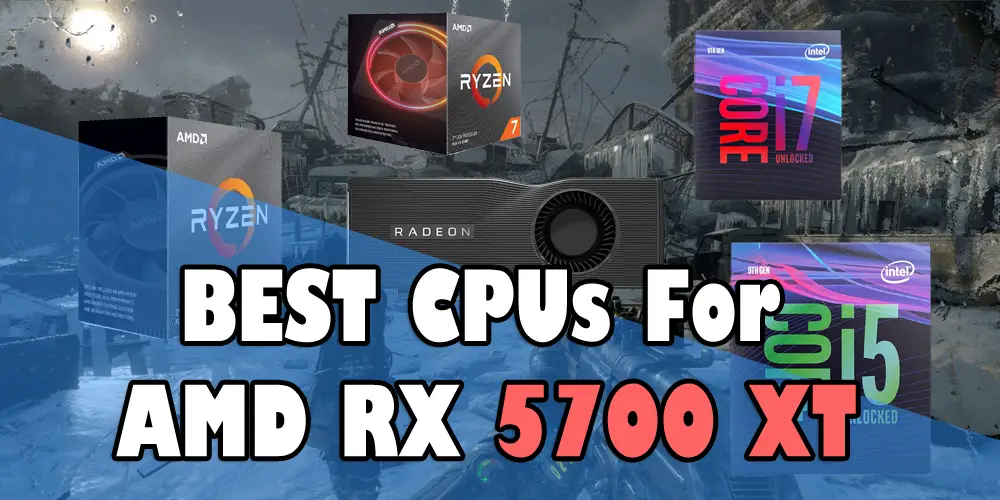 Introduction
AMD has been very successful with its CPUs and Graphics cards which it recently released. Among the GPUs is the RX 5700 XT which is currently the fastest GPU from AMD you can buy. It features 8GB of GDDR6 RAM and with a memory bandwidth of 448GB/s. It's targetted towards the enthusiast gamers who want to max out games at 1440p and it easily beats the RTX 2060 Super and RTX 2070 and competes with the RTX 2070 Super but at a much lower price.
As the graphics card is very powerful and is made for high-end gaming, you wouldn't want it to get bottlenecked by your CPU. Currently, there are so many CPUs out there from different generations, that it gets difficult to choose from if you are a newbie to the PC market. But don't worry, I have done the homework for you to make it easy for you to choose the right CPU for RX 5700 XT.
Following are the Top CPUs for the AMD RX 5700 XT which will help it reach its full potential without any bottlenecking. Make sure you read about each CPU carefully and if you get stuck anywhere, let me know in the comments section below.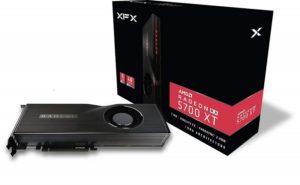 ---
AMD Ryzen 5 3600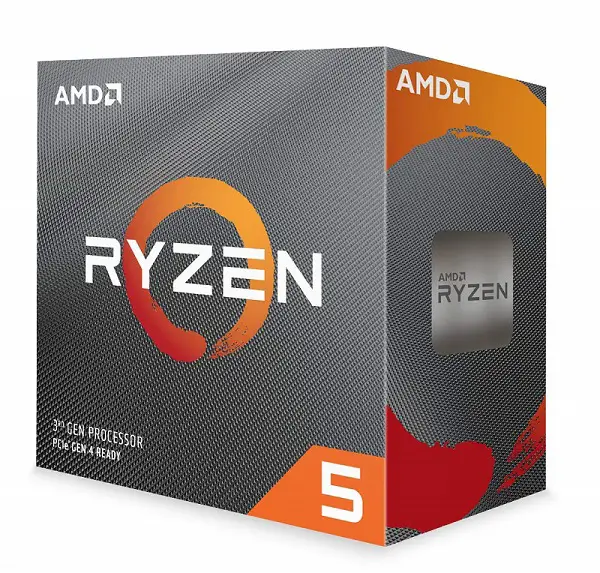 AMD's Ryzen 5 3600 features 6 cores and 12 threads which is similar to its predecessors: the Ryzen 5 1600 and Ryzen 5 2600 but here we are seeing a great difference between those two CPUs and the Ryzen 5 3600. Thanks to the 7nm FinFET CMOS and Zen 2 architecture which made it a super powerful mid-end CPU while maintaining its TDP at 65 watts.
This 6 core CPU is enough for any high-end graphics card and particularly will be an ideal choice for the RX 5700 XT. 6 cores today is enough for gaming as well as multitasking. For $200, this is the best value choice among all the CPUs that are available right now and won't bottleneck the RX 5700 XT in any way. If you don't have a lot of money for the processor but still want a decent gaming experience, then this one is the minimum I recommend. Having 4 cores CPU with a powerful GPU like RX 5700 XT shouldn't be the thing you should settle for.
It's better to go with something more future proof and fortunately AMD has finally provided us with this awesome chip that performs like none other.
---
Intel Core i5 9600K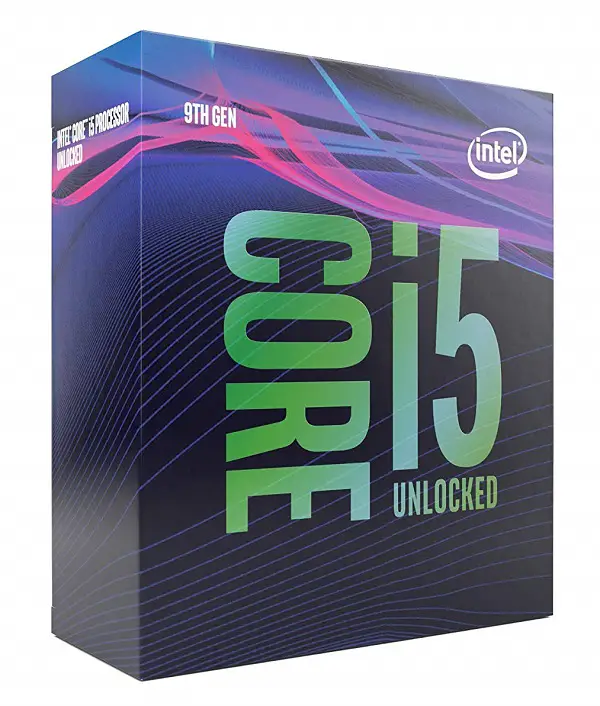 Next up we have the i5 9600K which is currently the fastest mid-end processor for Gaming. It's true that it cannot perform like Ryzen 5 3600 in multitasking as it doesn't feature any hyperthreading but for purely Gaming purpose, it leaves every Ryzen processor behind.
Intel Core i5 9600K is clocked at 3.7GHz and boasts a boost clock of 4.6GHz which can be easily taken to 5.0GHz with a good cooling solution. With a very fast single-core performance which the games love, it dominates in the CPU category for mid and high-end gaming. For 250 bucks, you won't find something that can beat it and it will definitely yield a great number in your fps counter with the RX 5700 XT.
But make sure you buy a CPU cooler for this one as it doesn't come with one, which is amongst its CON as compared to the AMD processors which come with different styled coolers that do the job well as compared to the stock Intel heatsink.
---
AMD Ryzen 7 2700X
AMD's 2nd gen Ryzen 7 2700X was and is still one of those processors which provide better price to performance ratio. With its 8 cores and 16 threads, you can expect some serious gains in performance which you can right now get only for $250. As the 3rd gen Ryzen series is out, AMD reduced its price dramatically making it as affordable as the i5 9600K but here you will get far better specs.
It's true that i5 9600K will yield more fps but I believe that the 2700X is much more capable overall. As you will get 2 more cores and 10 more threads literally, you can put a lot of workload on it at the same time without having to worry about any type of hang. This chip also comes with the Wraith Prism Cooler which features a huge heatsink with RGB lighting on the top.
If you have works other than that of gaming like video editing, 3D rendering, and other CPU-oriented works, then give it a try and you won't regret your purchase.
---
Intel Core i7 9700K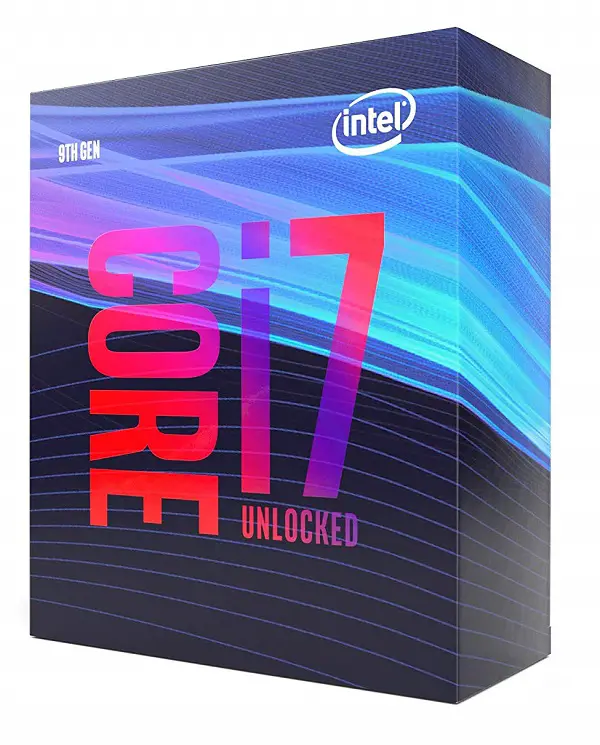 To reach the peak of Gaming, you need the i7 9700K. It features 8 cores and 8 threads which is the unique characteristic of this CPU which wasn't present in the previous-gen i7 8700K. But now you won't get the hyperthreading unfortunately which helps the CPU to do the tasks faster.
For AMD Navi RX 5700 XT, this is the fastest CPU for Gaming I can recommend right now and going above it will only result in a waste of money. From Intel's side, there is i9 9900K which only provides a couple of frames per second more which won't be noticeable by your eyes. That one costs around $500, so it's really not worth it to spend another $150 for purely Gaming. In case you are thinking about doing other CPU intensive stuff, you still shouldn't choose that because for $330 you can have the Ryzen 7 3700X which features the same amount of cores and threads as the i9 9900K and will be close enough in most of the things.
For purely Gaming, i7 9700K is the ultimate choice for any high-end Gaming build that will at least last 4-5 years providing you with decent frame rates and will continue to support high-end graphics cards without any bottlenecking.`
---
AMD Ryzen 7 3700X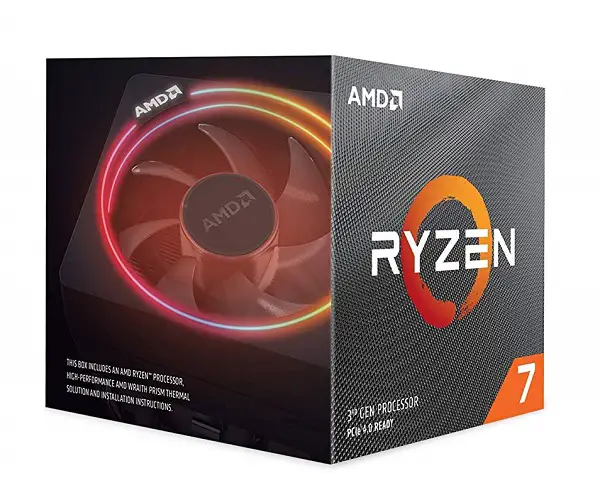 The last option which is the ideal solution for everything including Gaming and productivity is the Ryzen 7 3700X- The latest release from AMD that has outperformed the Intel CPUs overall for its price. Ryzen 7 3700X is around 15% faster in games than the Ryzen 7 2700X and also in CPU intensive applications. This makes it a better choice currently as you would be able to enjoy the latest technologies like PCIe 4.0, X570 chipset, lower power consumption which is only 65 watts as compared to 105 watts of 2700X and more for only $330.
Use it on an X570 motherboard and overclock it for getting most out of it. Not only it will result in faster processing but more fps in gaming with the RX 5700 XT if you overclock them both. It is clocked at 3.6GHz with a boost clock of 4.4GHz and has a total L3 cache of 32MB which is massive. All of this will ensure that you get the most out of your money and have a future proof PC build.
---
Conclusion
As I said earlier that the RX 5700 XT is a very good choice for 1440p gaming, it's also important to choose something that really helps you to achieve those frame rates on ultra setting. If buy something like i3 8100 or a Pentium G5400, surely you won't be to able to game at that resolution with higher frame rates. Make sure that you get only one of the CPUs that I have listed above so that you make your GPU reach its full potential. Also, note that there are some more CPUs too that could have been added to the list like i7 8700K or Ryzen 5 3600X but the only thing which stopped me from putting them on the list is their performance for the money you pay.
In case you are still confused regarding the selection of a CPU for RX 5700 XT, then do not hesitate to drop a message in the comments section below.