Xtremegaminerd.com is supported by the readers. The purchase you make through our links may get us some commission and doesn't cost you an extra penny.
---

Introduction
Though the RTX series is very powerful in Gaming and has brought up Real-Time Ray-Tracing for more beautiful realistic graphics, Nvidia didn't settle here and launched a new RTX series called RTX Super which features more powerful GPUs than we had ever before.
Nvidia didn't release totally new GPUs but instead just increased the specs of the existing RTX graphics cards for a little more price. Today in this post, we are talking about the first GPU in the series which is the RTX 2060 Super which is meant for 1080p as well as 1440p Gaming on ultra settings. This GPU uses the Turing architecture and is capable of Real-Time Ray Tracing in modern Games which support it. As compared to its little brother, which is the RTX 2060, it features 2176 Cuda Cores instead of 1920 and 41T RTX Ops which is an increase of 4 over the RTX 2060.
However, the bigger differences in the specs are the increase in the memory size, which is now 8GB as compared to 6 which now has a bandwidth of 448GB/s as compared to 336GB/s of RTX 2060 along with the increase in the memory interface width which was originally 192bit but now it's 256bit.
Taking all of this into consideration, it's obvious that the RTX 2060 Super is much faster than the original RTX 2060 and is almost equivalent to the RTX 2070, so, it would require more CPU horsepower to deliver good performance. For this, I have listed down the best CPUs for RTX 2060 Super that will utilize the maximum performance from it and will deliver the best value for your money.
Intel Core i5 9400F
Intel Core i5 9400F is the cheapest 6 core processor from Intel and delivers a performance which is enough even for an RTX 2080. But I recommend going with a higher-end processor with a GPU like that but for RTX 2060 Super, it's one of the best matches you will find today and it's the best choice under $200 for this GPU.
It is a power efficient CPU as compared to the non-F versions which are rated at 95 Watts of TDP but this one uses only 65 Watts. As there are 6 cores in it, you won't have to worry about Gaming or multitasking. In previous generations, the i5 would come with only 4 cores but now with 2 more cores, you will have a lot of room for doing other things as well. As some latest games can use up to 6 cores for more performance, this won't let you down in any game.
The only thing that you will find low in it is its base clock which is only 2.9GHz as compared to other mainstream Intel processors which generally come with higher base clocks but this CPU also has Turbo boost which takes its frequency up to 4.1GHz which is more than enough to sustain good performance without any drops. Even though it is a locked processor, this Turbo boost technology will enhance the performance and you will get performance better than the Ryzen 5 2600 which is its price competitor.
---
Intel Core i5 9600K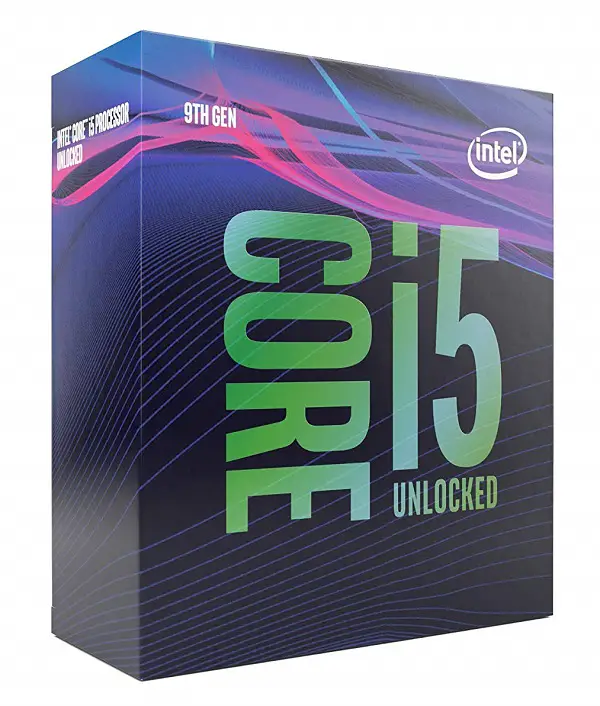 Without a shadow of a doubt, the Intel Core i5 9600K is the best mid-end Gaming processor from Intel. For $250, this one is a highly recommended CPU which is capable of maxing out any game at 1440p with RTX 2060 Super with 60+fps. This chip is much faster than the i5 9400F and the Ryzen 5 2nd gen processors although it features only 6 cores and 6 threads.
The base clock it features is 3.7GHz with a boost clock of 4.6GHz. As it is an overclockable processor, you can use a Z390 chipset motherboard to get the most out of it for no additional cost. But make sure you use a good CPU cooler to get up to the required core clock. When we compare its performance to other mid-end CPUs, it completely outperforms them because of its powerful single-core performance.
But on the other hand, it's multicore performance isn't enough for heavy applications and if you have works like 3D rendering or video editing, I recommend going with Ryzen processors as they come with more cores and threads that will do a good job overall in Gaming.
---
AMD Ryzen 5 3600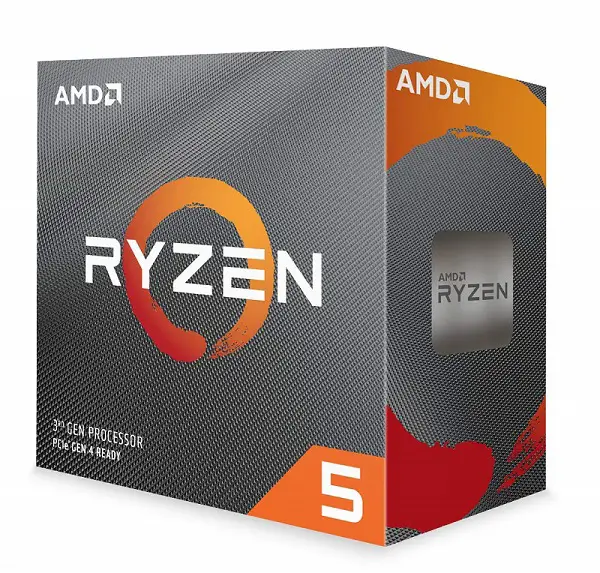 AMD Ryzen 5 3600 is the newest release from AMD and is the Best Gaming CPU right now for $200. Not only it beats all the older Ryzen processors but it also competes with the higher-end Intel Core CPUs which have the fastest single-Core performance. For this reason, I believe that the best match among the CPUs I listed here is this one because it provides the best value for the money.
It features 6 cores and 12 threads but now with very high clock speeds. The core clock it boasts is 36GHz with a boost clock of 4.2GHz which will ensure that you get the maximum performance in Games as well as other intensive applications. It also has a massive cache memory of 32MB which is rare on mid-end processors. For maxing out games at 1080p as well as 1440p with the RTX 2060 Super, this one will do the job similar to the i5 9600K, although it does not completely outperform the i5.
But for overall workload, I believe that it is a better choice than the i5 9600K and doesn't require you to upgrade your motherboard if you already have a B450 chipset or something like X370/X470.
---
Conclusion
RTX 2060 Super is meant for maxing out games on higher resolutions not just only 1080p. But if you equip it with something like an i3 or Pentium, then I am sure your CPU will create bottlenecks not allowing your 2060 Super to perform as it is made to. The above-mentioned processors will ensure that you get 60+ fps in almost every game consistently without wasting too much money. From the choices, I mentioned above, if you ask me what's the best one? Then I will give my award to the Ryzen 5 3600 which is a monster for $200 but if you are an Intel fan, then going with the i5 9600K isn't a bad choice because the i5 still wins in Gaming overall.