Tablets
Best Gaming Tablets- Top 5 tablets reviewed
When it comes to gaming, everyone loves to play while they are bored especially when on a journey or at some other place where they can't access their PCs. But this should not stop you from playing your favourite games, as there are multiple options available for playing video games and this time I am not talking about Laptops because they are still big and require a separate bag to carry.
Another great alternative is a gaming Tablet which though not popular as a Gaming Laptop or PC but still is one of the most portable devices for playing video games on the go. Tablets don't take much space and are easy to carry and also give more backup than a traditional laptop which means you can take them out anywhere and start gaming as much as you want.
In this guide, I am going to list out some of the best gaming tablets which should provide you with the best experience in gaming as well as provide you with the necessary features required for day to day work without carrying 4-5 pounds of weight that you usually would carry with yourself when you take your laptop outside. I have not included those tablets which are hard to find even though they are supposed to be good because if you can't find them then it doesn't make any sense to list them out.
Why should you have a Tablet?
Because you can't take your heavy gaming PC everywhere. Even though one might build a portable mini-ITX PC, he still has to carry a monitor, a keyboard, a mouse and whatnot in order to enjoy a game. But carrying a tablet is so easy that you can put it in your bag along with its charger and whenever you get bored, you can just take it out and start the fun at the spot.
The second advantage of having a tablet is that you don't have to worry about assembling the parts. You just buy it and start with your gaming sessions. You don't need a keyboard/mouse, you don't need to upgrade anything and most importantly you will be able to find a lot of free games for your tablet without paying a hefty price.
Now without waiting too much, let's start with the list!
Nvidia Shield K1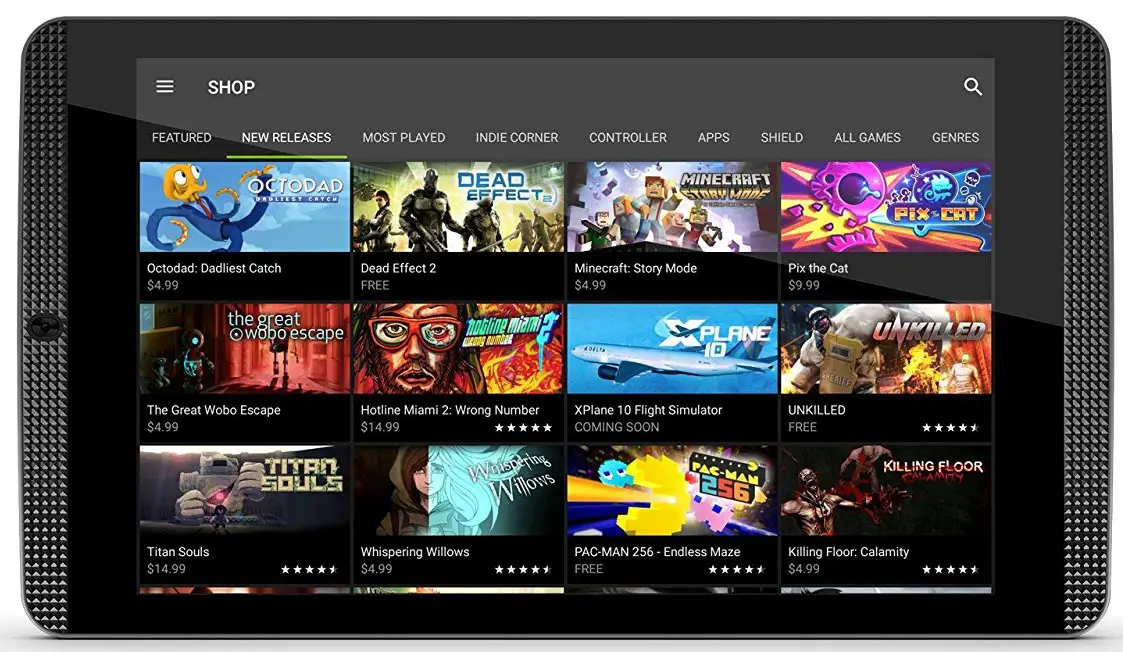 When Nvidia Shield K1 is introduced, the first thing comes to mind is "Gaming" because Nvidia is the biggest company out there in the field of graphics cards and is continuously producing new architectures for providing faster gaming experience at lower costs. Nvidia Shield is one of their best gaming devices right now because of the affordability and performance. With a price of 200 bucks, this one is specially targetted towards gamers who don't want to spend a lot of money but want several features on a single device and unlike the other tablets, it's the only one that has premium subscriptions too.
Nvidia Shield K1 is equipped with a power Tegra K1 processor which has 4 cores clocked at 2.2Ghz enough for even multi-tasking. It's accompanied by a power ULP Geforce Kepler graphics processing unit which has 192 cores along with 2GB of RAM. Almost every game runs smoothly on it though it was released a few years ago. The device comes with an Android version 5.1 Lollipop but can be easily updated to 7.0 Nougat. This device also supports several graphical features like including tessellation, HDR lighting, Global illumination, subsurface scattering etc. which makes it a dedicated tablet for gaming first and foremost. Also, with a resolution of 1920×1200 pixels, on an 8-inch screen, you will be able to experience vivid details and top-notch picture quality.
The second most badass feature of this tablet is the ability to stream from high-end gaming PCs. You can either connect it to your gaming PC or directly stream with the help of Nvidia's premium service called Geforce Now which lets you play games in your Steam library as you are playing on a high-end PC. This will cost more though but it's a monthly subscription based service which is an additional advantage over the other tablets. But you will need a high-speed internet connection in order to use it properly because it uses a lot of data to stream big games which are highly graphics intensive.
Talking about its basic features it has Micro-SD port for expanding the storage up to 128GB and comes with a 16GB internal storage. Other ports like USB port and Mini-HDMI ports are also available among which the latter will let you hook it up to a big screen. The location of the speakers is also perfect and rather than at the back, they are present on the top of the device on both the sides. It also has two cameras at the rear and at the front both having 5MP which is very decent for capturing photos anywhere.
The additional equipment you can buy for this is a cover and a controller which lets you play better although they will increase the total cost but if you don't care about that, then feel free to enjoy without them as they are just to improve the overall experience. For just $200, this thing is really a beast and I recommend it to everyone who can get his hands on one.
---
Samsung Galaxy Tab S3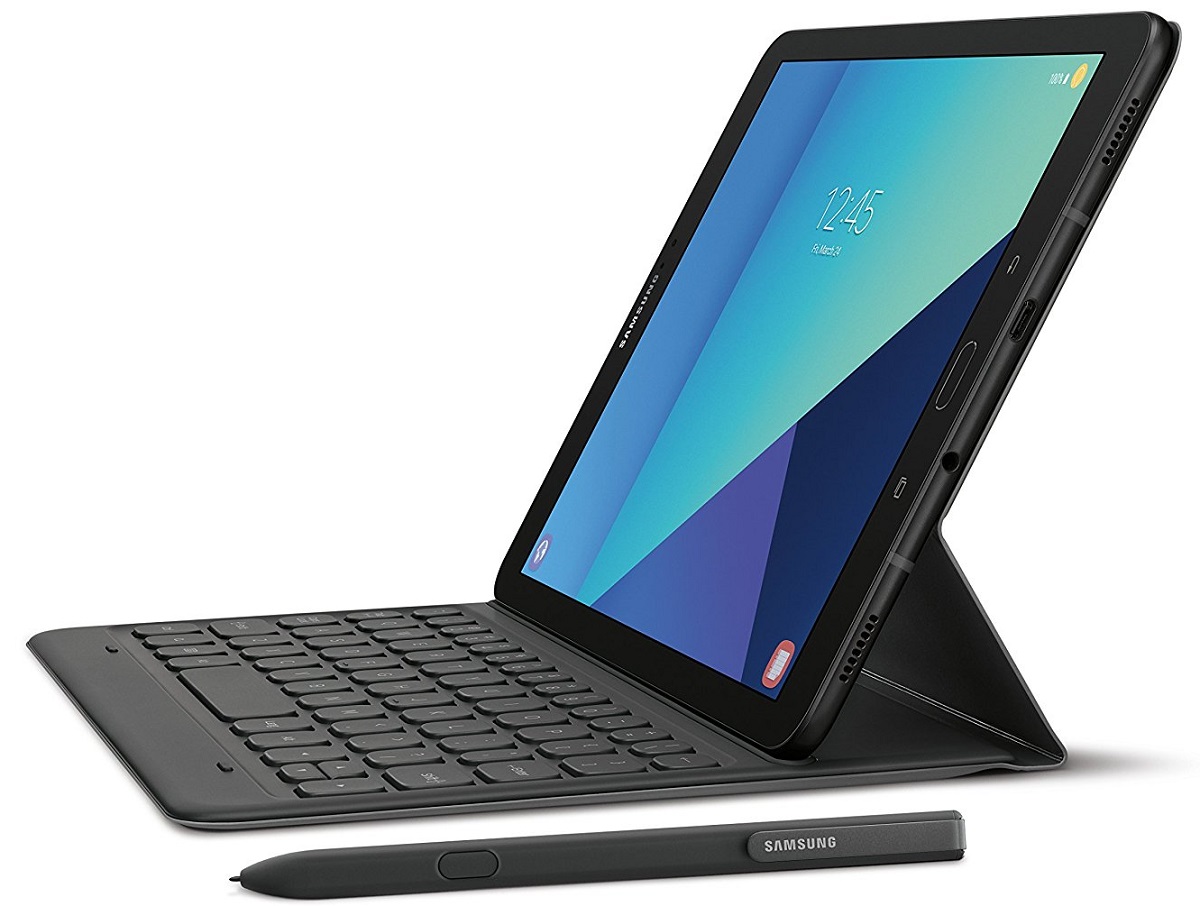 Samsung Galaxy Tab S3 is the "Best Tablet" you can get right now without a shadow of a doubt. Although it's pricey and costs more than some of the Apple iPad devices but the interface and features are what one would want for a completely immersive experience. This is a high-end device that is especially good at its display. No tablet comes close to it when its AMOLED display is compared and even devices like Apple iPad falls behind it.
It features much deeper and true colour picture quality and watching videos is the best thing you can do on it. It's very slim, even slimmer than most of the Tablets weighing around 429 grams. With a resolution of 2048×1536 pixels at the 9.7-inch display, everything from games to videos looks gorgeous. The colour reproduction and the true black colour in videos and games look more natural than most of the high-end tablets. This is because of the HDR feature present on it which gives it an upper hand.
For gaming, this tablet is superb and can run any game smoothly. With Snapdragon 820 processor having 4 cores clocked at 2.2Ghz, this thing runs very fast. Also, with 4GB Ram it's more than enough for running any high-end application. You can run games like NFS, Real Racing 2, GTA San Andreas etc. smoothly without any stuttering which is exactly what you would want to run because you are paying $400+ for this tablet. As the picture quality of the display is very good, playing games will be much more fun on it than on any other tab.
For audio, it has 4 speakers at 4 corners at the sides along with a USB Type C port and headphone Jack at the bottom. Quality of audio is also good as it features AKG tuned technology which is used in high-end Samsung devices and with 4 corner speakers, its sound will surround you to provide more immersive experience.
One of the best additions to this tablet is the S Pen Stylus which helps you draw just like the Apple pencil and Microsoft Surface pen but comes completely free with it, unlike the Apple Pencil which is very expensive. This pen works differently with different sensitivity which will recognize your drawing to know whether you are shading or putting more pressure on its nib. This alone is a great addition which makes it worth the price and you can also purchase an optional keyboard if you want to complete your work faster. The tablet, however, doesn't come with any holder that can hold the pen because of its thickness, so you have to take care of that.
For capturing photos, it has a 13MP camera at the back and a 5MP camera at the front, though not of great quality but will definitely fulfil your needs. The device comes with Android 7.0 Nougat and Samsung made some tweakings to make it work well on this tablet although multi-tasking on it is still not smooth. Like when you open two different apps side by side until you press the window of one App, the App won't show you the recent update.
Other than that internal storage is also a little bit less for the price you pay which sits at 32GB but you can increase its capacity by installing a Micro-SD card. I feel this tablet is a premium device for enjoying games and videos and should be your priority over any other tablet at this price.
---
Apple iPad mini 4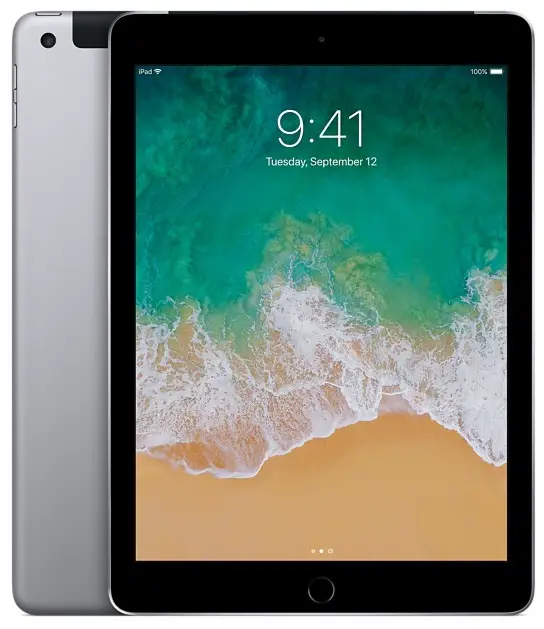 Many people don't want to even take a look at an Apple device simply because they are expensive but the truth is that Apple iPad mini 4 is one of those devices which cost lesser than most high-end tablets like Samsung Galaxy Tab 3 even though maintaining a high-quality look and performance at the same time. The Apple iPad mini 4 features a solid aluminium body that is way better than any plastic body tab and feels light even though there is no compromise in the build quality. The tablet is elegant like most of the other Apple devices packing some insane features at a price of less than 400 bucks.
The display is of 7.9-inches which is smaller than other tabs I listed but has a big resolution of 2048×1536 pixels which is more than full HD which will provide crystal clear picture quality as it comes with Retina display. Apple devices surpass most of the high-end devices when it comes to picture quality and camera and this is no exception. It features an 8MP camera which provides better colours and amazing quality when compared to the cameras of other tablets which makes it simply useful even for capturing photos.
iPad mini 4 is powered by a Dual-Core A8 chip with Quad-core graphics that is enough for playing any game on it smoothly. Multi-tasking is also very powerful on this. You can open multiple applications behind and game at the same time without feeling any stuttering. This tablet although is an all-rounder but is very good in terms of gaming. Motion-based games are fun to play on it as the size is ideal and in comparison to the play store, the Apple app store has better games which you get before they come on to the play store.
Specs-wise, it has 2GB of RAM which in theory is lower than what you can get at a price closer to 400 dollars with other tablets but the tablet is very responsive and performs absolutely flawless in browsing. For storage, it starts with a base storage of 16GB up to 128GB. Unfortunately, unlike the other tablets, if you buy its 16GB version, you won't be able to upgrade its storage just by adding an external SD card as there is no slot for that but you can use an external storage device or cloud storage for the same. But getting a 128GB of storage version is the best option which you should get for future proofing.
---
Lenovo Tab 4 10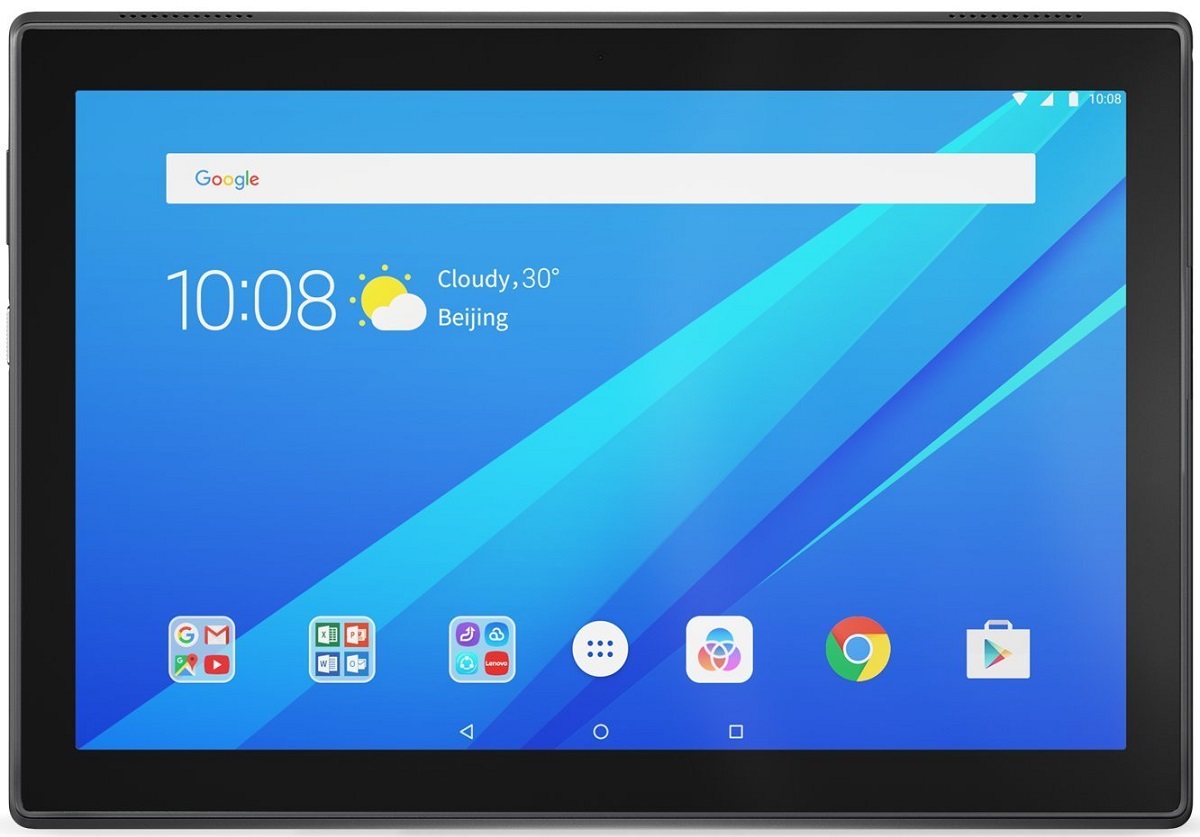 So, now comes the budget category where you have less money but want to start getting into the Tablets with the decent gaming experience. With Lenovo Tab 4 you won't be having the ultimate high-quality gaming experience but for the price it comes at, you will get the desired performance. The Lenovo Tab 4 10 is one of the most successful Tabs on the market ever and costs around $150. This is far cheaper than the Samsung Galaxy Tab 3 or Apple iPad Mini 4. For users who want to multitask for a low price, it's a great starting point and comes with entry-level specs that will allow you do all of your basic work with smoothness.
The tablet features a 10.1-inch display and also comes with an 8-inch display if you want to spend less. However, a 10-inch display is a better experience for working and gaming. This tab features a resolution of 1280×800 pixels on an IPS display which is one of the best things you can get. With IPS display you will get great viewing angles and won't face the colour shifts making the overall picture quality good from all the sides. The biggest pro of this tab is its lightness. Though it sports 10-inch display, it only weighs around 506 which is very light and easy to handle.
At its core, it features Qualcomm MSM8917 Snapdragon 64-bit quad core processor and 2GB RAM which is ideal for the price. It's not the best because 4GB RAM is the recommended but you will not face problems in playing games. However, in multi-tasking, you have to be careful not to open too many applications. Games like NOVA 3, Dead Trigger 2, Asphalt etc. will work completely fine however some heavy games like Injustice 2 may suffer some stutters as reviewed by Laptopmag. For listening to audio there are 2 speakers at the top front which are very good locations that won't suppress the sound. Sound quality is decent but not top-notch.
This tablet has a great battery life and easily lasts up to 11 hours which makes you tension free for charging it again and again. It comes with 16GB internal storage which you can upgrade to 128GB via SD card and there are two cameras- at the front and rear. However, the camera quality is not that good. They are just for casual purpose and I won't recommend buying this tablet if you want a good camera performance as well. The front camera features a 2MP camera with fixed focus and the rear camera features 5MP with autofocus feature. You can use them for basic purpose but I would recommend the Apple iPad Mini4 if you want the best camera performance. So, if you want to get started with a tablet if you never used one or if you don't have >$300, then this is the one you should get.
---
Amazon Fire HD 10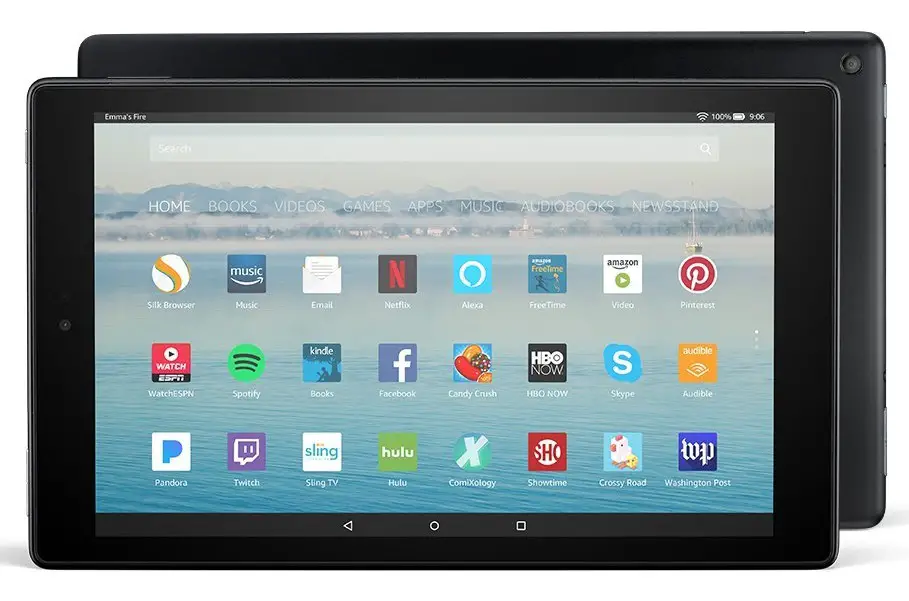 It can be tough to choose between the Amazon Fire HD 10 tab and Lenovo 4 10 Tab but there are some benefits of the Amazon Fire which can't be found in the Lenovo 4 10. The Amazon Fire HD 10 comes with a similar display of 10.1-inch size and has IPS LCD screen. The resolution is 1920×1200 pixels which is more than we find on the Lenovo 4 10 Tab. This makes it a better Tab when it comes to the picture quality because with higher resolution you get more detailed pictures.
As the Tablet is from Amazon, you won't find Google play store on it which is its drawback but Amazon has provided it with the Amazon Fire OS which unfortunately can't compete with the Android Play store or Apple App Store and lacks a lot of games and applications which may be useful to you. So, that's why the choice between Lenovo 4 10 Tab and this one is difficult. At one place, you find better resolution and better picture quality but at the other place, you get Google Play Store that will help you have access to a huge variety of games.
Amazon Prime subscription will let you have access to movies, apps, books, games etc. which has a lot of content. As the device is equipped with 2GB Ram and a 1.8Ghz Quad-Core processor, you won't find any difficulty in gaming and multi-tasking. However, this device is not capable of handling very graphically intensive game without stutters. It sure can play games like Injustice: Gods among us but you will feel some stutter here and there. As far as its processor is considered, Amazon has said that it is 30% faster than its predecessor. For the price you pay for it, it really works well in multi-tasking although, the loading times of apps and games are not very fast but at $150, you shouldn't expect the performance like Samsung Tab 3.
When we consider its other features such as battery life, it easily gives you 10 hours of mixed use in which gaming, surfing, video watching are included. The battery can be fully charged in nearly 5 hours which is Ok. Now, for capturing photos don't even consider it. It has a VGA camera at the front and a 2MP camera at the rear. You can easily expect poor camera performance with it. So, for camera quality alone, don't buy it.
Its construction, in my opinion, is simple and decent with a clunky plastic body. It's down to the earth and the device weighs 500G which is definitely light but heavier than the tablets mentioned above. The device also features Dolby Audio with stereo speakers which are located at the top and provide very good quality audio. You won't be disappointed by its volume at all. Lastly, this tab comes with two options for storage, one provides digital storage capacity of 32GB while the other one with 64GB with almost $40 more.
So, which is Tablet are you going to buy for gaming? Let me know in the comments below!