Xtremegaminerd.com is supported by the readers. The purchase you make through our links may get us some commission and doesn't cost you an extra penny.
---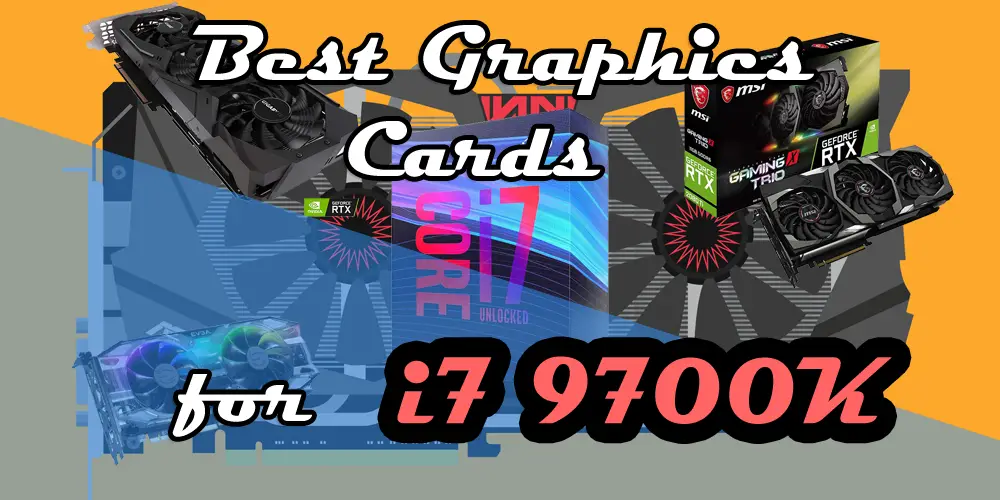 As 9th gen has become the most powerful series for Gaming in 2019, the Intel Core i7 9700K is an exception to all the desktop processors due to its beastly performance in Gaming and productivity which wasn't seen before in any mainstream Desktop i7 processor.
Due to this reason, it is the Best Gaming CPU right now for any high-end graphics card and can yield awesome performance without breaking a sweat. As there are so many graphics cards available right now, some of them are really a good match for this CPU. Even though you can combine it with a GTX 1050 or GT 1030, but then you wouldn't need this CPU in the first place.
This makes choosing a good graphics card an important factor if you want to take full advantage of this CPU. I have listed down the best compatible(In terms of performance) graphics cards for this CPU that will give you 60+ fps in every game on at least 1440p resolution.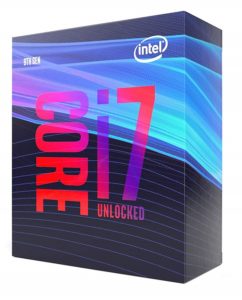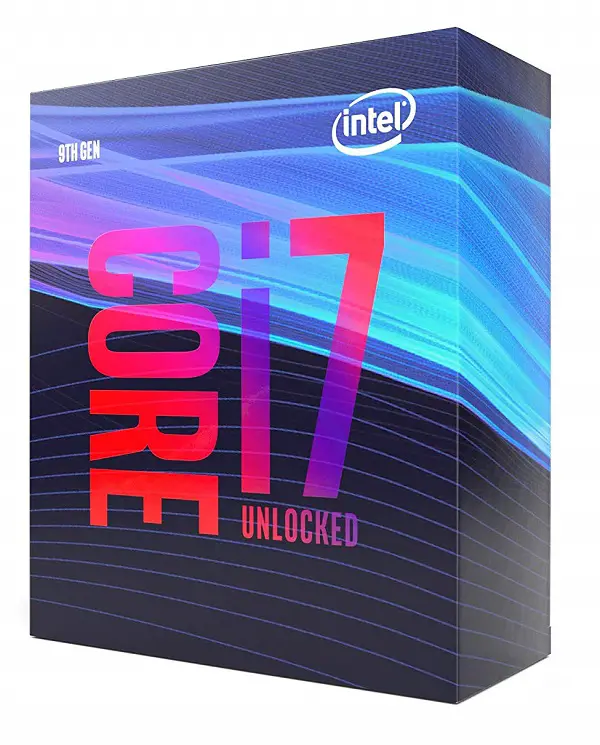 ---
Gigabyte GeForce RTX 2070 Windforce 8GB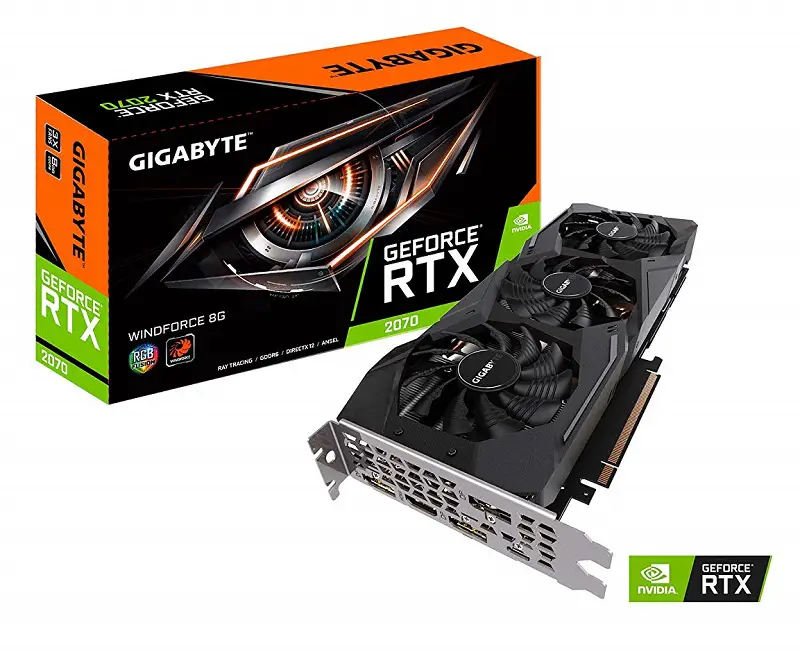 With the power of 2304 Cuda Cores and 45T RTX OPS, this GPU is a beastly card that is manufactured for 1440p resolution for a smooth gaming experience. The best thing about the RTX GPUs(except the GTX 16 series) is that they have Ray Tracing technology that produces marvellous graphics when the Ray Tracing is On.
This is one of the top GPUs that perform very well at 1440p resolution. If you really want to max out every game at this resolution, then this will be a great match with the i7 9700K as the processor will not bottleneck it in any way. This GPU requires serious horsepower from the CPU otherwise if you combine it with something like an i3 8100, it will provide 30-40% less fps in most of the games as shown below in the video when combined with the RTX 2080. So, similar will be the case with RTX 2070.
This card features 8GB of GDDR6 memory that is more than enough for maxing out textures and other graphical details without any problem and with DLSS On, it will boost the fps even more. With a little bit of overclocking on both the CPU and the GPU, you will definitely gain some 5-10% performance gains if you don't mind. This is the first recommendation for the i7 9700K if you want to take full advantage of this CPU.
---
EVGA GeForce RTX 2080 XC GAMING 8GB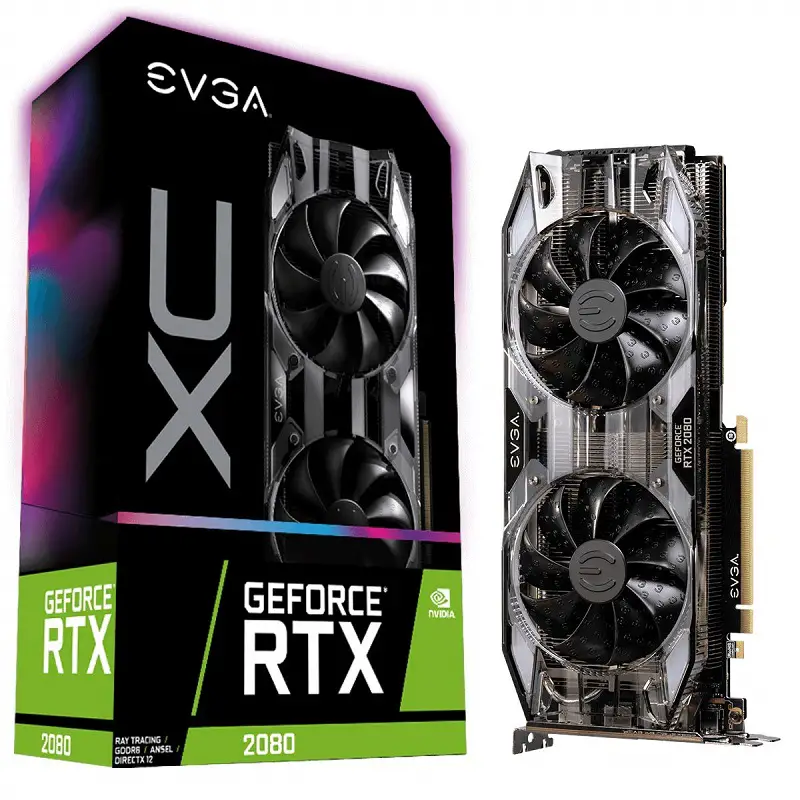 Nvidia's RTX 2080 is another great GPU that will best for i7 9700K due it's powerful 1440p and 4K performance. We all know that games at 4K require an immense amount of horsepower to run smoothly. Fortunately, RTX 2080 isn't bad at all and it can actually play most of the games on ultra settings at 4K even though you might not get 60+fps in some of the games.
As the 9700K is an Octa-Core processor, this will allow this card to utilize its full power and at the same time, some of the cores will remain idle as not every game uses 6 cores. This card comprises of 2944 Cuda Cores and 8GB of VRAM but it's 20% faster than the RTX 2070 in almost every game. This will provide you with a noticeable frame rate difference that you will actually enjoy.
Although, i5 9600K is also a good processor, but with i7 9700K you will be able to utilize its full potential and this will make your RIG a super high-end Gaming machine that can crush any game you throw at it.
---
MSI GAMING GeForce RTX 2080 Ti 11GB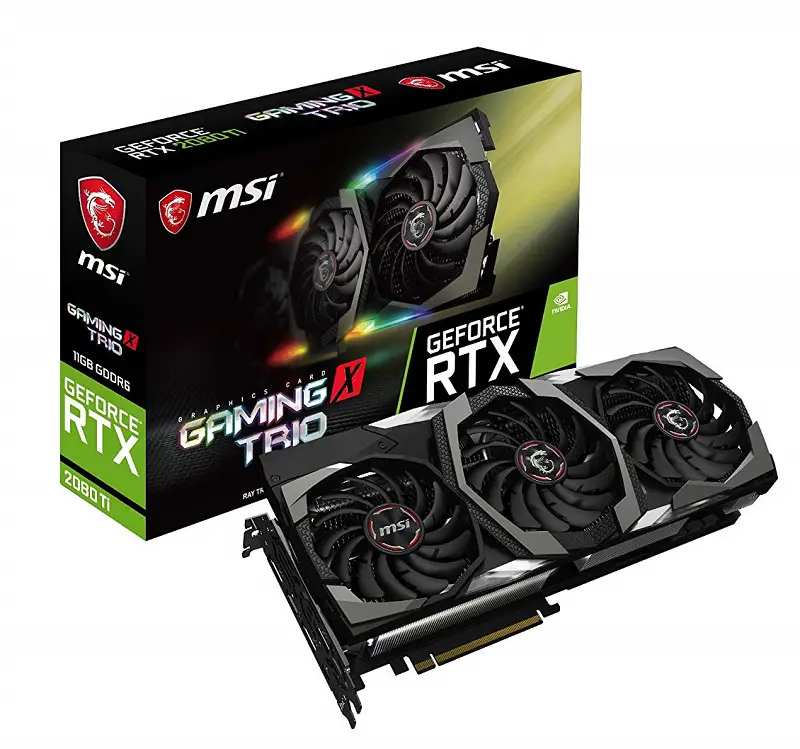 RTX 2080 Ti is that GPU which will never disappoint you in gaming no matter what the resolution or the graphical settings are. The reason is that it is comprised of 4352 Cuda Cores and a whopping 78T RTX OPS which are very very powerful for Gaming. This is the only card I recommend to use for Ray Tracing in games as after switching this setting on, the fps goes down to less than half. In games, where the fps are 150+ at 1080p, this card can give around 60+fps with Ray Tracing On.
Although it's upon you if you want to use this feature or not, RTX 2080 Ti is a very good card for 4K resolution and combined with the 8-Core CPU 9700K, it will provide you with 20% more performance than the RTX 2080. This is a huge buff and a very noticeable performance increase. This card uses 11GB of VRAM as it's the successor of the GTX 1080 Ti, but it is much faster due to the latest Turing architecture.
If you don't have any restriction on cash, then you should definitely get this GPU to make your RIG more future proof as the i7 9700K will be more than enough for the few years to come.  Following is the comparison between the RTX 2080 Ti and RTX 2080.