Xtremegaminerd.com is a participant in Amazon Associate Program and is supported by the readers. The qualifying purchase you make through our links may get us some commission and doesn't cost you an extra penny.
---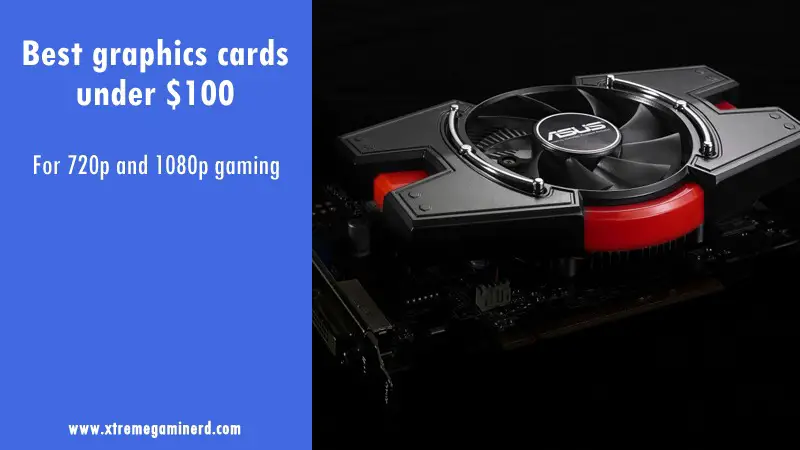 The most ignored budget for GPUs today is what in which millions of gamers fall and that is the $50-$100 price tag. Nvidia and AMD have provided great graphics cards for $100-$200 but the sub $100 category feels like it has been abandoned for a long time, maybe because we have APUs that perform similar to the available GPUs for around $100?
But it should be also noted that with the newer APUs, one has to use the latest chipset motherboards, highly overclocked memory etc. for better compatibility and performance, and for those who already own a computer for a couple of years but want to upgrade their systems to be capable of playing some games, they will need a dedicated GPU because upgrading to an APU will cost more than $200 that will include the APU, motherboard and RAM(if current RAM is not DDR4).
So, following is the list of the best available graphics cards for as low as $50 up to around $100 that should be sufficient for basic 720p and 900p gaming as well as 1080p gaming in some cases.
---
MSI AMD Radeon R7240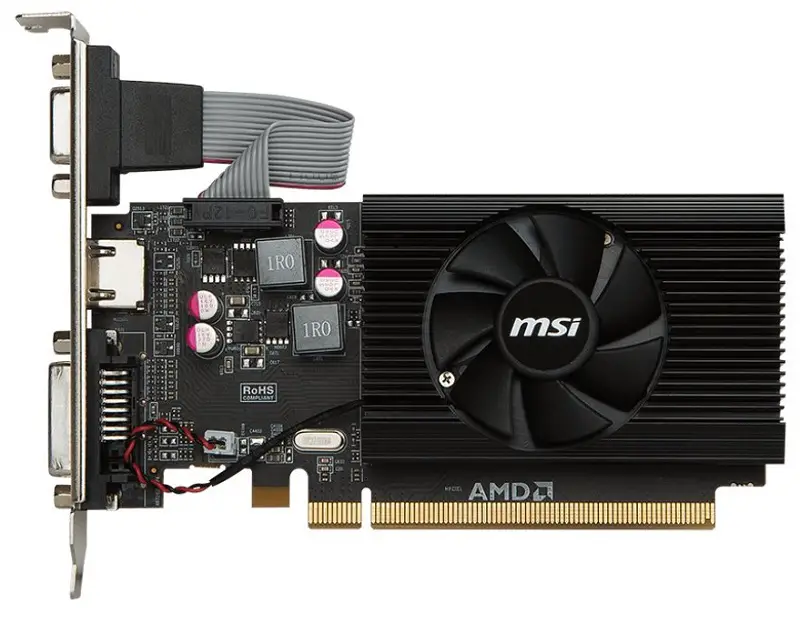 AMD R7 240 might be one of the oldest available GPU right now but regardless of this, it doesn't disappoint in basic casual gaming. As there are no other good GPUs available for around $50-$60, there is no better alternative to it. With 2GB of DDR3 memory, you can put the graphical settings at medium on 720p resolution and enjoy 30+ fps in most of the games but don't expect it to play some of the most intensive AAA titles with high fps.
As the card is a low profile GPU, you don't need any external GPU power cable for this and the PCI-Ex 16 slot on the motherboard will be enough to power it fully. This card has DVI, VGA as well as HDMI ports which will be present on most of the monitors and you won't find any difficulty in connection.
I don't know if this graphics card is always available on Amazon but if you find one for less $60, then go with it.
Memory
2gb DDR3
Memory Interface
64-bit
Core Clock
730MHz
Architecture
GCN
DirectX
11.2
Outputs
1x HDMI
1x DVI
1x VGA
---
Sapphire Radeon Pulse RX 550 2GB DDR5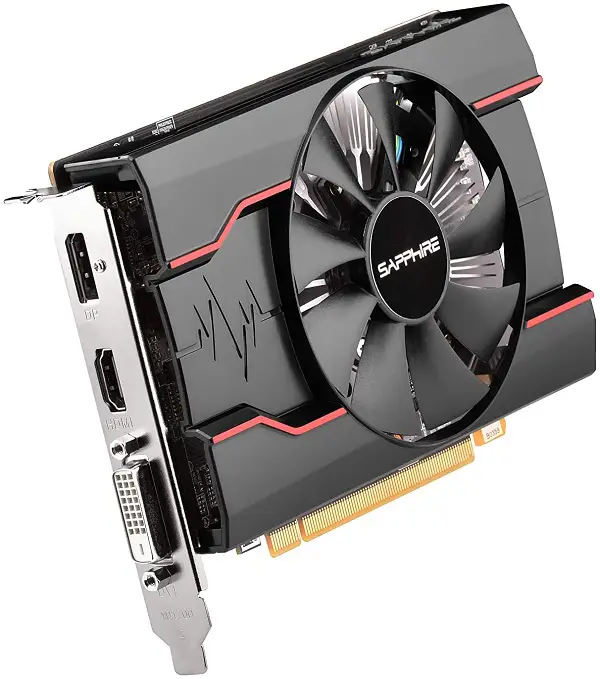 RX 550 is the starting point of the RX series of AMD. It's based on the Polaris architecture and is made for the gamers who are really on a very tight budget. People who want to invest $300 in a gaming PC that can run games at 1080p can now have their dreams come true. For only $70, this card is what a $250-$300 gaming build needs.
It has two versions: one is 2gb and the other is 4gb which is a little expensive. I don't recommend going with a 4gb version because at that price you can buy a better graphics card which is RX 560. But the 2gb version of this card is ideal for people who just want to start gaming at 1080p. If you don't mind medium settings and some aliasing in the games, then this one is the best thing to go with.
It doesn't have a PCI connector, so it will draw the power from the motherboard PCI-Ex16 slot and will make your PC much power efficient also making your expense lower by not needing a hefty power supply. You can run it on a cheap power supply easily but I still recommend going at least with a 400 Watts power supply from EVGA or Cooler Master.
This card runs on 128-bit memory interface, has a core clock above 1100Mhz and can be overclocked more than 1200Mhz. It can run all the latest games on medium settings at 1080p with 30-40fps but it can run some games on medium-high settings with 40+ fps like GTA V, Overwatch, Fortnite etc.. This card is not meant for too much graphical intensive games like The Witcher 3 or Mass effect but you can surely run those at 1080p medium settings with constant 30+fps or even more. For me at a budget of $300 for a gaming PC, I would not mind playing at 40fps on medium settings.
Specs:-
Memory
2gb Gddr5
Memory Interface
128-bit
Core Clock
1206Mhz
Architecture
Polaris
DirectX
12
Outputs
1x HDMI
1x DVI-I
1x DP
---
Gigabyte 
GT 1030 OC 2GB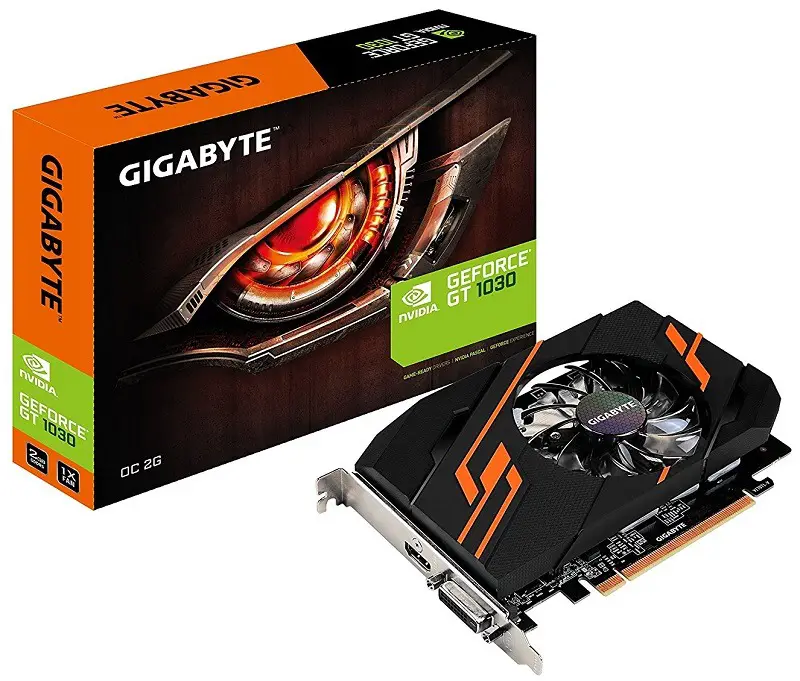 Nvidia GT 1030 is a low profile card and replaces the previous generation 700 series graphics cards that were the most affordable cards previously. As the older cards were no better than the Intel HD graphics, they were just a waste of money. Although, the price of this card is around $90 but the performance is really worth the price. It used to cost less than that but since it doesn't have any competitor other than the RX 550, Nvidia has priced it up a little bit.
RX 550 vs GT 1030 Comparison
When compared to the RX 550, this beats the latter with around 5-10% difference although its more power-efficient and is only a 64-bit card. It has 2GB of VRAM and most of its versions are low profile. They either have a very basic heatsink and fan or some of them don't even have a fan because it consumes very less power and generates very less heat. Although, Gigabyte OC edition is a little step up in terms of design so you will get somewhat better temperatures.
This card can play any game at 1080p medium settings. But don't think that it can give you 50-60fps. It can give you an average of 30-40fps in most of the games on medium settings and that's totally playable which is still good especially when you are on a tight budget.
Specs:-
Memory
2gb Gddr5
Memory Interface
64-bit
Core Clock
1265Mhz(Base)/1544Mhz(OC)
Cuda cores
384
Architecture
Pascal
SLI
No
DirectX
12
Outputs
1x HDMI
1x DVI
---
XFX Radeon RX 560 2GB DDR5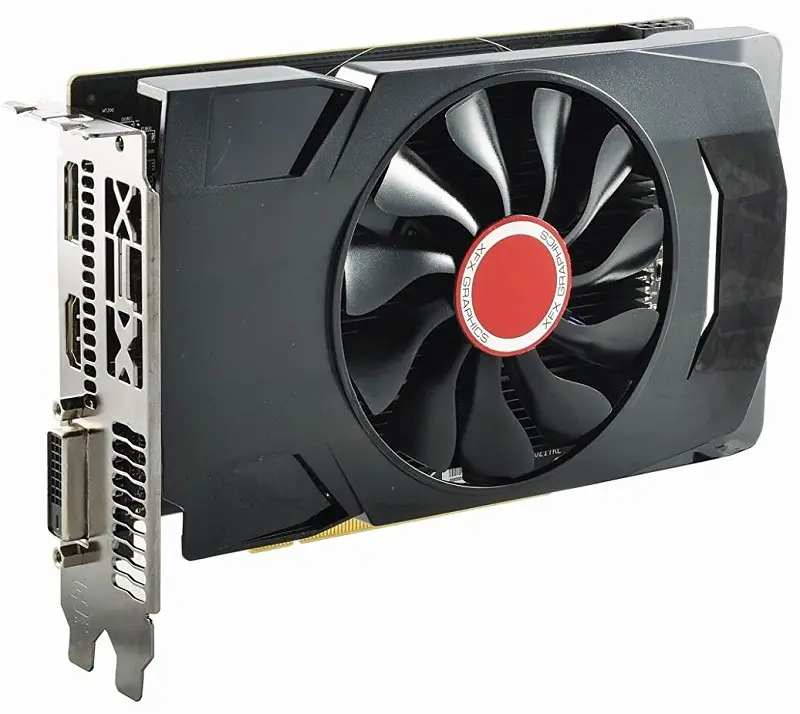 The Best and the most powerful Graphics card on this list that is currently priced under $100 is the XFX Radeon  RX 560 with 2GB VRAM which is cheaper than all the other RX 560s. It's not usual that a card like RX 560 comes under $100 but currently, it is. RX 560 is the successor of the RX 460 and is currently one of the best budget graphics cards under $100.
It can easily play games on medium-high settings at 1080p with 40-50fps which isn't achievable with any other graphics card listed above. This makes it a real deal for Gaming which will provide you with the performance that no Integrated GPU can, be it the RX Vega 11 of Ryzen 5 2400G. It features 1024 Stream Processors and a core clock of 1196MHz.
It's a very power-efficient GPU with only 75 Watts of power consumption which makes it independent on the external power supply connectors. The two fans and the big aluminium heatsink on it are more than enough for cooling as it won't heat up that much due to very low power consumption. When we talk about Gaming with smoother performance, then no other GPU can do the job as this one can do under $100 and if its price goes above $100 by a few bucks, do not hesitate to spend a little more to get at least 20% of increase in performance over the GT 1030.
Specs:-
Memory
2gb Gddr5
Memory Interface
128-bit
Core Clock
1196MHz
Cuda cores
1024
Architecture
4th Gen GCN
CrossfireX
Yes
DirectX
12
Outputs
1x HDMI
1x DVI
1x DP
---
Important things you should know before you buy a Graphics card
1. Price and Requirements
Price
Make sure before you buy a graphics card, you know your budget. You can have $100 or even $500 for buying a GPU but if you are going to build a completely new PC then defining and distributing the expenditure between different components is a little difficult. If you are buying a new PC, then make sure you don't buy an overkill graphics card for your CPU. A Pentium processor can't handle RTX 2080 or GTX 2080 Ti. Similarly, a GT 1030 is too slow for an i7 9700K.
Requirements
Another important thing is to define your requirements. Without knowing what you want, you can either overspend or underspend on your graphics card. If you are just starting out and want to enjoy some eSports or Casual games then a budget graphics card will be enough for the job. But in case you want to enjoy the games on ultra textures at 1080p or higher resolution then you will need to buy higher-end graphics cards like RTX 2070 or RTX 2080 etc.
2. How much VRAM you need?
VRAM is the memory that is different from the main system RAM and is only dedicated towards providing the horsepower your graphics need. Every dedicated Graphics card has some dedicated VRAM which now in modern GPUs can vary from 1GB up to 16GB. To play games on higher settings at 1080p at least, you need to have around 3-4GB VRAM on your Graphics card. If you go lower than that, then you may have to lower down some of the settings in your games for getting good frames per second.
If you want to max out textures, anti-aliasing, foliage, shadows etc. in a AAA game, then you will need at least 6GB of VRAM that is present in GTX 1660 and higher-end Graphics cards. Right now, I don't know of any game that utilizes more than that except in the case of higher resolution like 4K.
3. Adequate cooling solution
Low Profile graphics cards have smaller heatsinks and therefore aren't efficient in maintaining good temperatures if you overclock them but graphics card with bigger aluminium heatsinks with copper heat pipes with 2 or more fans are extremely useful for maintaining good temperature even while overclocking to the full potential. If you are not doing any type of overclocking, you should still make sure that your PC chassis has enough ventilation for proper air intake and exhaust.
4. Know your graphics card's power consumption
Different graphics cards have different TDP and their power consumption vary. So, you need to check the graphics card's TDP before buying it. Make sure your power supply is having enough wattage capacity to run your whole system without any bottleneck.
A system that uses low end or budget components will have no problem in running on a 400 watts reliable power supply but when it comes to running an RTX 2080 Ti, i7 9700K, Multiple Fans, AIO coolers, and several storage devices, then you will need a higher wattage power supply. Make sure you check the TDP of all of your components and see if your PSU still has enough wattage capacity to power your Graphics card.
Another important thing to note is the graphics card power ports. Make sure your Power supply has those power connectors that your graphics card requires. A GPU with 6-pin port will use a 6-pin power connector from the power supply. Generally, almost all the budget power supplies in the modern day have a 6-pin power connector at the minimum. If your graphics card has 2x 8-pin power ports, your PSU must have those in order to run the graphics card with stability.
5. I/O Connectors and their use
Sometimes a particular graphics card from a different manufacturer will not have the I/O ports for connectivity as your monitor requires to show the display. Check the I/O ports at the back of your monitor and also the I/O ports of the graphics card you are buying.
If your monitor is a 144Hz gaming monitor, then you must have a DVI port or a DP port on your monitor/GPU to get those 144Hz refresh rate smoothness. Make sure both your graphics card and monitor have these ports to avoid the mishappening.