Xtremegaminerd.com is a participant in Amazon Associate Program and is supported by the readers. The qualifying purchase you make through our links may get us some commission and doesn't cost you an extra penny.
---
Graphics card is definitely the most important component when you want to play the games on high or ultra settings. With a powerful CPU only you cannot expect to play at 60fps maxed out but if you are willing to pay $100-$200 for a decent graphics cards like listed below, then you are most likely to end up at least 2 years playing on at least high settings.
Some graphics cards for under $200 can max out almost any game at 1080p and this is also the sweet spot for many gamers. These graphics cards are mid-ranged cards which are meant for 1080p 60fps or at least 40+ fps when you bump the settings to ultra.
For a build that comes under $500 or $600, these graphics cards are the best choice and are best matched with Intel Core i5 processors or AMD Ryzen processors. Many of these graphics cards are newly released and are fully DirectX 12 compatible so you won't be regretting your choice if you buy any one of the listed below.
GPU LIST (Prices as on 13th Jan 2019)
| Graphics Cards | Images | Prices | Links |
| --- | --- | --- | --- |
| EVGA GTX 1050 ti SC 4Gb | | $169.99 | |
| ASUS ROG Strix RX 570 O4G | | $173.90 | |
| EVGA GTX 1060 3GB SC | | $199.99 | |
---
EVGA Geforce GTX 1050 ti SC 4Gb
When you want to play the games at 1080p ultra settings, you can not compromise with the VRAM. It's a fact that all the latest games like GTA V, the Witcher 3, Rise of the tomb raider etc. use more VRAM than simple games like CSGO or Overwatch. It makes more sense to go with a 4gb card if you don't want to compromise with the graphics quality.
The GTX 1050 ti is the successor of GTX 1050 and is 20% faster. This card is based on the Pascal architecture on which the GTX 1000 series cards are based which is very much power efficient and this card similar to the GTX 1050 doesn't require a 6 pin or 8 pin power connector. It's a very good card for the price you pay as it's an intermediate between GTX 1050 and Rx 470. Although Rx 470 is much faster I feel that Nvidia has filled in the gap between the $110 and $170 price range by introducing a $130 card.
The EVGA SC edition is completely identical to the EVGA GTX 1050 and can be fit into any case. So for compact gaming PC's these two are very good choices and will be best for budget gaming builds with a small mini-ITX case. As this is factory overclocked, you will get a small boost in performance as compared to the other brands like Zotac.
Specs:-
Memory
4gb Gddr5
Memory Interface
128-bit
Core Clock
1354MHz/1468MHz boost clock
Cuda Cores
768
Architecture
Pascal
SLI
No
DirectX
12
Outputs
1xHDMI
1xDL-DVI
1xDisplay Port
---
ASUS ROG Strix RX 570 O4G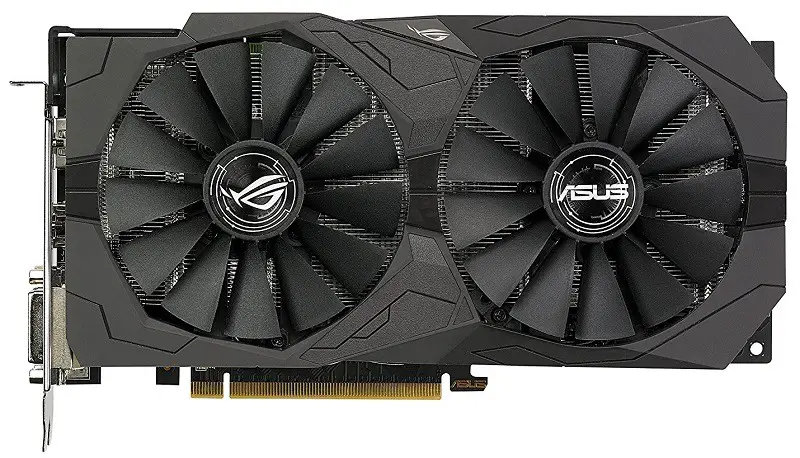 Since its release, the RX 570 4GB is still competing with the best budget graphics cards out there in the market. Though it was very expensive in 2018 but now in 2019 it's again at its initial launch price and is a killer of games at 1080p on high settings. The card has 4GB of VRAM which is capable of playing any game with most of the settings from high to ultra without compromising in areas like Anti-aliasing, textures or shadows.
These particular settings use a lot of GPU memory and decrease the fps but not anymore with this card. If you want to get 60fps in most of the titles without compromising with the graphics quality, then this one is a great card for a build that costs around $600-$700. The card also has an 8GB variant but that other 4GB is really not that much needed as it is a not a high-end card like an RTX 2080 and will be enough for 1080p Gaming.
It is a successful competitor of the GTX 1060 3GB edition which is following this card in the list but has 1GB more RAM. Both of them are great for their own performances but if you get this one cheaper then buy this one instead of the GTX 1060 3GB.
Specs:-
Memory
4gb Gddr5
Memory Interface
128-bit
Core Clock
1300MHz(GAMING)/1310(OC)
Stream Processors
2048
Architecture
Polaris
CrossfireX
Yes
DirectX
12
Outputs
1xHDMI
1xDVI
1xDisplay Port
---
EVGA GTX 1060 3GB SC GAMING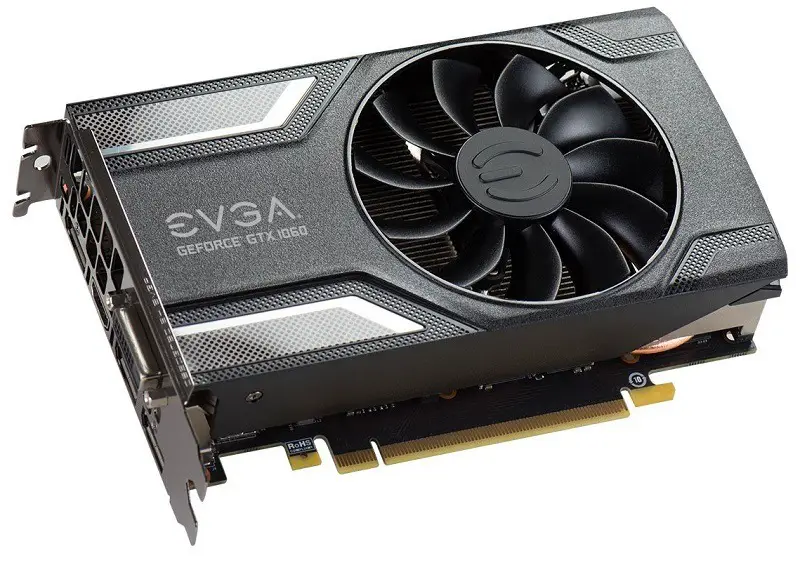 GTX 1060 is without a doubt, the most popular card in every budget: Be it the entry-level cards or high-end cards. It's because it fulfils the basic purpose of gaming at a resolution of 1080p on ultra settings. Most of the GTX 1060 cards with 6GB VRAM cost above $200, therefore I have listed the 3GB variant which is a perfect competitor of RX 570 4GB under 200 dollars.
This is a perfect GPU for any budget Gaming build that costs $600-$700 and will provide more than 60fps in almost every game. And if you play eSports Games like CSGO, then you can expect more than 200 fps with a decent processor like i3 8100. Other eSports games like Rocket League and Overwatch can easily be played with over 100fps with it.
According to many surveys done by Steam itself, this card is the most popular amongst gamer and for 3 years it has been the champion of 1080p Gaming. In case you need more GPU memory for maxing out the textures or other graphical settings like Anti-Aliasing or Foliage, then you can get the 6GB Variant which I have used for 2 years in my person build before upgrading to 1080 Ti.
Specs:-
Memory
3gb Gddr5
Memory Interface
128-bit
Core Clock
1607MHz/1835MHz boost clock
Cuda Cores
1152
Architecture
Pascal
SLI
No
DirectX
12
Outputs
1xHDMI
1xDVI
3xDisplay Ports
---
Important things to know before you buy a Graphics card
1. Price and Requirements
Price
Make sure before you buy a graphics card, you know your budget. You can have $100 or even $500 for buying a GPU but if you are going to build a completely new PC then defining and distributing the expenditure between different components is a little difficult. If you are buying a new PC, then make sure you don't buy an overkill graphics card for your CPU. A Pentium processor can't handle RTX 2080 or GTX 1080 Ti. Similarly, a GT 1030 is too slow for an i7 9700K.
Requirements
Another important thing is to define your requirements. Without knowing what you want, you can either overspend or underspend on your graphics card. If you are just starting out and want to enjoy some eSports or Casual games then a budget graphics card will be enough for the job. But in case you want to enjoy the games on ultra textures at 1080p or higher resolution then you will need to buy higher end graphics cards like GTX 1070 or RTX 2080 etc.
2. VRAM
VRAM is the memory that is different from the main system RAM and is only dedicated towards providing the horsepower your graphics need. Every dedicated Graphics card has some dedicated VRAM which now in modern GPUs can vary from 1GB up to 16GB. To play games on higher settings at 1080p at least, you need to have around 3-4GB VRAM on your Graphics card. If you go lower than that, then you may have to lower down some of the settings in your games for getting good frames per second.
If you want to max out textures, anti-aliasing, foliage, shadows etc. in a AAA game, then you will need at least 6GB of VRAM that is present in GTX 1060 and higher-end Graphics cards. Right now, I don't know of any game that utilizes more than that except in the case of higher resolution like 4K.
3. Cooling
Low Profile graphics cards have smaller heatsinks and therefore aren't efficient in maintaining good temperatures if you overclock them but graphics card with bigger aluminium heatsinks with copper heat pipes with 2 or more fans are extremely useful for maintaining good temperature even while overclocking to the full potential. If you are not doing any type of overclocking, you should still make sure that your PC chassis has enough ventilation for proper air intake and exhaust.
4. Power Supply
Different graphics cards have different TDP and their power consumption vary. So, you need to check the graphics card's TDP before buying it. Make sure your power supply is having enough wattage capacity to run your whole system without any bottleneck.
A system that uses low end or budget components will have no problem in running on a 400 watts reliable power supply but when it comes to running a GTX 2080 Ti, i7 9700K, Multiple Fans, AIO coolers, and several storage devices, then you will need higher wattage power supply. Make sure you check the TDP of all of your components and see if your PSU still has enough wattage capacity to power your Graphics card.
Another important thing to note is the graphics card power ports. Make sure your Power supply has those power connectors that your graphics card requires. A GPU with 6-pin port will use a 6-pin power connector from the power supply. Generally, almost all the budget power supplies in modern day have a 6-pin power connector at the minimum. If your graphics card has 2x 8-pin power ports, your PSU must have those in order to run the graphics card with stability.
5. I/O Connectors
Sometimes a particular graphics card from a different manufacturer will not have the I/O ports for connectivity as your monitor requires to show the display. Check the I/O ports at the back of your monitor and also the I/O ports of the graphics card you are buying.
If your monitor is a 144Hz gaming monitor, then you must have a DVI port or a DP port on your monitor/GPU to get those 144Hz refresh rate smoothness. Make sure both your graphics card and monitor have these ports to avoid the mishappening.