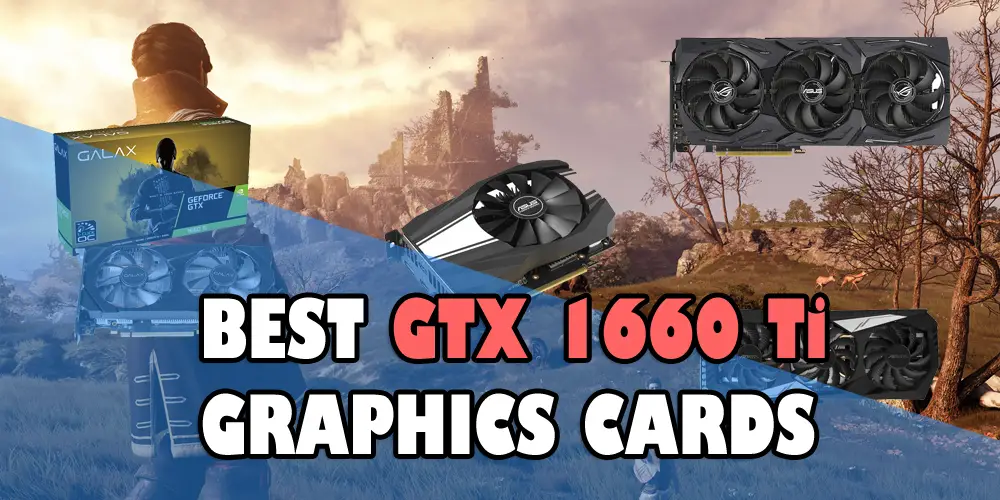 Introduction
With the introduction of the RTX series, Nvidia is taking the challenge to the next step. The RTX series is aimed at covering the entire section of Graphic Cards, starting from the high end 20XX series models and coming all way to a budget-friendly yet a performance-packed model of 16XX series. The 16XX series is the budget-friendly choice when it comes to having the taste or RTX. However, the best performance cards in the 16XX series are the 1660TI.
There are various models available in the market and most of them are quite similar to one another, yet there are few differences that give them an upper hand when it comes to performance. So what are those key factors that determine this factor and which are the best cards among these available models? So for this particular reason, we have decided to narrow down the best GTX 1660 Ti graphics card for you.
---
ASUS ROG Strix GTX 1660 Ti 6GB Overclocked Edition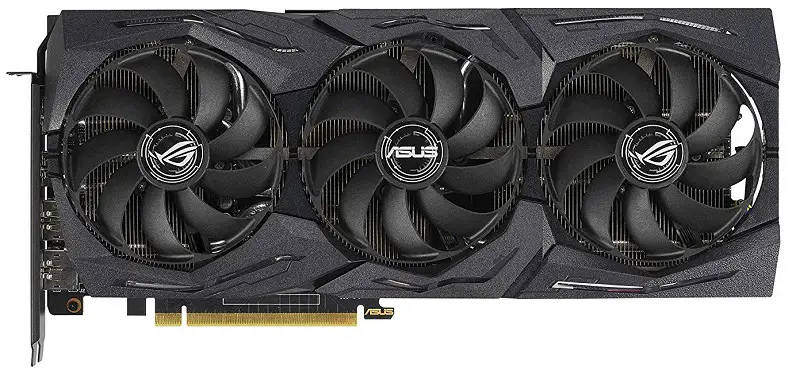 The ROG STRIX GTX1660TI O6G GAMING can be considered as one of the bad-ass cards in the 1660 Ti series and it's not due to the fact that it is one of the most costly one but the card is capable of delivering super performance along with a proper cooling solution.
Build on Nvidia's latest Truing architecture, the ROG STRIX GTX 1660 Ti is capable of delivering performance similar to that of the 1070 and also able to handle modern-day games with ease. The ROG STRIX GTX 1660 Ti is enriched with modern-day features but the main point of attraction is the triple Axial-tech fans setup that can deliver superior cooling and on the other hand, it also comes equipped with Asus MaxContact Technology which is capable of dissipating heat resulting in improved thermal transfer.
As far as the specs go, the ROG-STRIX-GTX1660TI-O6G comes with a memory clock of 12002Mhz along with 1536 CUDA cores. In OC Mode, the GPU Boost Clock is 1890 Mhz whereas the GPU Base Clock is 1530 Mhz. In Gaming Mode (Default), the GPU Boost Clock is 1860 Mhz and the GPU Base Clock is 1500 Mhz.
Moreover, there are other tons of features that the card is having but the best according to me is the presence of two 4-pin, hybrid-controlled headers that can be connected to both PWM and DC system fans for optimal system cooling. And apart from that, the ROG STRIX GTX 1660 Ti also comes with 2 x HDMI (2.0b) support which is a good option for backward compatibility and is covered with 3 years of warranty.
---
Gigabyte AORUS GTX 1660 Ti 6G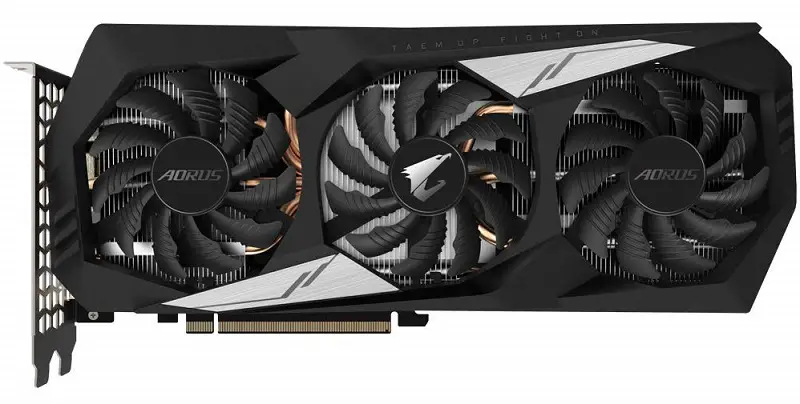 AORUS GeForce GTX 1660 Ti 6G is the next inline card that we consider as a top-notch performer. With minimalistic aesthetics and laying their focus more on performance rather than on anything else. The GeForce GTX 1660 Ti comes with a 192-bit memory interface along with WINDFORCE 3X Cooling System with alternate spinning fans and in terms of aesthetics it is equipped with RGB Fusion 2.0.
The AORUS GeForce GTX 1660 Ti has a core clock of 1890 Mhz along with 1536 CUDA cores and Memory Clock of 12000 Mhz. It comes with 3x DisplayPort (1.4) and 1x HDMI (2.0b) port. The card is equipped with nice cooling system and comes equipped with triple 80mm fans and the most unique feature of these fans is that they spin in alternate directions, i.e. with the triple fan setup, in general case, the fans rotate in the same direction, the airflow direction is opposite between the fans, which will cause turbulent airflow and reduce heat dissipation efficiency. And to eliminate this issue, Gigabyte came up with an innovative idea and made the middle fan turn in the opposite direction, so that the airflow direction between the two fans is the same, reducing the turbulence and enhancing the airflow pressure.
Moreover, the can sustain higher overclocking and are also backed by 3years of standard warranty and if one registers their card within 30days of purchase, then they will be eligible to claim additional warranty for a period of one year.
---
GALAX GeForce GTX 1660 Ti (1-Click OC)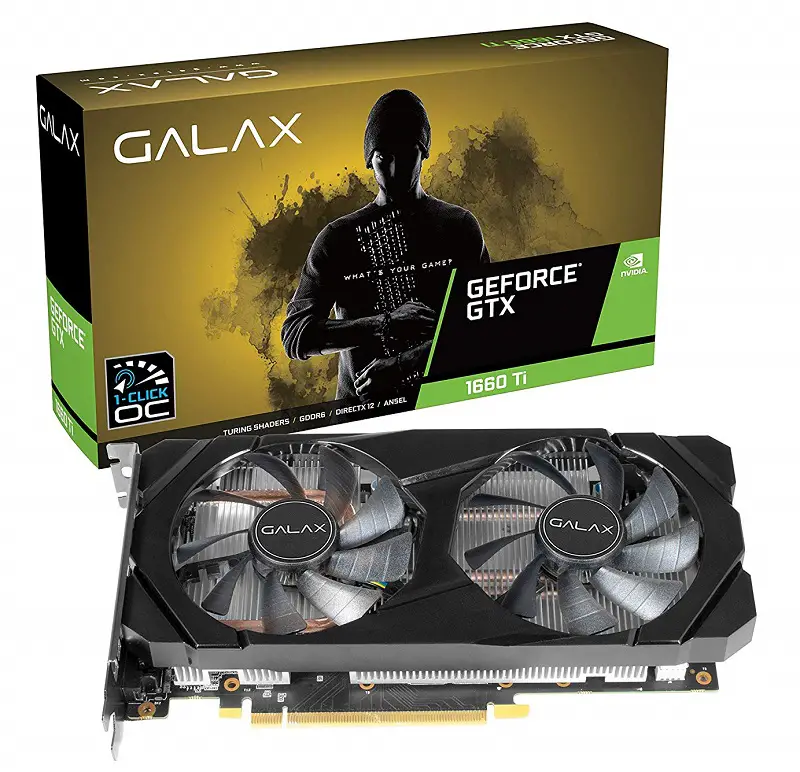 The Galax GeForce GTX 1660 Ti, can be considered as the best budget-friendly card in this series. However, considering the price point, it can provide overall superior performance along with nice cooling potentiality.
The Galax GeForce GTX 1660 Ti, comes equipped with two 90mm fans which make certain that it remains cool during its full usage. Further, it also comes with 1 Click OC feature which helps to run a process with just 1 button that will boost the highest stable overclock settings.
It comes with a Boost clock of 1785 Mhz and with One Click OC, it can go up to 1800 Mhz. It can also support a triple display setup.
However, according to us, the best feature that this card provides is the availability of DVI port which to this day might be a crucial option for many users out there and it is also backed with 3 years of warranty.
---
ASUS Phoenix GTX 1660 Ti OC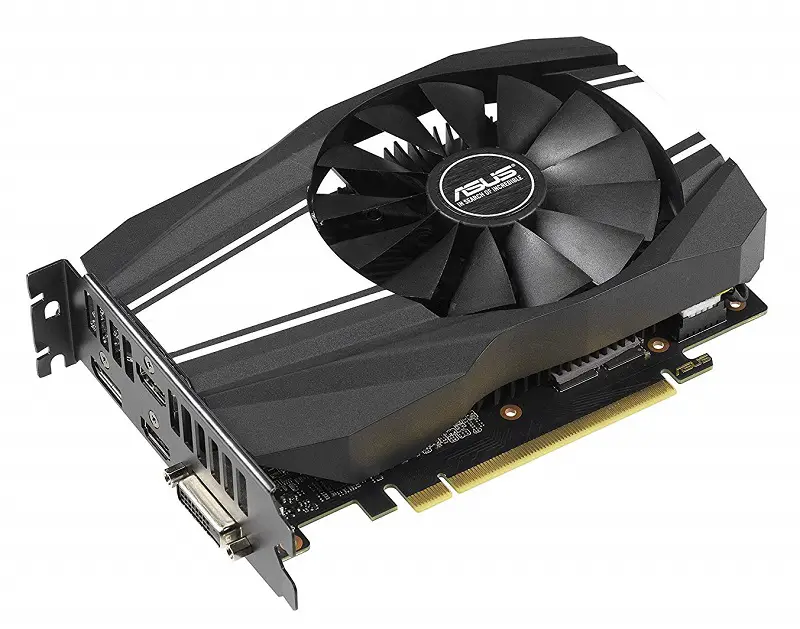 Now, this one is especially for those, who don't have too much room in their PC chassis and thus a full-length graphic card might be an issue. However, this might be the best available solution for them.
With a dimension of 17.4 x 12.1 x3.9 (LxWxH) the card is capable of delivering superior performance. It comes with a stock memory clock of 12002 Mhz with a GPU Base Clock of 1530 Mhz and a Boost Clock of 1815 in OC mode. Whereas, in Gaming mode, the Base Clock is 1500 Mhz and Boost Clock is 1785.
The Asus Phoenix 1660 Ti is equipped with proper interfaces that contain 1x DVI, 2x HDMI (2.0b) and 1x Display Port (1.4). With its wing-blade fan design, it can handle higher temperatures also. The card is backed by 3 years warranty.
---
Conclusion
All the above listing we made here are the ones that we think are best in the RTX 1660 Ti series and thus deserve a note in this topic.