Guides
The ultimate guide for budget gaming PC's 2017
Xtremegaminerd.com is supported by the readers. The purchase you make through our links may get us some commission and doesn't cost you an extra penny.
---
Probably 60-70% of the PC gaming community fall into the category of budget PC builders and it's obvious because not everyone can afford a $1000 or a $2000 gaming PC. One needs to work hard to earn the money and almost every person in this category is either a school going student or a college student. So, they have to borrow money from their parents which many of them feel ashamed to ask for. Even if they ask for, they can't ask for $1000 or more. So, they tend to stay around in the range of $300–$600 which is also a sweet spot for gaming and provides fine experience.
Taking that into consideration, I wrote this guide which will guide you to building the best possible gaming PC if you have a budget of $300–$800. I will cover the best possible combinations of GPU-CPU, Motherboard-CPU, RAM-CPU and more so that you can decide which suits you the most. I know there are a lot of different guides on different websites and there are decent articles on building a $300 or $500 gaming PC. But there are differences in opinions and also each site recommends different components including mine. So, sometimes the reader can get confused if he reads all the articles and gets stuck between choosing CPU "A" or "B" or GPU "A" or "B".
It's time for me to write a guide covering all these best possible combinations to the latest generation and keep it up to date as much as possible and also provide you with a single useful guide so that you can decide which components are best for you from this single post. I will try to make it as brief as possible giving you the most basic information and to the point conclusion. Additional information on building a gaming PC from scratch can be downloaded from here: Guide to build a Gaming PC from scratch.
The Best Gaming CPU's for budget builds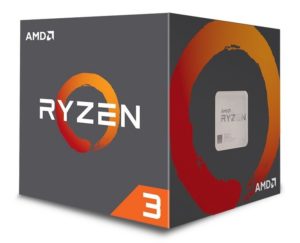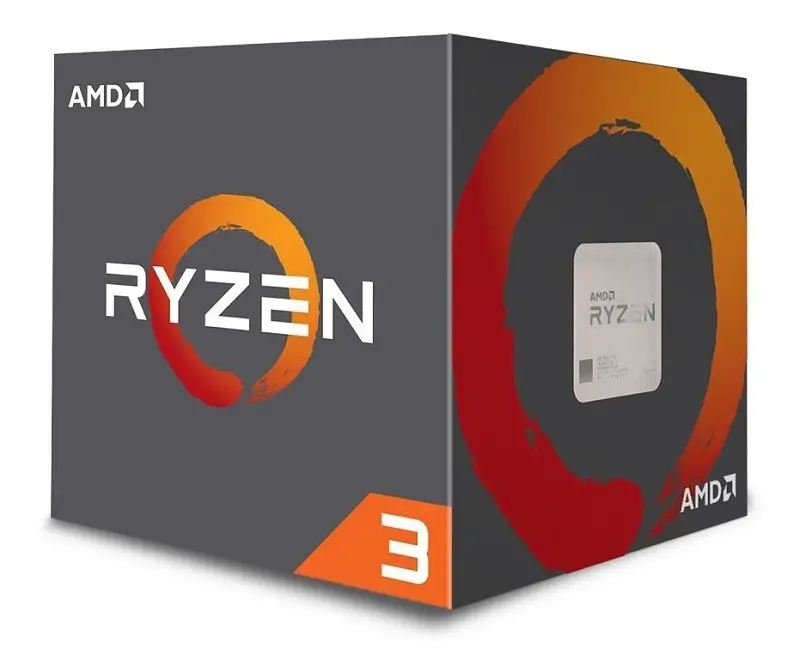 For $300 to $500 Gaming PC
Intel Pentium G4400– 2 cores/ 2 threads, 3.3Ghz- Check Amazon Price
Intel Pentium G4560– 2 cores/ 4 threads, 3.5Ghz- Check Amazon Price
AMD Ryzen 3 1300X– 4 cores/ 4 threads, 3.5/3.7Ghz- Check Amazon Price
For $600 to $800 Gaming PC
AMD Ryzen 5 1400– 4 cores/ 8 threads, 3.2/3.4Ghz- Check Amazon Price
AMD Ryzen 5 1600– 6 cores/ 12 threads, 3.2/3.6Ghz- Check Amazon Price
Intel Core i5 7600K– 4 cores/ 4 threads, 3.8/4.2Ghz- Check Amazon Price
These 6 processors are the best bang for your money and I don't recommend Intel Core i3's anymore. You won't find in any of my builds that use i3 as I have replaced them with the Pentium G4560 because it too has 2 cores and 4 threads with the exception of 1MB lesser cache memory which won't affect gaming that much anyway.
For extremely low budget, the Pentium G4400 is just fit as it costs around $50. The only con is that it has 2 cores/ 2 threads. But it's still good for a very starting gaming PC costing about $250–$300.
AMD Ryzen 3 processors have found their way into their list and they have replaced the core i3 processors because they provide better value for the price. They have 4 cores and 4 threads and also higher clock speeds with overclocking enabled. While the Core i3's are locked, you can overclock the Ryzen 3 processors for some boost in games. Not only that with 2 more cores, you will have better multitasking and your computer will run blazing fast just like with a core i5.
Lastly, there are 3 more processors in the category of $600–$800 gaming PC's which are the mid-high end for any type of gaming. The Ryzen 5 1400 is the entry level processor for high-end gaming while the Ryzen 5 1600 and Core i5 7600K are beast processors for gaming at 1080p or higher. Both of these processors can handle any high-end graphics card easily. Ryzen 5 1400 is a little slower because of lower clock speeds and half the cache memory as compared to the Ryzen 5 1600.
Note that there are some more processors that could have been included in the list such as Ryzen 5 1500X or Intel Core i5 7400/7500 but at the price of Ryzen 5 1500X, I recommend going with either a Ryzen 5 1400 and invest some money in GPU instead. Or go with either a Ryzen 5 1600 or an i5 7600K by investing some more money because i5 7600K is still the king of gaming processors.
Stick to these 6 processors for the best possible budget gaming PC.
More on CPU's:-
The Best Graphics cards for budget builds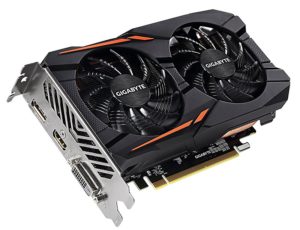 Nvidia GT 1030 2gb–

Check Amazon Price

AMD Radeon RX 560 2gb/4gb–

Check Amazon Price

Nvidia GTX 1050 2gb-

Check Amazon Price
Nvidia GTX 1050 Ti 4gb–

Check Amazon Price

Nvidia GTX 1060 3gb/6gb–

Check Amazon Price

AMD RX 580 4gb–

Check Amazon Price
Indeed, the most important component is the graphics card. Focus on graphics card should be the most especially when you are on a tight budget. Here, spending $10 or $20 less or more will affect your PC's performance drastically. Take the example of GT 1030 2gb, it's the minimum I would recommend for gaming at 1080p and it can handle several games on medium settings. Although, not a good choice for 1080p but a good choice for 720p or 768p.
I have not included the RX 550 in the list cause it's almost identical in performance to the GT 1030 but $10-$20 more expensive than the latter. Next, comes the RX 560 which is an upgraded version of the RX 460 and is a little faster. It can play all the latest games at 1080p medium settings with playable framerates. It's rival GTX 1050 is equivalent to it and you can go with either one as prices of both are also identical. I generally go with Nvidia graphics cards because of drivers support and power efficiency. But the RX 560 performs better in DX12 games like ROTR, DOOM and Hitman. Overall, both the cards are best for Esports games such as CSGO, Overwatch and Rocket League.
Stepping up a little, the GTX 1050 Ti is a worthy upgrade from GTX 1050 and is ideal for 1080p gaming on high settings. Older titles such as BF4, Tomb Raider 2013, Bioshock infinite can be played on ultra with 60+fps. And this card doesn't even require an external power connector. So, it can save money on the power supply as well, just like its predecessor GTX 1050 and those above-mentioned cards from AMD too.
For no compromise 1080p gaming, GTX 1060 3gb/6gb from Nvidia and RX 580 4gb are the best cards and I am still using the GTX 1060 for 1080p gaming as it can max out every game easily with 60+fps and the same goes for RX 580. 3gb card may perform a little slower in some games but the 6gb card will remove any possible bottlenecks. RX 580's 4gb VRAM is also sufficient for bumping up the textures, anti-aliasing and additional graphical settings. These cards will cost you more than $200 but are worth the money for a $600 Gaming PC.
More on Graphics cards:-
The Best Motherboards for budget builds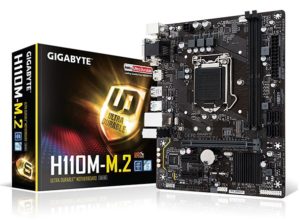 For Intel
Gigabyte GA-H110M-A Micro ATX motherboard- Check Amazon Price
Gigabyte GA-B250M-DS3H Micro ATX motherboard- Check Amazon Price
Gigabyte GA-Z270-HD3 ATX motherboard- Check Amazon Price
For AMD
Asus Prime B350-Plus AM4 motherboard- Check Amazon Price
So, we have 3 motherboards from Intel and one motherboard from AMD in the recommendation list and I will explain why is it so. As for Intel, we need a very basic motherboard for the Pentium processors. Gigabyte GA-H110M-A is the cheapest motherboard and it can support Pentium G4400 as well as G4560. It has all the basic features and will serve best in a budget gaming PC. For a little higher end, you can get a B250 chipset motherboard which will also be around $70-$80 and will support all the Intel Skylake/ Kabylake processors out of the box.
But for a processor like i5 7600K, you must get a Z270 chipset motherboard for taking full advantage. Again, we have a motherboard from Gigabyte as it produces the cheapest motherboards and without a doubt, Gigabyte is one of the best motherboard makers and I am using one right now in my personal rig. The prices of different branded motherboards can change but most of the time, Gigabyte motherboards are cheaper and are fit in every type of budget build.
The Z270 motherboard will allow you to overclock your i5 6600K/7600K easily and will help you in gaming as well as multitasking.
Now coming to the AMD side, I only have one motherboard in the recommendation. It's because the B350 chipset is enough for every Ryzen processor, be it a Ryzen 3 processor or a Ryzen 7 processor. It allows overclocking and has all the basic and advanced features as well. It will cost you around $90(prices fluctuate), so it "Will" increase the cost of a budget build. Anyways unless you are building a gaming PC that costs under $500, I don't recommend the Ryzen processors but when you go above that, you should use Ryzen 1300X with this motherboard. It will be equivalent to an Intel core i5 in most cases. As far as X370 motherboards are concerned, they are just good for enthusiasts and for show off. I have the Gigabyte AX370 Gaming 5 motherboard and it works identically to any other B350 chipset motherboard. And the B350 motherboard, of course, will be a good match for Ryzen 5 1400 as well as Ryzen 5 1600.
More on Motherboards:-
The Best Memory for budget builds

It's very easy to choose a memory. You need either a 4gb or an 8gb module for $250-$350 gaming builds and $400-$600 gaming builds respectively. 4gb will bottleneck some games but 8gb will be enough. As for $250-$350 gaming PC, why I recommend 4gb is because it can be upgraded later on by adding one more 4gb stick but it's more important to invest in a better GPU then Ram.
As every part I am recommending will be using the DDR4 RAM, there is no need for getting confused between DDR3 or DDR4. Both AMD AM4 and Intel LGA 1151 motherboards use DDR4 chips and you can get them at the same price as of a DDR3 RAM although memories are a little bit expensive right now.
More on RAM:-
The Best Storage device for budget builds
When it comes to storage, there are only a few options and you don't even have to research about getting the required hard drive. For a budget gaming PC that costs $250-$350, getting a 320GB of WD hard drive is cost effective as it will cost you less than $20 and those who have a budget above $400 should get the 1tb storage. Some people prefer SSD's over the hard drive but at the cost of the 1TB hard drive, you can only get a 120GB SSD which is way too low. Half of your SSD will be easily acquired by your windows and other software. Think about games. Not even Battlefield 4 can fit in that. So, SSD shouldn't be on the priority list at all. Games are huge now and you will observe that 1TB o the hard drive is the only solution for storing several games.
The Best Power Supplies for budget builds
A budget gaming PC doesn't use 600 watts at all. Now, even the very powerful mid end graphics card use most of the power from PCI slot itself. Only those which are meant for 1080p Ultra settings use either a single 6 pin or an 8 pin power connector. This removes the necessity of buying expensive power supplies making your overall cost low. When you are building a budget gaming PC consider the following power supplies for particular builds and note that they should be taken into consideration with respect to the above-mentioned components.
For $250-$400 gaming PC
For $500-$600 gaming PC
These two power supplies are the most reliable power supplies at the cheapest rate. The difference between the prices of the two may be very low but for a budget gamer that difference can help him to get a better GPU or Processor. But if you don't mind to spend a few bucks more, then the Bronze 80+ power supply with 100 Watts more is far more worth your money than getting an EVGA 400 N1 power supply. But that's only optional and won't affect the performance of your PC at all.
While all the parts which I am recommending may not even use power even close to 300 Watts, it's not a problem to get a 400+ watts power supply. Another reason is the absence of quality power supply which has 300 watts capacity. So, here you are only spending around $35 for a reliable power supply which will help you invest rest of the money in more important parts.
More on Power Supplies:-
The Best Cases for budget builds
Good cases cost more than $50 but if you spend that much on your case, then you will be only left with less than $250 for the rest of your components if you are building a $300 gaming PC. So, stick around a case which is around $30. There are currently two cases which are very good for their price. They are not aesthetically gorgeous and do not have rubber grommets and such things. But they will fit all your component easily without facing any problem with regards to space.
For $250-$350 Gaming PC
For $400-$600 Gaming PC
Both the Rosewill cases are priced similarly and are similar in interior design too. These are only good for very low budget gaming PC's as they are cheap and will fit all the low-end components easily. As for PC's over $400, you should get a decent case. The DeepCool Tesseract case is having a lot of possibilities for upgrades and supports full ATX motherboards too.
The Corsair Carbide 100R is not a cheap case and comes in mid end tier because of its good construction. It has very plain design and supports full ATX motherboards, long graphics cards and features a transparent side window panel. No case I have recommended goes above $50 and are the best value for your money.
More on Cases:-
The Best possible combinations
Time to give you some idea on how you can use different components I have recommended in a single gaming PC. There are several possibilities but following are the best possible combinations according to my opinion:-
Best possible Intel Builds
Best possible AMD Builds
Ryzen 1300X+ Asus Prime B350-Plus+ GTX 1060 3GB+ 8GB RAM+ 1TB WD HDD+ EVGA 500 B1+ DeepCool Tesseract= Total cost ~

$650

 (Prices fluctuate)- ADD TO CART
Ryzen 1400/Ryzen 1600+ Asus Prime B350-Plus+ GTX 1060 3GB/6GB+ 8GB RAM+ 1TB WD HDD+ EVGA 500 B1+ Corsair Carbide 100R= Total cost ~

$690-$760

(Prices fluctuate) fluctuate)- ADD TO CART
Things can be changed in every combination as per wish but these are in my opinion the best combinations and will deliver the best performance per dollar spent. If you have any queries, feel free to ask in the comments or if you have any suggestions for this article, I will be happy to add into it.