Introduction
It's been a while since the Intel's 8th gen processors are out and the lowest end chipset for these processors is the H310. This chipset is very popular amongst the budget gamers and budget PC builders which fulfill the basic demands of the consumer, unlike the Z390 chipsets which cost way more than these.
The H310 chipset is not the best one for gaming and they cannot overclock the processors but as there are locked Intel processors available too, it means that it is best to use them with the H310 chipset. Both the Intel 8th and 9th gen have the i3, i5 and i7 locked processors and if you don't want to waste a lot of money on a higher-end board and do not have the need to upgrade frequently, then following are the best H310 motherboards that I recommend going with.
GIGABYTE H310M A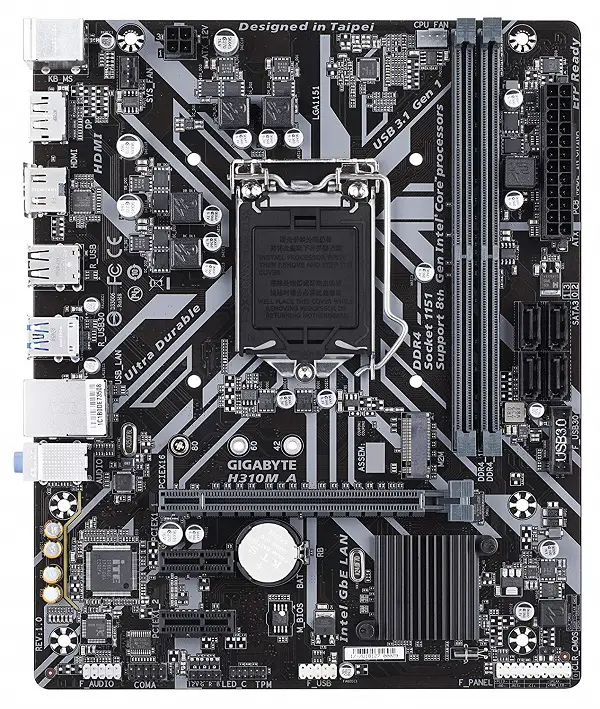 The cheapest yet one of the best options for processors like i3 8100/9100F is the H310M A from Gigabyte. This is a very popular motherboard amongst gamers as it helps to build an affordable gaming PC and saves money to invest in something better like a better graphics card or more RAM. This board provides very basic features and get the job done under $60.
It features a 2+2 power phase VRM which doesn't have any heatsink on them but it doesn't matter because it doesn't have overclocking feature. For RAM, it has 2x DIMM slots that can support up to 32GB of DDR4 RAM clocked up to 2666Mhz which is much better than the previous H110 chipset motherboards.
For the graphics card, there is 1x PCI-Ex 16 slot and 2x PCI slots that can be used for expansion cards like wifi or sound cards. For storage, there are 4x SATA slots and a single M.2 slot for fast NVME SSD storage that is among the best features of this motherboard which will make your system blazing fast for different operations. It doesn't have other additional features like RGB ports or onboard troubleshooting buttons. But those are not required for the operation of a computer.
Lastly, for I/O, it has a total of 6x USB ports out of which 2 are USB 3.1 and 4 are USB 2.0. 6 USB ports will ensure that you can connect a lot of USB devices at the same time without having to remove one or two devices to connect the others. For display, it has a DP as well as HDMI ports which are the best display output ports right now available. For a mere $56, this is a great board that will lower down your cost overall and you can do all the operations on it as you wish.
---
H310M PRO-VDH Plus
Check Amazon Price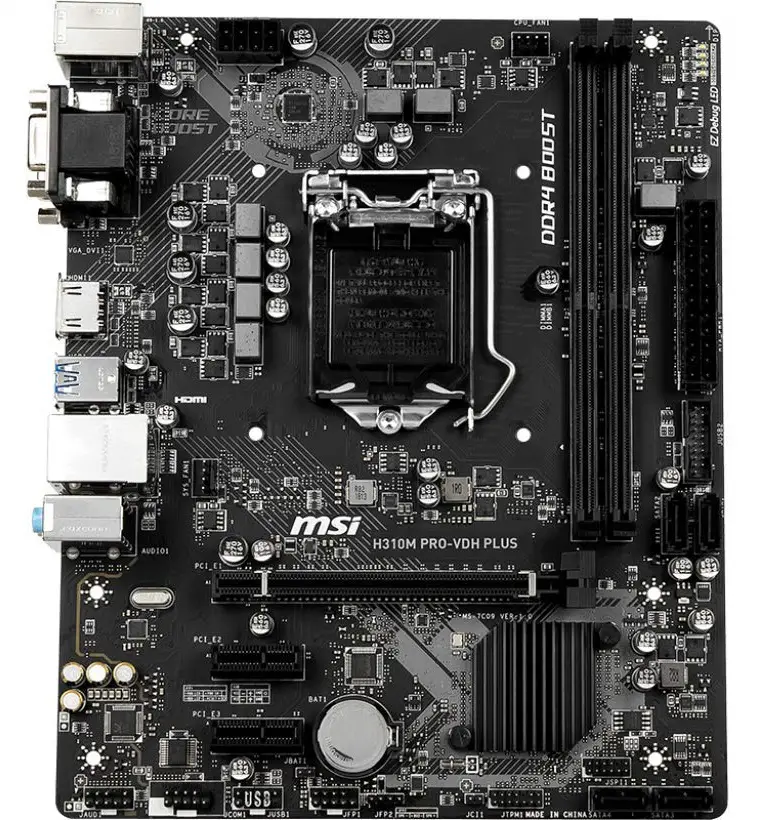 Next for $60, is the MSI's H310M Pro-VDH Plus. MSI makes very good boards for a low price and this one is a little better than the previous one for several reasons. This board features a 4+2 power phase VRM but again without any heatsink but it will be much stable and will heat up less. For RAM, it supports the same as the Gigabyte one mentioned above which is 32GB DDR4 RAM clocked up to 2666Mhz.
The difference here is that it features an 8 pin CPU power port which supplies more power than a 4 pin but it will be hardly better than the 4 pin here as it is a locked motherboard and you won't be able to overclock your CPU. Also, it brings onboard troubleshooting features such as EZ Debug LED which helps to recognize the possible problem when the system doesn't boot up.
For cooling, it comes with 2 fan headers including the CPU fan header just like any other basic H310 chipset board which is expected and you will need to use a fan splitter or a hub if you want to power more fans in your chassis. For display output, it has 1x DVI, 1x VGA and 1x HDMI ports that is what you will need to connect to any monitor. As compared to the Gigabyte H310M-A board, it features slightly better options and therefore costs a few bucks more. Both should be good but it all depends on your budget.
---
ASRock H310M-ITX/AC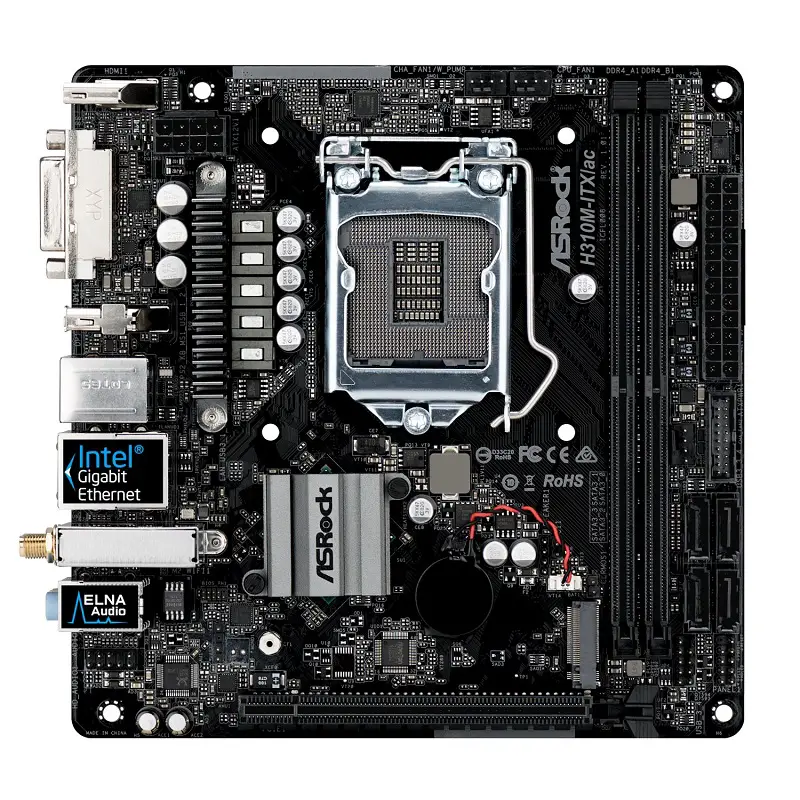 Next up is the ASRock H310M-ITX/AC which is an ITX form factor motherboard which features Wifi inbuilt which is absent in other boards mentioned in the list. As a mini ITX motherboard doesn't have a PCIx 1 slot, it is generally equipped with inbuilt wifi for easy internet connection. This one is a good option for any compact gaming PC that doesn't break the bank.
This motherboard features a 4 phase VRM that is covered with a small heatsink for heat dissipation. Generally, it is not required in a low-end board like this but it will keep the temperature a little bit down in the summers. It consists all the features just as you will find on the above-mentioned motherboards like 2x DIMM slots with support up to 32GB of RAM, 4x SATA ports, 1x M.2 Slot for fast storage and a single PCI-Ex 16 slot for the graphics card.
For cooling, it is equipped with 2x Fan headers both of which are at the same location. The system fan header here can be used either for a chassis fan or for a water pump here. It will be better if you use a fan hub with this motherboard to power more fans in your chassis to avoid overheating if hot weather.
At the back panel, you will find 3 display output ports for the display that are HDMI, DVI as well as a DP port. So make sure you buy a monitor that has at least one port mentioned or in case you buy a monitor with only a VGA port, then buy a converter to get the display. This motherboard is a perfect solution for any small form factor build that doesn't require any hi-fi components and will make a good budget gaming PC costing from $300–$400.
---
ASUS TUF H310-PLUS Gaming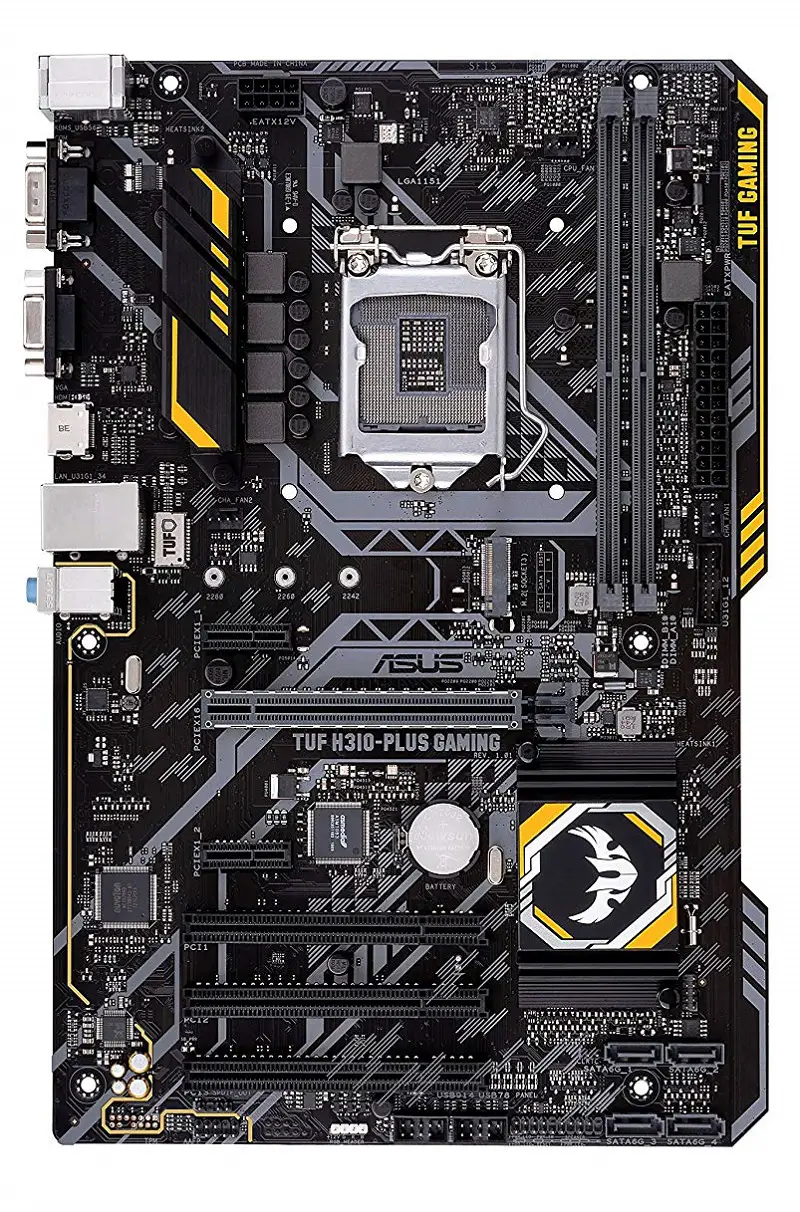 The max for the H310 chipset I recommend is the Asus TUF H310-PLUS Gaming which is the expensive choice as it is a full ATX form factor motherboard. This board comes with a lot more features than all the motherboards mentioned above. It is equipped with a lot of PCI slots as well as internal connectors.
It comes with a 4+1 power phase VRM that is cooled with a decent yellowish accent heatsink. It will help your motherboard temperature to remain low and you can easily run your system for several hours without any proper cooling. As it's an ATX board, make sure that you buy a mid-tower for this motherboard that has enough ventilation. You can check out some great airflow cases here.
Though the motherboard is an ATX one, it still comes with only 2x DIMM slots that support up to 32GB of RAM. Similarly, it has only 4x SATA ports for hard drives and 1x M.2 slot for NVME SSD. The difference here is components used in this board as compared to the other motherboards. The TUF H310-Plus Gaming uses Military grade components like TUF LANGuard, TUF Chokes and Capacitors which are more reliable for longer operation.
Also, there are 3x Fan headers in total including the CPU Fan as compared to 2 which is generally found in all of the H310 chipset motherboards. There is also a single RGB header present at the bottom of this board through which you can light up your system with any RGB fan or a LED strip. This motherboard is for those who want a full ATX form factor to make their system look big and want some additional features like more cooling and RGB lighting etc. Otherwise, the three mentioned above this will do the job fine.
---
Conclusion
The H310 chipset is made for making budget builds and these motherboards don't have a lot of features as compared to B360, H370 and Z390 motherboards. I mostly use these motherboards in my budget Gaming builds because they help to cut down the cost effectively to save money for other parts. If you buy any of the above-mentioned boards, then you are good to go but as far as the last option in this list is considered, then frankly I would say to you that you buy it only if you want an ATX form factor motherboard and a few more features like fan headers or RGB headers because if you pay a little more then you can get a better option in the B360 lineup.