Xtremegaminerd.com is a participant in Amazon Associate Program and is supported by the readers. The qualifying purchase you make through our links may get us some commission and doesn't cost you an extra penny.
---
High-end graphics cards are for enthusiast gamers who want to max out every in-game detail at 1080p and higher. These cards cost much higher than budget level graphics cards and may not be a good choice for budget builds. But on the other hand, you cannot play games at 4K with a GTX 750 ti. If you think that you will max out every detail of games like GTA V and The Witcher 3 with a $200 graphics card, then you are mistaken.
Both from Nvidia and AMD we have pretty much awesome graphics cards that can max out everything at 1080p, 1440p and even at 4K giving you solid frame rates. Moreover, these are cards will let you do video editing and will work best in other high graphics dependent applications.
As games like GTA V, The Witcher 3 and Shadow of Mordor require more than 2gb of VRAM, high memory bandwidth and lots of Cuda cores, maxing out them at 1440p and 4K is no joke. You have to at least buy a single high-end graphics card to do that and for more performance, you may need to combine two.
Sapphire Radeon RX 480 8gb gddr5
AMD released this card on 29th June and is promised to be the best budget high-end card that will allow you to play all the games at 1080p maxed out and also at 1440p. This card is first on the list as it's price is under $300 and has 8gb of gddr5 memory. While the other version has 4gb which costs more than $200. But by putting 30-50 bucks will get you 8gb Vram which is enough for maxing out any game at 1080p as well as let you play at 1440p.
This card is already VR ready and you don't have to spend 500 dollars on an expensive card. It features Polaris architecture which is based on 14nm technology and reduces power consumption a lot. Previously released R9 300 series graphics cards consume a lot of power and therefore many people preferred to choose their Nvidia's counterpart instead. But this is the beast at an affordable budget.
It only requires one 8 pin power connector and is equivalent to Gtx 970 and R9 390. But the biggest difference is the DirectX 12 and Vulkan compatibility. Not even the GTX 10 series are capable of delivering that much performance on DX 12 as the newer RX series. In games like DOOM, Hitman, Rise of the Tomb Raider, this card owns Gtx 970.
Specs and Features:-
AMD FreeSync technology

DirectX 12 optimized

3x Display port 1.4 (DisplayPort 1.2 certified, DisplayPort 1.3/1.4 ready) and 1x HDMI 2.0b

Video Memory: 8GB GDDR5

Supported operating systems include Linux, Windows 10, Windows, and Windows 7. 64-Bit operating system required.

VR ready
Polaris architecture
---
Zotac Gtx 1060 Amp edition 6gb gddr5
The latest 1000 series graphics card from Nvidia is the GTX 1060. It has 6gb of gddr5 memory and is clocked similarly to the 1070 and 1080. While the Rx 480 matches the performance of GTX 970, this one is almost equal to GTX 980. The competition between a GTX 980 and GTX 1060 is tough. In some games, GTX 980 wins and in some GTX 1060. But the margin is very small. But the biggest difference is the price.
The GTX 1060 founders edition was launched at $299 but this Zotac edition is less than $300. If you buy it, you will never regret it. It even performs good with entry level processors but maxes out every game at 1080p and 1440p when combined with a Skylake i5 or i7. I bought this for around $390 here in India because of terrible prices but it's giving me 60fps on ultra settings.
6gb of memory is enough for maxing out textures settings, details and shadows. Games like Shadow of Mordor require 6gb of VRAM to max out textures which the GTX 980 doesn't have. Secondly, the core clocks are massive. It easily reaches 1.9ghz in the game and if you overclock you will still get a significant boost.
Zotac amp edition has a very good heat sink with copper pipes and two 90mm fans. The card is comparatively shorter than the founder's edition but performs better than the latter. If you want to build a $1000 PC then there is no other best graphics card that matches its performance.
Specs and Features:-
Powered by NVIDIA Pascal GPU architecture

6 GB 192-bit GDDR5 Video Memory

Virtual Reality Ready

1x Dual-link DVI-I, 3x DisplayPort (version 1.4), 1x HDMI (2.0b)

Engine Clock: Base- 1556 MHz, Boost: 1771 MHz

Extended warranty included with every graphics card purchase, User registration required on ZOTAC website.
---
EVGA GeForce GTX 1070 SC 8gb Gddr5
Perhaps the fastest graphics card for under $450 is GTX 1070. It's the latest release from Nvidia's side in the GTX 1000 series. It has already beaten GTX 980, GTX 980 ti and even GTX Titan X in a few games proving it to be the "Titan X" at the price of GTX 980. It features 8gb of ddr5 memory with a core clock of 1594Mhz and a boost clock of 1784Mhz.
These clocks are massive and the card is itself massively overclockable. It is even increased in memory clock as high as 8008Mhz rather than the 6000/7000Mhz of previous generation cards. For enthusiast gamers, this is the one card that needs to be bought if they want a high-end gaming PC for $1300-$1500 only delivering awesome performance at 1440p and on 4k.
You will be able to play every game maxed out even on 4k but for smoother experience 1440p is the ideal resolution for this card as tested but on 4k, games still run on more than 40 fps constantly on ultra settings like DOOM, Rise of the Tomb Raider and GTA V with a little bit dip to 30's on graphical intensive areas.
Features:-
Base Clock: 1594Mhz/ Boost Clock: 1784Mhz

Video Memory: 8GB GDDR5

Memory Interface: 256-bit

Two-way SLI supported
Power consumption: 150W
Cuda cores: 1920
DirectX: 12
Maximum displays supported: 4
Run Longer, Play Longer with EVGA "ACX 3.0" Cooling
---
EVGA GeForce GTX 1080 FTW 8gb Gddr5X
The third fastest graphics card on the planet is the mighty GTX 1080. With Pascal architecture and Gddr5X memory, this one is the only card using the fastest type of VRAM. With 8gb of memory, it can max out any game at 4k and can play any game enough smooth with 40-50 fps in demanding titles too.
The founder's limited edition was priced at $699 at the launch but now almost every 1080 is priced around $500 after the release of GTX 1080 Ti. The prices are fine right now as compared to a few months before. Now talking about its specs the core clock of this card is 1721Mhz and boost clock is 1860Mhz which is greater than that of GTX 1070. With newer technology it's faster, more power efficient and cheaper. This card is the dream for many and has a reasonable price to be compared to higher end cards like GTX 1070.
With easily beating GTX Titan X with a lot cheaper price, there is no reason to buy the Titan X now for a $1000. This card is best for building a high-end rig costing $1200-$1500. Similar to the GTX 1070, it too supports two-way SLI. It beats the Titan X and gives a tough competition to the Dual Gtx 980's although it doesn't beat dual GTX 980's as claimed by Nvidia. But still, this is enough for a single GPU to do for $500.
Features:-
Base Clock: 1721Mhz / Boost Clock: 1860Mhz

Video Memory: 8GB GDDR5X

Memory Interface: 256-bit

Two-way SLI supported
Power consumption: 180W
Cuda cores: 2560
DirectX: 12
Maximum displays supported: 4
---
MSI GTX 1080 Ti Gaming X 11GB Gddr5X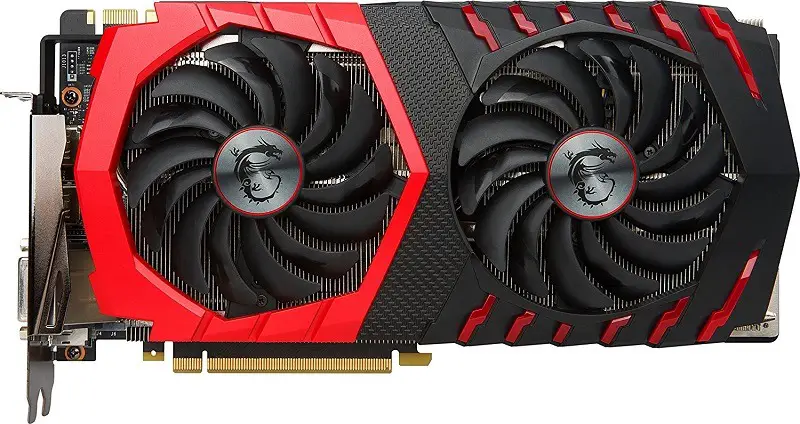 Nvidia's GTX 1080 Ti is the fastest mainstream graphics card right now after the Titan XP(New Pascal). It has 1Gb less VRAM than the Titan X but it is an overkill for any type of gaming. Be it 1440p or 4K. This card is not for 1080p, so bear that in mind that it's either for 1440p and much aimed at 4K. This is the only graphics card which can play every game at 4K on ultra settings.
It has a total of 11GB VRAM which can never be less on 4K in any game. One thing to be noticed in the GTX 1080 Ti is the huge heatsink. Almost every 1080 Ti from most of the known brands are 2 and a half slot thicker because it needs better cooling as it consumes 250Watts of power. So, you will need a good power supply, perhaps at least a minimum of 650 watts PSU from renowned brands like EVGA, Cooler Master, Corsair or Seasonic.
It uses 2x 8 pin power ports that can supply this card up to 300 Watts from the power supply which will be enough. Talking about its performance, it crushes every latest AAA game at 4K. But you will also need a good processor to handle it. A Core i5 7600K, Core i7 7700K or AMD 7 series processors will do the job perfectly. So, if you are an enthusiast who doesn't have a limitation on money, then go ahead and buy this beast which will be enough at least for a few years to play every game on ultra, be it at 1440p or 1080p.
Features:-
Chipset: NVIDIA GeForce GTX 1080 Ti

Video Memory: 11GB GDDR5X

Memory Interface: 352-bit

Max. Resolution: Support 4x Display Monitors

Input: 2x 8pin PCI-E Power Connectors