Motherboards
Best Intel MINI-ITX Motherboards[Compact but Powerful]

Introduction
For Intel processors, there are probably more Mini-ITX motherboards than for the AMD processors. This makes building a small form-factor PC with Intel processors easy and more affordable at many times. As the latest gen processors from Intel are supported on several chipsets and each chipset has several motherboards, I have selected the best ones from each of them and listed here for making it easy for you to get the best one.
Keep in mind that a Mini-ITX motherboard doesn't affect the performance and delivers performance similar to an ATX board. The differences might be in overclocking but not always. The only noticeable difference is upgradability but if you already know that and have made up your mind and don't need a lot of hard drives or multiple graphics cards, then a Mini-ITX motherboard is the right choice for you. I have explained each of the motherboards pros and cons and what to choose and what not to. But in case you need more help, then feel free to ask in the comments section.
Buy the Top Intel Processors
---
TOP INTEL MINI-ITX MOTHERBOARDS
MSI H310I PRO

The first one on the list is the H310I Pro from MSI which is right now the best budget Mini-ITX motherboard in the H310 chipset. It's because it's packed with a lot of good features at around only $80. There are currently two good H310 motherboards in the ITX form factor which should be good to go. The first one is the above-listed one and the other one is the ASRock H310M-ITX/ac. The ASRock one lacks a few good features although it comes with an additional chassis fan header but the rest of the features are better in the MSI H310I Pro.
This motherboard comes with a 4+2 power phase VRM which are cooled by small but decent heatsinks which are not present in the ASRock board. The look of this board is also good with black and silver accents on the heatsinks which will make your build look premium. The board has good features like 8 pin power port for the CPU and EZ Debug LED to figure out the problem. It can easily support any Intel 9th gen processor but it's best to use something like i3 9100F or an i5 9400F on this board which will make a good budget Gaming PC in less than $500.
There is also 1x M.2 slot available to install an NVME SSD which is blazing fast and for more storage, there are 4x SATA ports that support SATA Hard drives and SSDs. The only problem I find with the SATA ports is their location. ASRock H310M-ITX/ac has all the four ports at one place, but this one has 2 near to the M.2 slot which makes difficulty in cable management due to the installation of a graphics card. Other than this, this is a perfect board for any day to day work or even gaming without spending a lot of money.
---
Asus
Strix B360-I Gaming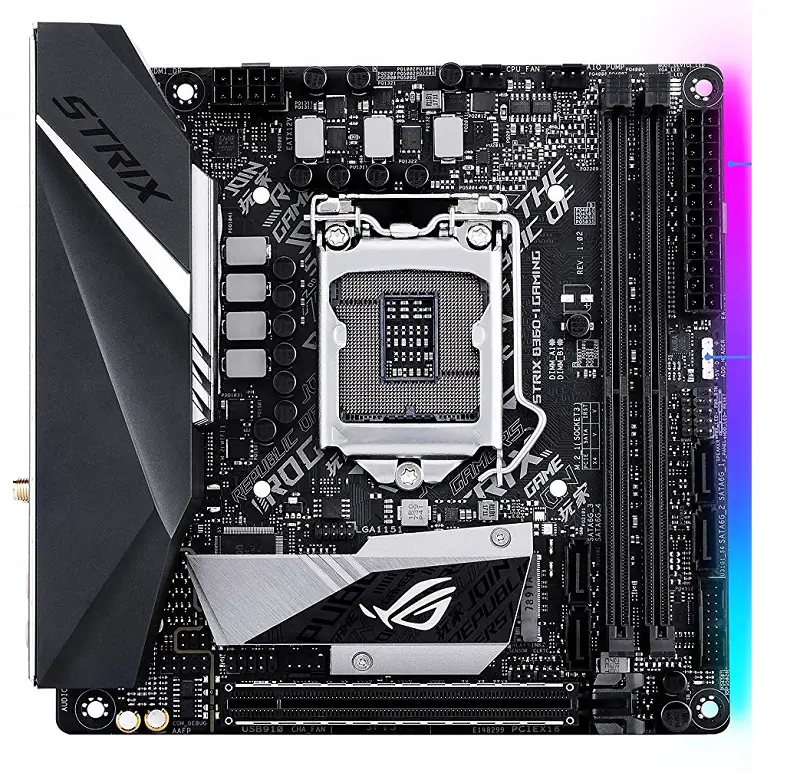 Coming to the next chipset which is the B360, we have the Strix B360-I Gaming from Asus. Asus Strix motherboards are very popular due to their performance and aesthetics and this one doesn't fall behind in any of those. As B360 chipset is a little better than the basic H310, you will have more options for upgradability and your system will be better.
This board features a decent 4+3 power phase VRM which is great for stability although you won't be able to overclock on this board. Regardless of that, Asus did a good job in providing a good VRM with a decent heatsink at the VCore side in order to maintain the temperature lower. Apart from this, there are 3x Fan headers in total which include the CPU fan header, the chassis fan header and the AIO pump header which you can use either for installing an AIO cooler in your chassis or you can just power up some fans to have good airflow in your case.
This motherboard also comes with inbuilt wifi along with 2T2R Wifi antennas so that you don't have to worry about the internet connectivity. Apart from that, it has a heatsink on the M.2 slot which will cool your NVME SSD and looks sick at the same time. For aesthetics, it also has an RGB LED strip behind the motherboard at the right side which automatically lights up when you switch ON your system. And if you want to extend the RGB lighting, then there are 1x RGB and 1x ARGB headers at the right side which you can use to light up RGB fans or LED strips to make your RIG beautiful. For a mere $120, this is a great B360 board for any locked Intel CPU but in case you want more performance by overclocking, then you should skip this one and get the Z390 chipset board which I have listed below the next board.
---
ASRock H370M-ITX/AC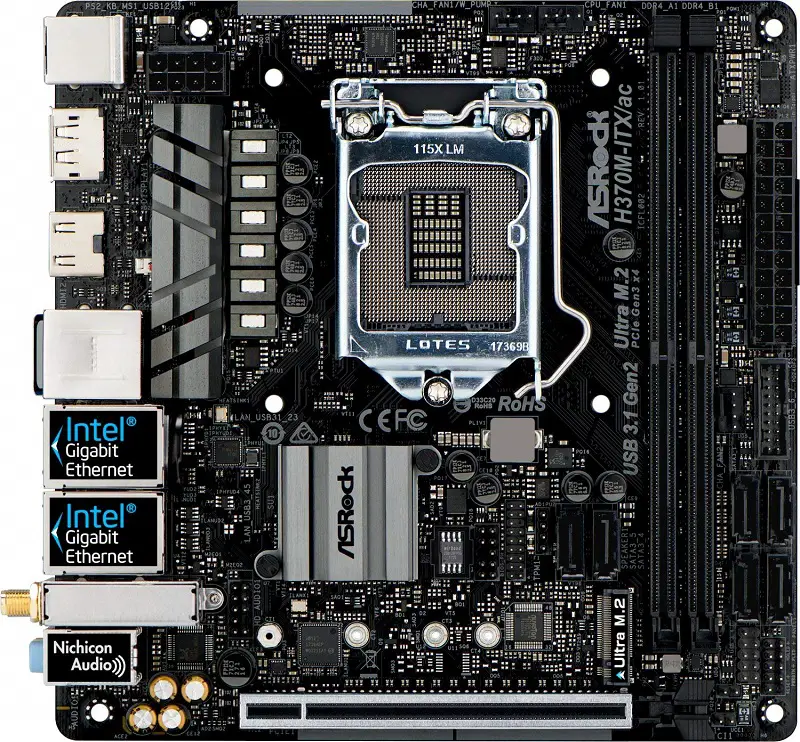 H370 chipset even though isn't made for overclocking but it has almost everything that one would need apart from that. This H370 chipset board from ASRock is a deal breaker for under $100 because it has even more features than the Asus Strix B360-I Gaming except for the aesthetics in which Asus excels.
This board features a 6 power phase VRM which uses doublers for more stability and has an 8 pin power port for the CPU. There are 3x Fan headers including the CPU fan header on it and lot of different headers that may or may not be useful to you but this is clearly a step ahead of the boards I listed above in terms of upgradability. For storage also, it has 6x SATA ports which are generally found in ATX boards and a single M.2 slot for fast NVME SSD.
At the I/O, there are a total of 8x USB ports out of which 4 are USB 3.1 Gen 2, and 2 are USB 3.1 Gen 1. Moreover, there are two Intel Gigabit Ethernet ports for LAN connectivity and a wireless inbuilt wifi adapter which has the Intel 802.11ac standard and Bluetooth 4.2. If you don't care about aesthetics, then instead of going with the Asus Strix B360-I Gaming, go with this one as it has more features and has 20 PCI-E 3.0 Lanes as compared to 12 which are beneficial when you connect fast speed devices such as NVME SSD and Graphics card at the same time.
---
ASUS ROG Strix Z390-I Gaming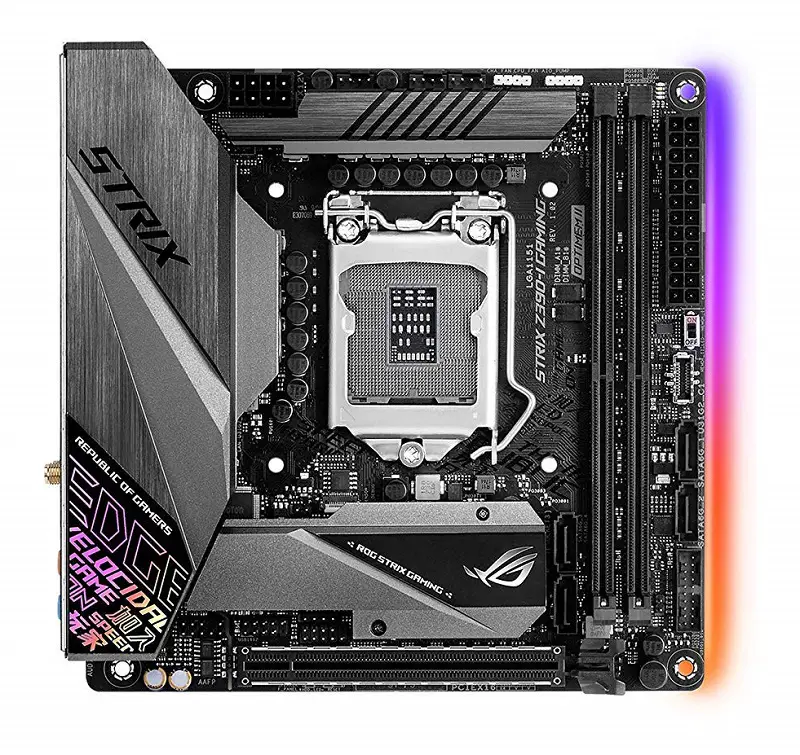 If you want no compromise in your ITX build, then certainly you shouldn't be looking at something other than the Asus ROG Strix Z390-I Gaming which is a top-tier Mini-ITX board for Intel unlocked processors. The above 3 motherboards are good for locked CPUs but if you want to use something like i7 9700K or even an i9 9900K, then I would recommend only this board because of the powerful VRM it comes with.
Other Z390 Mini ITX boards come with weaker VRMs but this one uses doublers and uses 11 power phases for maximum stability and is able to perform much better than the boards like ASRock Z390 Phantom Gaming and Gigabyte Z390 I Aorus Pro wifi due to the large heatsinks on both the sides. The M.2 slot is also covered with an aluminium heatsink and there is one more M.2 slot at the back which increases its capacity for upgradability.
This board doesn't fall behind in features like Aesthetics and troubleshooting also. There is an LED strip behind the motherboard's PCB at the right side which lights up and there are RGB as well as ARGB headers available on it for connecting more RGB devices. For troubleshooting, there are features like MEMOK II Switch for memory and for the front I/O, there is a single USB 3.1 Gen 2 Type C connector which nowadays a lot of good cases use.
For ultimate and no-compromise performance, Asus ROG Strix Z390-I Gaming is the best choice for any current gen Intel processor and you will have no regrets in buying it.
---
Conclusion
Choosing a motherboard can be difficult as there are many choices in each chipset but when you know your needs and know exactly what you want, then you can get the right one for yourself without spending a lot of money. As I have already done the homework for you, you can check out which one suits you the best and in case you have your eyes on a different motherboard than what I have listed, then make sure that you let me know in the comments below if you want any suggestion!