Intel's LGA 1700 socket supports the 12th-gen Alder Lake and 13th/14th-gen Raptor Lake/Refresh CPUs. These two generations are the first ones to support DDR5 memories out of the box and provide significant performance uplift over the past generations.
Due to sharing the same socket, Intel released two generations of motherboards for each of these families. One is the 600 series and the other one is the 700. While there is little to no difference between the two, the 700 chipset boards are superior in DDR5 compatibility and are newer which makes a suitable fit for Intel's 12th/13th gen CPUs.
In this post, we are going to take a look at the top LGA 1700 motherboards you should go for if you own any of these CPUs or are planning to buy one.
Best Budget LGA 1700 Motherboards
Asus Prime B760-Plus D4
Buy at Amazon
Buy at Newegg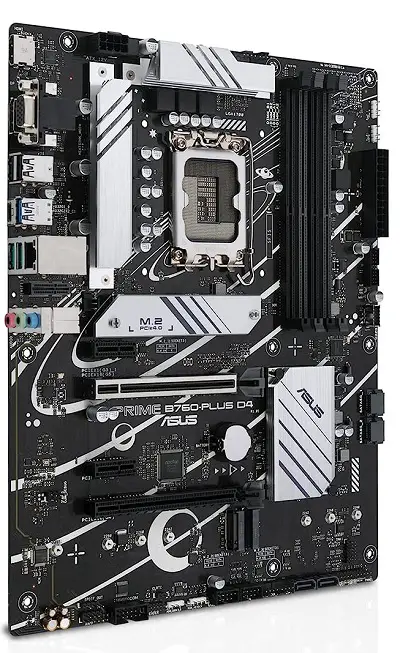 B760 is a great locked chipset that will go perfectly with any 12th/13th/14th gen locked Intel Core processors and the Prime B760-Plus D4 is a great option to save some cash. It's a full ATX form factor motherboard that comes with a decent amount of ports and slots for components connectivity and will get the job done if you are building a system on a budget.
Not only it is cheaper than most premium B760 models but is also packed with some decent features like heatsinks on the VRM, plenty of slots for storage, several headers for cooling, and support for DDR4 memories.
MSI B760 Gaming Plus WiFi
Buy at Amazon
Buy at Newegg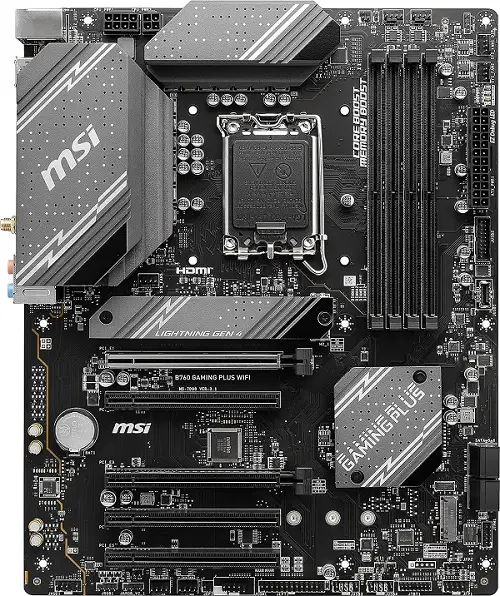 If you are looking for a premium yet a sub $200 board, then the B760 Gaming Plus WiFi is an excellent choice with appealing aesthetics that include an I/O cover on top of the VRM heatsinks and white accents on a fully black PCB.
This thing is a solid choice for mid-range gaming builds and comes with a 14-power phase VRM, 5x PCI-E slots, great DDR5 memory support, EZ Debug LEDs for troubleshooting, and inbuilt WiFi 6E for wireless connectivity. Definitely, a deal breaker over the Prime one for almost the same price.
ASRock B760 Pro RS
Buy at Amazon
Buy at Newegg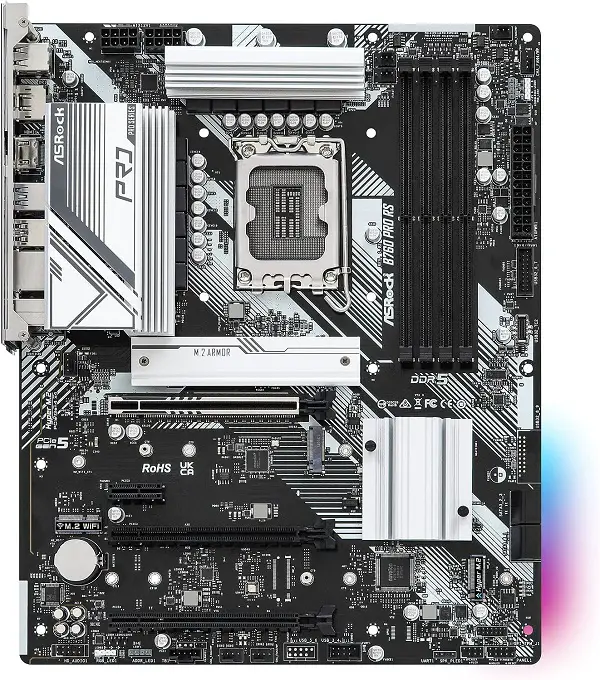 Among the best B760 chipset motherboards, ASRock has a fantastic board that boasts a 12-power phase design, DDR5 support of up to 7200MHz, an M.2 connector for WiFi, and a PCI-E x16 Gen 5.0 slot that supports the largest possible bandwidth for GPUs.
Unlike its competitors, it comes with RGB lighting on the right edge that can be controlled via various popular RGB software and that is accompanied by white heatsinks on a black PCB for an appealing aesthetic. Therefore, an ideal choice for those who want to spend the least amount of money without compromising on the looks.
Gigabyte Z790 UD AC
Buy at Amazon
Buy at Newegg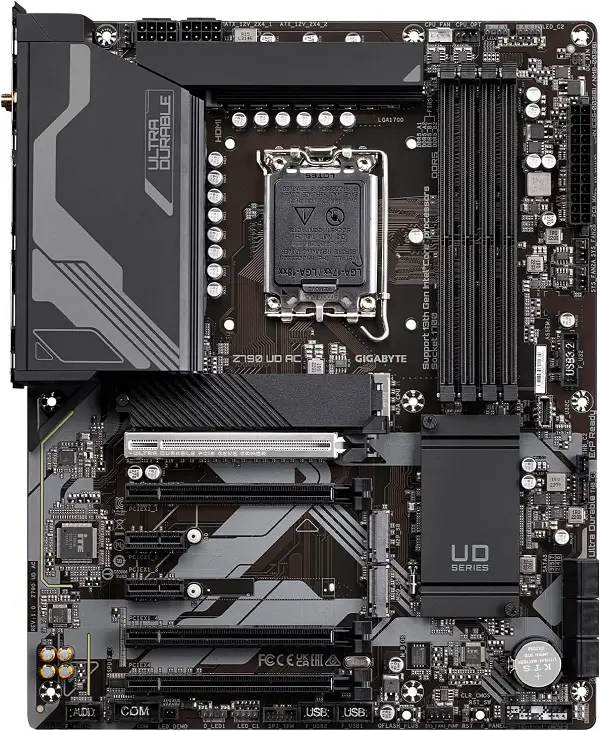 If you are looking for an unlocked chipset for the price of B760, then Gigabyte's Z790 UD AC will be an ideal choice. This board comes with a solid 18-power phase VRM that allows you to overclock your Core CPU and a Q-Flash button to flash your BIOS if something goes wrong.
Its connectivity is pretty decent with 2.5G LAN and inbuilt WiFi for internet connectivity and comes with a total of 10x USB ports including a Type-C and a PS/2 for older peripherals. For storage, you will get 2x M.2 slots and 6x SATA slots for having as much storage as you like and a total of 6x PCI-E slots are present for any additional needs such as installing a graphics card, a sound card, or a PCI-E SSD.
Best Mid-Range LGA 1700 Motherboards
ASRock Z790 Steel Legend WiFi
Buy at Amazon
Buy at Newegg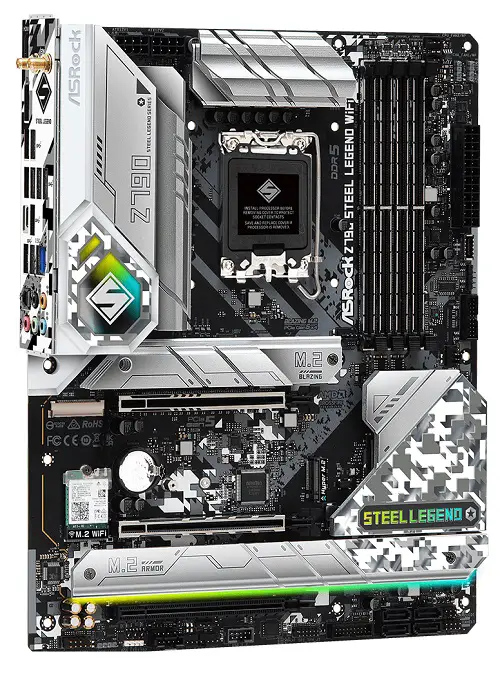 In the mid-range, one of the best for the money you could have the is Z790 Steel Legend WiFi which is a superb overclocker for only $250. It comes with 18 power phases, supports up to 192GB of DDR5 memory, and has PCI-E x16 Gen 5.0, 4.0, and 3.0 slots for supporting any type of modern graphics card.
Aesthetically, it looks gorgeous with white and grey accented heatsinks, and the built-in RGB lighting is present on the chipset, M.2 connector as well as the I/O cover. You will get tons of fast USB ports at the I/O, WiFi 6E Adapter, and support for Bluetooth 5.3.
Gigabyte Z790 AORUS ELITE AX
Buy at Amazon
Buy at Newegg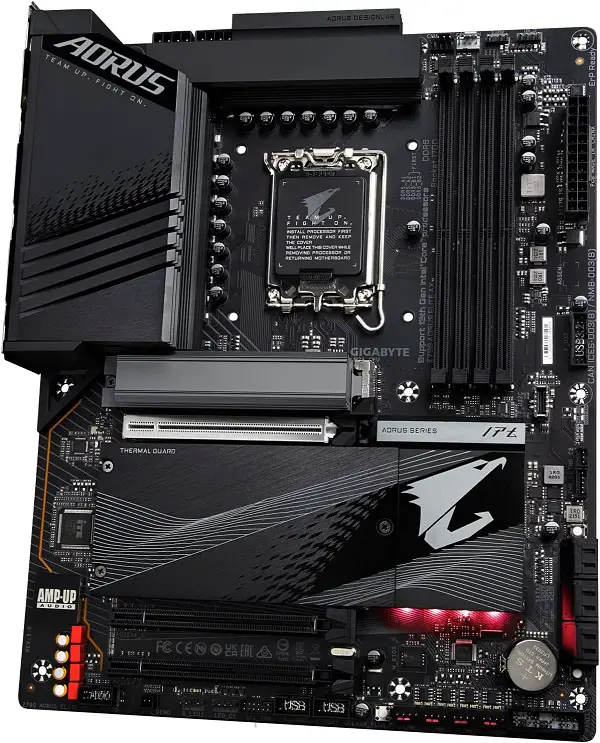 For the same price, the Gigabyte Z790 Aorus Elite AX is one of my favorite Z790 boards that come with almost all the features present on the Z790 Steel Legend WiFi. You will get inbuilt WiFi, 2.5G LAN, great support for DDR5 memories, and several headers for fans, pumps, and RGB/ARGB devices.
This thing looks gorgeous with fully black heatsinks on a reliable black PCB and comes with a 16+1+2 Hybrid Digital VRM design for remarkable overclocking. On top of that, you will also get a Q-Flash button for BIOS updates that can come in handy anytime.
MSI MAG Z790 Tomahawk WiFi
Buy at Amazon
Buy at Newegg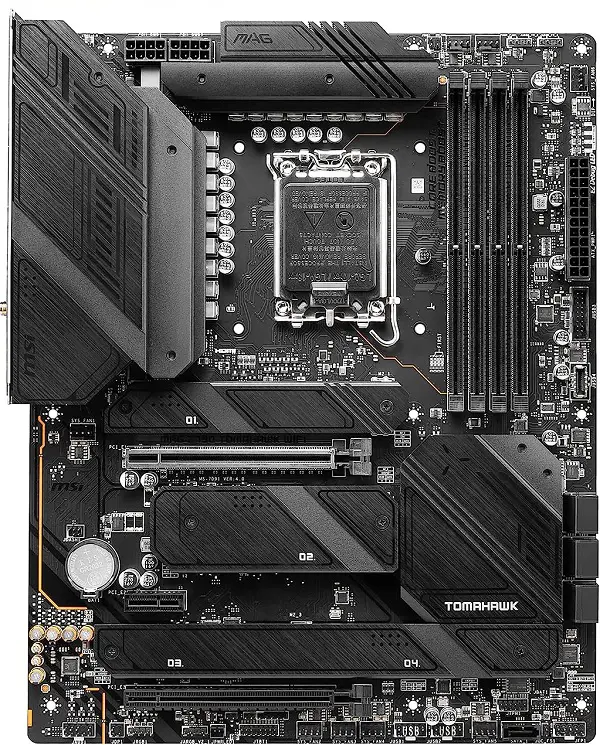 For enthusiast gamers and overclockers that aren't willing to spend hundreds of dollars, MAG Z790 Tomahawk WiFi should be a no-brainer that excels in almost everything from overclocking to compatibility. It comes with several high bandwidth USB Type A and C ports along with additional features like Clear CMOS and BIOS Flash buttons at the I/O and EZ-Debug LEDs on the PCB for easy troubleshooting.
The board is an excellent overclocker with 16 Core power phases each rated at 90A and uses grooved heatsinks for fast passive air cooling. It comes with a whopping 4x M.2 and 7x SATA slots for storage drives and boasts 8x headers for CPU fans, System fans, and AIO cooling.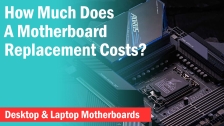 Repacing a motherboard can cost you around $70-$1000 depending on the type of motherboard you are buying plus the cost ...
Best Premium LGA 1700 Motherboards
Asus ROG Strix Z790-E Gaming WiFi
Buy at Amazon
Buy at Newegg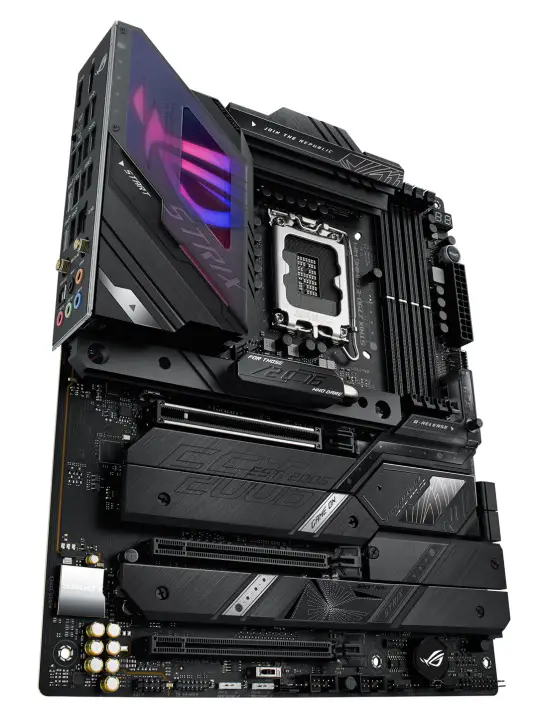 Moving on to the higher-end spectrum, we have a killer Z790 motherboard from Asus that supports highly overclocked DDR5 memories(7800MHz and up). It boasts an excellent 18+1 power phase VRM for overclocking and dense heatsinks to quickly dissipate the heat.
There are a total of 5x M.2 connectors for fast SSDs and 4x SATA ports if you want to switch to traditional drives. There are plenty of onboard features including a Start button, several fan headers, several RGB headers, and a Thunderbolt USB header for your front panel. The I/O is also pretty rich with high bandwidth USB headers, 2.5G LAN, WiFi, and Clear CMOS, Bios Flashback buttons.
MSI MPG Z790 Carbon WiFi
Buy at Amazon
Buy at Newegg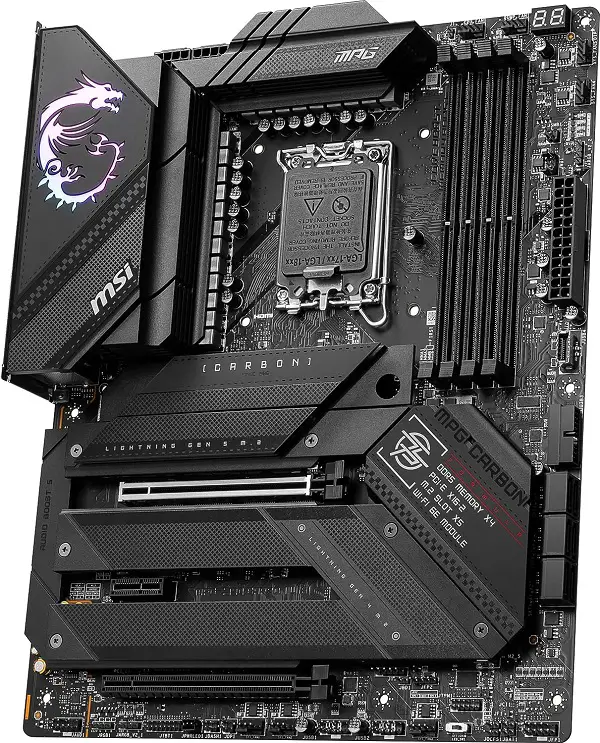 For around 400 bucks, the MPG Z790 Carbon WiFi is a monster at overclocking with 19 Core phases each rated at 105A. The PCB is made up of 8 layers for more reliability and shows no visible trace of any circuit. Heatsinks are pretty dense with embedded copper heat pipe for faster heat dissipation and on top of that sits an I/O cover that boasts an RGB Dragon Logo.
It has 5x M.2 slots and 6x SATA slots for allowing more storage drives than the Strix Z790-E Gaming WiFi and also has EZ-Debug LEDs for quick troubleshooting. Everything from the point of components compatibility and the power design is fabulous which makes this a solid option for enthusiast overclockers.
Gigabyte Z790 AORUS MASTER
Buy at Amazon
Buy at Newegg
For $450-$500, the Z790 Aorus Master is more than any enthusiast would require except if you want to break some overclocking world records. The overkill 20+1+2 power stages rated at 105A will take care of any stability in high-end overclocking while the dense and big heatsinks will cool down your VRM components.
From top to bottom, this motherboard looks like a piece of art with brushed aluminum heatsinks and several zones for RGB lighting. It not only supports extreme levels of CPU overclocking but can also support up to 8000MHz of DDR5 frequency and provides you with troubleshooting features onboard for trial and error.
The storage support, PCI-E compatibility, Audio design, onboard headers for fans, coolers, RGB devices, and several such accessories are on point for the board's price and this is an ultimate choice for any enthusiast overclocker.
Final Words
There are plenty of more LGA1700 motherboards that could have made it to the list but these are the top 10 boards I recommend for any budget.
Let me know what motherboard you are going with in the comments below.