Cases
Best Modular Cases of 2018
In the world of PC  Cases, we have seen a lot of changes, some of them are really worth mentioning while some of them failed miserably. Out of the several changes, one of the unique features that are really promising is the Modular Approach. Numerous PC cases these days are on to this modular approach and this topic is with those cases which are successful with this unique feature. We have collected the top modular cases and have explained why they are presently the best modular cases.
Cooler Master 
MasterCase Pro 5
Our first pick is the Cooler Master Master Case 5, which is released keeping the modular approach in mind, is really a unique case to work around with. The Master Case 5 comes with a whole bunch of cool accessories starting from a top fan bracket up to an upgraded IO Panel and lot more.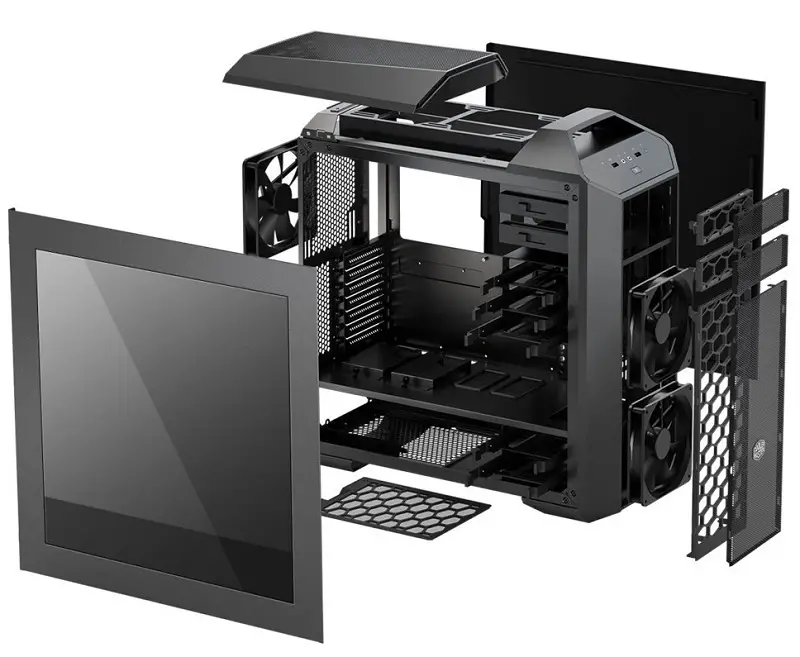 Cooler Master has tagged the Master Case 5 with FreeForm Modular System. FreeForm provides users with an option to vertically adjust or entirely remove the optical disk drive bay (ODD) and HDD Bay via sliding locks. Users can position them at the top to allow room for up to three extra-long graphics cards, or keep it in the bottom position to add a front-mounted radiator for even more cooling options or completely remove the same to get maximum airflow.
The case is furthermore customizable with an option to add a top cover and a fan bracket which can also support radiator for Liquid Cooling and at the same time also helps in freeing up space inside the case. And last but not least if a user wants to show off their system, a window side panel is also available. Assembling a system inside the master case series is a breeze.
Prominent cutouts are present to pass all the cables, the cable management is good as there are velcro straps to hold those cables, but one thing this case lags is the presence of proper Cable Tie hooks. However, that won't be much of a concern as there is enough space in the bottom chamber to leave those cables as it is. The Case is really sturdy and the handles are also attached to the case.
The Master Case 5 comes with a four different Customisation via, Master Case 5, Master Case Pro 5, Master Case Maker 5 and Master Case Maker 5t. Key details about the differences are: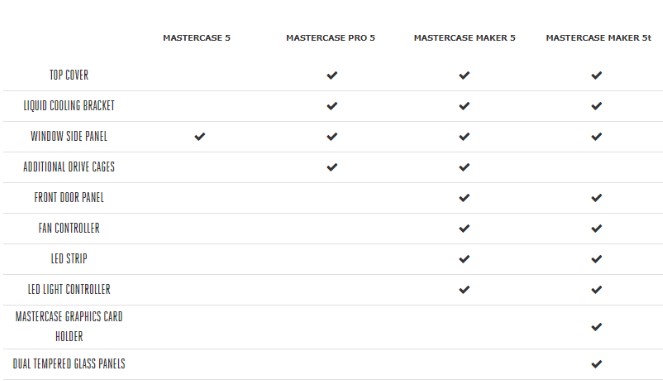 The MasterCase 5 is a nice product from the house of Cooler Master but to get the ultimate output from the case one has to buy the Accessories or can buy the directly the upgraded version of the same which in term will be much cheaper from buying Accessories separately. The Master Case is unlike anything Cooler Master has done before. It's innovative in its own way, and the performance of the case is also well balanced. Though the Cooler MasterCase Maker 5t is not at all budget-friendly, it will be on the choice with the user who will make the ultimate decision.
[rwp_box id="0″]
---
Phanteks Enthoo Elite
Our next choice for the best modular case is from the house of Phanteks " The Enthoo Elite". As its name sounds it is a full tower PC Chasis with a lot of cooling potential along with modular elements. Priced under $300 it is the most premium gaming enclosure. It is built from premium materials that are engineered with utmost care and attention to detail. It is based on a design which involves continuous product improvement and innovation throughout the Enthoo Series.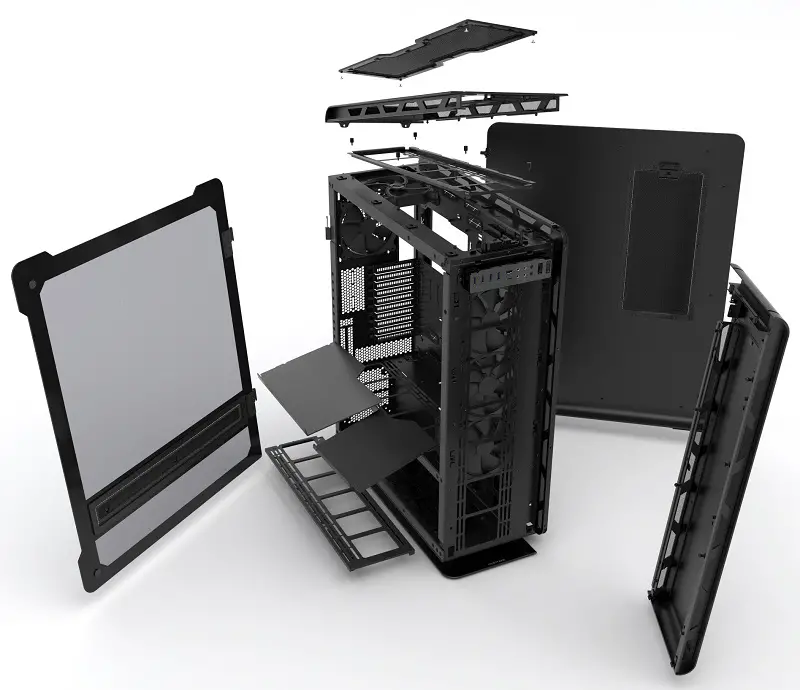 For accessories, it comes with two boxes, one is located in the bottom chamber and the other inside the flight case in which the case comes. Accessories include two SSD cage, six normal drive cage, the power splitter plate, a five an a quarter inch drive cage with two slots, and it is to be installed facing the glass window, which also allows users to install touch interfaces or optical drives,  a vertical GPU bracket which in most case is not provided and one needs to buy that separately, a handy toolbox for screws organization, and an 8 pin CPU extension. Moreover, it also comes with extra panels which include an ITX tray, a side radiator bracket, and a top panel cover.
The IO behind includes four USB 3.0, an HDMI pass-through, a Type-C port, dual audio jacks for dual systems and a wheel to control the integrated case lighting which allows you cycle between colours, adjust the brightness, change the modes also. Inside the case, you can run two system simultaneously. The cooling options are also sufficient and users who tend toward liquid cooling would love the case for sure as it can support radiator in almost every location.
The Phanteks Enthoo Elite is really a Premium Enclosure and is targeted for high aim systems with liquid cooling priority but if someone decides to get hands on this case, he/she has to be certain that this investment will be a long-term one as the case is priced at $1000 and at this price tag is huge as a whole new system can be built with this much amount. This case is truly a heaven for the enthusiast as they get plenty of choices.
[rwp_box id="1″]
---
Be Quiet Dark Base 900
Our next pick for the Modular Lineup is the Dark Base 900. be quiet! Dark Base 900 is the perfect case for those who expect the highest standards in terms of modularity, compatibility, and design. There is one other variant available for the Dark Base 900 is the Dark Base pro 900 which comes with Tempered Glass Side Panel, a wireless Qi Charger, and a fan control HUB along with 2 LED strips which is $50 higher than the normal version. The Case comes with 7 Modular Drive Bays along with an option of mounting SSD also. The Motherboard can also be inverted along with adjustable height setup of the motherboard tray to allow extra clearance for push-pull setups or thick radiators.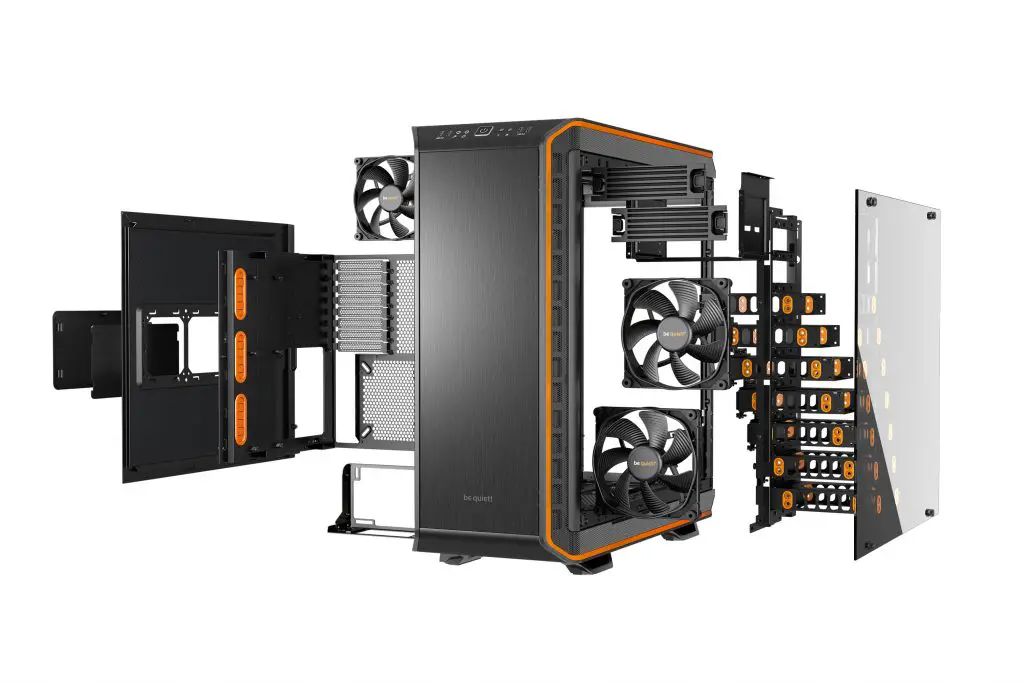 Released in 2016, Darkbase 900 pro has no competitor in the market at that time. The Case is well planned and the aesthetics of the case is quite to look at. One thing is to be sure of, that the case is from the house of Be Quiet! and it also carries the trend of silent operation with quality performance. The Darkbase pro 900 comes with a handful of accessories starting with several bags of sorted screws, spare orange rubber elements, Velcro strips, mounting brackets for liquid-cooling components and a LED strip.
The Dark Base Pro 900 is available in three different colours. Along with that, a user will be able to pick between a solid or glass side panel with the orange or black version. There is an aluminium swivel door in front which when opened reveals the dust filter and 2 silent wings 3 Fans, with a slot of another fan but the dust filter will not cover the top fan. There is a bottom dust filter which can be accessed directly from the front and spans the entire case.
[rwp_box id="2″]
---
Fractal Design Define R6
Our next pick is the new redefined case from Fractal Design, the Define R6. The case looks quite simple from outside and is also priced at $130, but the catch here is the modularity at such a lower price point. It offers an optional top cover or angular filter for silent or airflow options. Six 3.5"/2.5" drives and two 2.5" drives can be installed which are also easy to mount. A further addition can be done with the IO also.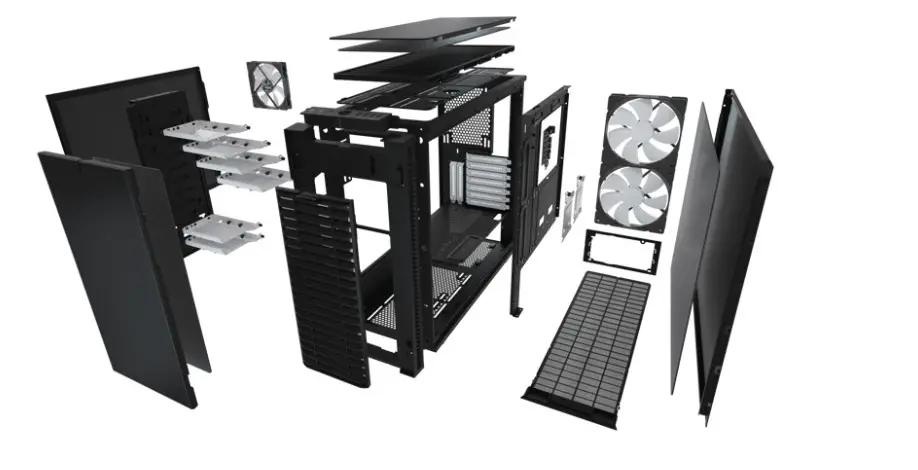 The Define R6 is a choice for those who are looking for a budget case and doesn't want to compromise with the current feature as well as performance. The case offers quite some unique feature and modularity.
[rwp_box id="3″]
---
Conclusion
In the ongoing trend of case manufactures, the modularity is one aspect where one can definitely enjoy the uniqueness of a computer case. We hope to see more cases with such unique options where users can opt for different options to satisfy their needs. As of for now, we have selected these cases, and we will update them whenever there will one in the market with such feature of flexibility.