Xtremegaminerd.com is supported by the readers. The purchase you make through our links may get us some commission and doesn't cost you an extra penny.
---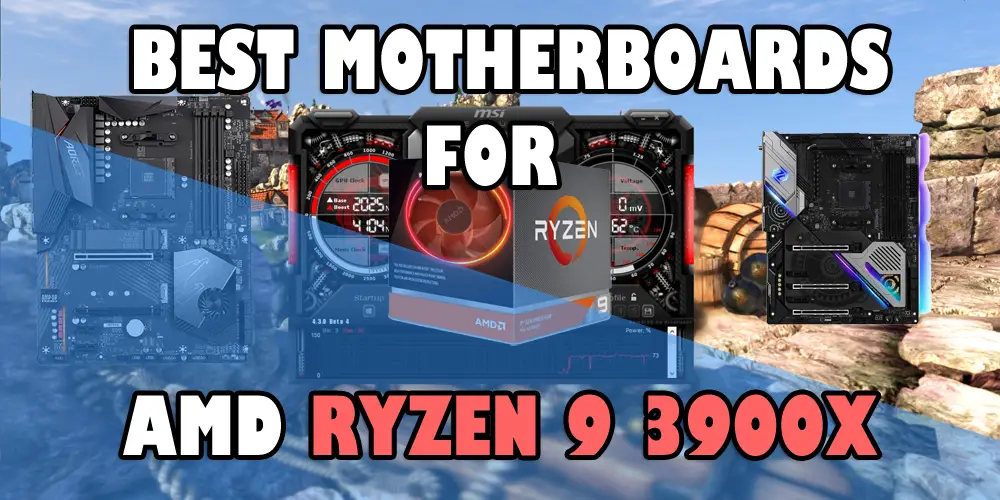 Introduction
AMD's 3rd Gen Ryzen CPUs are monsters and it's no doubt that the Ryzen 9 3900X is the first in the Ryzen series that has completely outperformed every processor at its price both from Intel and AMD. For this reason, many enthusiasts are preferring Ryzen 3900X instead of the Threadripper CPUs and i9 9900K for productivity and multitasking.
Ryzen 9 3900X features 12 cores and 24 threads which are comparable to the Threadripper 2920X but there are some significant differences in their specs. The 3900X has a higher base and boost clock speeds that sit at 3.8GHz and 4.6GHz respectively which is massive on a 12 core processor while that of 2920X sit at 3.5GHz and 4.3GHz.
After the release of 3900X, the Threadripper CPUs prices have dropped down significantly but still, the Ryzen 9 3900X is among the most affordable super high-end processors that are also very power efficient with only 105 watts of TDP. This monster is best for everything including workstations and Gaming although it is not recommended for purely Gaming.
As this chip is overclockable, you will definitely have to buy something that doesn't bottleneck it. A good X570 motherboard for this processor should have a very strong VRM for powerful overclocking along with decent heatsinks for cooling. It should have support for everything from multiple graphics card configuration to multiple fast M.2 SSDs and onboard troubleshooting. Fortunately, there are a couple of motherboards that I recommend for this processor which I have listed below.
Make sure you read about them carefully and make up your mind before you buy. And in case you have some other motherboard on your mind, then feel free to discuss in the comments section below.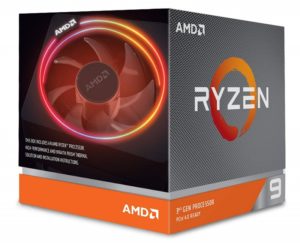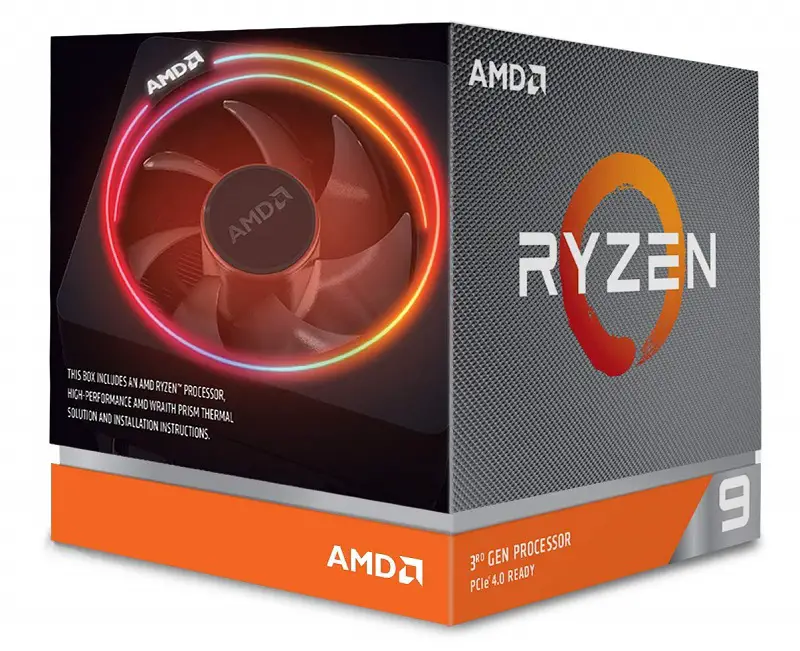 ---
GIGABYTE X570 AORUS Elite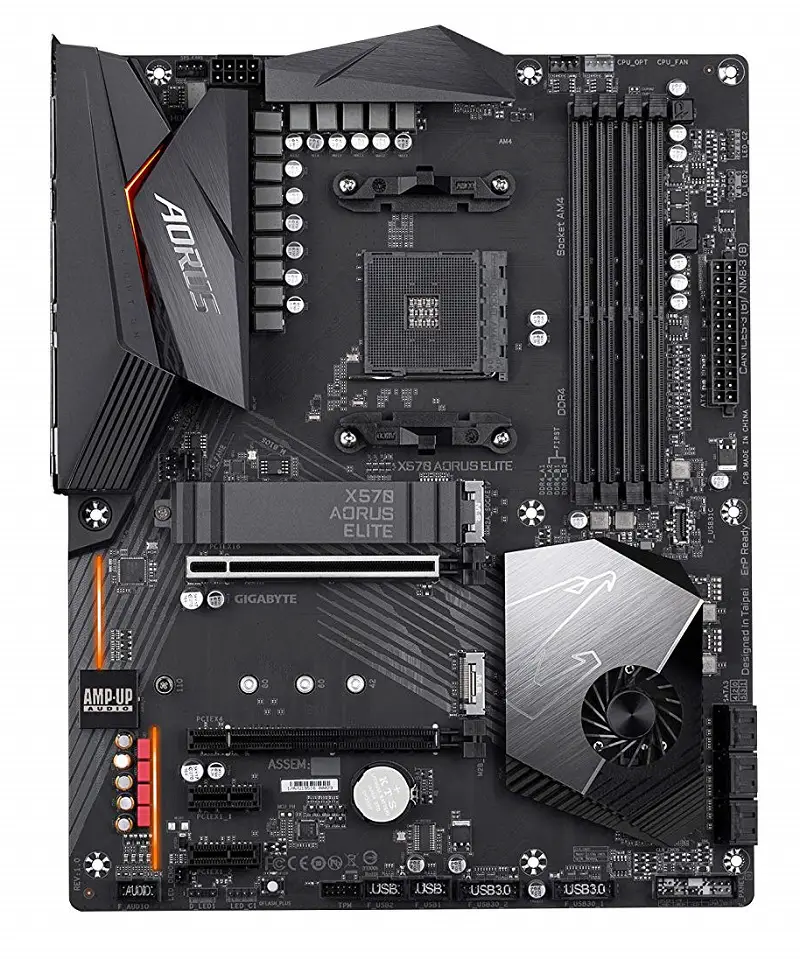 Gigabyte's Aorus Elite may not be the best X570 motherboard available for the Ryzen 3900X but it is definitely enough for it for overclocking. This motherboard is the best budget X570 motherboard because for just $200 it brings 12+2 power phases VRM which uses doublers for overclocking and stability. The board has all the basic and advanced features as well although it's not an overkill and you shouldn't expect everything best from it. In case you are on a tight budget after buying your Ryzen 3900X, only then it is recommended otherwise, you can take a look at the next motherboards for this chip.
The board has all the slots and ports for installing graphics cards, memories, hard drives, NVME SSDs, fans and RGB devices that should make your PC upgradable in the future. As there are 2x M.2 slots on it, you should definitely take advantage of it for making your PC fast. Good thing is that the first M.2 slot is using an aluminium heatsink for heat dissipation and the first PCI-Ex 16 slot is using Steel Armor for more strength. This board has 4x Fan headers in total including the CPU fan header which should be ok to install a few fans but in case you want more you can use a splitter or a fan hub to provide more cooling to your chassis because you will be definitely needing good airflow when overclocking the Ryzen 3900X.
The only CON I see on this board is that there are no onboard troubleshooting features like Debug LEDs or Power/Reset buttons to easily get out of the malfunction but if you are experienced in overclocking and troubleshooting then you won't need them anyway. This board costs only $200 and should make a decent PC build with Ryzen 3900X for the least amount of money.
---
GIGABYTE X570 AORUS Ultra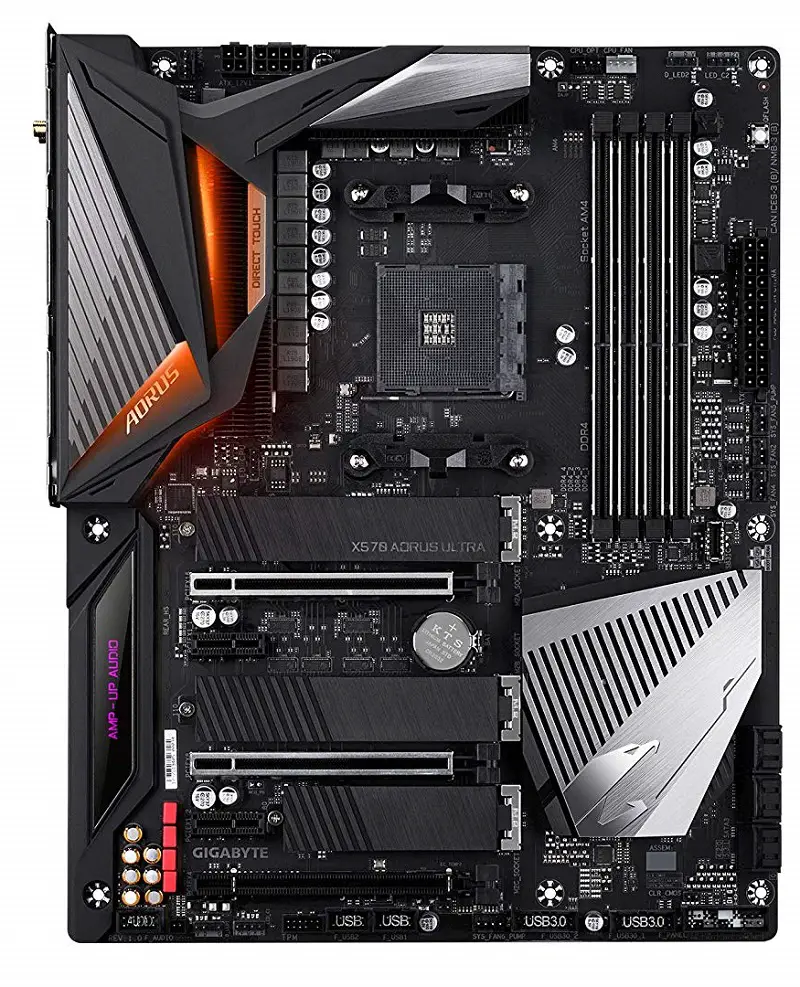 When overclocking is the priority, then you must consider premium motherboards like the Gigabyte Aorus Ultra which has a strong VRM with 12+2 power phases which are using doubling technique for more stability in overclocking. This is similar to the Aorus X570 Elite but the heatsink on this one is the "Real" one for overclocking which is rarely found on most X570 motherboards. Even the price of this motherboard is below $300 which makes it the best buy for its price.
The board has 3x PCI-E 4.0x 16 slots out of which 2 are covered with Steel Armor and support up to 2 Way Nvidia SLI and 2 Way AMD CrossfireX. So, in case you want to increase the performance in Gaming, then you can definitely use 2 graphics cards together with Ryzen 3900X for beastly performance because 3900X can't bottleneck any high-end GPU.
Unlike the Aorus X570 Elite, it features a total of 6x Fan headers which is what you need to power up a lot of fans in your chassis and it will be very unlikely that you will need a fan splitter or a hub to increase the fan quantity. This board is also equipped with an onboard Flash Bios button which will easily update your Bios and at the rear, it has inbuilt Wifi with two antenna connectors that has Intel WiFi 6 802.11ax which support 2.4/5 GHz Dual-Band and Bluetooth 5.0.
For storage, it has 6x SATA ports and 3x M.2 slots that use aluminium heatsinks on each of them which is what you should expect for effective cooling. I believe that in no way, the Aorus X570 Ultra is not a good board for Ryzen 3900X but rather it is one of those boards which will deliver the performance equivalent to the premium boards that cost hundreds of dollars and won't disappoint you in any way. But again, onboard troubleshooting features should have been put by Gigabyte to make it the best value.
---
ASRock X570 Taichi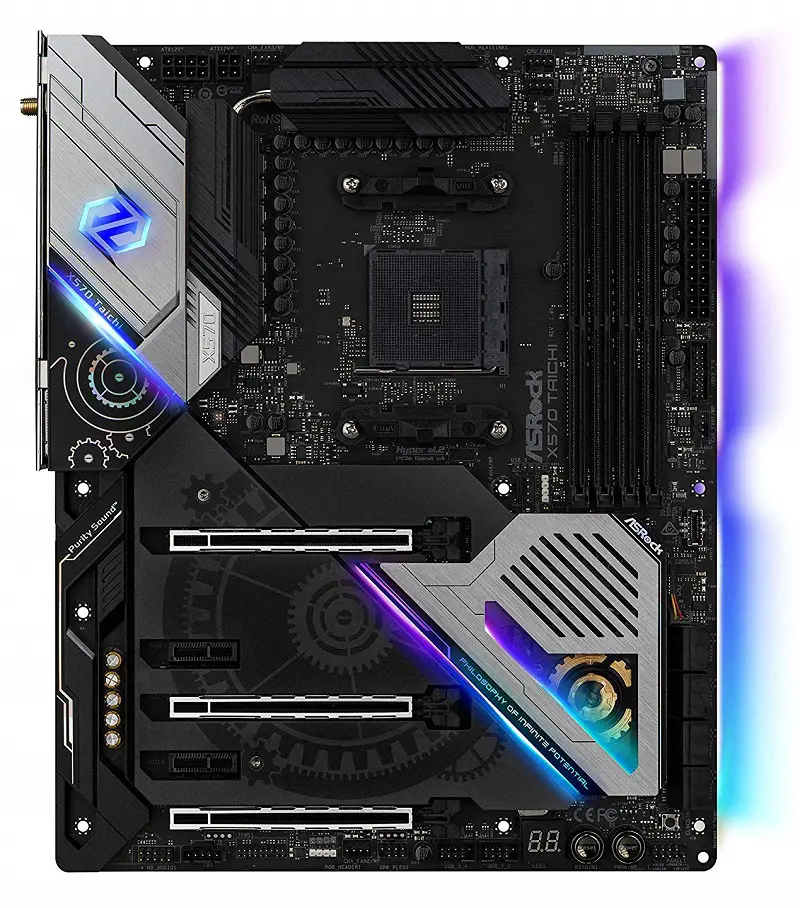 ASRock X570 Taichi is what I recommended for the Ryzen 7 3700X and for Ryzen 3900X too, it's a solid board for overclocking. The board features 8+4 CPU power connectors to deliver enough power so that you can overclock your CPU easily without any hindrance although it's very unlikely for 3900X to use the other 4 pin connector as it has a TDP of only 105 watts.
This board has a VRM comprising of 12+2 power phases using doublers and the heatsink on both sides use a copper pipe for heat transfer. This is what you will need for good overclocking and stability although the Gigabyte Aorus X570 Ultra uses better aluminium heatsink in my opinion. This board uses 60Amp power chokes on its VRM that are more stable in overclocking than the 40A chokes used on most of the boards. This makes it an awesome choice for getting a good boost in performance.
The board fortunately also features Dr. Debug with LED that displays the post code which helps in identifying the problems related to the connected hardware. The Gigabyte Aorus X570 Ultra lacks this feature which is very useful in overclocking and experiment. Along with this, this board also has Reset, Power, and a Clear CMOS Button beside which will further ease the experimentation.
The design of this board is also spectacular and it looks too good with the mechanical design on the shrouds and heatsinks. As you will be paying $300 on this board, don't think that it will lack Wifi. It comes with Intel 802.11ax WiFi Module that supports Supports IEEE 802.11a/b/g/n/ax and Dual-Band (2.4/5 GHz) with Bluetooth 5.0. These features should be enough for Ryzen 3900X in my opinion but if you want even better performance, then consider the next option.
---
ASUS ROG X570 Crosshair VIII Hero (Wi-Fi)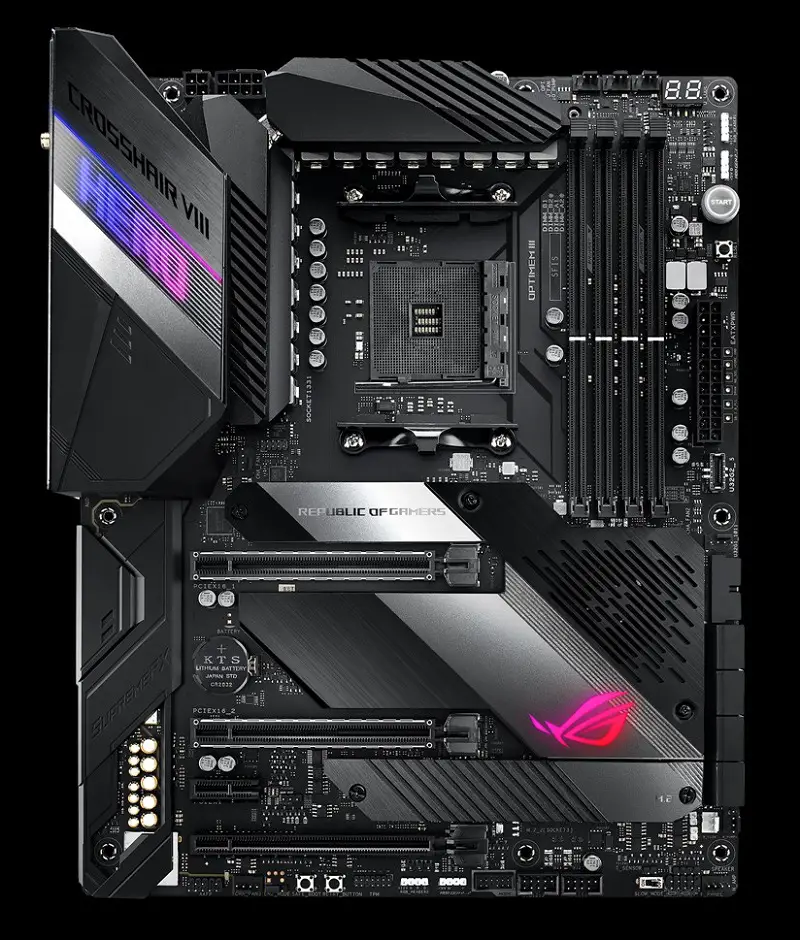 Asus makes the best motherboards overall, be it in the budget category or the high-end tier. Asus Crosshair series boards are specially made for overclocking and keeping that in mind, Asus released the X570 Crosshair VIII Hero Wifi which is almost as good as the boards that cost above $500 though it costs below $400. I believe that going above this board won't fetch you better results but instead you will end up wasting your money.
This board has the best VRM with 14+2 power phases(7+2 in actual) that can overclock the Ryzen 3900X like none of the above-mentioned motherboards. This alone makes it worthy of buying but let's not forget that there are other features that you shouldn't ignore. It comes with onboard troubleshooting features like Safe boot and Reset buttons, Slow mode for LN2 cooling, LED Display for post codes, Power and Retry buttons. At the rear, it comes with Clear CMOS as well as Bios Flashback button which means that you can easily reset or upgrade your Bios.
This board has a total of 11 headers for chassis fans, water cooling, CPU fan as well as AIO cooling that are hard to find on a lot of motherboards but it makes sense on this one because it is specially made for advanced overclocking either with custom water loop or with Liquid Nitrogen cooling. If you don't want to use either of them then you should at least use AIO cooling for Ryzen 3900X on this board or you won't be able to utilize all of its benefits. I believe that it is the best match for Ryzen 3900X and going above it will not provide you more value.
---
Conclusion
As Ryzen 3900X is a super-high-end board from AMD that competes with Threadripper CPUs and dominates over all the high-end mainstream CPUs that were released before, you can only take its full advantage with a board that is made for advanced overclocking. Some of the above-listed boards in the starting of the list are fit for use with it but they may not be able to maximize its performance. If you really want to get the most value out of it then getting something like the ASRock X570 Taichi or Asus ROG X570 Crosshair VIII Hero will be well worth it.