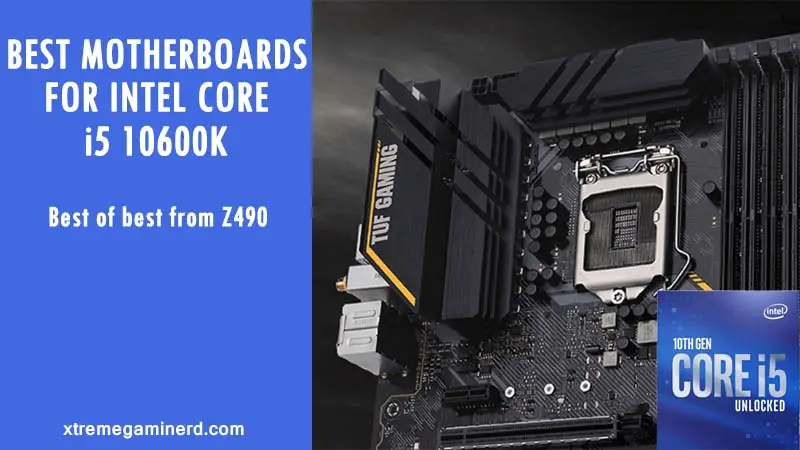 2020 welcomes the new Comet Lake i5 10600K that replaces the 9600K and provides better specifications for a similar price. While 9600K was the fastest $250 gaming processor, it couldn't keep up with the Ryzen 5 3600 as the latter was much cheaper for the performance it delivered. Also, 9600K had no hyperthreading which is why Ryzen 3600 became favourite of PC builders which provided great performance in both gaming and productivity.
The 10600K now gives a good competition to the Ryzen 3600 while it also costs much more due to which many will still prefer the Ryzen CPU, but if you love to get an extra 10% performance boost in gaming, then 10600K is obviously a good choice and the good thing about it is that it is overclockable just as the other i5's in the lineup were from the previous generations.
Intel currently has the Z490 chipset with the LGA 1200 socket for the 10th gen processors which is capable of overclocking. Other chipsets such as H410, B460, H470 can't overclock. So, it's quite obvious that you will need to buy a Z490 board for overclocking the 10600K. I have compared and analyzed almost every Z490 motherboard from the 4 popular manufacturers for the i5 10600K and have listed out the reasons why I chose the following boards for this chip instead of others.
Take your time and let me know what do you think about these boards in the comment section.
---
Asus, though my favourite in motherboards isn't the one that has the best motherboards for i5 10600K. It's not that there aren't good boards in the Z490 lineup but it's just that the other manufacturers have a little better but there is no doubt that the Asus BIOS is the best and it's so easy to tweak things from there.
If we talk about the cheapest good motherboard from Asus for the i5 10600K, then the Z490M-Plus in the Prime series takes the position of being the ideal one at $150. It features a 6 layer PCB with 9 power phases and has good heatsinks on the VRM to control the temperature. Its VRM is ok for intermediate level of overclocking and due to its form factor, it can be fit in any mid-tower as well as the micro-ATX tower.
It has 2x PCI-E x16 slots and despite being a MATX board, it supports AMD CrossfireX where the primary PCI-E x16 slot runs at X16 mode and the second one runs at X4 mode which is controlled by the Z490 chipset. For storage, you will get 2x M.2 connectors and 5 SATA ports and it should be remembered that the SATA 1 port will be disabled if the 2nd M.2 connector is used by a SATA SSD because they share bandwidth.
This board is though basic but should be sufficient for any mid-end Gaming PC as it has good support for memory(Up to 4400MHz) also. At the I/O, you will find 6x USB ports including a Type C where 4 of them are USB 3.2 and 2 are USB 2.0 beside which there is a single PS/2 port. For display, it features 3x outputs: HDMI, DVI, and DP.
Related:- Best motherboards for i5 10400F
---
One of the best value motherboard for i5 10600K you can get is the Tuf Gaming Z490-Plus Wifi edition. Tuf motherboards are reliable and they have their own design that is distinguishable and is very eye-catchy. The Tuf Z490 Plus Wifi features a 6 layer PCB, a powerful 14 power phase VRM that uses Dr.MOS for better efficiency.
For i5 10600K, and even for i7 10700K, this board is more than enough for handling strong overclock without any problem, thanks to the strong VRM and the big heatsinks over it. Therefore, going above it isn't recommended except if you need features like SLI, Bios Flashback, and onboard troubleshooting features like Power/reset buttons and Error Code Display.
It supports AMD CrossfireX but unfortunately no SLI unlike some higher-end boards like Prime Z490-A which is $230 but if you don't need that, then you can save $30 on it and have some additional features which aren't found on the Prime Z490-A. The Gaming H and Prime A both have 14 power phases but none of them features inbuilt Wifi due to which the Tuf board is very ideal and provides better value.
Along with having the Intel Wifi 6 adapter, it has an Intel 1G of LAN which is slower than the LAN on Gaming H and Prime A which are the closest priced boards. For troubleshooting, you will get Debug LEDs on it which are absent on the Prime Z490M Plus and a similar I/O to it except for the Wifi antenna connectors.
There are 3x PCI-E x1 slots for expansion cards and 2x M.2 connectors for SSDs where the M.2_1 and M.2_2 share bandwidth with the SATA 2, and SATA 5, 6 respectively if SATA SSDs are installed in both of the M.2 connectors.
Related:- Best CPU coolers for i5 10600K
---
Gigabyte has so many similar Z490 motherboards that it takes a long time to analyze its lineup yet alone the boards from other manufacturers. Out of maybe more than a dozen boards, the Gigabyte Z490 UD AC is the one that suits the i5 10600K for the least price. For $170, it's really cheaper than most of the ATX boards with equivalent features.
It has a 12 power phase VRM with grooved heatsinks which provide good cooling due to better airflow and is definitely enough for overclocking i5 10600K. There are 2x PCI-E x16 slots for graphics cards that support AMD CrossfireX but no SLI and 3x PCI-E x1 slots for expansion slots although it comes with an inbuilt Wifi which makes life easier. For $170, there are very few boards from other manufacturers that have inbuilt Wifi along with good VRM and good I/O.
At its I/O, you will find 8x USB ports out which 6 are USB 3.2 Gen 1 and Gen 2, and a single PS/2 port. There are 2x M.2 connectors for SSDs and 6x SATA ports for storage. The first M.2 connector(M2A_SB) supports both SATA and PCI-E SSDs and shares bandwidth with the second SATA port. So, if you install a SATA SSD in that connector, your SATA 2 port will be disabled.
The board has a few fan headers and 2x RGB, 2x ARGB headers for RGB devices such as fans and LED strips but no Debug LEDs. However, it does come with a Q-Flash Plus button for updating the Bios. The Z490M Gaming X which is $10 cheaper, has fewer PCI-E x1 slots and no inbuilt wifi. Also, there are fewer USB ports at the I/O due to which I recommend this one. The boards that are nearer to its price in the Gigabyte Z490 lineup like the Z490 Gaming X AX, Z490 Gaming X, Z490 UD, and Z490M have almost equivalent features but are $20-$30 more expensive.
---
Gigabyte Z490 Vision G is one of the best if not the best value Z490 motherboard. It is very similar to the Z490 Elite AC and costs the same i.e., $200. The reason for choosing it over the Elite AC are many. It has SLI and CrossfireX support but the Z490 Elite AC only has CrossfireX support. The I/O is also very rich as compared to the Elite AC and its memory support is also fantastic as it supports memory frequency up to 5000MHz. The only thing where it gets beaten by the Elite AC is the inbuilt Wifi but if you can spend another 20 dollars on it, then go with the Vision D without a second thought, seriously!
VRM heatsinks on the Vision G are fantastic and its design is something we have seen for the first time. It is marketed as the choice of creators but in reality anybody whether a gamer or a creator can use it. Its VRM has 13 power phases in total that don't use doublers and can handle up to 600AMPs in total which means that each of its chokes is rated at 50A. If you want a better VRM, then you can opt for the Z490 Pro AX which has 55A rated chokes but again, 13 power phases VRM is all you need for the i5 10600K and the Pro AC costs $50 more and won't provide any significant increase in performance.
It has a 2.5G LAN for fast internet and no Wifi as I said earlier. For graphics cards, it has 3x PCI-E x16 slots, where the first and second PCI-E slots share bandwidth with each other which means if you install two graphics cards in SLI or CrossfireX, they will operate at X8 mode while the third PCI-E x16 slot runs at X4 from the chipset.
There is a Q-Flash Plus button for updating the Bios but unfortunately no other troubleshooting features like Debug LEDs or onboard Power/Reset buttons. For cooling, there are a total of 5x headers including chassis fans, CPU fan, and AIO headers, and 2x RGB as well as 2x ARGB headers. This board gives a good competition to the Asus Tuf Z490 Gaming Plus Wifi where I would personally get the Tuf but if I don't get that, I will get the Vision G for $200.
Related:- Best motherboards for i9 10900K
---
4 MSI boards from its Z490 lineup that range from $160-$200 will confuse you and these are the Z490-A Pro, MPG Z490 Gaming Plus, MAG Z490 Tomahawk, and MPG Z490 Gaming Edge WIFI. All of these boards are great and it won't matter even if you don't take my advice and get any one of them but the MPG Z490 Gaming Plus is the one which I recommend for i5 10600K because it is cheaper and provides almost everything that the Tomahawk and Gaming Edge Wifi has except for an inbuilt Wifi. Z490-A Pro is also a great board but it doesn't feature RGB but if you don't need that, you will save $10 more on that.
It features a 14 power phase VRM and support for up to 4800MHz of RAM frequency. For a cost of only $170, it brings some serious features that are found on $200+ boards like 8x headers for chassis fans, CPU fan, and AIO pumps. It also has EZ Debug LEDs which none of the above boards have except for the Asus TUF Z490 Gaming Plus Wifi which is a $200 board. Fortunately, every Z490 motherboard from MSI under $200 has it.
It has 2x PCI-E x16 slots that support AMD CrossfireX where the first PCI slot runs at X16 mode which is controlled by the CPU and the second PCI slot runs at X4 controlled by the chipset. There are 3x PCI-E x1 slots for expansion cards which you should definitely use for a PCI Wifi card for wireless internet connectivity. For aesthetics, it is equipped with RGB lighting in the chipset and for extending the lighting, you can use the RGB and ARGB headers onboard.
For storage, you will get 6x SATA ports and 2x M.2 connectors. The first M.2 connector shares bandwidth with the SATA 2 port and the second M.2 connector shares bandwidth with SATA 5, 6 ports which means they will get disabled if you use a SATA SSD but as long as you use NVME SSDs, you don't have to worry about that. In case if you want inbuilt Wifi and better I/O, then you should go with the Gaming Edge Wifi which costs $200 but the Gaming Plus should be sufficient for many.
---
While ASRock Z490 boards don't impress me much but they still won't disappoint. The Z490 Phantom Gaming 4, Z490 Pro4, Z490 Steel Legend, and Z490 Velocita are some good choices for the i5 10600K. The Steel Legend looks a good one to me for $175. It features 11 power phase design which uses 60A power chokes for better saturation current. Though the power phases are fewer than most of the sub $200 boards from other manufacturers like Gigabyte and MSI, these 60A power chokes on Steel Legend makes it ideal for overclocking.
Steel Legend has memory frequency support of up to 4266MHz which is definitely inferior and limits the potential but other features are still fine. It has 7x fan headers in total that includes the CPU and AIO pump headers and has 2x PCI-E x16 slots for graphics cards that support CrossfireX. These run at X16 and X4 modes respectively.
For internet connectivity, you will get a 2.5G LAN but no Wifi, unfortunately, and also, it doesn't have any Debug LEDs for troubleshooting. As long as it is cheap in your region, you are good to go with it but I definitely recommend the Gaming PLUS from MSI over it for less price.
---
Conclusion
Each manufacturer has around ten or more Z490 motherboards on an average in their lineup but half of them aren't suitable for the i5 10600K, either due to being very expensive or due to having inadequate features. Considering the fact that the i5 10600K costs $250, it's better to get a board that doesn't exceed $250. While there are good options for $250 but for up to $200, there are several boards like the ones I listed which will fulfill all your demands and will save your 50 bucks which you can invest in a better GPU or more memory. Do let me know what do you think of these motherboards in the comments section below.