Xtremegaminerd.com is supported by the readers. The purchase you make through our links may get us some commission and doesn't cost you an extra penny.
---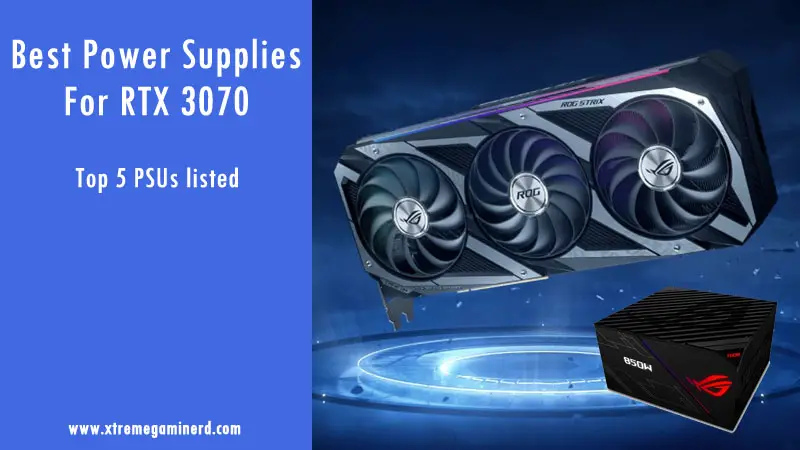 RTX 3070 is the new and sweet spot for gaming and brings unbelievable power that outperforms all the graphics cards from previous generations. The TDP of this card mentioned by Nvidia is 220W and Nvidia recommends that you use at least a 650W of reliable power supply.
It's obvious that its power consumption will be higher than the RTX 2070 as it features horsepower equivalent to RTX 2080 Ti which consumes 280W however, the 60W less TDP is surely a better thing, thanks to the Ampere architecture, now not only your total power consumption will be less but you will also be able to enjoy Ray-Tracing in supported games with more fps.
According to the official benchmarks done by Nvidia, it is said that it outperforms the RTX 2070 by 60% and it can provide over 60 fps on ultra settings at 4K easily with RTX ON. So, without further ado, take a look at the following power supplies which I recommend to go with for this monstrous GPU.
Important things to consider
Power Connector- The Founders Edition of RTX 3070 uses a 12-pin power connector which is not available in most of the power supplies but Nvidia is providing a dual 8-pin to 12-pin connector for easy connection. So, every power supply with sufficient wattage and 2x PCI-E 8-pin connectors will power up the RTX 3070.
AIB Cards- RTX 3070 from manufacturers like Asus, Gigabyte, MSI etc. may or may not have the same 12-pin connector. For example, the ROG STRIX RTX 3070 8G Gaming has a dual 8-pin connector which makes it easy for the users to connect the PCI-E cables out of the box without any adapter.

Top 5 Power Supplies For RTX 3070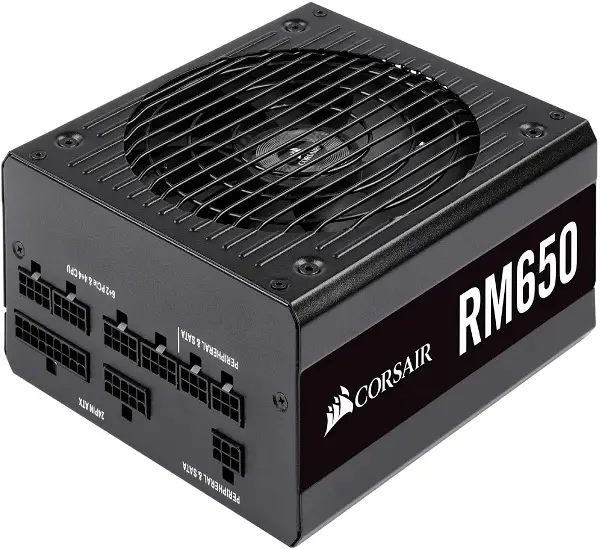 Corsair RM series is still one of the most widely used power supplies in the world with a lot of enthusiasts who have good knowledge on what type of PSU they should use opt for these for reliable operation. The RM650 PSU is a fully-modular unit with sufficient connectors to power up your RTX 3070 as well as other components.
It features 650 wattage capacity with a rating of 80 Plus Gold for efficiency. That means close to 90% efficiency most of the times with less heat generation. Multiple reviews showed that this does the job just as what Corsair has advertised and has a good hold uptime of around 20ms for a quick power source switch.
On the single +12V rail, it offers 54A of current which is just fine and a 140mm rifle bearing fan that is very silent. For around 100 bucks, this is the least I can recommend and as Nvidia says that you should get at least a 650W of reliable power supply for the RTX 3070, you should better not go below this one either in wattage or in efficiency rating.
---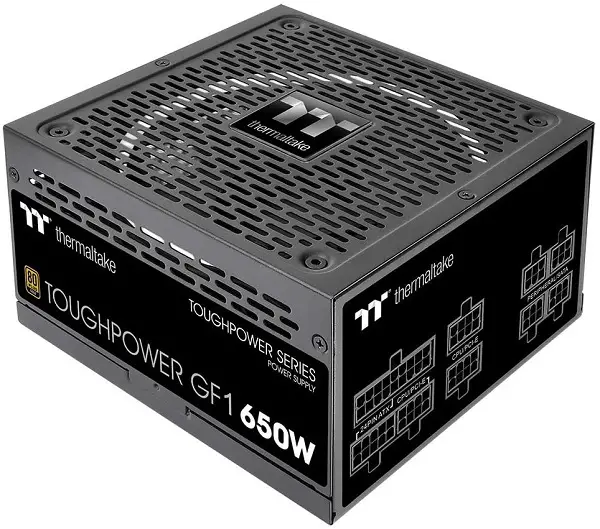 Thermaltake's has a variety of power supplies under the Toughpower series with most of them having great efficiency and low ripple noise. The GF1 650W is an excellent budget choice for any graphics card like RTX 3070 with up to 648 Watts of max power delivery on the single +12V rail with a similar current rating as that on RM650.
It has an 80 Plus Gold rated efficiency and fully modular design for you to connect only those cables which you need. It uses a hydraulic bearing 140mm fan that starts spinning only when the load is above 30% for completely silent operation. It uses 100% Japanese capacitors which of course, are also used in every other power supply I listed here and comes with a 10-year of warranty. It's not the best you can get but sufficient for just 100 dollars if you don't want to overspend.
Related:- 5 Best power supplies for RTX 3090
---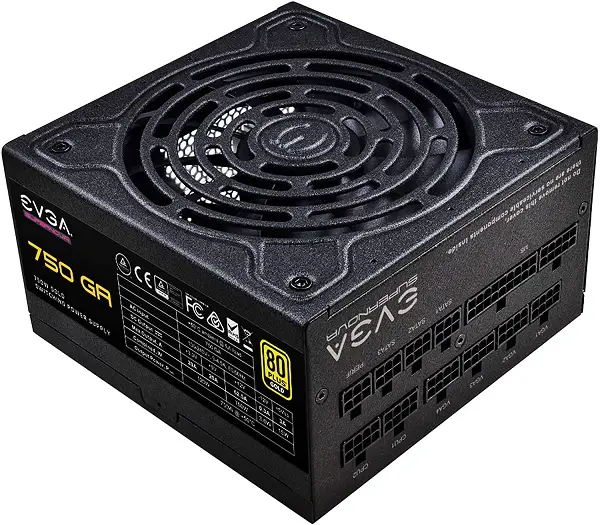 EVGA SuperNova 750 GA is a much better choice than the RM650 as well as the GF1 650. Not only the wattage capacity is increased but also the performance overall is comparatively higher. As EVGA has several variations under the SuperNova series like G1, G2, G3, GA, GM etc. they are pretty close to each other in performance where it has been tested that they have a much less Deviation % on the single +12V rail load regulation and their holdup time is fantastic which is usually more than 20ms.
With this PSU, you will get 4x 8-pin PCI-E connectors for multi-GPU configuration but as the RTX 3070 doesn't support SLI, you don't have to worry about that :). It provides up to 750W of max output wattage on the +12V rail with 62.5A of current which is definitely good and with 80 Plus Gold rating, you can have 90% power efficiency. This unit costs less than $130 but is a good option for some small future upgrades.
---
Thermaltake Toughpower Grand RGB 850W

–

Check Amazon Price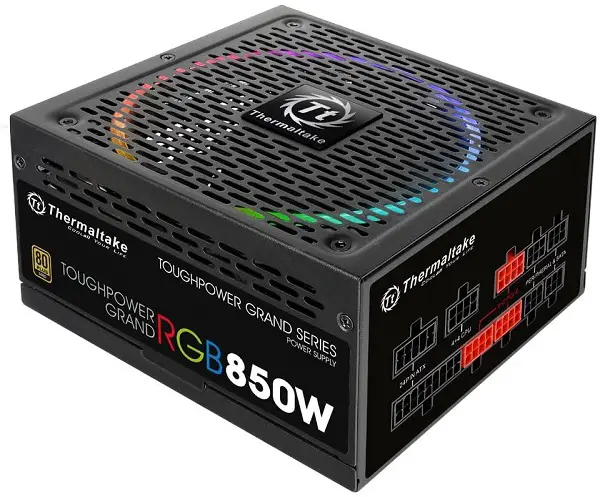 I have recommended the TowerPower Grand RGB power supplies on multiple occasions. It's not that these are on the top of the chart but because they bring both the aesthetics and performance for a lower price. Toughpower Grand RGB 850W is a good way to future proof your PC with 10 years of warranty and enough headroom to upgrade your system to whatever you like except if you are thinking of doing something crazy.
It has a 140mm low noise RGB Ring fan with a lighting switch on the PSU itself to change the colour modes. It provides a fully modular design with up to 3x 8-pin PCI-E connectors out of which 2 connectors which will sufficient to power up any RTX 3070 GPU. It is also an 80 Plus Gold rated PSU but there is a Platinum rated version of this PSU too which costs over $200 but I don't think that is a very necessary thing.
You can get this one for $150 and have your requirements fulfilled with just a couple of percentage lower efficiency as compared to the Platinum edition. On the +12V rail, it provides a maximum current of up to 72.5A with a max output wattage of 850W. The current rating on the +3.3V and +5V is also higher than the power supplies mentioned above and in my opinion, it is the sweet spot for RTX 3070 that is neither too cheap nor too expensive.
Related:- Best CPU for RTX 3070
---
Asus ROG Thor series power supplies are amongst the top 3 for some reasons. Yes, these are expensive just like the ROG Strix graphics cards but they don't compromise on any feature. The Thor 850W PSU is an 80 Plus Platinum rated unit that easily achieves 92% efficiency on most of the different type of loads.
It has a 71A of current rating on the +12V rail which is sufficient and unfortunately, lower current support on the +3.3V and +5V rail as compared to the ToughPower Grand 850W. But you do get some good upgrades like better efficiency, better aesthetics, better cables and better components inside.
This unit is built to very high standards and the quality of soldering inside it is also perfect. It has a beautiful exterior with a ROG RGB logo and '850W' writing that glows up. There is a switch behind it which can stop the fan from spinning if you want completely silent operation and the cables with it are sleeved that can be managed with the cable combs that aren't provided by most of the manufacturers of PSUs.
It is definitely costlier as you might have expected by its features and will cost you $200 or more but is a one-time amazing investment which you wouldn't like to hide inside a PSU shroud.
---
Conclusion
For RTX 3070, going between 650 to 850W is what I would recommend to avoid any possible bottlenecks or overspending. As RTX 3070 doesn't support SLI, you will not need a big wattage capacity PSU and therefore getting a 1000W or a 1200W power supply is indeed a wastage of money. Even if you overclock everything from your CPU to GPU, you still won't need more than 850W anyways.