Xtremegaminerd.com is supported by the readers. The purchase you make through our links may get us some commission and doesn't cost you an extra penny.
---
Introduction
Every PC whether is a Gaming rig or a Workstation or even a Server needs a powerful power supply to provide their ultimate performance. It's a case which is overlooked in comparison with other PC hardware and for numerous reasons. There are so many other types of equipment to look out for instead of a good power supply, users often go for high-end processors or GPU's without thinking of getting a good PSU. For instance, to provide sufficient juice to your new 8-core Intel Core i9-7980XE or AMD's Ryzen 9 Threadripper CPU one mustn't overlook the value of a good PSU. Not only high capacity or Modular approach is needed but the user should get a balanced PSU.
In today's article, we will discuss some best upcoming/released beast in the field of PSU's. For an easy approach, I have converted the huge story in some small segments so that users can easily go as per their need.

Best in Class Power Supply
The contender in this category is from the most known brands i.e. Cooler Master & Corsair and between them, the product selected for Best in Class Power Supply is Cooler Master MASTERWATT MAKER 1200 MIJ.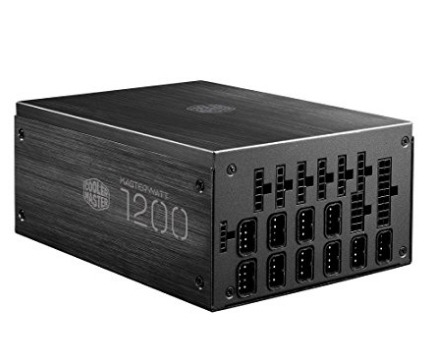 Details
The much-awaited PSU from the house of cooler master finally hits the market after a long gap of three years from the last release of the V Series, Cooler Master is back with a bang along with their latest MasterWatt Maker Series.
In the new series, there are three power supplies, out of the two digital and one analog, which certainly targeting to present perfection.
Out of the 3 new PSU's our choice for the above category is the MasterWatt Maker 1200 MIJ, where MIJ calls out for Made In Japan as these units were totally born and bought up in Japan in collaboration with Murata Manufacturing a well-known company in the field of electronic components.
As per Cooler Master, to create the ultimate power supply it took them forty engineers and two years, to completely create this masterpiece. They created a PSU that's so exceptional that it exceeds 80 Plus Titanium efficiency. The current is generated by the PSU is smooth and stable and its temperatures so low, that they were in need to create new standards to measure them. This power supply is designed for PC connoisseurs that demands the best out of the best. Its a fully modular PSU and the cables produced along with the PSU are black and of flat ribbon type which means they really flexible.
Cooler Master also launched a limited edition of the above model alongside with the original one to a low count of 240 for the world.
Features
Exceeding Titanium efficiency: 95% efficiency at 50% load
Better Transformer: Utilizing a Murata made a stacked planar transformer, we have less heat loss and a more efficient energy conversion.
Semi-Passive: Silencio135mm fan only starts spinning at a load of 600W and is quiet under load
Exclusive design: Our Limited Edition Power supply has Murata designed components that tightly control EMI and Ripple.
Specification: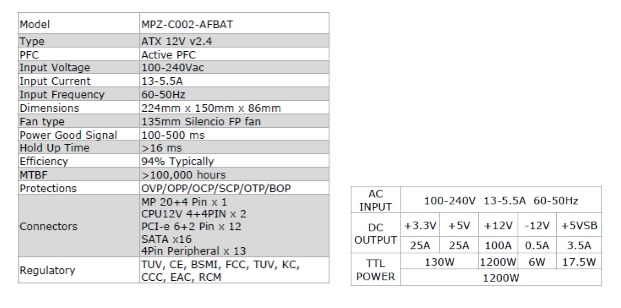 ---
Budget Oriented Power Supply
When you're on a tight budget for building a PC's without compromising performance, then it's time for more budget base options like the MasterWatt Lite 500W (ErP 2013) takes the place.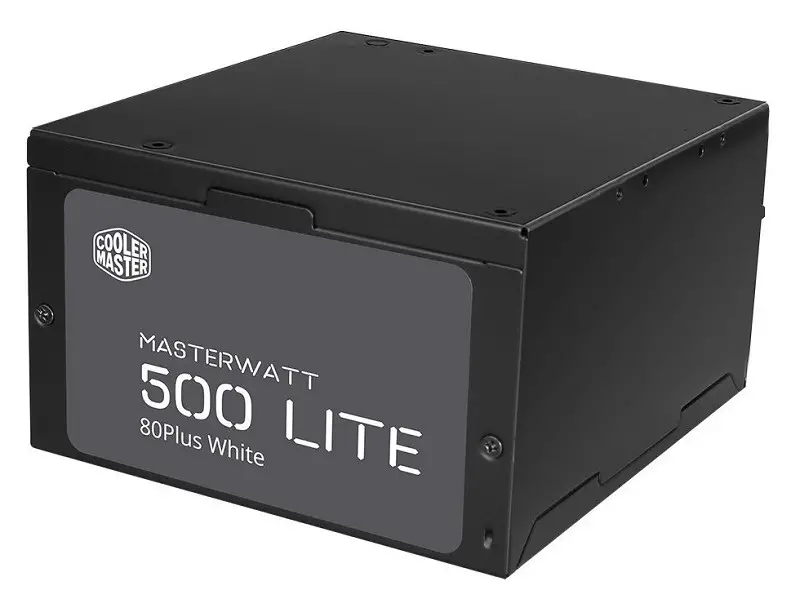 This PSU is for those users who are into budget build but don't want to compromise any performance or quality. For less than $60 USD, it offers you 500watts of super-efficient power for your computer.
Details
Cooler Master wants the MasterWatt Lite Series to be simple. They are providing all the essentials of a reliable engine so you don't have to think about it with an addition of higher-end perks like Active PFC and PWM technology for more stability, and they made it sure that the product met ErP 2013 and CE ratings for safety and low energy impact. According to Cooler Master, it is the survival kit for reliable, affordable power. The only downside is its non-modular PSU. But at this price tag, its packed with many cool features.
Features
Active PFC + PWM combined with dual forward topology and double EMI filter enhances power output efficiency and increases the performance and stability of your system
Cooler Master's 120mm HDB temperature control fan can operate more smoothly without friction, which makes it quiet and more durable.
Compliant with ERP 2013 Lot6, which guarantees that your PSU will use less than 0.5W on system standby and lower than 45% transferring efficiency on 5V standby.
Full protection (OCP/OVP/UVP/SCP/OPP) with built-in Over Temperature Protection (OTP). Minimizes the risk of damage from power outages.
80 Plus Standard Certified
They are providing 80+ Efficiency Certification
Specifications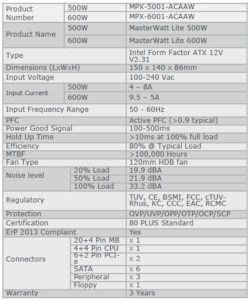 ---
Quiet!!! Low Noise Power Supply
Power supply fans always make noise, and unlike case fans, they can't be replaced easily. This kind of factor is often considered by PC Enthusiasts who opt for performance but with very low system noise. We are glad that for those users we have got an ultimate solution that is coming straight from the house of Be Quite– the straight power line up: Be Quiet! B9636 Straight Power 10 (400-700wts).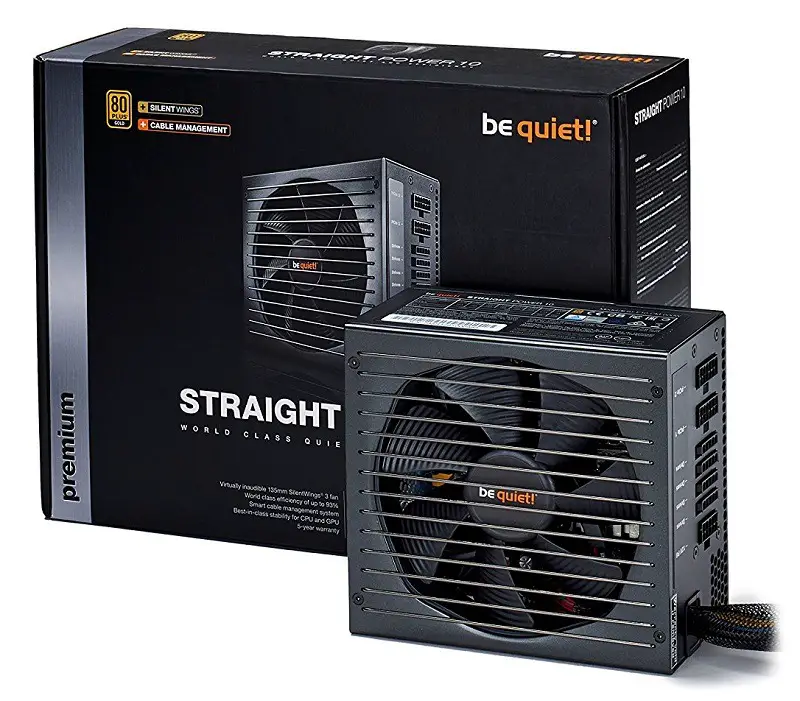 Details
The wattage range varies from 400w to 700w and also provides SLI and Crossfire certification and on top of that, they come with a modular approach which is an ongoing trend. It's also low-profile, freeing up even more space inside your computer tower.
be quiet! is well known over the years in the computer world by providing us with a series of top-notch fans, coolers and power supplies. In this section, we are looking at one of their latest power supplies – the Straight Power 10. This model is the successor of the most selling product of Be Quiet! Straight Power E9 range and brings new enhancements which include lower noise levels and improved voltage stability and regulation.
Features
Virtually inaudible SilentWings® 3 135mm fans with improved fan frame
Big funnel-shaped fan opening of the PSU case induces high airflow intake
80PLUS® Gold power efficiency (up to 93%)
Up to four high-performance 12V-rails
Power signal stability unmatched in its class
Powerful GPU support with up to four PCI-Express connectors
Premium 105°C-rated parts enhance stability and reliability
ERP 2014 ready
Product conception, design and quality control in Germany
5-year warranty
Specification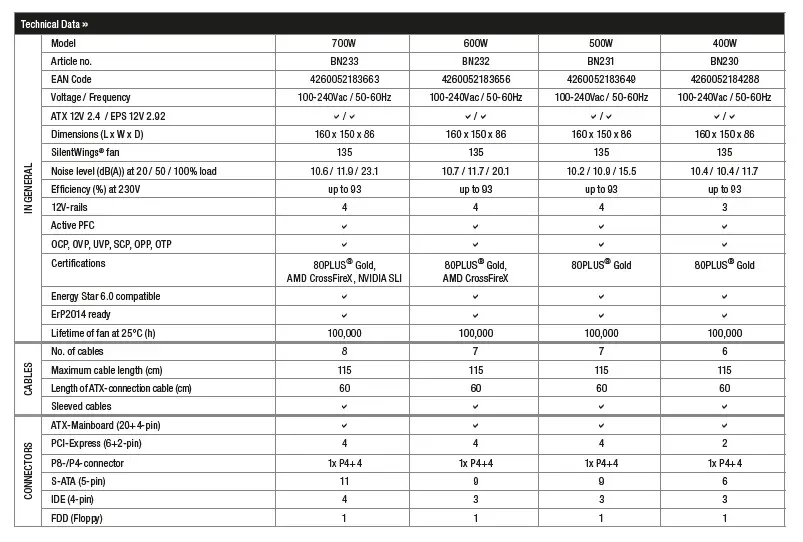 ---
Small Room!!! Compact Power Supply
Small Form Factor (SFF) sized PCs have been present in the world of enthusiasts for many years and its popularity seems to be growing. End users have more choices today than in past. Let it be cases, motherboards, graphics cards, or power supplies, there are now more options than earlier. Some of these systems require a smaller sized power supply which is popularly known as SFX. The SFX dimensions are notably smaller than ATX which allows PSUs to fit in small cases while still generating adequate power and appropriate connectivity. Here's come a small beast from the house of Silver Stone: Silverstone Technology SST-SX650-G.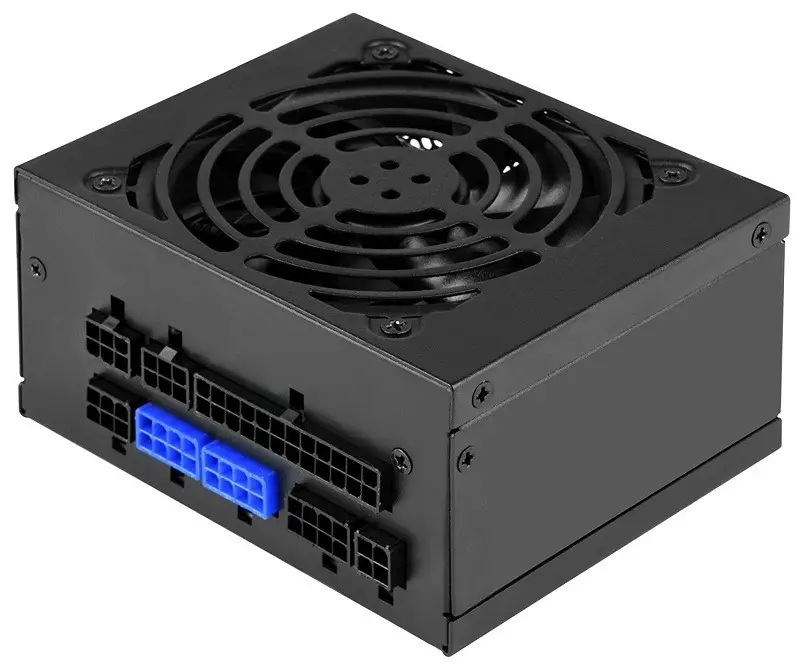 Details
After pioneering full-featured, high-performance SFX power supplies in 2012, SilverStone has continued refining the segment it has created. The SX500-G and SX650-G are yet another evolutionary step toward perfecting this small form factor power supply category. They are more powerful without growing in size to achieve class-leading power density levels of 633W per liter for the SX500-G and 818W per liter for the SX650-G. Their noise signature was further lowered thanks to the use of 92mm fans versus 80mm on previous models. For connectivity, the SX500-G and SX650-G are equipped with more connectors so they can be used in a wider variety of system configurations.
Features
Designed for 80 PLUS Gold level of efficiency to reduce wasted heat and save on electricity.
Built-in 92mm fan has excellent airflow and low noise, perfect for quiet home or office use
100% modular cable design for easy removal in a case with cable routed and tied down
SilverStone's flexible flat cables have much greater flexibility to allow for tighter folding and management of cables
Powerful single +12V rail design, perfect for future high-end component upgrades or overclocking. ±3% regulation and low ripple & noise performance for high stability.
Specification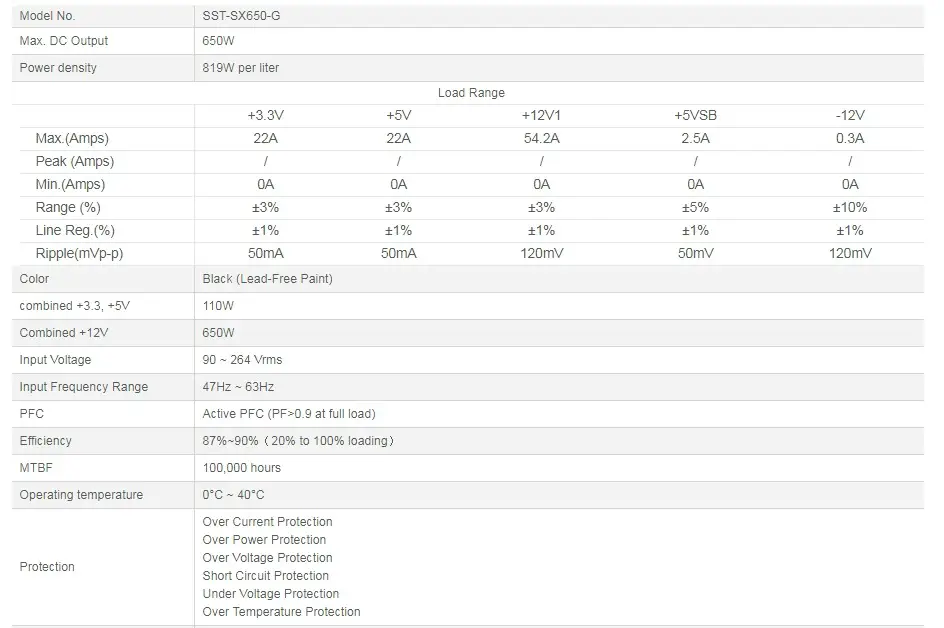 ---
Huge!!!! Big Power House Power supply
Wow!!!! Cooler Master Masterwatt Maker 1500, a giant of a power supply. This is for those who intend on powering multiple graphics cards, cooling systems, and maybe his on room also. It has the highest possible 94% Plus Titanium efficiency rating and is fully modular so you don't need to think about any compatibility issues as they are providing flat cable connectors. Only go for this particular product if you don't have any budget limitation.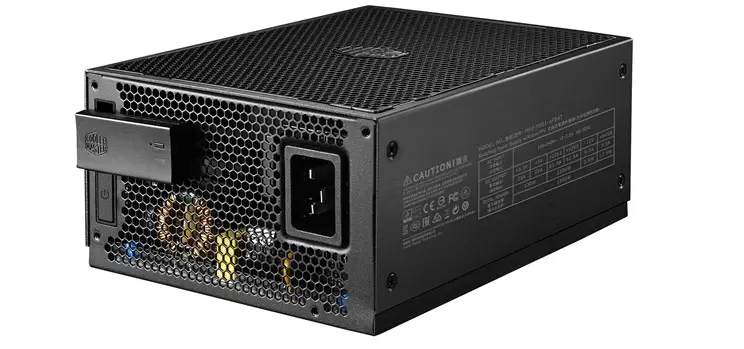 Details
This beast from the house of cooler master is the first to come up with all-aluminium, Titanium 94% efficiency power supply unit offers unbeatable performance with paralleled oversight and control via our exclusive Cooler Master Connect app. It also adjusts the voltage is automatically to keep it within +/- 1, for stable outputs even under high loads. It also features a suite of automatic measures which are meant to alert you so you can focus on worry-free computing.
Cooler Master's flagship power supply comes with an award-winning design, an efficiency rating few have managed to reach, and the control perks of a high-end digital signal processor. All of this combines into a whopping 1500 watts of continuous power that can run safely over a conventional household outlet.
The Software can switch between default +12V multi-rail or single rail modes for releasing full overclocking potential. It has few modes namely STND, Silent, Gaming, OC, Custom which can be easily configured via their mobile app.
Along with feature-packed performance, Cooler Master is also providing premium Silencio FP 135mm fans that adjust its speed depending on the load which means it can be really noiseless and this can be configured via your Cooler Master Connect app.
Features
Safe and efficient digital power with Titanium 94% efficiency
Increased airflow and reduced components with next-gen 3D circuit design
Real-time readouts and control for multiple parameters via mobile and desktop app
Multi-and single rail modes
Fanless mode up to moderate loads
Ultra-quiet silent profile with Silencio FP 135mm PWM fan
Analyse failures and rescue data with hard drive logging system
Fully modular, flat cables for clean cable management
Seven-year warranty
Specifications