Nvidia achieved great success with the new RTX 30 series GPUs and since the RTX 3080 seems like the best value high-end graphics cards, we have a couple of great editions of these from different manufacturers for you to get your hands on.
The RTX 3080 delivered performance as was promised by Nvidia. It's able to max out any game at 4K resolution with easily providing way over 60 fps and in most cases over 100 fps. RTX 3080 features Ampere architecture with newer generation RT and Tensor cores.
It also features some insane specs that include 8704 Cuda Cores and GDDR6X memory with 19Gbps of memory speed. RTX 3080 is although priced at $700 as a starting price point, it beats the RTX 2080 Ti from the previous generation with almost 30-40% margin for $500 less money.
Manufacturers like Asus, Gigabyte, MSI and several others have officially launched their custom RTX 3080 GPUs with better cooling solutions and higher factory-overclocked core clocks. These GPUs use 2x 8-pin to 3x 8-pin power connectors for supplying the power to the board, unlike the Founders Edition which uses a smaller 12-pin design.
Following are the best of the cards from these manufacturers that bring a superb design with aesthetics for crushing any game at 4K resolution.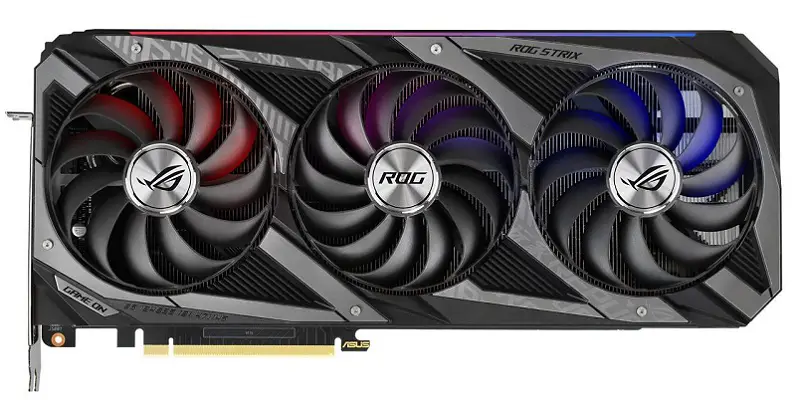 Asus's ROG Strix editions have always been on top of the chart for the most OC edition GPU. This time some manufacturers have surpassed the Asus's flagship RTX 3080 but still, the RTX 3080 10G Gaming is a slayer with its core clock as 1740MHz in OC mode.
It has a lot of potential for overclocking as it features a 3x 8-pin power connectors for a lot of power draw and a 2.9 slot big heatsink for cooling. The new heatsink is thicker and features more fins and surface area for heat dissipation.
Asus has equipped it with 3x fans with the centre fan spinning in the opposite direction to the auxiliary fans for reducing the airflow turbulence which will result in lower temperatures even with lower fan speeds.
This card features RGB LED lighting on its side which can be controlled using Asus Aura RGB software and with the GPU Tweak II you can customize different profiles for your GPU operation.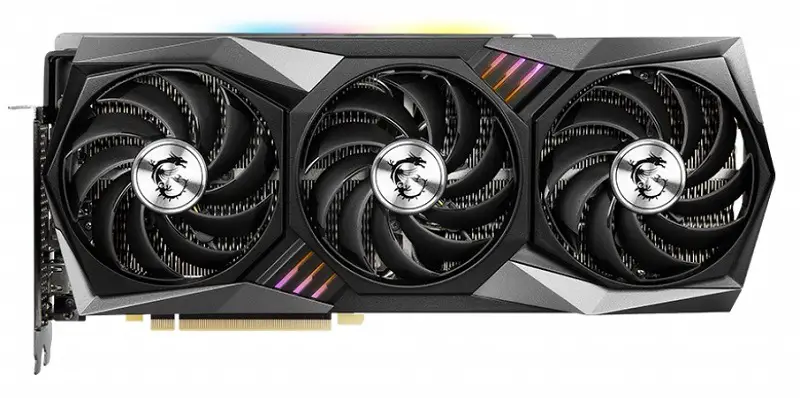 MSI has the RTX 3080 Gaming X Trio 10G as its flagship card in the RTX 3080 catalogue and surely it is even more powerful than the Asus ROG Strix RTX 3080 10G Gaming. It features a boost core clock of 1815MHz which is significantly higher than the ROG Strix RTX 3080 and features a triple-fan design that is my favourite.
The cooler on it uses the Torx Fan 4.0 and these fans are very silent. MSI, unlike Asus or Gigabyte, didn't put the centre fan to spin in the opposite direction but its heatsink is very dense to take care of 100% load on the GPU.
This card weighs around 1.5KG so, make sure you use a motherboard that can handle it without sag or just buy a vertical GPU support. It is also very power-hungry as it is the flagship card from MSI with 3x 8-pin power connectors. So, you can take the boost clock to more than 1815MHz with proper voltage and cooling.
For aesthetics, the card features RGB lighting at the side and diagonally at the front making it stand out from the rest of the cards listed here although every card here from different manufacturers has a unique design and appealing looks.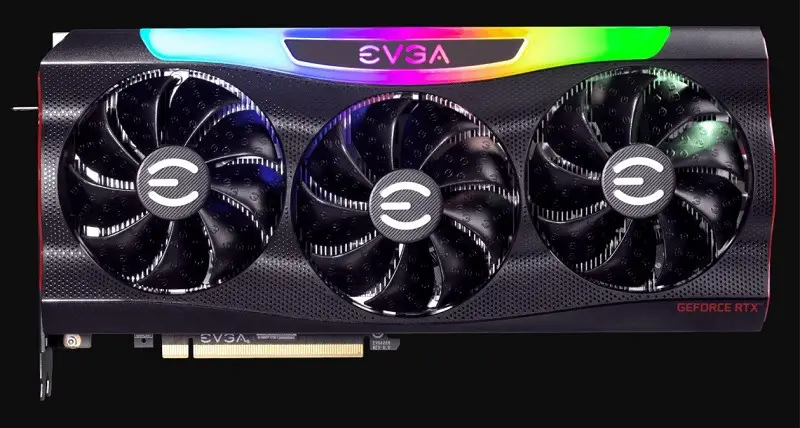 .EVGA FTW graphics cards are very highly factory-overclocked and the FTW3 Ultra Gaming is a beast with 1800MHz as boost clock. The card's width is 2.75 slots which is lesser than most of the beefy RTX 3080 GPUs but it still looks massive with a very dense heatsink that uses multiple heat pipes.
It uses the iCX3 cooling technology and the iCX3 fans used in it turn off below 55 degrees Celcius for completely silent operation. This feature is also available in MSI and can be tweaked from MSI Afterburner.
Its heatsink uses 180-degree heat pipe design and its patented copper base is now 25% larger that helps to cover the GPU and RAM area for more heat dissipation. The backplate on it has ventilation holes for more airflow which will definitely allow a cooler operation.
For aesthetics, you will get RGB LED lighting on its side and front that is easy to control using EVGA Precision and the shroud on the heatsink is dented for a completely out of the trend look. It is also a very power-hungry graphics card and comes with 3x 8-pin power connectors that can easily draw up to 350W of power when overclocked.
Coming to the Gigabyte RTX 3080 GPUs we have some good options to choose from. The Aorus Master 10G looks a decent option and comes after the Xtreme 10G edition. It features a boost core clock of 1845MHz which is highest among all the graphics cards listed here.
Its cooler consists of 2x 115mm and 1x 100mm fans that spin in the alternate direction which is very effective in maintaining lower temperatures. The Windforce fans are, of course, well known for their air pressure and these live up to their name.
The heatsink here uses 7 heat pipes along with an aluminium heatsink with angular fin design. It is just what you would need for overclocking and for aesthetics, you will get several different zones of RGB lighting that include both the sides, front and backplate area.
The card also comes with Dual Bios which hardly gets used but you can experiment with it when you go for the advanced overclock. The best thing is yet to be mentioned and its the number of output connectors it has. There are a total of 6x display outputs that are: 3x HDMI and 3x DP but you can only connect a maximum of 4 display at a time like most of the graphics cards.
ZOTAC GAMING GeForce RTX 3080 Trinity-

Check Amazon Price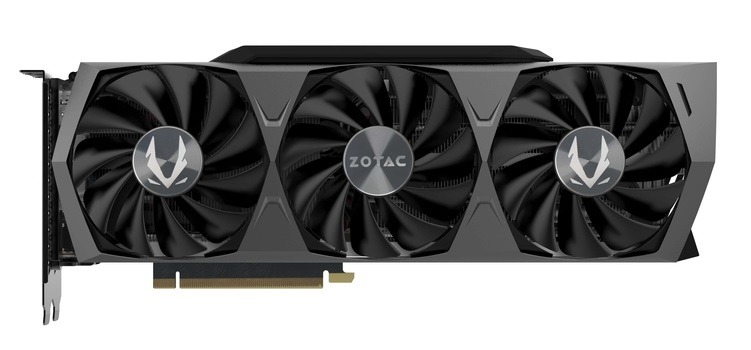 The last mention of the list is the Zotac RTX 3080 Trinity. The is among the flagship RTX 3080 GPUs from Zotac and gives a good competition to the cards mentioned above. Although the heatsink design and clock speeds are a little different, the performance will be similar in most of the cases.
It features a boost core clock of 1710MHz which is lowest among the listed graphics card but it's capable of overclocking as much as the other GPUs on this list. The card uses 3 groups of aluminium fin-stack array heatsink along with seven copper heat pipes which are the need for adequate cooling when you overclock it.
The card features RGB LED logo at the side which although looks sick but is not better than what we saw in the graphics cards above. It will be cheaper than the flagship cards from other manufacturers and in case you want a Zotac RTX 3080 with higher clocks, then wait till Zotac announces the boost clock of the RTX 3080 Amp Holo and RTX 3080 Amp Extreme Holo.