Cases
The best silent PC case
I see a lot of PC cases with lots of cooling options and window panels for aesthetics but when you use them you will hear a lot of noise especially if your radiator fans or exhaust fans are running at full speeds. If you record video or audio then it will put problems in front of you making your voice recorded with some noise. For this purpose, many gamers or video editors prefer using a silent case.
Yes, aesthetics may not be the preference for everyone. I myself not a huge fan of cases looking like Optimus Prime but I like cases which look aesthetically good, having all the basic features and are silent at the same time. But with window panels or without dampening materials, achieving low noise is very difficult. But fortunately, I have found out the best PC cases that have good aesthetics along with silent operation.
Before you read the review of each case, I have an important message for you. There are a lot of quiet cases in the market but I chose these few cases out of those based upon their features, aesthetics, design, customer reviews and durability. I do not simply pick up random cases which have dampening materials because it will be of no use if it doesn't have any good cooling option or lacks compatibility with lots of components.
This article, therefore, covers everything about a particular case and I have described briefly why each one of them is best for its price.
The Cheapest Best Silent PC Case
Corsair Carbide Series 100R Silent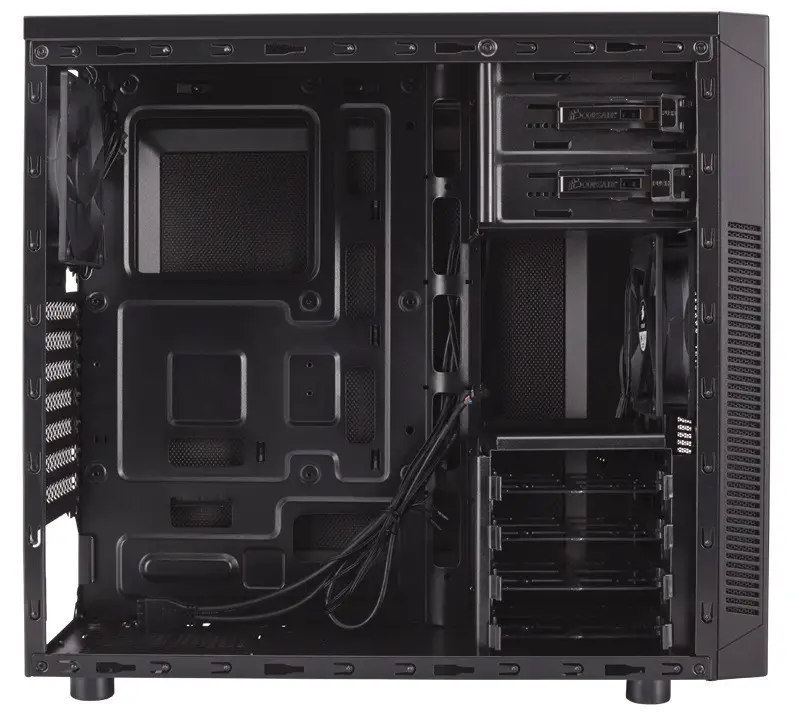 One of the best budget cases out there in the market that promises silent operation which is actually true. A lot of users are happy with this case as it's silent than a fancy window panel PC. This case is a mid tower that supports mini ITX, micro ATX and ATX motherboards. Along with that, it has 4 drive bays for 3.5″ storage devices.
The case comes with 2x120mm fans pre-installed, one at the rear for exhaust and one at the front for intake. The case is light but the material quality is just fine.
The case is silent because there is no transparent windows panel which makes the fan noise trapped inside the case and won't let it escape. The case has dampening materials used all over the two side panels and at the front which absorbs the noise from the cooling fans.
The top of the case doesn't include any slot for installing additional cooling fans, so if you want a lot of cooling features, then it's not for you. But at the same time, it eliminates the necessity of any dust filter or dampening material at the top as it's totally covered from above.
It also has 3-speed fan controller at the rear top which will control your rear fan speed which will automatically allow you to make it completely silent or run at a full speed depending upon your requirement for cooling. Along with that, there are several grommets for cable routeing through different places including those for Mini-ITX/Micro-ATX motherboards and full ATX motherboards.
So with only 2 fans and a lot of dampening materials, this case is one of the best budget cases that is silent and also compatible with almost every hardware present on the market.
---
The Best Budget Mid End Silent PC Case
Phanteks Eclipse Series P400S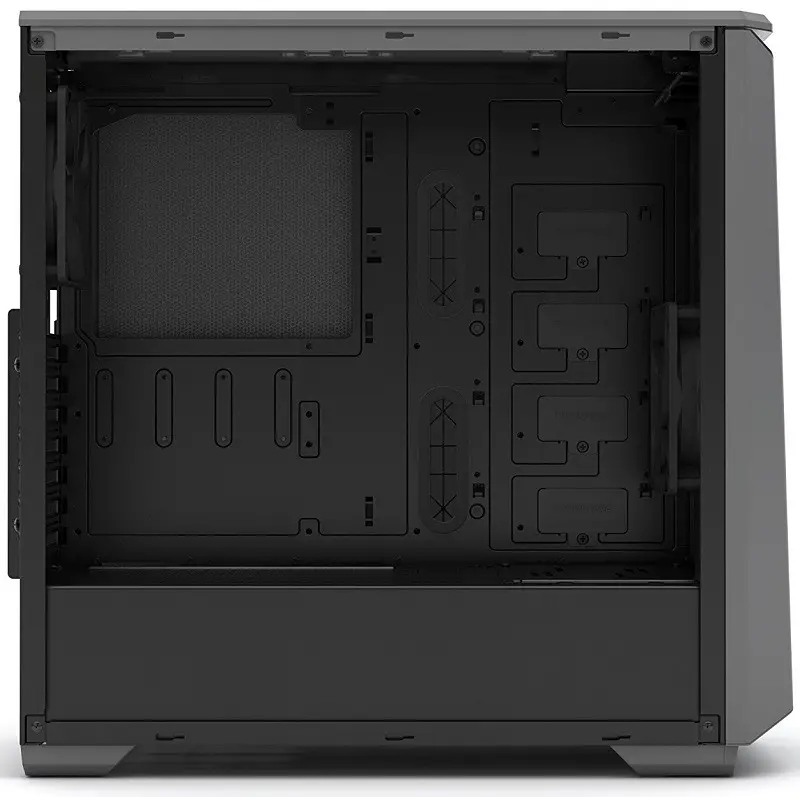 For a little more price you will get a premium case with premium features as well. This case isn't only silent but also has some neat features such as rubber grommets, power supply shroud covering the total bottom of the case.
It has 1x120mm fan at the front and 1x120mm fan pre-installed at the rear which will produce the pull and push configuration. However, you are not limited to only two fans, it has radiator mounts at the top and at the front. At the front, you can remove the 120mm fan and install 3x120mm fans or a 240/360mm radiator. At the top, you are limited to 240mm radiator but it has an immense amount of cooling options when compared to the Corsair Carbide 100R.
The case has dampening material at the side panels and also at the front panel which is removable. If you install 3 fans at the front or a 360mm radiator, it will surely make some noise but with the dampening material, the noise will be suppressed a lot.
The top and bottom of the case have dust filters that will limit the entrance of dust into your case and you can clean them easily by removing them from their respective places.
Taking a look at the storage options, you can install 2×3.5″ HDD at the bottom of the case in the PSU shroud as well as install 2×2.25″ SSD's at the back of the motherboard mounting plate. The case also has some good looks as you can see it's simple and has a LED strip at the front bottom of the case with 10 different colours to choose from.
The cable management will be easy as there are grommets available for 24 pin power connector, the CPU connector, USB 3.0 front connector, GPU connector etc. at the right places. The back of the grommets has straps for holding your cables at one place and it will make your wiring easy and painless.
---
Some Good Competitors 
Thermaltake SUPPRESSOR F31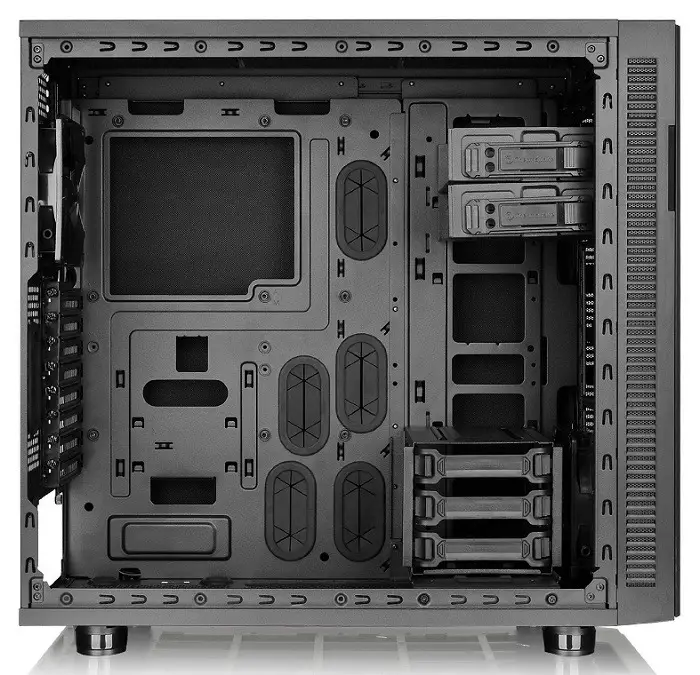 The Thermaltake Suppressor F31 is a very famous silent case in the computer industry. This case has a lot of customizable option from cooling to storage devices. You can move the Hard drive bays from bottom to the middle and these support 3x 2.5″/3.5″ storage drives. At the top, it has 2x 5.25″ Optical drive bays in case you want to install a simple DVD drive.
The motherboard tray has a lot of cutout along with rubber grommets. Any form factor motherboard can be installed with perfect cable management as these holes are made specifically for different form factor motherboards. The back of the motherboard tray has a lot of space to work with and you won't be facing any problem in closing the side panel.
As for cooling it has a support of up to 2x 120mm/140mm or 1x 200mm fan at the front, 3x 120mm/140mm or 2x 200mm fans at the top, 1x 120m/140mm at the rear and 2x 120mm/140mm fans at the bottom. So you can get the rough idea of how much long radiators you can actually install in it. It has a better support of radiators than the Phanteks Eclipse Series P400S but the build quality is not that great as the latter has. As this case is available in Windowed and non-Windowed version, you can also install a 120mm/140mm fan at the side panel in the non-windowed version if you ever want to.
Dampening materials, in this case, can be found everywhere. Top, front, side panels, all are covered with dampening material for noise suppression. The side areas of the front panel are not left totally empty. It has a mesh for filtering the air and keeping out the dust. This case will help you to keep the dust out as much as possible and will also be very easy to clean from the outside because it has a plain design. I find no con in this case whatsoever but if you ever do custom water cooling in this Chassy, you may need to move/remove the drive bays which will limit your storage device upgradability.
---
Corsair Carbide Quiet 400Q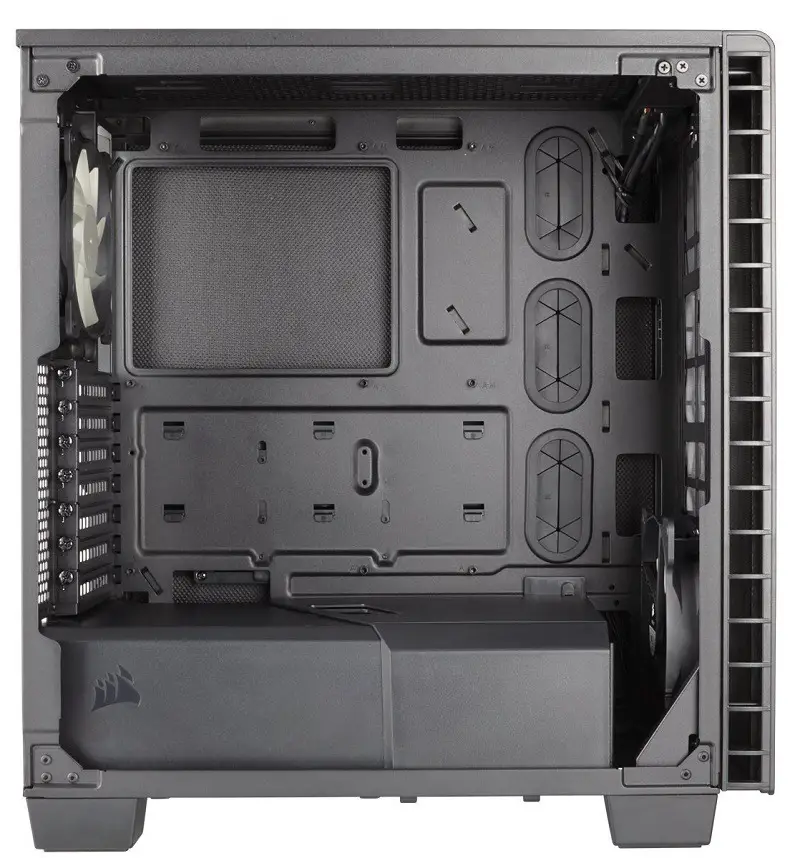 When you want a case that not only is silent but also requires less space, then Corsair Carbide 400Q will fulfil your needs for a price less than $100. This case is completely different when compared to any other case in this list. It's very much compact but still supports full-sized components like lengthy graphics cards, radiators up to 360mm and several storage devices.
Although working, in this case, will not be as easy as a fully spaced mid-tower chassis but if you have built a few computers before, then it will be a no difficult task. The front of the case is where you should be doing water cooling. You can install up to 360mm radiator at the front and a 120mm radiator at the rear.
I don't recommend installing a radiator at the top because there is very less clearance and some motherboards may put restriction against installing a 240mm radiator. You will get very less space for routeing the cables from the top and then dissembling it will be a lot difficult.
The design of this case is very plain and simple. It has completely plain side panels and it's plain from top and front too. The front panel has the noise dampening foam which will ensure silent operation of the front fans. The side panels, again, both of them have the noise dampening foam for absorbing the noise from all the sides. Not only that, even the top of the case has a cover which is equipped with the foam which will reduce noise in case you don't install any fans or radiators at the top.
The PSU shroud is fully extended from rear to the front which will ensure good cable management and has 2x 3.5″ hard drive bays along with the 3x 2.5″ SSD bays at the back of the motherboard tray. Despite the case is so compact, you can still add up to 5 total storage devices which will be completely hidden when you open the side panel. But in case you install a radiator at the front, you will need to move the HDD drive bays towards the PSU which will put some difficulty in routeing the cables properly. So, bear in mind that even if you get silent operation, you will still have to work harder for cable management in this case because of its compactness.
---
The Best Silent PC Case for the money
Be quiet! Silent Base 800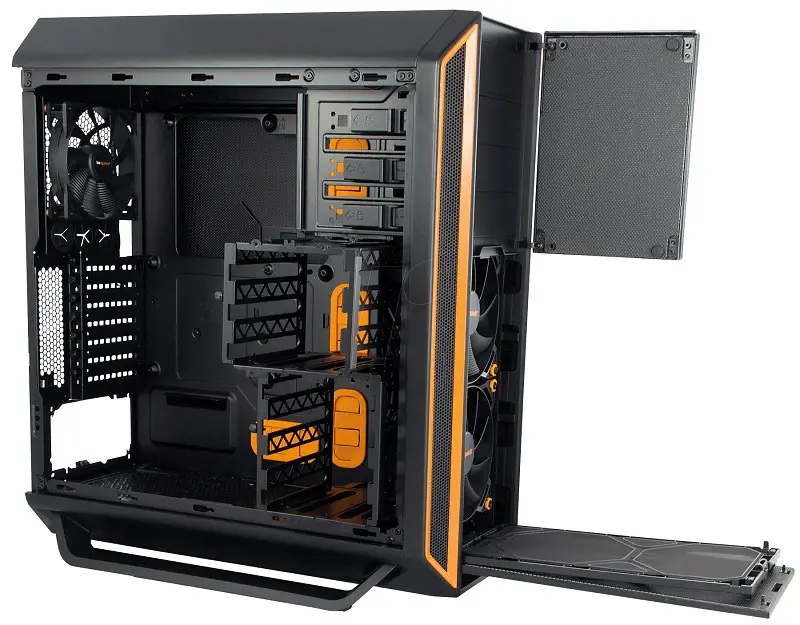 This case is perfect in every sense. From silent operation to components compatibility, it wins in every situation. It is big, sturdy, reliable and is available in several different colours. The orange rubber grommets and the orange accents at the front panel make it look really slick. The case has lots of space inside it to install lengthy graphics cards as well as several storage devices.
The case has 3x 5.25″ ODD, 7x 3.5″/2.5″ drive bays for HDD and SSD which are removable in case you want to install a lengthy graphics card. But this is the only case in this list which actually has several drive bays for upgrading your storage.
For cooling, it comes with pre-installed 1x 120mm fan at the rear, 2x 140mm fans at the front which are powerful and are not of cheap quality. The case has two more slots for adding 2 more fans at the side panel and at the bottom beside the PSU. You can install a 240mm/280mm radiator at the front or at the top.
Cable management will also be very easy in this case as there is a lot of space behind the motherboard tray and the presence of routeing holes everywhere. Also, you will get two more SSD mounts at the back of the motherboard tray.
For noise reduction, it has sound dampening foams on the front panel and on the side panels. Even the motherboard tray and the fans are Anti-vibration decoupled for reducing the noise as much as possible. The front, bottom and side panel of the case are equipped with dust filters along with sound dampening foams. So you get everything in this case you need for a price just above $100 but there is a limitation on doing custom water cooling which is the only CON I found in this case.