Introduction
In today's digital world, everyone is familiar with all the essential components that are required for a PC to perform at its full potential. Starting from the Aesthetics which extends to the smallest factor like custom coloured cables, no one wants to compromise when it comes to showing off their setups. One of such key factor which contributes in terms of performance, and ends at increasing the aesthetics of the setup which is obviously none other than the AIO Liquid coolers or the Custom Liquid coolers. But to support such coolers the case itself should support the same. So today we will be discussing some cases which are best in terms of supporting liquid cooling which may be AIO Coolers or Custom Water Cooler.
The Best Case for Liquid Coolers covers a huge category, therefore we will try to cover the best of them starting from the most budget-friendly liquid cooling case up to the most premium liquid cooling case.
Phanteks Eclipse P300 TG
The most affordable case that can house a front mount rad (up to 280mm in front and 120mm at back) and also includes a TG that makes this a stunning budget case. The case priced at just 55$ can house E-ATX motherboard also. The Front Panel includes dual USB 3.0 Ports along with MIC, Audio Ports, and the RGB switch. The Case 2×3.5″ Drive Bay (Both Included) and 2×2.5″ Drive Bay (One Included). It has 7 PCI Slots. A 120mm rear exhaust fan is included.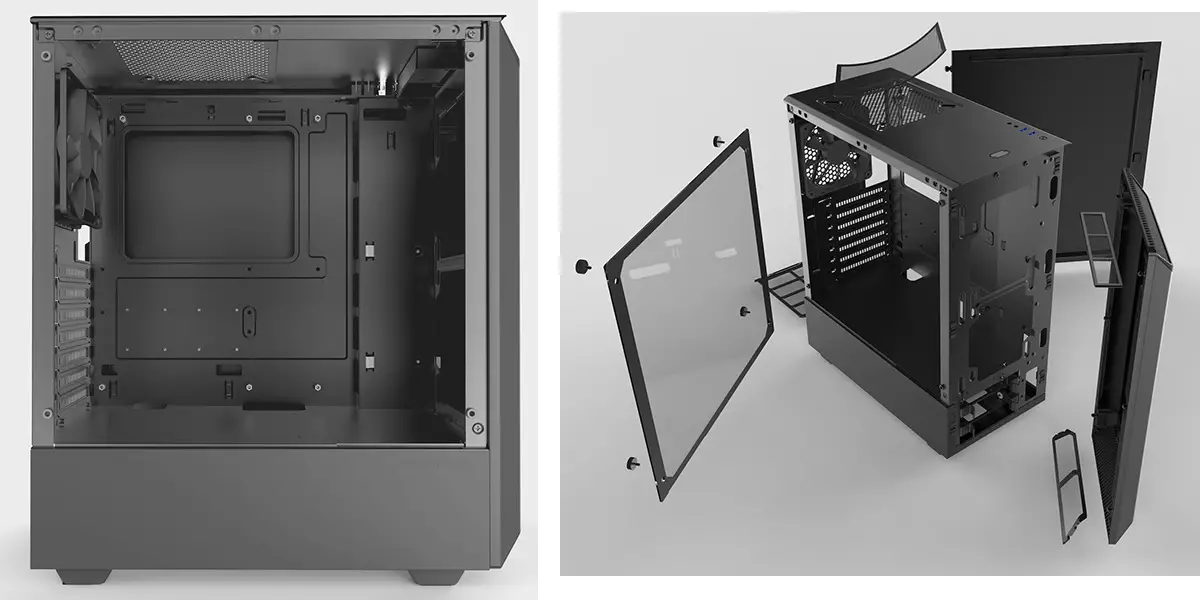 Dust filters are present in top, bottom & Front in the proper way and are easy to access. The main noticeable part of; the case is the PSU Shroud which is a part of the chassis itself and thereby has cut the manufacturing price of the cost. The cable management of the case is also very nice with the proper presence of velcro strap which makes routing of the cables easier.

At this price point, there are very few cases that offer such great feature without compromising any aspects. Phanteks has also maintained a nice balance between performance and aesthetics.  The combination of tempered glass, RGB lighting (can be expandable), and clean looks, a unique PSU shroud and an effective cable management solution is a bang for the buck but with the limited number of upgrading possibilities, this case is aimed for budget-oriented users. So if you are tight on budget but want to have a case that can support most modern equipment then this case is for you.

[rwp_box id="0″]

 
---
Thermaltake Core P3
Thermaltake is always innovative when it comes to cases and already we have seen on many occasions some unique cases and one of them was the Core P5 which seemed to be a showcase PC. The P5 had many drawbacks such as it was quite huge and thereby need more space on your desk, the case also has less storage and also faces some issues in terms of water cooling but a few days back Thermaltake released the Core P3, which is much smaller in size when compared with P5 and yet support full AIO- Liquid cooling options with improved storage options. Thus our next choice for the above segment is the Thermaltake Core P3.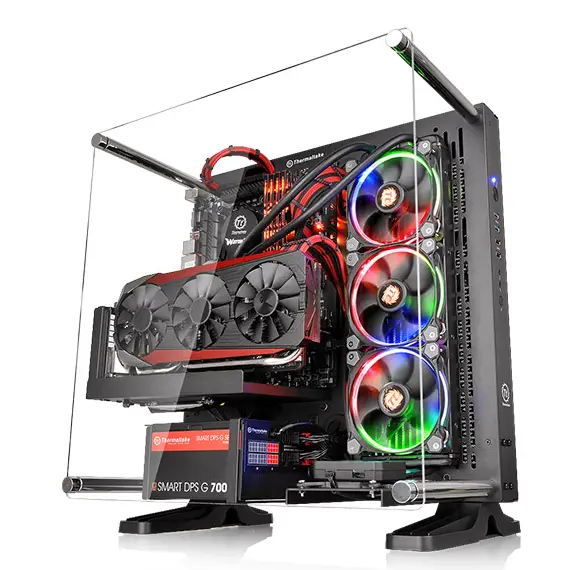 The Core P3 has a similar look like the Core P5. The Core P3 is an open frame chassis which enables users to freely build the system from scratch (unboxing and other stuff) with given modular panels, racks, brackets, and pre-design mounting arrays. It is can be used in three different ways which are, Wall-mount, vertical, and horizontal placement. It is built to show off your system as you like to make it presentable for best viewing.

The GPU can be installed in two different way such as Vertical Orientation by using the riser cable or in a standard format. It is also same with the case of the PSU also. The case also supports all native AIO's and can house radiators up to 480mm. The case can house both 2.5″ and 3.5″ drive bays in front but in case of having very large radiators there is additional drive bay option at the back, therefore, there are no issues with storage options. The IO includes dual USB 2.0 ports and dual USB 3.0 and an audio port.

The Core P3 priced at 100$ is really a multifunctional mid-tower chassis which offers great options for enthusiast or users who want to show off their setups. However there are some cons with this case as it is prone to dust and also accidental damage if there are kids or curious pets inside your house, these are not a matter of concern , then the P3 is an ideal case for anyone who wants to show off, whether they're a Gamer or an Enthusiast or even a Modder. The case can also be an ideal one for using it as a test bench.

[rwp_box id="1″]

 
---
Fractal Design Define R6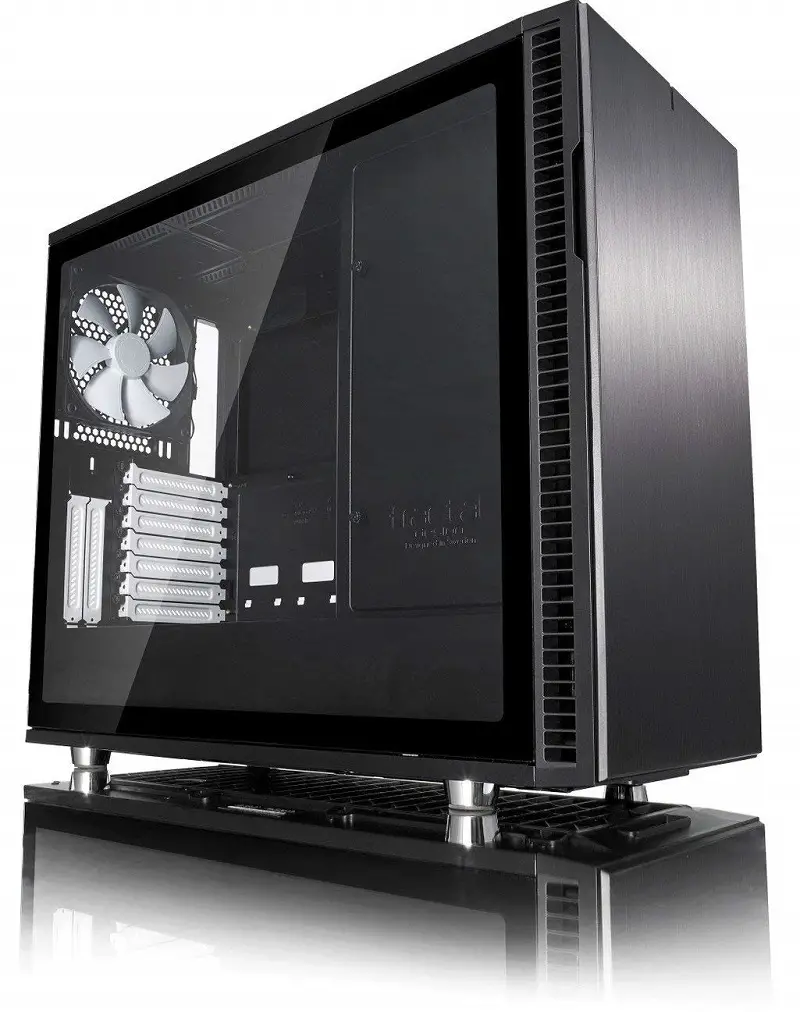 The next choice for this segment is none other than the Define R6 from Fractal Design. The case has already been mentioned in my other reviews as this is the best case of the previous year. Define R6 offers great choice and support for other hardware with ease. The case is equipped with a tempered glass whose mounting points are really best of the class and it also eliminates the view of those thumb screws, the TG is mounted in a toolless manner and the thumb screws are in back away from your view which makes the case more beautiful avoiding views of the regular mounting screws, it also comes with sound-dampened steel panels with an elegant push-to-lock latching mechanism.

 

The IO is made up of 2×2 USB 2.0 Ports, 2×2 USB 3.0 Ports, Audio Jacks, Power and Reset Button. The stock IO is, however, can be replaced with an IO having USB Type-C port which is sold separately for additional 30$. The Front Panel has an Aluminium Plate which can be opened in sideways from left to right or from right to left at an angle of 90degreese and behind it is the angular ventilation and dust filter and after that 2x140mm Dynamic X2 airflow optimized fans from Fractal Design. It has also an Optical Bay Slot in front which can be still to use for some users.

 

The bottom dust filter is also accessible through the front which spans the entire case. The Top panel includes all new 3rd generation ModuVent technology which offers users the choice between a soundproof steel cover or filtered ventilation setup and it can be accessed by a physical button present in the back which when pressed open the top layer. Behind the top panel, a fan bracket is present which can house a radiator up to 360mm in standard layout and up to 420mm with the open layout (removing the interior bracket which hides the storage device), the top bracket has also equipped with a fill port. Radiators up to  360mm can also be installed in front. At the bottom and the back, it can house radiators up to 280mm and 120mm respectively.

The case is basically an all-rounder in terms of performance and for those who want the RGB more this is not made for them as the case has no RGB inbuilt into it, however, one can still install soft ambient strips which can be purchased separately, though without any RGB builtin the aesthetics of the case is unique. Within the price of 150$ (with TG Panel), there are no straight competitors present in the market at this point in time.

[rwp_box id="2″]

 
---
Thermaltake View 71
To keep up with the current trend many case manufacturers tried to go with different innovative ideas with provided outcomes of having either a nice case or a fail one. TG and RGB is something all the manufacturers are moving around and sometimes they just forget about the performance of a case and only go for the aesthetics which result in the outcome of fail products. But few of such products are unique and maintain a nice balance between Performance and Aesthetics. One such example of uniqueness is the all-new case from Thermaltake, the View 71.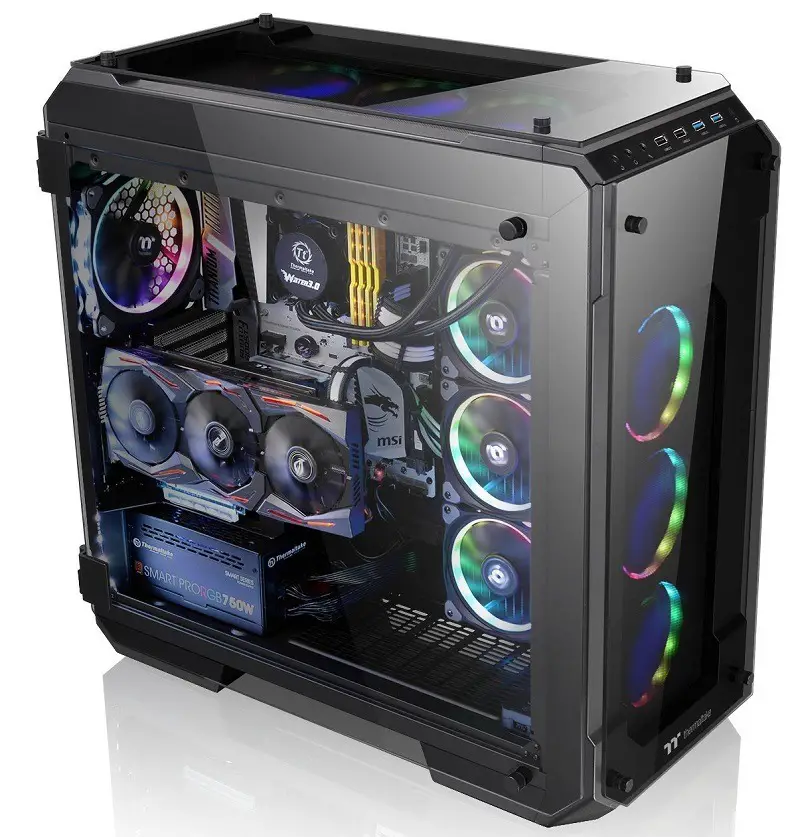 The view 71 is a full tower case having temper glass almost at every place except the back and the bottom portion. This case almost resemblance a likeness with the Corsair 570x but delivers more performance the 570x. The case has nice clearance behind the TG to allow room for the fans to breathe as well astonishingly increases the aesthetics of the case at the same time. The Tempered Glass is of 5mm thickness heat treated, and the rest of the chassis is comprised of ABS plastic components as well as a steel frame, all of which is painted black.

The I/O is made up of a power and reset button, a pair of USB 3.0 ports, a pair of USB 2.0 ports, and HD Audio jacks. The case can house Mini-ITX, Micro-ATX, ATX, and even E-ATX. The case has also enough storage options which includes either 4×3.5"/2.5" drive bays. Behind the motherboard tray, there are an additional three trays which can house a single 3.5″ drive on each, or they can be used for a pair of 2.5″ drives on each. The side panels swivel to open, it can then be removed also for assembly. Now the main attraction is with the support for radiators.

The case can actively house radiator almost everywhere. It is a case where you can experiment with custom-made liquid cooling as the radiator support is up to 420mm at the side, top and front, the bottom can house 120mm and 360mm rads and the rear can house rads of 120mm and 240mm. So if someone wants to showcase their setup, this is definitely for them.

The case officially priced at 170$ for the non-RGB variant and extra 30$ for the RGB Edition which includes three RGB ring fans from Thermaltake. The case offers great aesthetics and performance and even it outperforms the Corsair 570x in terms of cooling. Thermaltake tried to make this case as much as worthy of a showcase piece and also planned the exterior well so that the case has a good airflow option as there are a couple of cms. of the gap in between the panel and glass. Overall the case has nice support for radiators and it also looks stunning when equipped properly with nice hardware components.

[rwp_box id="3″]

 
---
Phanteks Enthoo Elite Extreme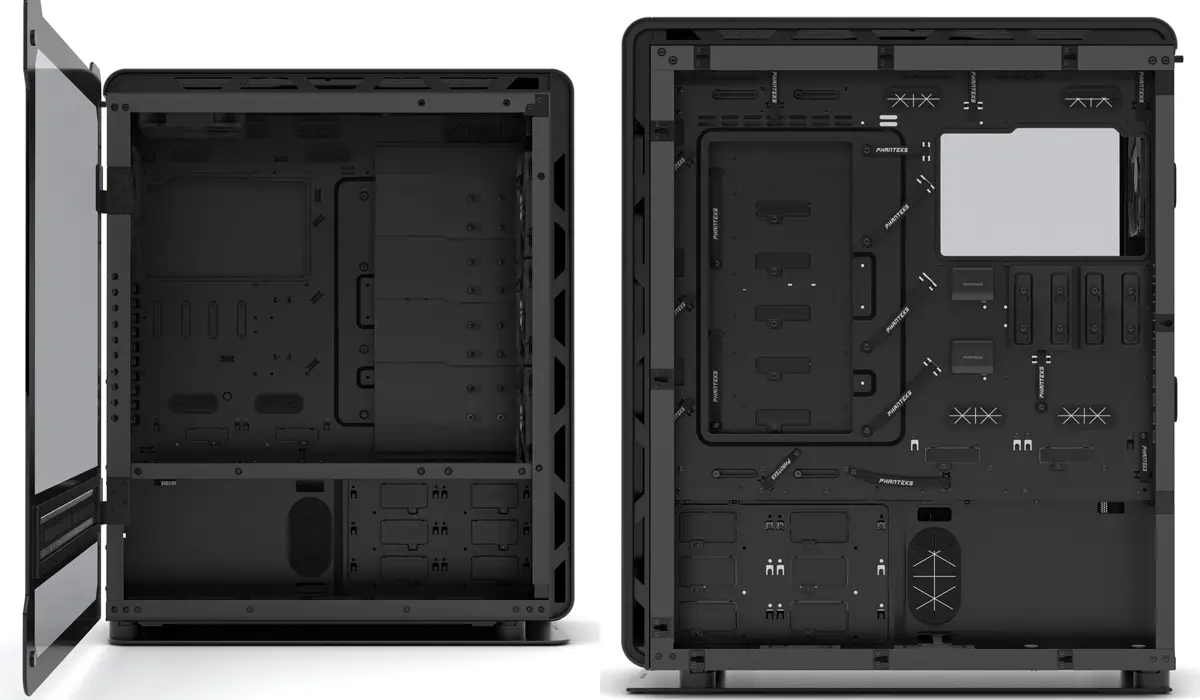 The next pick for the best liquid cooling case is none other than Phanteks  Enthoo Elite Extreme which is also one of the best cable management cases. As its name sounds it is a full tower PC Chassis with a lot of cooling potential along with modular elements. Priced under $900 it is the most premium gaming enclosure. It is built from premium materials that are engineered with utmost care and attention to detail. It is based on a design which involves continuous product improvement and innovation throughout the Enthoo Series. The case is targeted for hardcore Gamers or Enthusiast who tends to run high configuration system or dual system.

For accessories, it comes with two boxes, one is located in the bottom chamber and the other inside the flight case in which the case comes. Accessories include two SSD cage, six normal drive cage, the power splitter plate, a five and a quarter inch drive cage with two slots, and it is to be installed facing the glass window, which also allows users to install touch interfaces or optical drives, a vertical GPU bracket which in most case is not provided and one needs to buy that separately, a handy toolbox for screws organization, and an 8 pin CPU extension. Moreover, it also comes with extra panels which include an ITX tray, a side radiator bracket, and a top panel cover.

The IO behind includes four USB 3.0, an HDMI pass-through, a Type-C port, dual audio jacks for dual systems and a wheel to control the integrated case lighting which allows you cycle between colours, adjust the brightness, change the modes also. Inside the case, you can run two system simultaneously. The cooling options are huge as this case has enough room to house multiple radiators. It can accommodate radiators of 560mm in front, 480mm in the top, bottom and midplate, 360mm at sides and 140mm at rare. As this case is a full tower case and can run a dual system, cooling options are plenty.

The Phanteks Enthoo Elite is really a Premium Enclosure and is targeted for high aim systems with liquid cooling priority but if someone decides to get hands on this case, he/she has to be certain that this investment will be a long-term one as the case is priced at $1000, new system can be built with this much amount. The case can be a showcase for showing off your cooling stuff and Phanteks has ensured that all your needs can be satisfied with this one.

[rwp_box id="4″]

 
---
Conclusion
AIO Liquid coolers or Custom Liquid Coolers are becoming common to end users, they are also looking for cases that can properly house those components and provides better performance. Those who intended to have liquid coolers also wants to showcase their stuff. So keeping all things in mind we have provided with some of the best Cases that provide those aspects and unmatched performance. We haven't covered them all and also welcome your suggestions. If in future we find some cases which offer similar potential we will update the topic also.