Wifi
Best WIFI CARDS for PC[CHEAP but BEST]

Introduction
Wifi Cards are very popular now as they are cheap and a great solution for using the Internet on a PC without inbuilt Wifi adapter. Wifi cards are generally faster than USB Wifi's and provide more bandwidth that results in faster internet speed without lag. It's true that a Lan connection directly from the router is the best option but you can't take a cable to every room to connect to. Sometimes a wireless connection is the best option even if your router is situated in the same room.
I always prefer wireless connection because it is easy to use and even though my router is near to my PC, I still use Wifi cards in both of my PCs that don't produce any lag or the lag is simply very rare.
In order to use a Wifi card, your system must have a motherboard that has at least one PCI-Ex 1 slot empty. If your motherboard doesn't have that option, you can't use a wifi card. So, make sure that you have PCI-Ex 1 slot in your motherboard before proceeding to buy a wifi card. I recommend the following PCI Wifi cards that you should consider for your system depending upon your budget.
---
TP-Link TL-WN881ND N300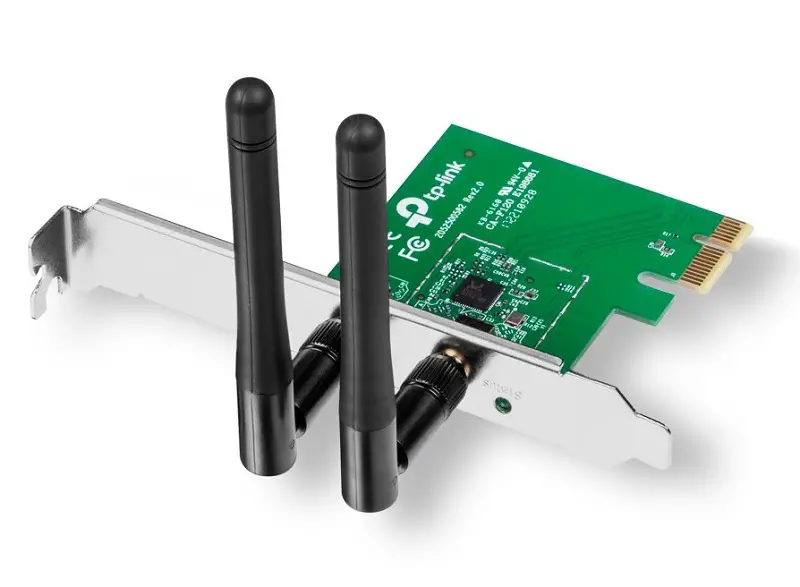 The cheapest yet one of the most popular Wifi cards is the TP-Link WN881ND N300 which has two antennas and provides up to 300Mbps. It's not the fastest speed on a Wifi card but for budget builds it is the best thing and also for those who don't have very super fast internet. I have used this wifi card my self and till now I don't regret. It's fast enough to handle any kind of fast internet here in my area and is very easy to set up.
You just need to plug it in the slot and install its drivers through its CD. It has two antennas which can be easily rotated and adjusted according to the available space. It supports Windows and Linux operating systems which are the most common operating systems available right now.
---
Gigabyte GC-WB867D-I REV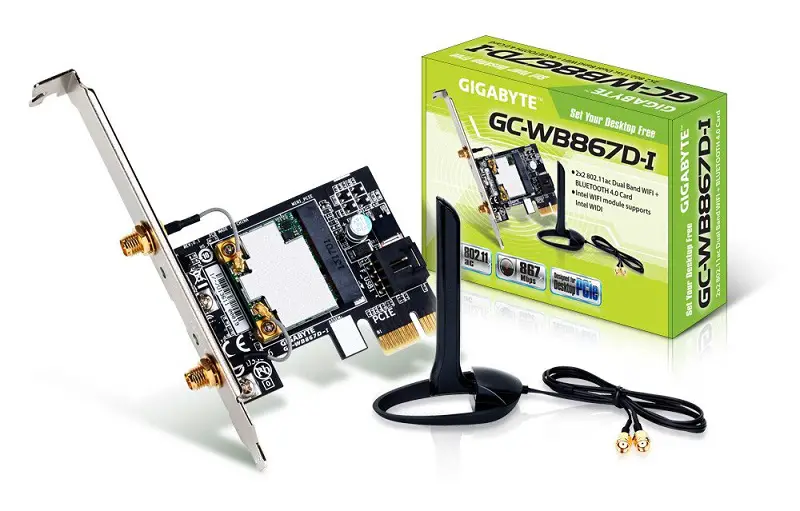 Next up is the GC-WB867D-I Rev wifi card from Gigabyte which packs in much more features than the above one. It has both Wifi and Bluetooth 4.2 functionality inbuilt which is very much needed in some cases. Sometimes you just want to share small files through your phone to your PC or vice versa. With just wifi, you can't do it but with this device it's possible.
There are USB ports available on this Wifi card which can be used for the wireless devices. You can plug in it dongle for your wireless keyboard and mouse without having to put it outside your system at the back. As this will remain in your PC for a long time, you don't have to worry about searching for an extra USB port. This functionality is really great for a price of less than $35.
Also, it is a dual band wifi card which supports both the 2.4Ghz and 5.0Ghz frequency and has an awesome bandwidth of 867Mbps. This is almost three times the speed as that of TP-Link N300 wifi card. If you want more features like the ones listed here, then go with this one as it is worth every penny.
---
TP-Link AC1300
Archer T6E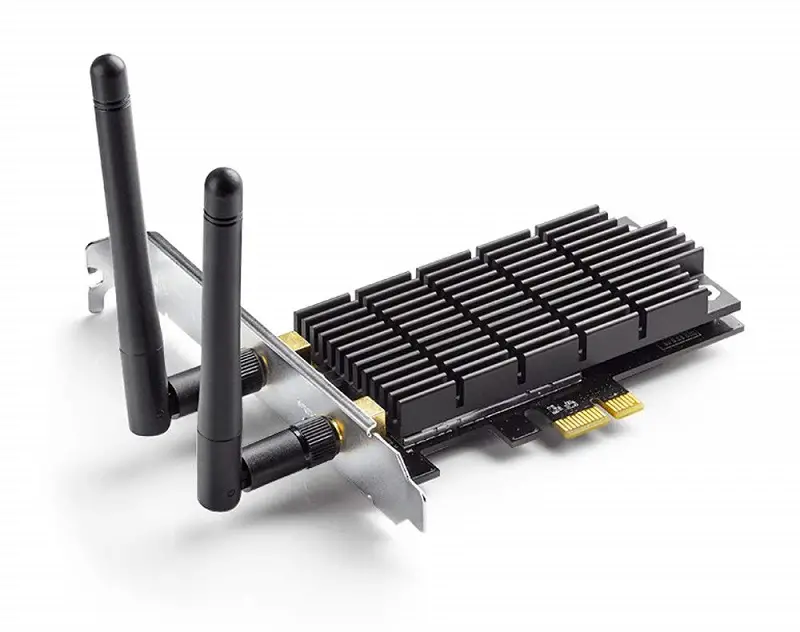 TP-Links AC1300 router is the best budget wifi card when all of the cards considered in this list. Not only it's cheap but packs in superb performance with dual-band feature which supports both 2.4Ghz and 5Ghz Bands. It supports the 802.11ac dual band which is 3 times faster than the 802.11n standard. This card is the most ideal one for any mid to high-end PC which will ensure that you don't lose speed and get the minimum lag as possible.
This card is cooled with an aluminium heatsink which is similar to a graphics card which increases its reliability for longer operation. It supports Internet speed up to 1300Mbps which is insanely high and is supported on all Windows operating system but unfortunately, it isn't compatible with Mac.
---
Ubit Gigabit AC
WIE9260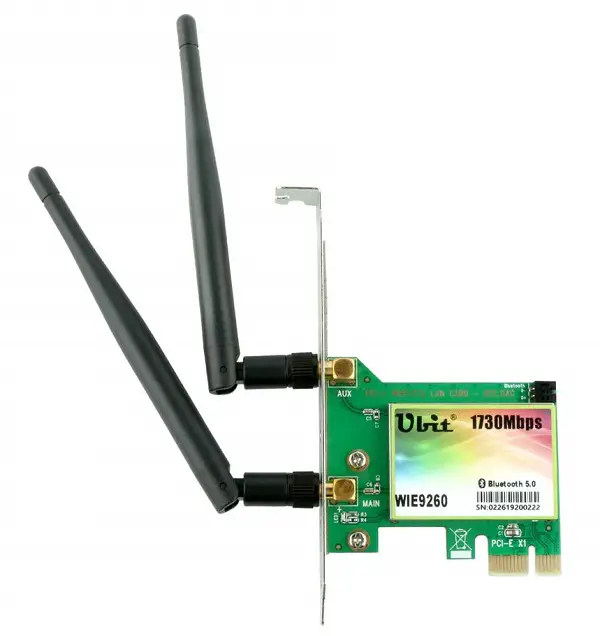 The Ubit Gigabit AC WEI9260 is a combination of both fast wifi and Bluetooth. This is what you will need if you want more than just the internet. Similar to the AC1300 it too supports both the 2.4Ghz and 5.0Ghz bands which means it will easily support Internet speed of more than 300Mbps. The max internet speed it can support is up to 1730Mbps which is the highest among all the wifi cards listed here. You will hardly have the internet as fast as it can support. So, you don't need to worry about faster speed.
It comes with the Bluetooth 5.0 which is currently one of the fastest Bluetooth available today. This Wifi card is equipped with 2 antennas which should cover a decent amount of area in your home so that you don't have to use a cable. Ubit has provided on it a 45 days money back guarantee along with one year warranty and lifetime tech support. Personally, 1-year warranty is less but lifetime tech support is a good addition. Buy this one if the 1-year warranty doesn't concern you a lot.
---
Fenvi FV-AC1900 Wifi Card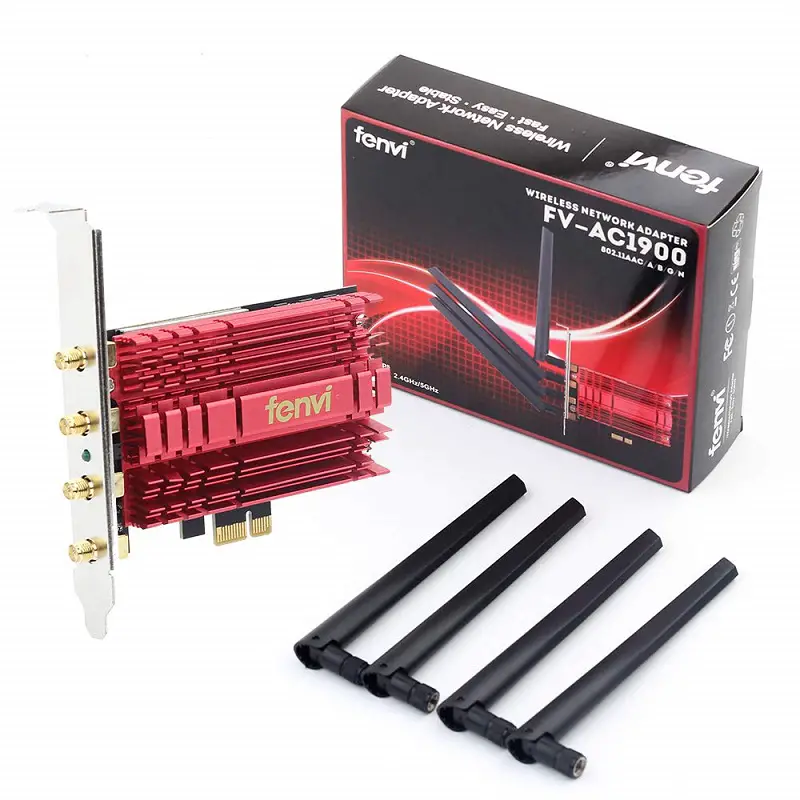 Fenvi's FV-AC1900 Wifi card is the best solution for long-range wireless connection. It has 4 antennas that can cover a lot of area and will provide a powerful connection anywhere without limiting the speed. It's more expensive than the above-listed wifi cards but surely it lives up to its name.
It comes with both the 2.4Ghz and 5.0Ghz bands that can support up to 1300Mbps of speed on 5Ghz and 600Mbps on 2.4Ghz. It comes with the 802.11ac standard which is the fastest among all the standards available. Not only that it has an aluminium heatsink similar to the TP-Link AC1300 which will cool down the heat in summers effectively.
The best feature of this card is that it supports Windows, Linux as well as Mac operating systems. There are currently very few wifi cards that can work with all these operating systems. So, if money is not your problem then do not hesitate to spend 50 bucks on it.
---
Conclusion
The wifi card is a great replacement to the Lan cable as it provides decent internet speed without messing up with long wires. A place where the router is far away from the system, using a wifi card one can easily connect to the internet without any hassle. It's true that Lan cable is the fastest means but if you want to connect to the internet of your ISP or even of your mobile, Wifi card works like a charm and doesn't cost much.