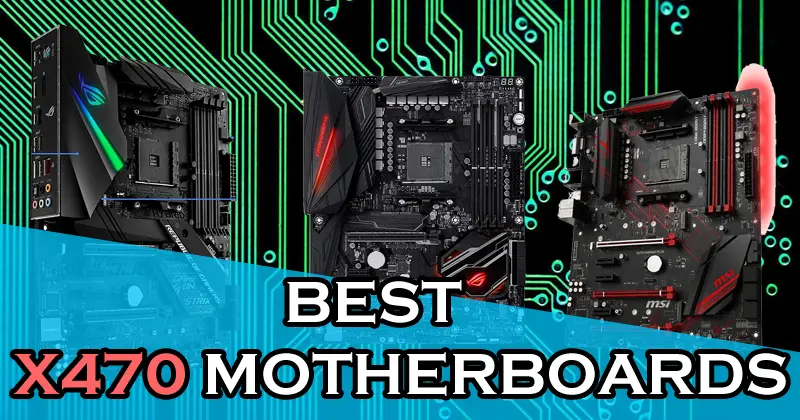 It's been a while since the X470 chipset motherboards came out but as the time is passing more and more boards are getting their way into the list of already existing motherboards. AMD Ryzen 2000 series CPUs are very popular amongst the gamers and overclockers nowadays and particularly for this series, AMD decided to release the X470 chipset boards although these CPUs can also be used on the X370 chipset motherboards.
Each of the manufacturers has a list of different budget motherboards in the X470 chipset lineup but it is very time consuming if you want to know which one is the best yet alone the task of comparing a particular motherboard from Vendor A to Vendor B. There are some tricks which each of the manufacturers used to improve their motherboards over the other but the prices are significantly increased. So, it's very important to identify which one is the best for the money.
I have selected and listed the top motherboards from different manufacturers that I believe you should buy when building a Ryzen system in 2019. I have also listed some other top contenders at the bottom of the article and also boards which you shouldn't buy so as you don't waste your money on something which isn't worth the money.
TO BUY
Best Budget X470 Motherboard
MSI X470 Gaming PLUS
MSI X470 Gaming Plus is a perfect budget gaming motherboard that uses the same VRM as that of MSI X470 Gaming Pro Carbon but the cost is $40 less. The latter one uses heavy heatsinks than the Gaming Plus but if you want similar performance in overclocking then you don't need to spend $40 on the Pro Carbon unless you want better aesthetics, Q-LEDs and RGB lighting on the heatsinks and I/O cover. This board is the best budget X470 motherboard for any Ryzen processor having up to 6 cores and 12 threads. But if you are planning to use an 8-core processor like Ryzen 2700X, then you should go for the motherboards I have listed down below.
It uses doublers and it's actually a 4+2 power phase VRM motherboard and a lot of manufacturers use this technique nowadays to show that they have increased the power phases but actually they don't. The Gaming Plus, however, has one weird thing which is unnecessary. It's the 8+4 pin CPU power ports. This board is not made for a strong overclock, particularly for an 8-core processor, then there is no need for the other 4 pin power ports. Even if it was being made for an 8-core processor, then also there is no need for that extra port.
Specs wise, it can support up to 64GB of DDR4 RAM clocked up to 3466MHz and can support Two-Way AMD CrossfireX. So, it's better to use this motherboard for a single-GPU setup rather than going with a multiple GPU configuration. The first PCI-E x 16 slot uses Steel Armor for more strength but the DIMM slots don't. For storage, it uses two M.2 slots for fast NVME SSDs and 6x SATA ports for hard drives and SATA SSDs. And for cooling, it uses a total of Six headers for CPU cooling, AIO pumps and chassis fans. That's all you need and I believe this should be the priority if you want the best performance on a low budget.
But in case you just want this board for overclocking, then I would recommend going with the lower chipset which is B450 which has an MSI B450 Gaming Carbon Pro AC motherboard that uses a similar VRM with the same amount of power phases but with better heatsinks. It also costs the same but you will have some downgrades.
Best Mid-End Option
ASUS ROG Strix X470-F Gaming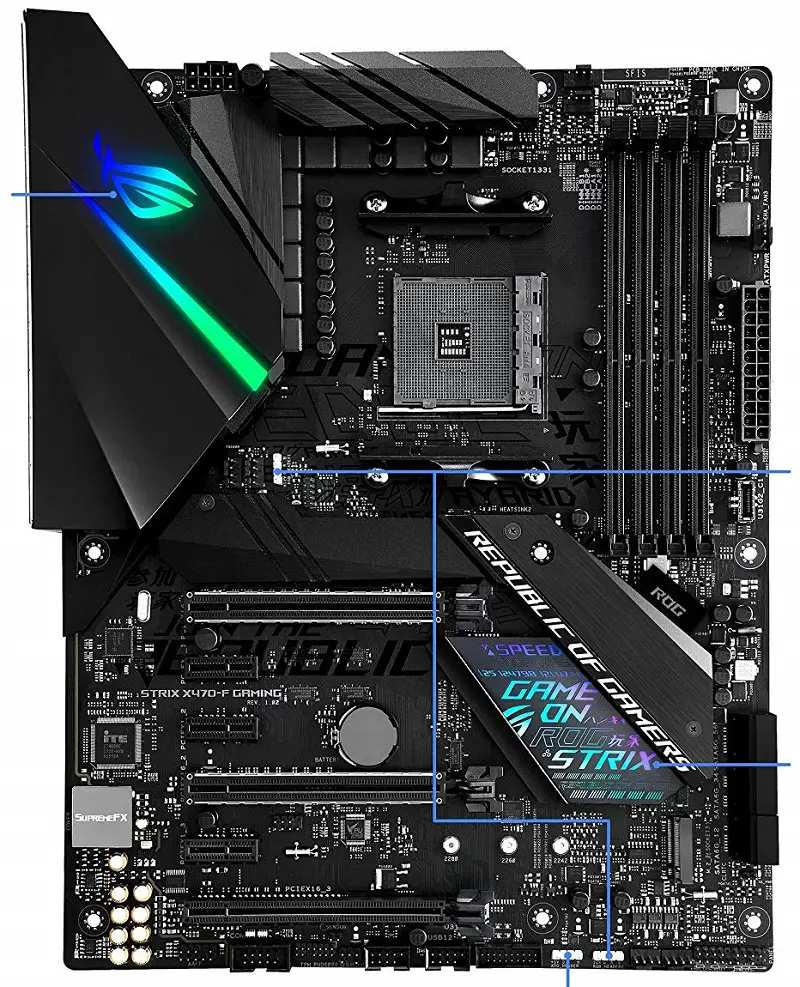 Asus Rog Strix is around $20-$30 more expensive than the Prime X470-Pro which is also a good motherboard but there is a significant upgrade in the VRM. This board uses IR3555M MOSFETs which are more efficient in regulating the voltage than the IR3553M MOSFETs which are used on the Prime X470-Pro. Secondly, the X470-F Gaming uses better heatsinks to cool down these MOSFETs.
It also features Q-LEDs to indicate any kind of problems related to CPU, GPU or memory which is absent on the Prime X470-Pro. So, based on these three things alone, I would recommend spending another 30 bucks and getting this board instead if you are serious about performance and you should be if you want better overclocking. Other than that, the board features plenty of RGB lighting, full I/O cover for great aesthetics and plenty of Fan headers for expanding the cooling options.
The board is also equipped with PCI-E x 16 slots that are protected by Armor steel which nowadays can be found on most of the mid and high-end motherboards. It provides a decent amount of strength for supporting graphics cards. And yes, you can use two Nvidia cards in SLI and up to three AMD cards in CrossfireX on this board. For memory, it can support up to 64GB of DDR4 RAM modules overclocked up to 3600Mhz. On top of that, I can without a doubt say that Asus motherboards have one of the best bios, in fact, my favourite bios for tweaking the settings. Their interface is really simple and better for overclocking.
Asus X470 Motherboards Overclocking Guide
Best Value for Price
ASUS ROG Crosshair VII Hero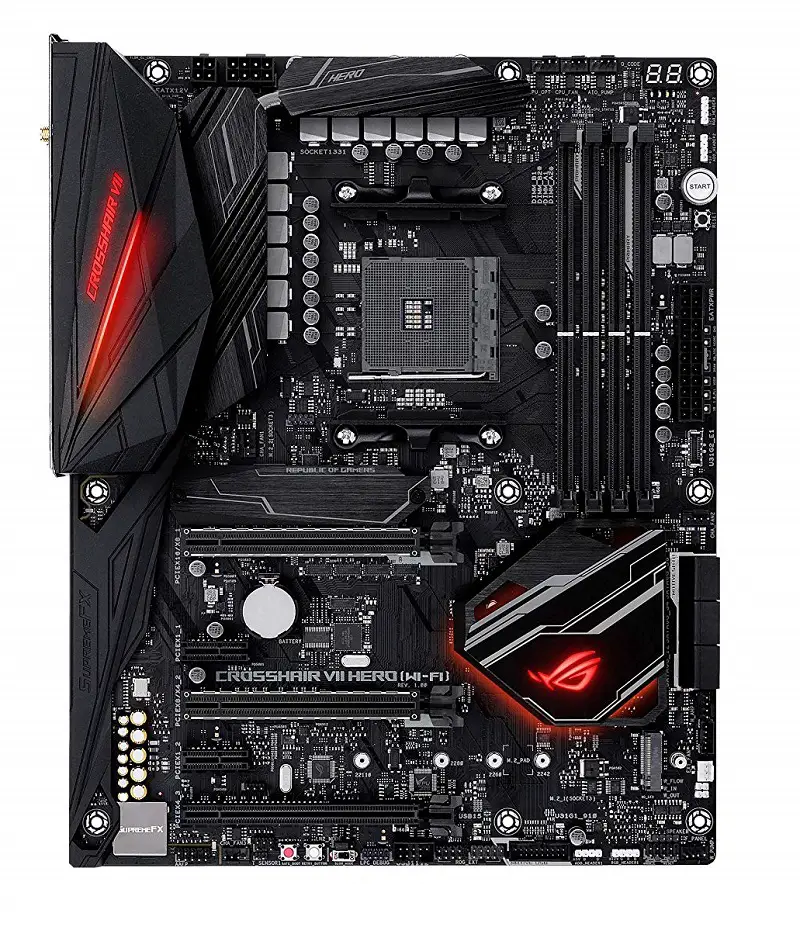 The Asus Rog Crosshair VII Hero is a perfect motherboard for a justifiable price of less than $300. The board features powerful features such as 10+2 power phases in the VRMs using doublers to make it more efficient and the layout of these power phases is better than the rest of the boards which will allow them to cool more efficiently. The VRM heatsinks are also good which uses a single heat pipe for better cooling and together both the good VRMs and better heatsinks make it an ideal motherboard for overclocking.
The board also features 8+4 CPU power ports which I think its fine but even most of high-end Ryzen CPUs won't require the additional 4 pin port for strong overclocking either. The motherboard comes with a POSTCODE Display at the top-right corner and Q-LEDs for debugging and will make your troubleshooting much easier when you get into some kind of malfunctioning when you are in between overclocking. On the right-hand side, the board also features a Reset button which is very handy but a power button at the bottom which isn't a good placement if you use a graphics card in the third slot.
But the I/O of the board consists of two useful buttons. One is the Clear CMOS and one is the Bios Flashback. If you have installed your motherboard inside a chassis which you don't want to open, then you can use the back side to troubleshoot your system in case if your BIOS malfunctions. This is better than the placement done by the Gigabyte X470 Aorus Gaming 7 Wifi which uses the Power button at the back of the board. That's a horrible place but Crosshair VII Hero's placement is completely fine.
Other than that the motherboard uses a total of 10 or 11 headers for Chassis fans, AIO coolers and pumps. This is just overkill for any system and the placement of these headers can be found on every side of the motherboard. This motherboard for aesthetics uses RGB lighting on the I/O cover and the heatsink at the south bridge. You can also connect the RGB LED strips via various RGB headers for a colourful lit system. On top of that, there is no need to buy a dedicated Wifi PCI card to use wireless internet. The board has inbuilt wifi for ready to use the internet.
NOT TO BUY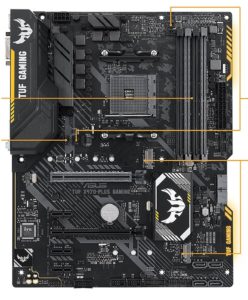 Just stay away from this board. You can buy a lot of good X470 motherboards at the price of Asus Tuf X470-Plus. It's really weird to see that Asus equipped this board with just 4+2 power phases. The heatsinks are also not extraordinary and there are no onboard features like Power button or Debug LED to troubleshoot. This motherboard should be priced at $100 to make it worth the money. Go and buy the MSI X470 Gaming Plus instead of this.
OTHER DECENT OPTIONS
ASUS Prime X470-Pro
MSI X470 Gaming PRO Carbon
MSI X470 Gaming M7 AC
Gigabyte X470 Aorus Gaming 7 Wifi