The World of PC's has an experience with Cyber Security issues coming in form of Malware or Viruses or even malicious software like spyware or adware etc. and it tends to increases over past few years with more gruesome malware attack on several countries and out of them, Ransomware is considered the worst.
Last year we have witnessed a massive Ransomware outbreak in all over the world, but the latest discovery from MalwareHunterTeam about a ransomware which is indeed surprising as if you get infected with this malware then it will encrypt your file which is the main function of it but instead of asking for any amount to decrypt the files, it simply as the victim to play/launch Player Unknown's Battlegrounds which is currently one of the most playable game.
Another top quality ransomware that asks you to play a game to decrypt files: "PUBG Ransomware".
Sample: https://t.co/qyEHMG2orL
Extension: .PUBG
This sample only encrypts files on desktop (including subdirectories)…@BleepinComputer @demonslay335 pic.twitter.com/5406DPbwmX

— MalwareHunterTeam (@malwrhunterteam) April 9, 2018
As it can be seen from the tweet of Malware Hunter Team, if your PC gets infected with the PUBG RansomWare, it will encrypt your desktop files as well as document, music and photos folders appending them with a ".PUBG" extension. Once the encryption is completed, a screen will splash up providing you with two ways to restore your encrypted files, either you need to Play PUBG for an hour, or simply enter a restore code, which is right in the message.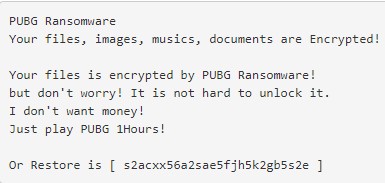 In the message as it displayed, in order to decrypt the files the malware want you to play PUBG for 1 hour but if you want to lay hands on experiment, it only monitors a file a running process named TslGame and if you run the executable file even for 3 seconds then also it works. It just checks if you launched the game or not.
The malware is indeed to be laughed at but it's still is a malicious program as it is responsible for altering your files and make you do things against your will. Moreover, one thing to keep in mind is that how a user gets infected with this program in the first place which points towards a direction and that is if users with PUBG are the ones who are getting affected. It's not totally clear as of, for now, so you might want to be careful as if you don't have PUBG in your system and somehow get infected then I guess you will be in real trouble.