Not for casual gaming
This PC is only meant for gaming at least 1440p ultra settings. This is the beast you will require if you want your rig to last at least 2-3 years playing any game at 1080p/1440p ultra settings. If you are an enthusiast and want to max out everything at 1080p and at 1440p, this is the gaming PC you should consider. As my other gaming PC's that costed under 1000 dollars, i.e., $500 gaming PC, $600 gaming PC or any Cheap Gaming PC they were not meant for maxing out latest games.
But you may be in search of the best gaming PC that can do this without spending a lot of money. As this build uses some of the highest quality and best performing components, you will be going to enjoy the games as never before. I have named this PC "THE HITMAN".
Not only this gaming PC performs best at its price but also be future proof as it uses latest seventh generation Intel processor and ddr4 memories. To know more in detail continue to read the whole article and get what you want.
If you don't know how to build a gaming PC or need a complete guide for building it from scratch, then you can grab my guide HERE.
Processor
Intel Core i3 8100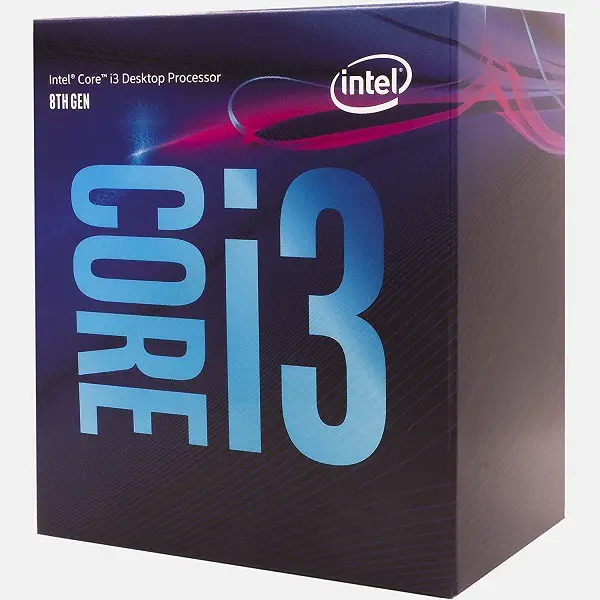 This is the Coffee Lake processor from Intel which is among the latest chip in the 8th Gen series. I previously used the i5 8700K but because the total cost of this build is going above $1100, I cut down 2 cores and used the i3 instead. We have to consider everything properly otherwise we won't have enough money for a good graphics card.
As this is a quad-core processor, it will easily handle any high-end graphics card unlike the older generation i3 processors which used to have 2 cores and 4 threads. That's why even if you go with a quad-core processor like this, you will still be in a win-win situation. But in case you have more money then you can go with the unlocked Core i5 8600K processor.
When we choose a processor, we should be very careful as there are a lot of options right now which may confuse you. AMD Ryzen series processors, Intel 6th or 7th gen processors are also good but when it comes to "Gaming" in particular, i3 8100 smashes most of them at this price because of its powerful single core performance.
We all use to hesitate in buying a quad-core i3 chip because of the presence of Ryzen 3/5 series processors having more cores and more threads although the gaming performance of previous gen i3s was still better but when it came to multi-tasking Ryzen 5 processors easily beat the i3 6th and 7th gen processors. Intel brought up this quad-core processor to remove that hesitation and if you want to get the best bang out of the money then this should be the option to go with.
The processor has a base clock of 3.6Ghz and is locked. So you don't need a good aftermarket CPU cooler but you can use one if you want lower temperatures.
Also see: – Best gaming CPU
---
Cpu Cooler(Optional)
Cooler Master 
Hyper 212 LED Turbo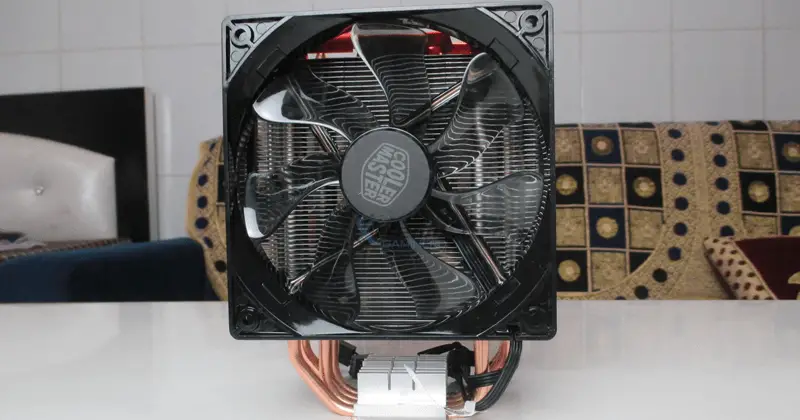 For cooling, I chose the Cooler Master Hyper 212 LED Turbo which is the successor of the famous Hyper 212 EVO cooler. It costs a few bucks more but provides better cooling and better aesthetics. With switchable top covers, you can either make it look Red from above or Black depending on how you want your Rig to look like and match your overall theme.
This cooler is among the top performers in the budget category and features 4 copper heat pipes that are exposed at the base where the aluminium base and heat pipes meet the chip to cool it down. It has got two 120mm fans that are very easy to attach and work in a pull-push configuration which makes cooling more efficient. These fans are equipped with RED Led lights which are although not that attractive but will illuminate your RIG from inside. I have tested this cooler myself and here is the Review if you want to know its performance.
---
Motherboard
MSI Z370 GAMING PLUS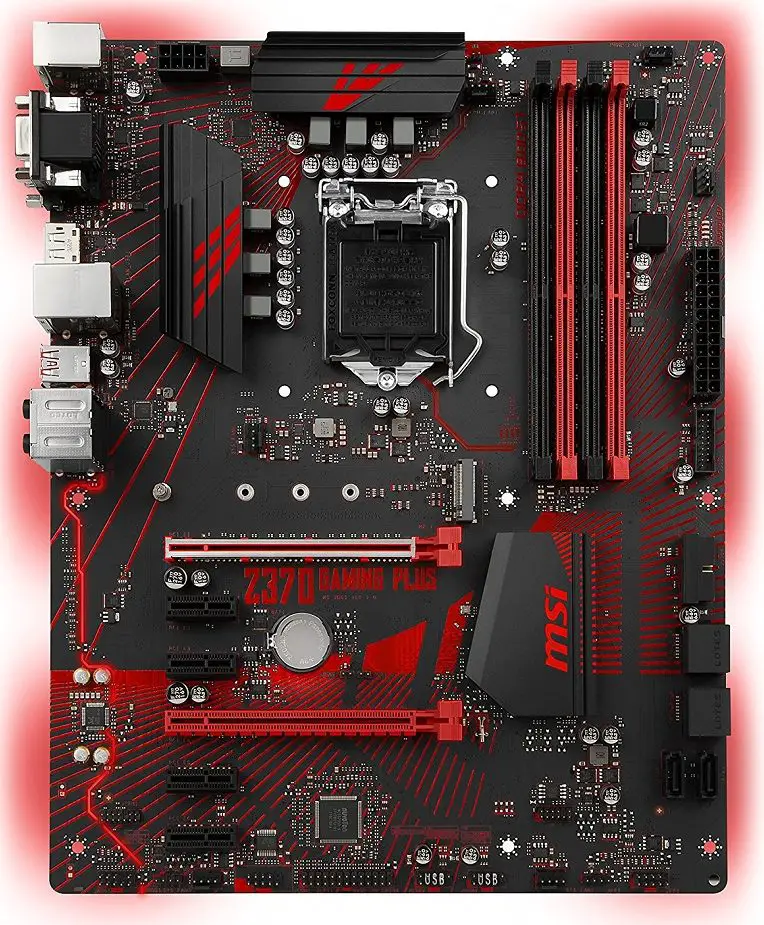 Intel Coffee-Lake processors are only compatible with the LGA 1151 Z370 chipset motherboards. Previous chipsets like Z170 and Z270 won't work with 8th Gen processors but fortunately, the Z370 chipset motherboards are priced similar to the previous chipsets and this one costs just above $100 providing you all the features you want.
It has 6 power phase VRM which is decent for overclocking but as this build is going to use a locked i3 processor, the overclocking feature won't come in use that much. But the reason for choosing a Z370 chipset motherboard is future proofing. For memory, it has 4X DIMM slots that can support up to 64GB of Memory and has 2x PCI-Ex 16 slots that support AMD 2 way CrossfireX but doesn't support any SLI stuff but a single graphics card is all we need to make this PC a beast.
For storage, it has 6x SATA 3 ports and 1x M.2 Slot for fast NVME SSDs that you can use for your operating system if you have got enough cash to spend. Or you can just simply upgrade to one if you don't want to do it now. This board has enough fan headers for cooling and will make your RIG look very good with the Red/Black PCB.
Also, See- Best LGA 1151 motherboards.
---
Memory
Patriot Viper Elite Series DDR4 8GB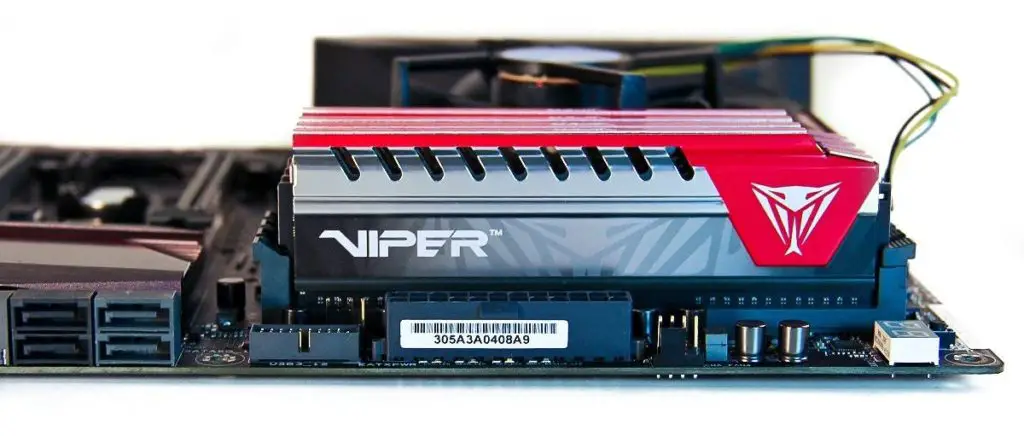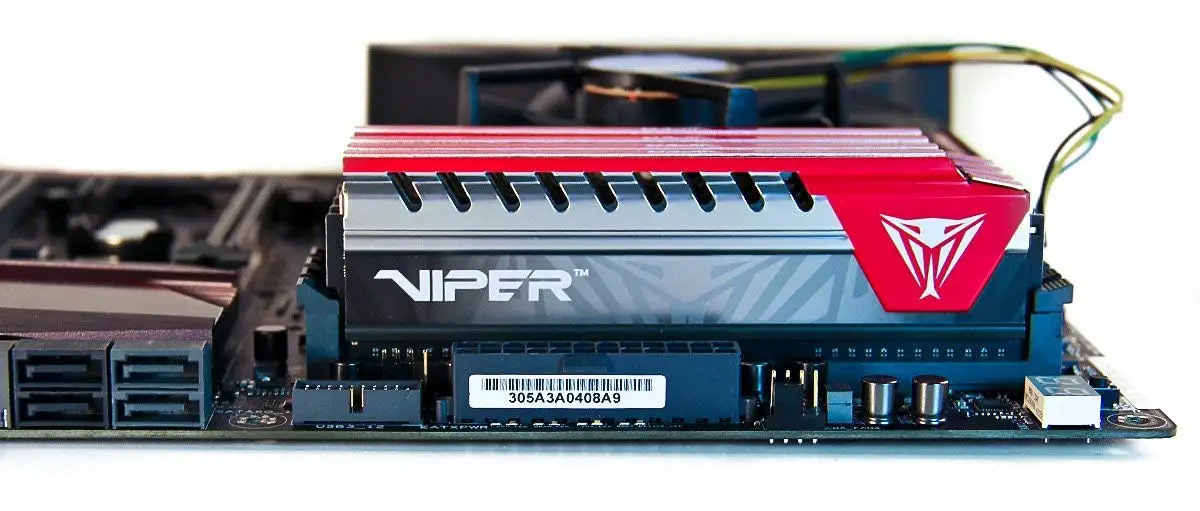 For memory, all you need is two 4gb ddr4 ram sticks. Ballistix Sport memories are very famous just like corsair vengeance or G.skill Ripjaws. These ram modules cost around $95 and are clocked at 2400Mhz and are enough for gaming. Now the heat spreaders on these ram modules are grey in colour which will be visible easily on our motherboard and will create a very attractive look overall.
The motherboard we used supports memories clocked up to 4000+Mhz but you cannot get that much highly overclockable memory for a cheap price. You will still get reasonable and good performance with 2400Mhz clocked ram and the difference will be minimal. With 2 sticks installed you still have 2 more DIMM slots left which you can use for increasing the ram capacity to 16gb.
---
Graphics card
EVGA GeForce GTX 1070 Ti FTW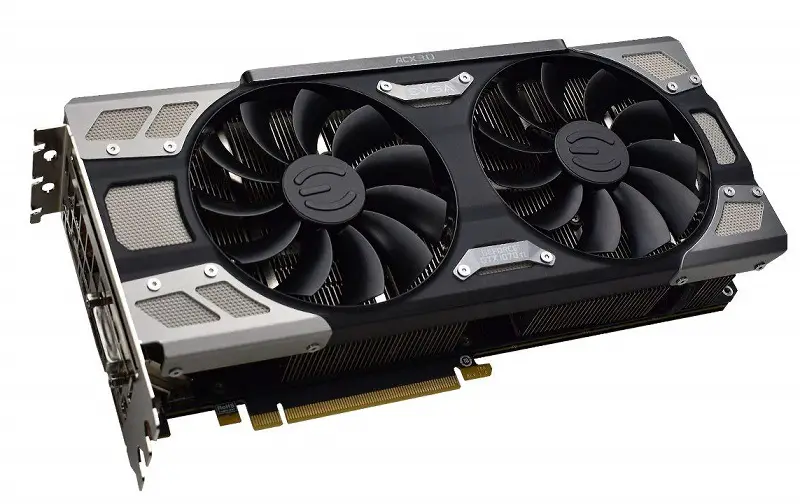 EVGA GTX 1070 Ti FTW edition is one of the cheaper editions of GTX 1070 Ti's available right now and maxes out every game at 1440p. It's an overkill for 1080p gaming and it will be a good future proof for a couple of years. It has a very good aluminium heatsink and the FTW editions are specially known for their cooling. This card is the factory overclocked version and therefore comes with higher base/boost clock which means you can have a good amount of boost in gaming too. You can overclock this for even more performance and when you do it along with overclocking your processor then you will observe a noticeable increase in fps.
Gtx 1070 Ti is an even better card for 1440p than the GTX 1070 which I used earlier in this build and can max out any game at this resolution. It will help you achieve more than 60fps on any settings on this resolution and can possibly play any game at 4K on high settings with 40-60 fps easily. It has 8gb of Gddr5X memory which is enough for maxing out textures, resolution, anti-aliasing etc. The best thing about this card is that it's very power efficient requiring only 180 watts of power. So you can use it on 500-600 watts of power supply easily. The card has a single 8 pin power port and for display, it has 1 DVI, 1 HDMI and 3 Display ports. I bet you will get in love with this card.
---
Hard drive
WD Blue 1TB
For storing your games 1tb of the hard drive from WD is quite good and will be enough. It has 7200rpm speed and you will get 2 years of warranty. Now, games are becoming huge and huge, you may get a need of upgrading to 2tb or more in the future but for now, this is enough even for storing your setup and installed files altogether. For more storage, you can always add more hard drives to your system as the motherboard supports several storage devices at the same time.
---
Power supply
EVGA 650 Watts GQ 80+ GOLD
For the power supply, EVGA is one of the best PSU manufacturers and provides them at a cheaper price as compared to other brands. The power supply has 650 watts maximum capacity which will be enough for all of our components and there will be still room for further upgrades like Custom fans, radiators or Storage devices. This is not a regular 80+ power supply, it's 80+ Gold GQ edition which has highest quality Japanese capacitors which will ensure proper and reliable operation.
As it is an 80+ Gold power supply, you will at least get 90% of power efficiency at 100% load and a maximum of 92% efficiency on typical loads. The more the efficiency the more is the power available to the components and the lower will be the heat generated. This power supply is also CrossfireX and SLI ready. Right now we are not combining two graphics card and it will be good enough for a single one. You will also get 5 years of warranty from EVGA and a good customer service.
---
Case
Phanteks Eclipse Series P400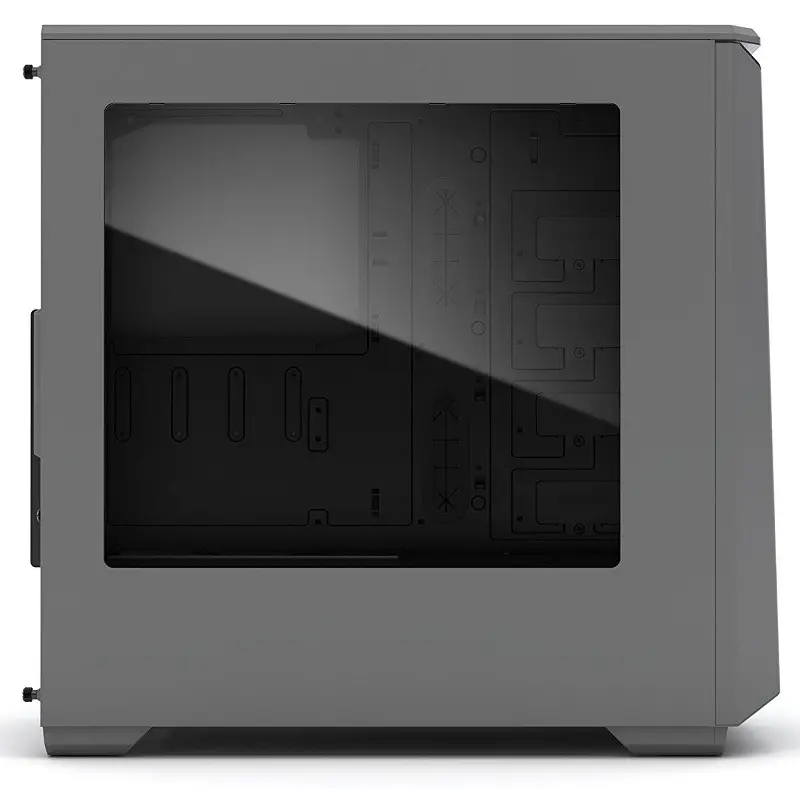 For components like ATX motherboard, Custom CPU cooler and a high-end graphics card, you will need at least a mid tower. This one is from Phanteks and has got hundreds of positive reviews. This case looks very decent and stylish with the simple design it has. The case is available in three colours: – Grey, White and Satin Black. So you can choose anyone if you have different taste to colours.
This case supports full ATX motherboards and full-length graphics cards like that we have used in this build. The case has rubber grommets on cable routing holes which will help you in neat and clean cable management. The side panel has a clear window through which you can see your components inside and of course, this is 2017, there is no PC build without a PC case which has a transparent window.
It comes with 2x 120mm fans pre-installed- one at the rear and one at the front. But you can always increase the front intake fans to 3 and can install a 240mm radiator at the front or at the top. So, it will be a good upgradable case for you in case you swap out some components in the future.
You May Like:- Best Mid-Tower Cases
PARTS LIST
| Components | Images | Latest Prices |
| --- | --- | --- |
| Intel Core i3 8100 | | |
| CM Hyper 212 LED Turbo | | |
| MSI Z370 GAMING PLUS | | |
| Patriot Viper Elite DDR4 8GB | | |
| EVGA GeForce GTX 1070 Ti | | |
| WD Blue 1TB | | |
| EVGA 650 Watts GQ 80+ GOLD | | |
| Phanteks Eclipse Series P400 | | |
---
TOTAL~ $1050(As of 10th Dec 2018)
---
Additional
Windows 10(Recommended)
Getting OS is also important especially if you are spending a lot of money in your system, you should consider OS also. As all the new components support windows 10, there will be no compatibility and you should get it for removing any possible incompatibility.
---
Recommended Peripherals for this build:-
Monitor: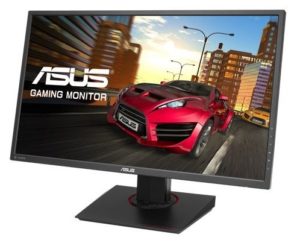 – ASUS MG278Q: Check Amazon Price
27-inch, WQHD 2560 x 1440 resolution display with 1ms response time

144Hz refresh rate and Adaptive-Sync technology for seamless visuals and smooth gameplay

ASUS Rapid Replacement: 3 Years Warranty
Keyboard: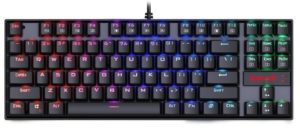 –Redragon K552-RGB KUMARA: Check on Amazon
Custom mechanical switches (Cherry Blue equivalent)

RGB LED adjustable lighting 

Metal and ABS construction, mechanical keys, and gold-plated USB connector stand up to hardcore gaming

87 standard conflict free keys, 12 multimedia keys, and splash-proof design
Mouse: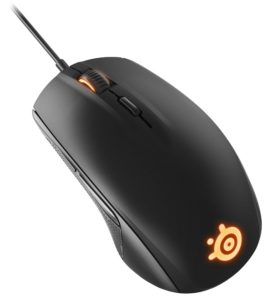 –SteelSeries Rival 100: Check on Amazon
Six programmable buttons

Customizable CPI up to 4000

30 million click switches

16.8 million colour RGB illumination

Available in 3 colours currently
Wifi:
– TP-Link TL-WN881ND wifi card: Check on Amazon
Easily setup a highly secured wireless link with WPS

Hassle-free installation

Seamlessly compatible with 802.11n/b/g products

Industry-leading 2-year warranty 
---
Have any doubts? Ask in the comments below