Xtremegaminerd.com is a participant in Amazon Associate Program and is supported by the readers. The qualifying purchase you make through our links may get us some commission and doesn't cost you an extra penny.
---
Do you like typing on a laptop keyboard more than on a standard desktop and want a good replacement for the latter? Then Cherry has provided a solution for this by bringing the KC 6000 Slim keyboard into its catalogue. The new keyboard is a laptop keyboard for desktop users which is much slimmer than the standard keyboards and thus will acquire less space. Not only that but it has some decent features that are somewhere equivalent to the standard desktop keyboards.

The new keyboard uses the Cherry's SX scissor-style key switches instead of the MX mechanical switches. Mechanical switches are well known for their performance and reliability. The KC 6000 Slim keyboard's switches are although not equivalent to the MX switches but still offer reliable performance with 10 million keystrokes lifespan. A standard Cherry MX switch is rated around 50 million keystrokes, therefore, this slim keyboard may not be the best option for everyone except for those who want compact size and lightweight keyboard. These keys require a force of 65cN as compared to the 50cN force required in a Cherry MX Blue switch.
Related:- Best Gaming Keyboards Under $100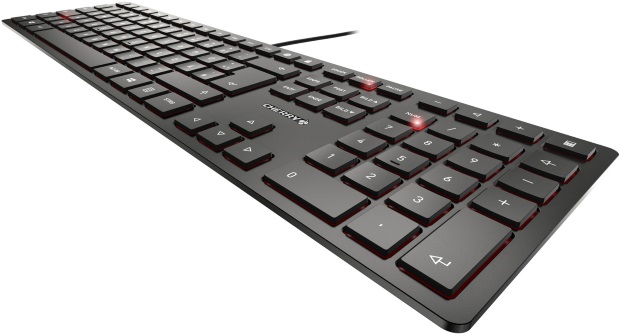 These keys travel 2.5mm as compared to 4mm of Cherry MX Blue switches and require less effort. The keyboard will be featuring different keys layout and two different colours that are silver with white keys and black with black keys. However, there will be Teal and Red accents on both of them respectively below the keys as you can see from the images above.
The KC 6000 Slim keyboard will be available for $50 starting from this month.