Xtremegaminerd.com is a participant in Amazon Associate Program and is supported by the readers. The qualifying purchase you make through our links may get us some commission and doesn't cost you an extra penny.
---
A few days back when we published first about the game Chrono Trigger right after the official release of the game, it was full of bugs and glitches which was the result of porting of the game directly from the mobile version to PC, and it let a spread of hate among the fans. Though the devs already were listening to the community and as a result, Square Enix has promised a series of patches to the Steam release of Chrono Trigger. Till now, only one change has been brought to light.
As per mentioned about the update in Steam, Square Enix declared the first patch will come early this month which will allow players to swap between the current graphics and the original Super NES style and the sprite smoothing filter used to give the 16-bit RPG a higher-resolution look was among the top complaints that raised from fans. The other most notable complaint was that of the user interface which was based on the touch-screen mobile version was not included in the upcoming patch.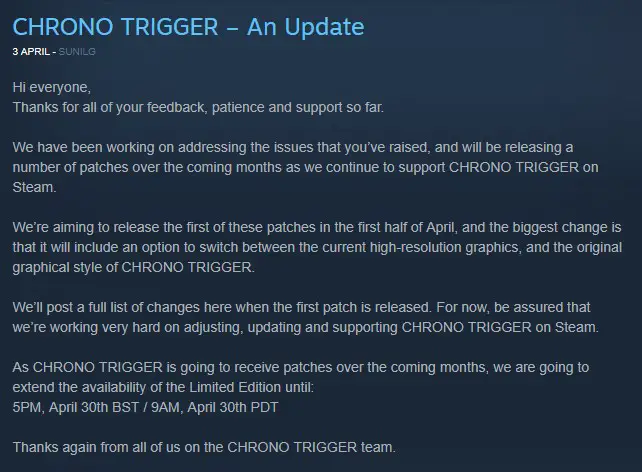 The devs have been working on addressing the issues that were raised by the community fans and they will be releasing number of patches over the coming months and will continue to support Chrono Trigger on Steam and moreover, Square Enix is also extending the availability of the Limited Edition until 9 AM PT on April 30, so that it will still be offered after at least one of the patches which have gone live. The limited version grants you a wide selection of downloadable contents such as music, digital liner notes, and six wallpapers and this version of Chrono Trigger also includes the Dimension Vortex and Lost Sanctum dungeons from the DS version with the addition of a keyboard and game-pad control options along with an auto-save function. So hope is not lost yet and we can definitely guess, it is going to get more interesting in coming months.