Cooler Master H500P(The original version) was the most hyped case of 2017 but also proved itself to be among the worst cases of 2017. This is because the main purpose of high airflow in the case wasn't achieved at all. Soon, after the criticism, Cooler Master redesigned their original version and showed the meshed edition in the CES 2018.
This case is now having a meshed front panel instead of plastic glass panel which was in the original version allowing more airflow which it is supposed to deliver. Not only this there were several changes made to the case like the front panel is not loose as it was before and won't come out in just moving it around.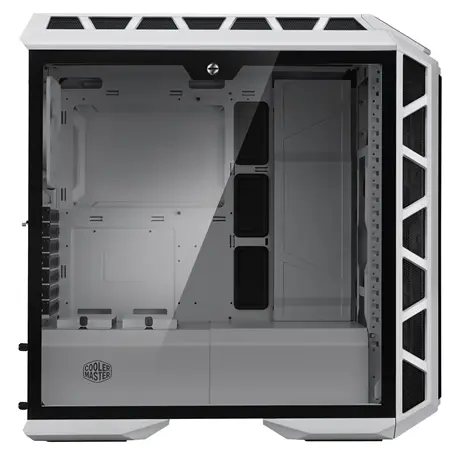 The case is now present in White colour also which looks beautiful and now has properly adjusted side tempered glass panel. The case is completely white from interior too with black rubber grommets which are big enough to hide the cables easily. Cable management, in this case, is especially awesome with covers that will hide the cables even without putting the second side panel.
It comes with 2x 200mm fans at the front for intake which are for the purpose of intaking massive airflow from the front to make it a cooler chassis. In addition to that Cooler Master has made it to support up to 360mm radiators both at the top and the front which means that the airflow will be balanced which is not present in every mid-tower.
As for the availability, the case is available for presale at $149.99 from 27th of February in North America and then will be available shortly worldwide.
Source:- Anandtech
Offer Till 31st March