Xtremegaminerd.com is a participant in Amazon Associate Program and is supported by the readers. The qualifying purchase you make through our links may get us some commission and doesn't cost you an extra penny.
---
Cooler Master has quite a variety of CPU coolers including its famous Hyper 212 EVO and MasterLiquid Pro which is the latest. However, the reason why the MasterLiquid 240 is still famous in the market because it can support both Intel and AMD platforms including AM4 socket and comes under $90. It's a traditional cooler and can be used for any high-end CPU for overclocking.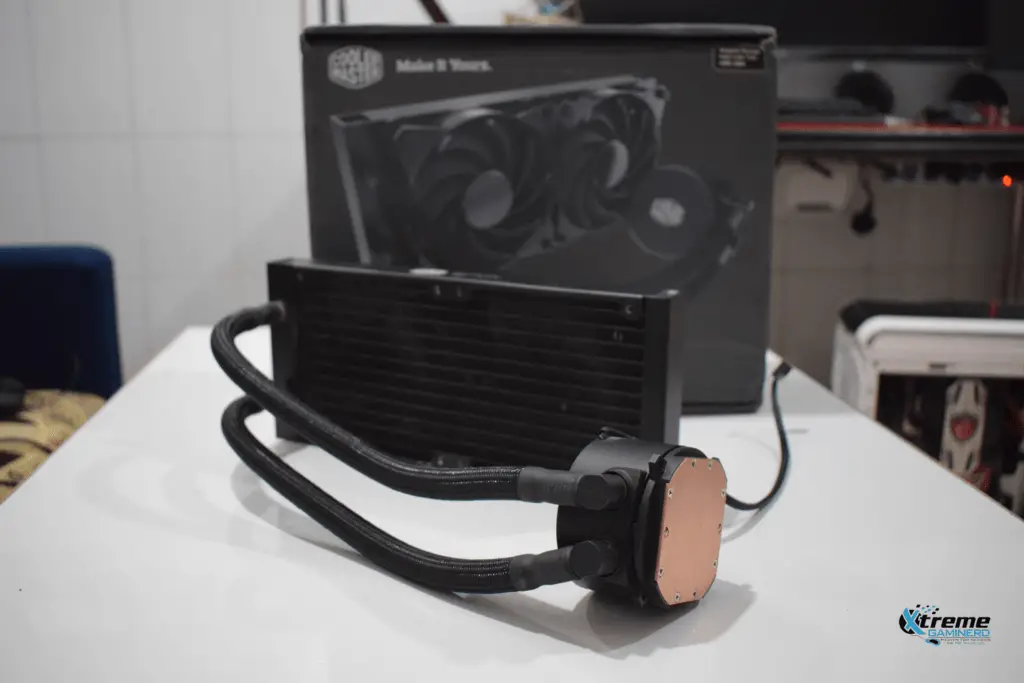 Specs:-
Product Name
MasterLiquid 240
Model Number
MLX-D24M-A20PW-R1
CPU Socket
Intel® LGA 2066 / 2011-v3 / 2011 / 1366 / 1151 / 1150 / 1156 / 1155 / 775 socket

AMD® AM4 / AM3+ / AM3 / AM2+ / AM2 / FM2+ / FM2 / FM1 socket

Radiator Material
Aluminum
Radiator Dimension
277 x 119.6 x 27 mm
(10.9 x 4.71 x 1.06″)
Fan
Dimension
120 x 120 x 25 mm (4.7 x 4.7 x 1″)
Speed
650 ~ 2000 RPM (PWM) ± 10%
Airflow
66.7 CFM (Max)
Air Pressure
2.34 mmH2O ± 10% (Max)
Noise Level
6 – 30 dBA
MTTF
160,000 hours
L-10 Life
22,800 hours
Rated Voltage
12 VDC
Number of fan
2
Pump
Dimension
85.6 x 70 x 49 mm
(3.37 x 2.76 x 1.93″)
Noise Level
15 dBA (max)
MTTF
70,000 hours
L-10 Life
20,000 hours
Rated Voltage
12 VDC
Warranty
2 Years
EAN Code
4719512054123
UPC Code
884102030222
Unboxing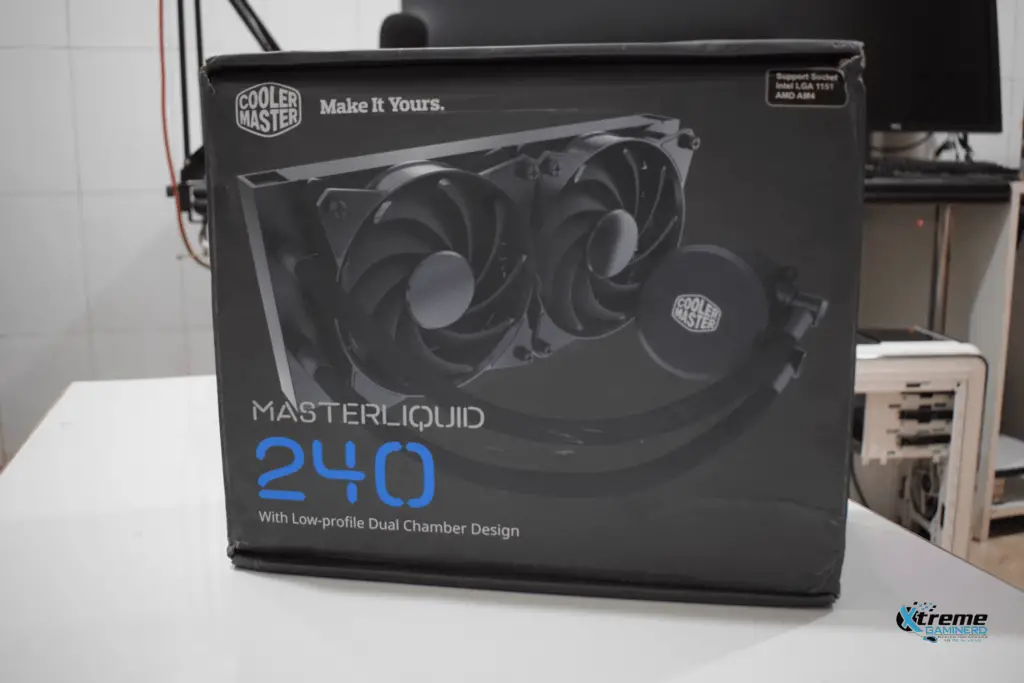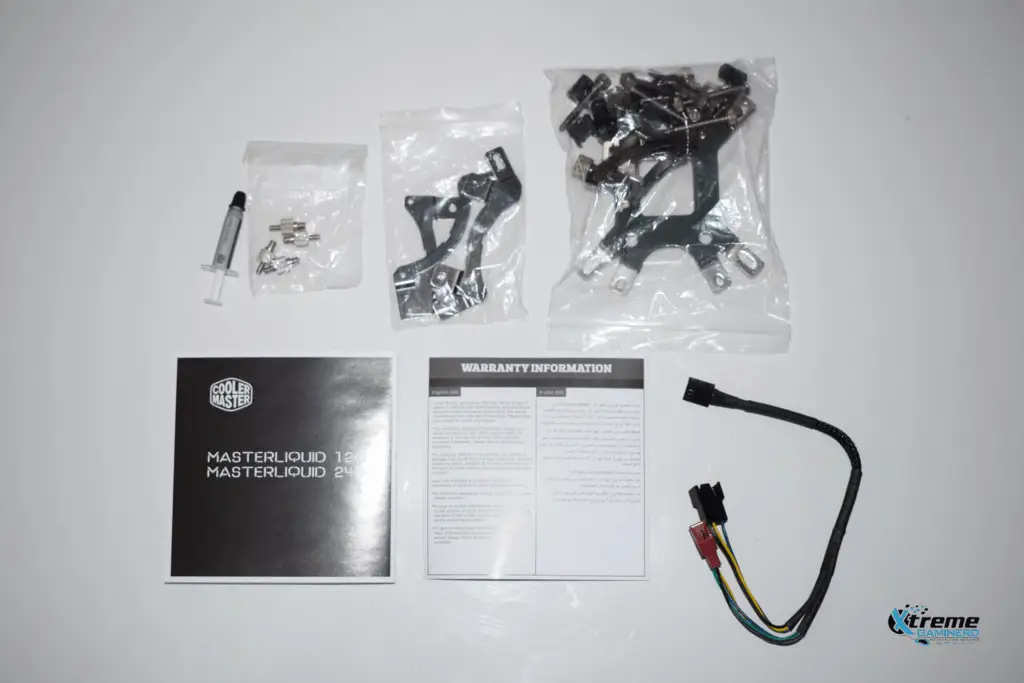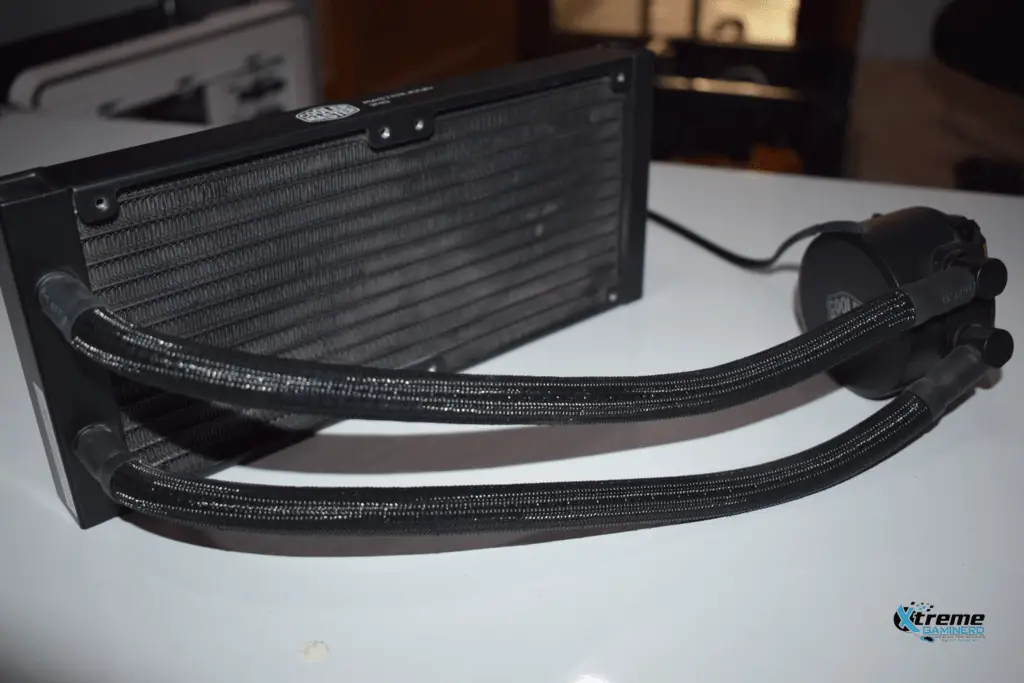 This is not a brand new CPU cooler for me because I have used it for a couple of weeks but never tested it. So, it has all the necessary accessories for installing the CPU block on the Intel and AMD sockets. For Intel and AMD Am3 sockets it comes with a single backplate that can be used for both the sockets. But especially for AM4 socket, it comes with two clips for installing in a traditional way. I used this cooler on my Ryzen 1700X for a good amount of time but testing on it was useless as my chip always behaves in an unusual manner, hanging and blanking out anytime in the test even at 3.8Ghz with a good voltage of 1.35V. So, I will use my test rig with i5 6600K.
Taking a close look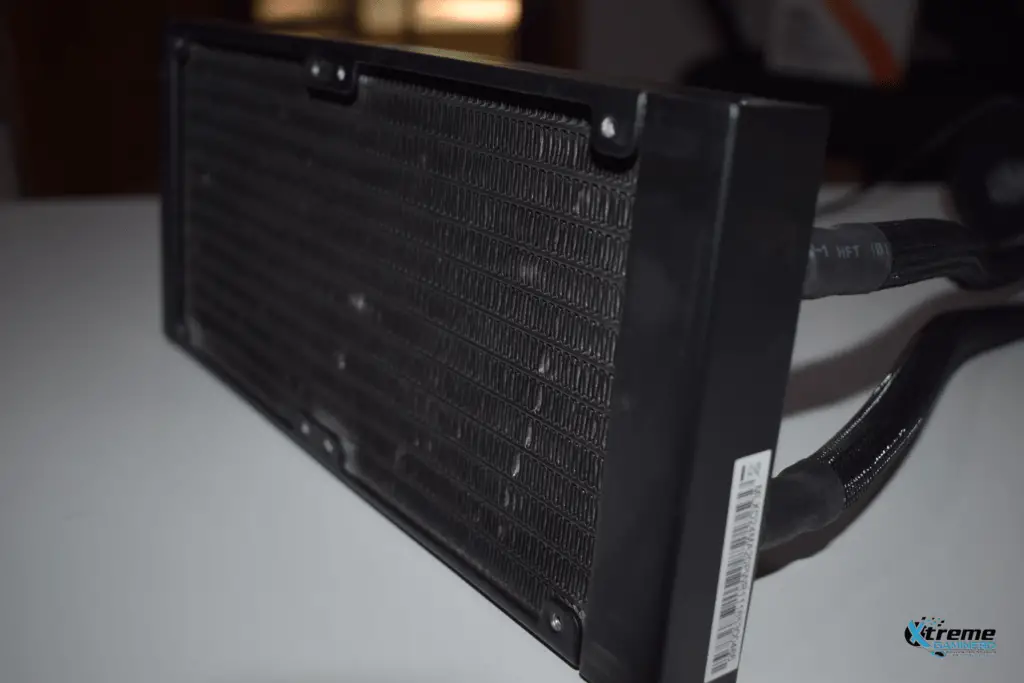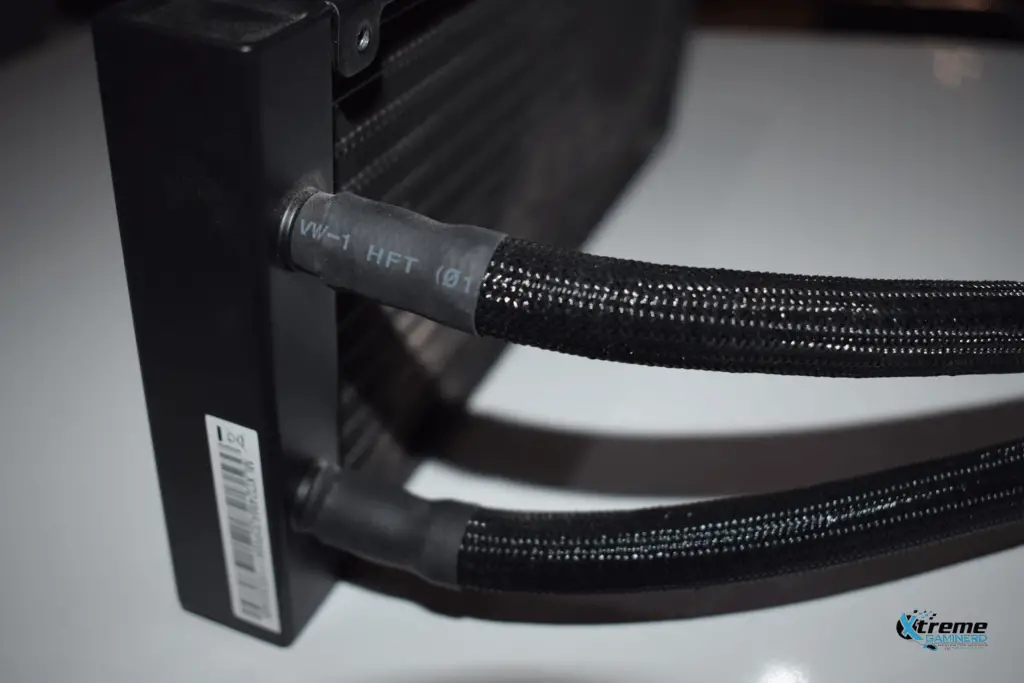 The radiator is a simple rectangular block with no rounded edges but I like it because it's quality is very good. The radiators have traditional aluminium fins but very good quality tubes. The tubes are sleeved for more protection and they are neither too difficult to bend nor they are very flexible. They are intermediate with a good amount of length to reach to the front of any case.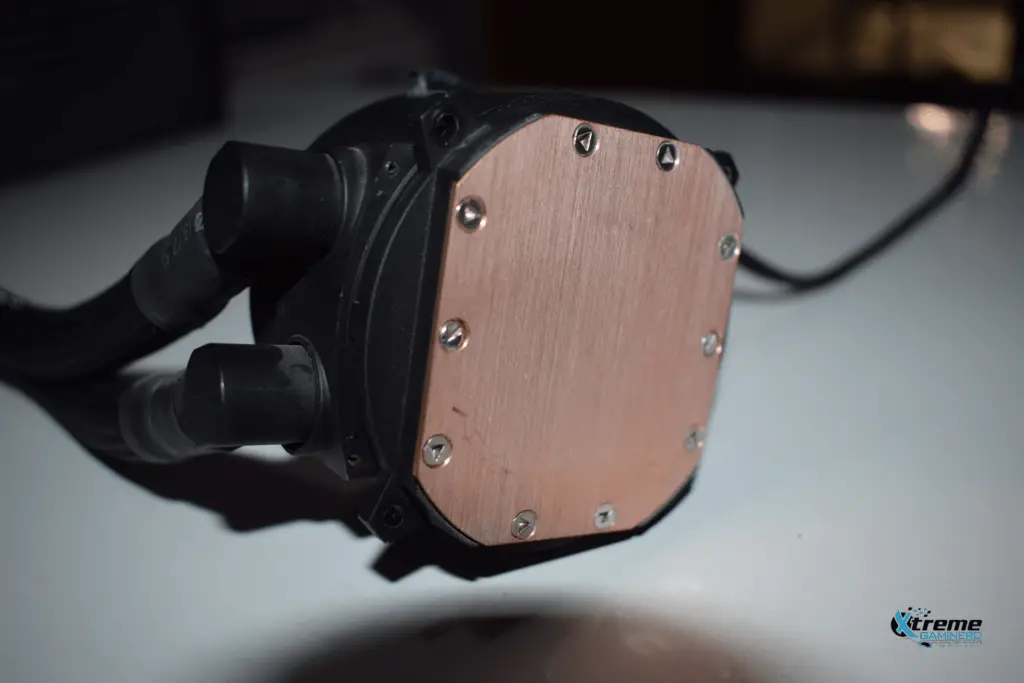 The CPU block has a large surface area with the copper base that can cover every type of processor for complete dissipation of heat. Now, the block has both the contact plate and pump and therefore it's thick. Cooler Master says that it has a dual chamber design and resists corrosion. The tubes can be bent moderately in any direction with a little limitation and one cable having 4 pin connector is connected to it that will power up the pump along with the white LED that lits up the Cooler Master Logo.




[nextpage title="Installation and Test Rig"]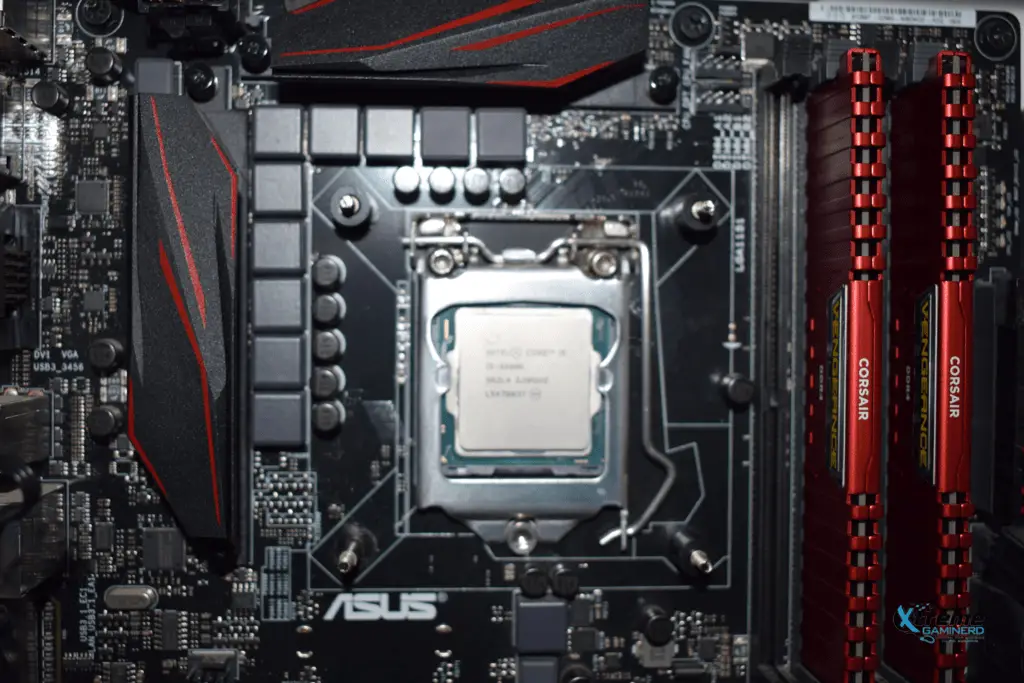 Simple installation. Nothing required to explain. A backplate at the back and some round screws at the front for mounting the CPU block.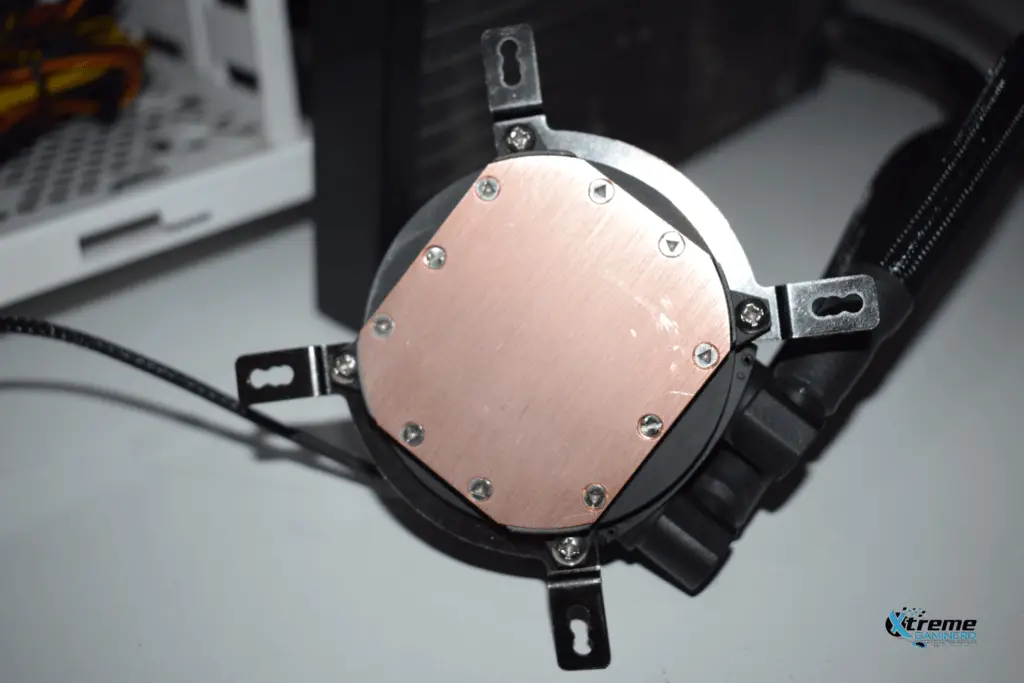 Two clips needed to install on to the CPU block that without any screws can literally stick properly into the gaps where the clips go. So, it is easier to screw these clips without holding the clips in hand at the place. But make sure before installing you properly check how you are going to adjust the tubes because tubes can go below the clips but that won't be practical and you won't be able to install clips after that.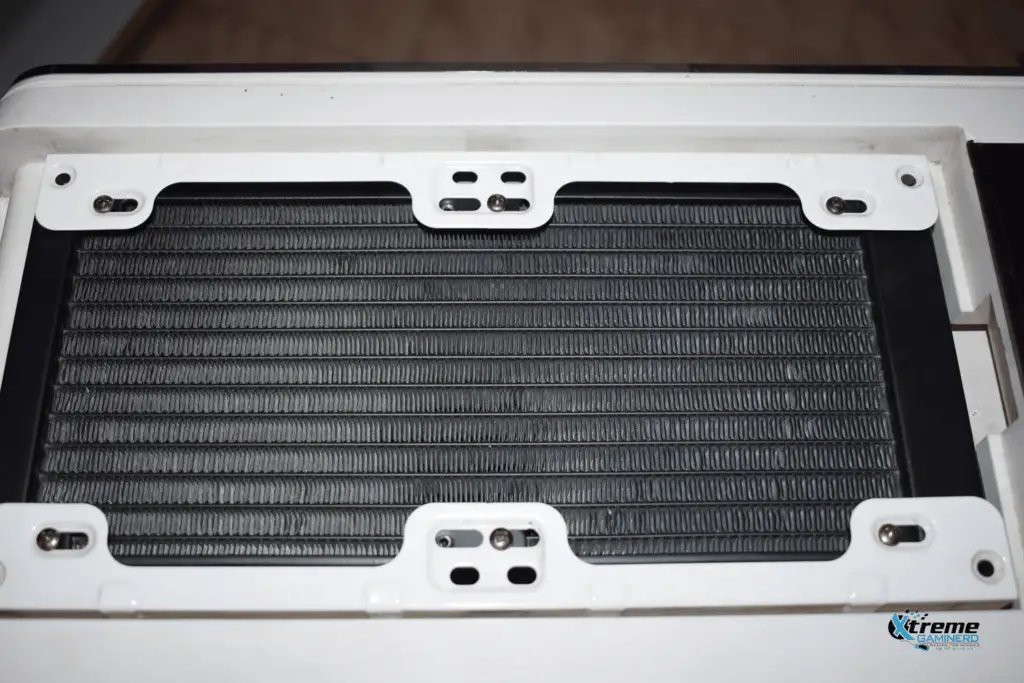 The case is Cooler Master 690 III and I installed the radiator at the top and removed the top cover for complete airflow. Even though the top cover is having good mesh but for testing purpose I removed it. I could have installed the radiator at the front but the majority of people install radiator at the top for heat dissipation as exhaust and use the front panel for intake of cool air.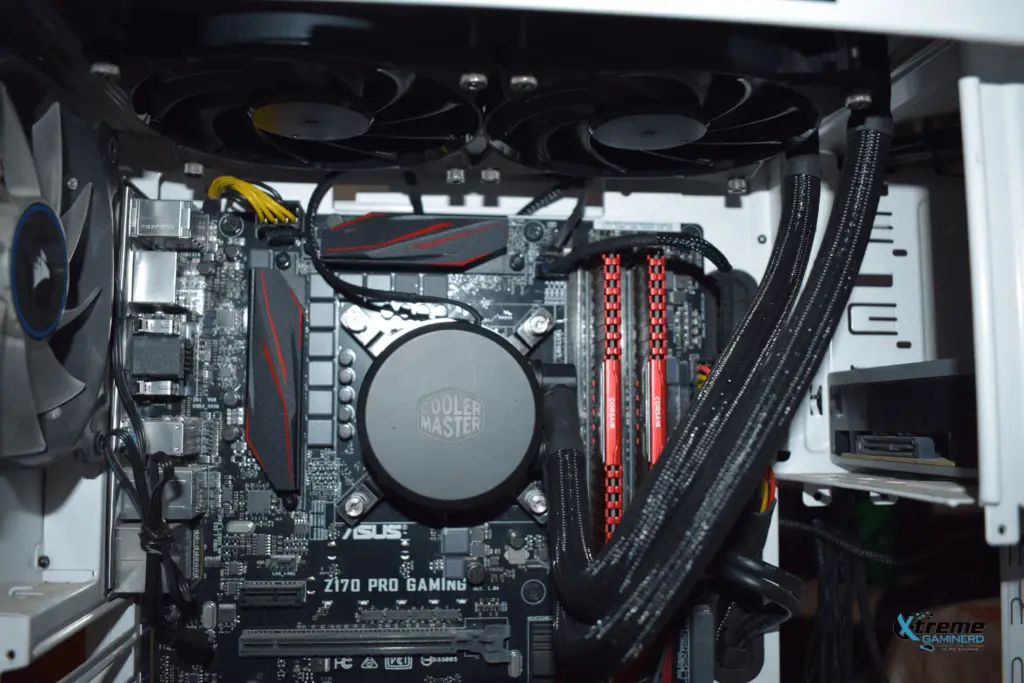 And yes I forgot to mention about the fans. These are good quality Air pressure fans with Air pressure up to 2.34mmH20 and noise levels up to 30dbA max, which is great.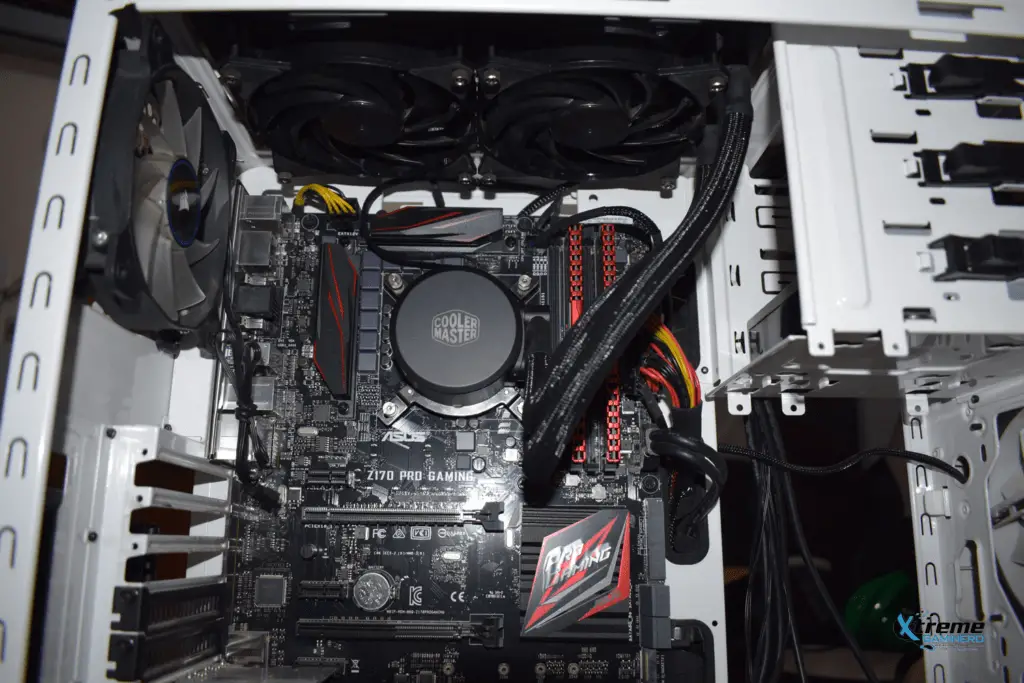 So, my test rig consists following parts:-
2x 4GB DDR4 2400Mhz Corsair Vengeance LPX
Cooler Master MasterWatt Lite 500W
Fans: 1x 120mm Corsair AF fan at the rear, 1x 120mm DeepCool SP series Fan(Used from Radiator)




[nextpage title="Benchmarks"]



Temperature Test
As usual, I include two graphs for temperatures. One is the normal graph indicating the temperatures at different clocks of i5 6600K at different fans speed and the other one is Delta T graph which shows a fair comparison if other coolers are compared. The test was conducted at 30 C room temperature with case panels opened. For benchmark Heavyload software was used for keeping the CPU usage at 100% and the temperatures were measured by CPUID HWMonitor software. The speed of the fans was controlled by the Asus AISuite 3 software but the speed of fans was still measured by the CPUID software for accuracy. Each benchmark was conducted for 15 minutes following 5 minutes cooling at full fans speed for proper cool down.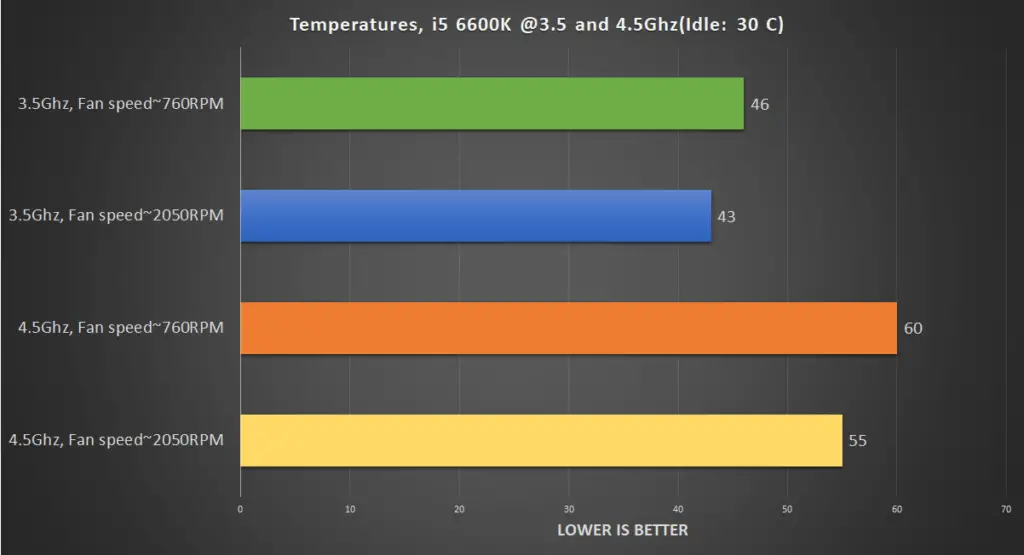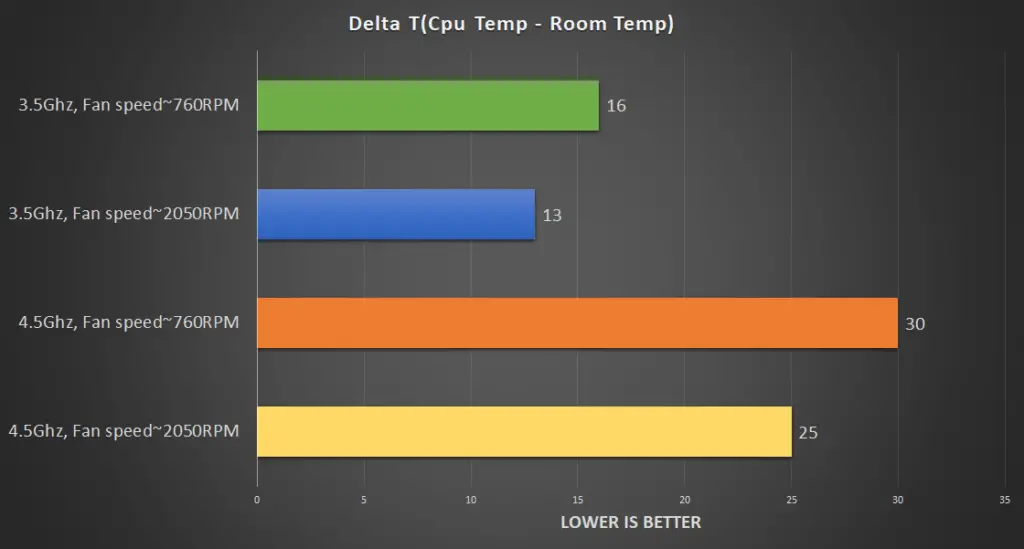 Noise Test
I use a digital LCD Noise meter for testing the noise that is kept near to both the CPU block and radiator for calculating their noise collectively. The pump was working at full speed even at low fans speed so, the following results are Full pump speed + Fans speed(Min/Max). The Fans were quite loud at 2050RPM this is due to the noise accompanied by the Pump.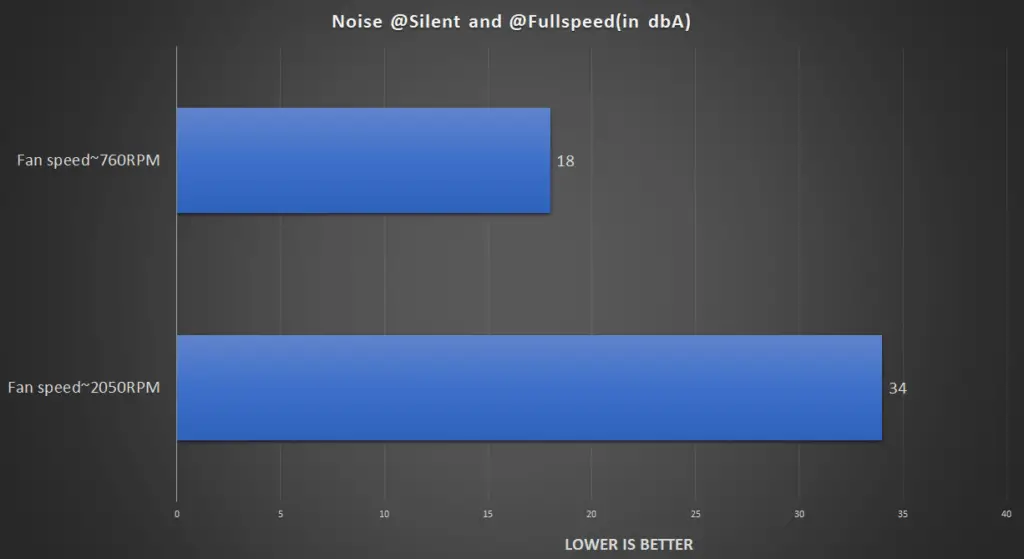 Result
Temperature wise, what you can see that this cooler is good for controlling the temperatures at high clock speeds. Even though the fans were spinning at 760RPM with 4.5Ghz on the chip, the difference between the temperatures at full speed and min speed fans is not that great. Only 5 degree C difference whereas in case of CPU coolers like Cooler Master Hyper 212 LED Turbo and MSI Core Frozr L, the difference was very high. So, this means that this cooler has a capability of remaining silent even when you overclock your processor to a very high clock. The max noise was 18dbA at low-speed fans giving a temperature of 60 C and Delta T as 30 C. It's very impressive for me. Definitely, this cooler is a great choice for overclocking and under $90 this is a great buy.
[rwp_box id="0″]